Sycamore dominates at I8 tournament
By Gary Larsen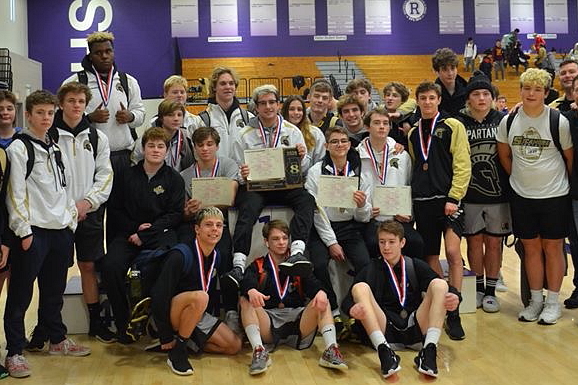 When the heart of Sycamore's lineup starts beating, senior Zak Kozumplik can feel the adrenaline as he watches that heart begin to pound.
"It's nice to feed off that energy," Kozumplik said. "We've got Brayden (Peet) at 145, Gus (Cambier) at 152, Colton (Berg) at 160 and me at 170. That's usually a huge swing for us and we all feed off of it."
The Spartans' middle-weight hammers all reached the title mat at this Saturday's Interstate 8 conference tournament, along with teammates Alex Crawford (120), Zack Crawford (132), and Dylan Shuman (220).
Cambier, Berg, Kozumplik, and Alex Crawford each won individual titles but Sycamore had the team title won before the championship round even started. The Spartans finished with a 376-222.5 advantage over second-place host Rochelle. Kaneland (213.5) placed third and Ottawa (201) finished fourth.
A wrestler can ride a momentum swing within a match and a team can ride momentum swings within a dual; the Spartans proved to coach Alex Nelson that a team can also carry momentum from one meet to the next.
Just prior to the I8 tournament, Sycamore — ranked 11th in Class 2A — lost in a dual to DeKalb, which is ranked third in 3A in the IWCOA's weekly state rankings. But Nelson's Spartans battled from start to finish. "We wrestled tough against DeKalb," Nelson said. "I knew if they showed that effort on Saturday, we'd be pretty hard to beat. If everyone worried about themselves, things could fall into place for them."
Sycamore had 12 wrestlers place in the top four, including thirds from Sam Sprinkle (113), Nicholas Lockhart (126), Sam Carlson (138), and Zechariah Hollingsworth (285), and a fourth from Jackson Funderburg (195).
The Spartans will enter the postseason battle-tested. They've taken on larger schools in duals throughout the year and have done well in tournament competition.
Sycamore placed second at Glenbrook South's 20-team tournament; third at their own 16-team tournament; and 11th at DeKalb's 32-team, mega-dual Flavin tournament.
A conference title was a welcome accomplishment with the post-season looming.
"It's good for the kids and they put the time in and it's nice to see that what you're saying to them is getting them to where they want to be," Nelson said. "It can be such an individual sport but it's nice to see that camaraderie when they're all together holding up that plaque."
The title matches began with a pair of pins on Saturday, as Kaneland's Cameron Phillips (106) and Ottawa's fourth-ranked Riley Hanson (113) both won individual crowns.
Sycamore's Alex Crawford followed with a major decision win at 120, before Rochelle's Caleb Nadig and Evan Reilly of Sandwich squared off in a close match for the title at 126.
Nadig finished second in tournaments at Sycamore and Rockford East, and Rochelle coach Alphonso Vruno liked what he saw from Nadig on Saturday.
"He's been wrestling really well and that tournament was no exception. He's really coming along," Vruno said. "He stayed in good position the whole match, got the takedown he needed, and he rode really well on top. So I'm really pleased with how he's coming along at the end of the year."
Second-place Rochelle had two champions in Nadig and Ben Harvey (182), and two runners-up in Keegan Davis (138) and Zach Cates (285).
Ottawa's eight-ranked Luke Fleming won the title at 132 by major decision, before Aidan Linden of Sandwich won a decision for the title at 138.
LaSalle-Peru — ranked 10th in 2A — entered the I8 tournament missing a few wrestlers for assorted reasons, and finished sixth. But the Cavaliers boarded the bus home carrying the outstanding wrestler award in both the lower and upper weights in Rochelle.
In one of the toughest weight classes on Saturday, LaSalle-Peru's Ashton Kellet won the title at 145 with a 4-0 decision over Peet. Peet, ranked eighth in 2A, won a major decision in his semifinal match over Cael Shindlebeck of Sandwich, who's ranked eighth in 1A.
Kellet (25-3) was a state qualifier as a sophomore but missed last year's state series due to injury. Now a senior, he's healthy and ready for his final bite at the apple.
"It's my first conference championship, so that feels good," Kellet said, "and both the kids I wrestled were quality wrestlers. For a sophomore, (Peet) is really good and he's got a bright future.
"I've been wrestling since I was six years old and this will probably be my last year wrestling, so I want to make it count."
Kellet won the OWA for the lower weights. The senior entered the tournament ranked eighth in 2A at 138 but plans on staying at 145 for the post-season.
"Ashton has really been having a good couple of weeks. He beat (Victor) Guzman from Rock Island, he beat (Shindlebeck), and he won the Mahomet-Seymour tournament," LaSalle-Peru coach Ed Wrobleski said.
"He's really been wrestling well. He's been solid since day one but it just seems like the spotlight is brighter this time of year on how well he's been wrestling. I think he's peaking right now and he'll carry that into the post-season."
Sycamore's Cambier improved to 30-7 with his title win at 152, and seventh-ranked Berg improved to 33-3 with his title win at 160. Fourth-ranked Kozumplik then gave Sycamore its final title of the day with his win at 170.
Kozumplik improved to 36-4 with the win and talked about the process of peaking that every wrestler aims for by season's end.
"At every next match, I want to be a little better," Kozumplik said. "So it's about getting a little bit better, every time out. What move can I work on that might make me just a little bit better, so next time instead of majoring a kid, I'm pinning him. Or instead of losing by a takedown, I'm winning or taking that kid to overtime."
In the title match at 182, Rochelle's Ben Harvey did what he has done most often in compiling a 34-2 record and a No. 5 ranking.
"If I had to describe Ben in one word," Vruno said, "it would be 'pinner'. He's one of those guys that, when he's on top, he's going to make you pay."
Harvey posted his 23rd pin of the season on the title mat and doesn't dispute his coach's characterization.
"I've always been focused on pinning moves," Harvey said. "Once I get someone on their back I usually try to end the match."
Harvey also knows that with quick pins comes the risk of conditioning issues.
"That might be something I need to work on, because both of my losses this year came in overtime," he said. "We've been working in practice on wrestling six minutes plus a few more so if we get pushed to overtime, we're ready for it."
At 195, Morris' Robby Bates won by fall, setting the stage for the day's next key performance; junior Brock Neill (26-5) won by fall at 220 to give LaSalle-Peru its second OWA of the day.
"Brock missed his freshman year with a concussion and he had a knee injury last year," Wrobleski said. "He's healthy this year and he's been a force, there's no question about it."
LaSalle-Peru's Payton Piraino (26-2) ended the day's wrestling with his title-mat win on the heavyweight title mat.
Sycamore hoisted the team title plaque soon thereafter.
"Towards the end of the year, we've really come together," Kozumplik said of his Spartans. "At the beginning of the year we thought we had a pretty good team, and we've seen guys getting better, we've been winning matches that we lost earlier in the year.
"It's really nice to see the way everyone has come up through the program. We're up high right now, and now we just need to keep working hard in the room."