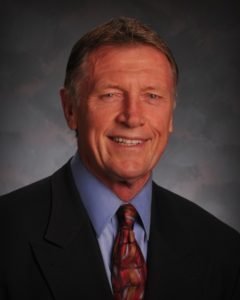 Hall of Fame Class of 1996
Glenbard West
Contributor-Coach
Bernie is a graduate of Holy Cross High School, where he was all conference in football and the conference wrestling champion, east suburban catholic league.  He attended Tulsa University and has been inducted into the Tulsa Hall of Fame for football.  He was all conference in football, this led to a contract with the Chicago Bears, but it was negated by neck injury.
His teaching-coaching career started at Holy Cross High School.  In six years he won 3 Conference wrestling Championships and had 2 State Qualifiers.  He moved to Glenbard West High School where he is in his 19th year. At Glenbard west he has a Regional Title, 14 state Qualifiers and 2 Placewinners.  He was the football line coach at Glenbard west for 18 years during which time they won 1State Championship.  His teams have won over 300 dual meets. 
Bernie was the President of the IWCOA in 1984-85.   He has been involved with the Prairie State games for 6 years. He has been a coach on the national junior teams twice.  He was named a Friend of Wrestling in 1994. 
Bernie is in the Holy Cross football and wrestling Hall of Fame.