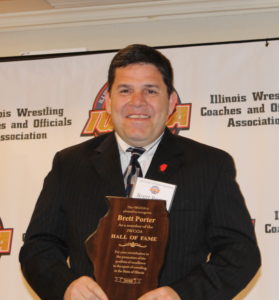 Class of 2019
Mahomet-Seymour and Edinboro University
Brett Porter was born into a family of wrestlers. His father, Tom Porter is a member of both the National and IWCOA Hall of Fame. Rob Porter is his brother and also a member of the IWCOA Hall of Fame. Brett began wrestling at an early age and enjoyed sparring with his brother while learning from his father.
At Mahomet-Seymour High School, Brett compiled a 134-14 varsity record under the mentoring of Hall of Famers Marty Williams and Jim Risley. He earned All-State honors in 1985, '86 and '87. Brett served an important role in helping Mahomet-Seymour earn two IHSA Team State Championships as well as a second place and third place trophy.
Brett attended college at Edinboro University of Pennsylvania where he earned a degree in Elementary Education. Brett qualified for the Division 1 NCAA Championships in 1991 and became a Division 1 NCAA All-American at 126 pounds in 1992. He finished his college career with a 71-53 record.
Brett began his coaching career at Ohio University where as a graduate assistant coach, he helped the team qualify 5 wrestlers to the NCAA Championships and a MAC Championship. He then served as an assistant coach for two years at Massillon Perry High in Canton Ohio.
Brett took on the role as a head wrestling coach of Coal City High School in 1995. In five years at Coal City, his team had a 78-26 dual meet record with three 1A State Champions and ten total All-State wrestlers. In 1998, his team placed 2nd at the IHSA Team State Championships. Coal City qualified again for team State in 1999.
Brett continued his coaching career at Oshkosh North High School (Wisconsin), Mt. Zion High School and Shelbyville High School. He is currently in his tenth year as the head wrestling coach at Mattoon High School. As a head wrestling coach at a number of schools, he has coached 55 State Qualifiers with 16 earning All-State honors and 3 State Champions. He currently has a 289-152 dual meet record. With the support of his family including his wife, Denise Porter and son Mick Porter, Brett hopes to continue coaching until he retires from his position as Middle School Physical Education and Health teacher.