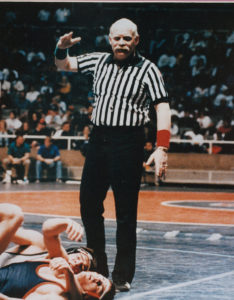 Hall of Fame Class of 1996
Antioch
Official
Bruce wrestled at Morton West High School.  He did undergraduate work at Monmouth College and received his Master's from Roosevelt University in Chicago.  He began teaching at Carmel of Mundelein, and then moved to Antioch where he assisted in wrestling for 4 years. He was the dean of students for the past 20 years at Round Lake.
He began officiating in 1968, making this his 28th year.  He has officiated 23 Regionals, 19 Sectionals, plus Sectional and Regional Duals.  He has worked the State Individual Tournament 10 times and the State Dual Championships 3 times. Bruce has been nominated for Official of the year 4 times and has been a Sectional official of the year.
He has also been the Grand Marshall of the Suburban Conference in 1990.