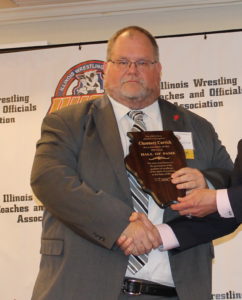 Class of 2019
Sycamore, IL
Chauncey Carrick started wrestling in Mt. Pleasant, Iowa, at an early age. He was introduced to the sport when he would attend Mt. Pleasant High School dual meets with his father, who scored the dual meets. His love for the sport grew through his time at Mt. Pleasant High School where he earned All-Conference honors twice.
While in college, Chauncey began coaching at Macomb High School. He was the Head Wrestling Coach at Macomb High School for the 1992-1993 season. The Bombers went 10-9 that season.
In the fall of 1993, Chauncey moved to Sycamore High School where he was the assistant to Danny Knight. In 1997, he became the Head Wrestling Coach at Sycamore High School. In 13 years at the helm, Chauncey compiled a record of 180-95; during this time Sycamore had seven State Place winners and 32 State Qualifiers. Sycamore won the Suburban Prairie Conference Championship in 1999, 2001, 2002 and 2003. They won the Western Sun Conference Championship in 2009 and 2010. Chauncey's teams won the IHSA Regional in 1998 and 2010. In 2010, the team earned Sycamore High School's first trip to the IHSA Dual Team State Tournament. At the conclusion of the 2010 season, the IWCOA named Chauncey the Class 2A Coach of the Year.
In addition to his duties at Sycamore High School, Chauncey has been very active with the Freestyle and Greco-Roman programs in the state of Illinois. He has served as a Sectional Director and Cadet Director for the IWF, then became the Cadet Director for ILUSAW. In 2001, Chauncey earned the Greco-Roman Coach of Distinction Award. In 2004, ILUSAW restructured the organization; Chauncey was named Director of Freestyle and Greco-Roman Operations. This change was completely different than what the other states were doing, but ILUSAW believed the program could be stronger. Since the restructure, ILUSAW has won 72 National Championships out of the 140 that USA Wrestling has offered. During this same time period, the wrestlers of Illinois have won 123 individual National Championships, with 877 additional wrestlers earning All-American honors.
In the spring of 2010, Chauncey was named Athletic Director at Sycamore High School. He has remained very active in the high school wrestling community, while keeping his position with ILUSAW. In 2015, the IWCOA named Chauncey the Class 2A Administrator of the Year. In 2016 the IKWF honored Chauncey with the Ron Silverstein Award for his dedication to the wrestlers of Illinois.
Chauncey would like to thank his wife Michele, his children, Gable and Adam, his parents, Dave and Margaret Carrick, his brother Ben Carrick, his sister Emily Biddenstadt, his assistant coaches at Sycamore High School, the administration at Sycamore High School, the officers and board of the IKWF/ILUSAW and his high school coach Bob Jensen, for everything they have done to help him be successful in the sport of wrestling and allowing him to continue to give back to the sport he loves.