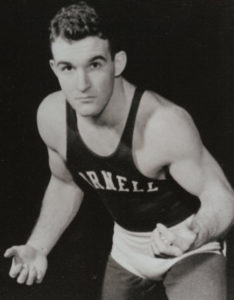 Hall of Fame Class of 1996
Champaign
Wrestler
Don wrestled for Hall of Famer, Roy Swindell at Champaign High School.  He was 4th and a State Champion.
At Cornell University he finished 3rd in the Eastern and won the championship.  During that time, the Eastern Championship was in the top 3 as far as conferences.  In 1953, he won the National Collegiate Championship.
Following graduation, he entered the United States Navy and began officiating.  He officiated in Indiana, Virginia and New York.  Leaving the Navy, he became Dean of Admissions for Cornell University, Dean of Admissions for Penn State University, and Vice President for enrollment at Drexel University where he retired.
He earned his Master's in Education from Cornell University.