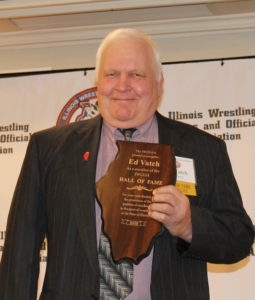 Class of 2019
Addison Trail and Wisconsin
As a 13-year-old 133 lb. Freshman Ed Vatch came home and said, "Dad, I think I'm going to go out for gymnastics.  I can climb the rope better than most". His dad's response, "You go out for wrestling. It will help you more in football." Ed would follow dad's advice. Somehow losing his first wrestle-off inspired ED who would win his next wrestle off and complete a 13-0 season including a first-place finish at a small Riverside Brookfield freshman tournament. After winning an eight-inch trophy, he took it to his dad in the hospital who was recovering from a new heart surgery called heart bypass. As the season ended, head coach Tony Parks distributed some freestyle tournament applications and Ed was hooked. Every weekend his dad would take him, and as many of his team mates possible to a tournament. Many of these events were in the old Navy Pier. One thing for sure was you could always count on some of the best wrestlers in the world showing up.  Sometimes there were even practices directed by Olympic Gold Medalist Terry McCann.
When Ed said to his dad, "I think I'd like to look for a summer job.  His dad said "You train and earn a scholarship. That will be worth far more than any summer job."  The answer was the same for his three brothers. Earl received a scholarship to the University of Illinois as a fullback.  Ernie was a two-time State Campion. He and Eugene both signed at NIU where Ed was an assistant coach at the time.
Ed Vatch of Addison Trail H.S.  was the 167 lb. State Champion in 1971, going 28-0. Ed was named H.S. Scholastic All American in 1971 by Amateur Wrestling News. He was an AAU National Champion, and a Bronze medalist in the Junior Olympics in Tokyo, Japan.
Ed attended the University of Wisconsin (Madison) from 1971-1976, and wrestled for Head coach Duane Klevin, and assistant coach Russ Hellickson. He was a team captain, and had a career record 103-20-2 (#9 All time win loss percentage) and 32 Career falls (#3 All Time UW career record). Ed was a two time Big 10 Champion and a three-time finalist. He was ranked Number 1 in the nation before withdrawing from the NCAA tournament due to a knee injury suffered in the Big 10 finals.
Ed won silver at the 1972 Olympic Trials, and had achieved wins over Olympic Bronze, Silver and Gold Medalists.
Possibly his most notable victory was over Victor (The 680 lb. Wrestling Bear) Giving him the nickname Ed "The Bear" Vatch in college.
Ed was an assistant coach at Northern Illinois University for 8 years under IWCOA Hall of Famer Don Flavin. Ed then took over the head coaching duties for 5 years. While at NIU he would help produce 16 Mid-American Conference Champions and 32 NCAA qualifiers along with the 1985 Mid-American Team Championship.
Ed met his wife after completing his intercollegiate career at the University of Wisconsin. He has been married 41 years to the love of his life Lois. They have three children Win, Tiffanie and Noel.  Their nine grandchildren keep them joy filled and very busy.
Ed is grateful to be honored by being inducted into the IWOCA Hall of Fame.  Wrestling is truly amazing It's not just about the titles and tournaments. It's about the people. When he meets someone new, and they say they were a wrestler, Ed feels like he already knows a lot about them, they work hard, and are not afraid to stand on their own.