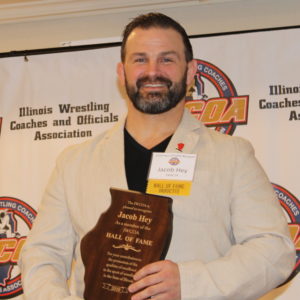 Class of 2019
Dixon, United States Air Force
Jacob Hey was a 1993 graduate of Dixon High School where he was a standout varsity wrestler all four years. During his time at DHS, Jacob was a four-time class AA state qualifier, earning third place medals in 1992 & 1993, and was an undefeated State Champion in 1991. Jacob won 17 individual tournaments, three conference titles, four regional titles, and four sectional titles during his high school career. Jacob was also a four-time USA Wrestling All-American in Freestyle and Greco-Roman, earning honors one time as a Cadet, and three times at Junior Nationals where he placed his Junior year in Greco-Roman and was a double place winner in both freestyle and Greco-Roman his Senior year. He also won the Gorarian award his Senior year at Junior Nationals for the most pins in the least amount of time.  During Jacob's Senior year, he competed in the Folkstyle National Championships in Pittsburg, PA, and became the first ever Folkstyle High School National Champion from Illinois. Jacob ended his high school career with 159 wins, making him the all-time career wins leader at Dixon High School.
After high school, Jacob went on to wrestle for the University of Illinois in Champaign-Urbana where he wrestled on the Varsity team as a true freshman. He finished the season with 14 wins in which 8 were by pin. After his freshman year, Jacob joined the United States Air Force where he would join the wrestling team. He was a member of the U.S. National Greco Roman Team, the U.S. Olympic Training Center resident program, and a member of the United States Air Force World Class Athlete Program. He was a 10-time US Air Force freestyle and Greco-Roman Champion, 3-time Armed Forces Freestyle and Greco-Roman Champion, and also a 10-time U.S. Open National place winner in Greco-Roman. Jacob qualified for the Greco-Roman Olympic Team Trials in 2000, 2004, & 2008. In 2016, Jacob competed in the Masters division at the U.S. Nationals and became a national champion in both Freestyle and Greco-Roman. Throughout his career, Jacob earned All-American Honors a total of 18 times.
Jacob began his coaching career while he was still in the Air Force when he became the Assistant Greco-Roman coach from 2003-2008. He helped coach the team to 2 Open National Team Greco-Roman titles, 3 Open National Team Greco-Roman Runner-up finishes, 16 individual Open National Greco-Roman All-Americans, 8 Olympic Team Trials Qualifiers, and 10 World Team Trials Qualifiers. In 2011 Jacob became a coach at Belleville Althoff Catholic High School where he coached for 5 seasons. While at Althoff, they won 2 conference championships, 2 regional championships, 12 state qualifiers (including his son Jevon Hey), and 10 state place winners. In 2015, Jacob moved to Long Beach, Washington where he coached at Ilwaco High School for two years. During that time, he coached 26 state qualifiers, 11 state place winners, and 3 state champions. His team also finished 3rd in the state in 2016 and 5th in 2017. Over the years, Jacob has coached at youth programs such as the Belleville Little Devils, Crusaders Elite, and the Dixon Wrestling Program. He is currently a volunteer coach at his alma mater, Dixon High School where he coaches with his brother, Micah Hey.
Jacob currently works for the Illinois Department of Transportation as a Highway Maintainer in Dixon, Illinois.  His children are Jevon (21, son), Kamryn (20, daughter), Karlie (15, daughter), and Kyleigh (10, step-daughter). Jacob and his fiancé, Laura Parker, are expecting a child on March 22. Jacob will officially retire this year after serving 21 years in the U.S. Air Force.