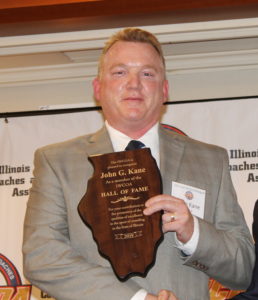 Class of 2019
Conant High School
John Kane began wrestling in 1977 at Matburns Wrestling Club, a Chicago Park District program at Mayfair Park. He was coached by Chuck Prettyman and Jerry Mroczek. John went to St. Patrick High School where he was coached by IWCOA Hall of Fame Coach, Niall Collins. John placed 3rd in the state tournament in 1985 and was later inducted into the St. Patrick High School Hall of Fame.
Upon graduation from High School, John attended Illinois State University and wrestled for Coach George Girardi for four years. John received his degree in mathematics in 1990 and began his teaching career at Plainfield High School where he was an assistant varsity wrestling coach. John moved to Conant High School in 1991, he taught mathematics and was the varsity assistant wrestling coach with head coach and IWCOA Hall of Fame Member, Jim Cartwright. John was an assistant coach at Conant until 2000 and then took over the head coaching duties at Conant from 2000 to 2008 with a record of 111-61-1, winning 3 MSL Conference Championships, 4 IHSA Regional Championships, 1 Sectional Championship and a 4th Place IHSA State Final Dual Team finish. During his career as an assistant and head coach, John has coached 51 state qualifiers, 18 state place winners, 5 state champions and 3 teams that have placed in the top four in the state.
John became the athletic director at Conant High School in 2008, which is a position he still holds today. John could no longer coach the high school team and moved to coaching the Conant High School feeder wrestling club, the Junior Cougar W.C. John coached the club from 2008 to 2017 to complete 27 consecutive years of coaching. John is currently in his 28th year at Conant High School. John continues to assist with wrestling tournaments, such as the Conant Thanksgiving Tournament, Jr. Cougar Club Tournament, IHSA Sectional Tournament and the Northwestern Midlands Tournament. John has introduced and helped pass legislation to the IHSA to begin to create an official IHSA season for high school female wrestlers, which is still an ongoing process.
John and his wife Julie live in Elk Grove Village with their three children, a daughter Hannah who is a junior at University of Illinois and two boys, Cormac and Patrick that attend Conant High School and wrestle on the varsity team. John feels fortunate to have a supportive wife, three great children and outstanding coaching role models throughout his grade school, high school, college and at Conant High School career.