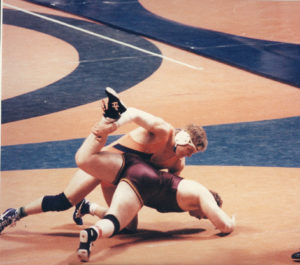 Hall of Fame Class of 1996
Hinsdale Central
Wrestler
Jon began his career at Hinsdale Central High school, wrestling varsity for 4 years. As a senior he qualified for the state.  As a non-scholarship wrestler, he won 3 Big Ten Championships for the University of Illinois.   He placed 3rd twice in the NCAA and as a senior won the National Championship, the first NCAA title holder in Illinois since 1958.   He was named Illinois University Outstanding Athlete in 1991. He was also named the Outstanding Wrestler in the Big Jo's as a senior.
He was champion of the Las Vegas College tournament, won the East-West All-star meet as a senior and placed three times in the Midlands.  In international competition, Jon has placed 4 times in the USA open.
He competed for the Wildcat club and was ranked in the top 6 at 220lb weight class.