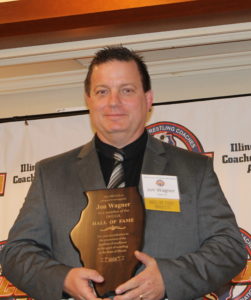 Class of 2019
SIUE/Edwardsville
Jon Wagner started his career following his brother Jack (All-State) into the sport of wrestling. Jon wrestled for West Allis Central High School (WI), and Wisconsin Hall of Fame Coach – Dan Gaynor. Jon was a WIAA All – State wrestler in 1985 at 167lbs. Jon was also a runner – up in the Central Juniors in 1985, sparking the interest of legendary Hall of Fame Coach – Larry Kristoff. Wagner went on to wrestle for SIUE, from 1985-1989, and he was a member of the 1986 SIUE National Championship Team.
After college graduation, Jon became a teacher and coach (football & wrestling). After brief stops at Clayton HS (MO), and Riverview Gardens HS (MO), Jon landed back in Edwardsville helping mold the Edwardsville Wrestling Youth Club and assisting under Hall of Fame Coach – Babe Stahlhut. In 1997, Jon took over the head coaching duties at Edwardsville HS, where he currently has over 480 wins, 11 Regional Championships, and 14 Southwest Conference Championships. In his 23 years of being head coach, Jon has coached 77 individuals to the IHSA State tournament, including 10 All-State Medalists, and 1 State Champion. His Edwardsville Tigers earned 4th place in 2006 and again in 2009 at the IHSA Dual Team State Finals. One of Jon's more meaningful awards came in 2008 when his EHS wrestling Tigers were honored for integrity and sportsmanship in winning the AT&T National Sportsmanship Award.
Jon would like to credit his totally supportive wife Sheila, and three daughters, along with the most loyal, hard – working, and long-standing assistant coaches a program could have. Also, a special thank you to the Edwardsville School District and community, the Friends of Edwardsville Wrestling, the parents, and of course his "boys" who have all made coaching for Jon a success and enjoyment.