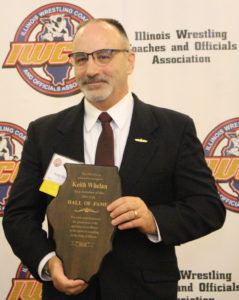 Class of 2018
Granite City North/University of Missouri
Keith was born February 15, 1959 in Alton, Illinois, the eldest son and older brother to Illinois Wrestling Hall of Famers, Robert Whelan and Khris Whelan.
He was first introduced to the sport of Judo by his father at the young age of 5. It is from the early age that Keith's pursuit and vocation in combat sports would begin. As a child, Keith remembers the sport of Judo as being fun, but not as intense as wrestling. He and his younger brother Khris were natural athletes in Judo and soon began to win nearly every competition they entered. It should be noted here that Khris Whelan is mentioned throughout this brief narrative, as Keith insists that he was not alone in this journey……. that the brothers Whelan accomplished a great many things together, as if they were of one body and one spirit, Keith clearly remembers his early exposure to the sport of wrestling.
During the Granite City Holiday Invitational Tournament when Keith was in 4th grade, and his father was one of the referees for the weekend event, he intently watched the competition and recalls wanting to wrestle. Following the Holiday Tournament, he and Kris begged their father to let them wrestle; to which he replied "NO, not yet…you're not tough enough". It was not until Keith entered his 6th grade where the Whelan boys finally achieved the level of "Dad Tough" and were allowed to begin their training in the park district league wrestling programs. "Our dad was right, wrestling was much tougher than Judo", Keith recalls, as both Whelan boys grasped the stark differences in technique and intensity between the two sports. With time, both got tougher and discovered how to incorporate Judo technique into their wrestling styles, a hybrid that was considered a bit unique at that time.
Keith wrestled at Granite City North High School where he was a three-time state qualifier and two-time place winner. With his father as his coach and brother Khris as his workout partner, Keith was able to wrestle year- round throughout his high school career, finishing with an impressive 108-14 record.
Additional highlights from his High School career include:
• Illinois State Freestyle Champion & multiple place winner • Member of Illinois All Star Teams.
• Two-time USWF Junior National Freestyle finalist; three-time USWF Junior National Freestyle qualifier. • USWF Greco Roman Champion; Open Division
• 3rd place winner in final U.S. Olympic Trials – Greco Roman
Following high school, Keith attended Florissant Valley Community College St. Louis, Missouri, and competed as a "wrestler in waiting" for his brother Khris to graduate high school. While wrestling for Florissant Valley, he was a 1978 JUCO All American. Additional Highlights include:
• 5th place winner in the Senior Freestyle Championships
• Served as the 2nd Alternate on the World Freestyle Team at 125lbs (Mexico City)
• Served as the team member at 114.5 lbs. (Greco Roman) for the World University Games in Sofia Bulgaria
After JUCO Keith wrestled for the University of Missouri, where he earned Division One All-American status, placing 6th at 126 lbs. in 1979, and was a 3 year starter at that weight class. Keith graduated from MIZZOU in 1982 with a Bachelor of Science Degree in Secondary Education.
Following graduation from the University of Missouri, Keith enlisted and was later commissioned an officer in the U.S. Navy, reaching the rank of Lieutenant Commander. During his 15 years of active duty, he was a member of the U.S. Navy's wrestling team. During that time, Keith earned ALL-NAVY team member status at 136.5 lbs., on both Freestyle and Greco Roman teams, and was a two-time runner up in INTERSERVICE Championships in 1984 and 1985.
In 1991 and 1992, Keith served as one of the Assistant Wrestling Coaches at the U.S. Naval Academy at Annapolis. Following his Naval career, Keith also served as a volunteer Assistant Coach at Mauldin High School, Mauldin, SC.
Currently, Keith is a Senior Supply Chain Manager for Fluor Enterprises, Inc. Located in Greenville, SC. He lives in Simpsonville, SC. He has 4 Children David, Kim, Kylie & Nicki and is married (for 26 wonderful years) to his wife Jennifer (Formally, Robinson) from Park Ridge, Illinois