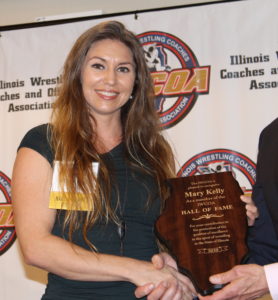 Class of 2019
Mahomet-Seymour
Mary attended her first wrestling event in her first week of life, riding the bus along with the Iowa State wrestling team to Nebraska for a tournament that her Uncle Bill was competing in.  She was born into a wrestling family with deep roots in Illinois. Her father and Uncle were both south side Chicago boys, both earning induction into the Illinois Wrestling Coaches and Officials Hall of Fame. The accolades for Bill Kelly include winning two Illinois state high school Championships and one Division I National Championship for Iowa State.  Father Jerry won 2 Illinois State Championships along with a 3rd place finish. Jerry went on to finish his career at Oklahoma State earning a second and third place finish in the NCAA Division 1 Championships.

Mary idolized her uncle, father and the sport of wrestling and began her wrestling career at the age of nine. When her parents Jerry and Beccie decided to sign her brother Chris up for the local kid's club wrestling team, Mary asked to join also. She began competing on her all boys Mahomet-Seymour kids club team until joining the IESA Mahomet-Seymour Junior High team in 7th grade. Mary went undefeated until the State Tournament (31-1) her 7th grade year. With the same undefeated scenario in 8th grade she placed third in the IESA State Championships (36-1).
As a high school wrestler Mary was a varsity starter sophomore through senior year, being chosen a team captain her senior year. She was the first female to win a match at the Illinois Dual Team State Tournament when in 2001 and 2002 the M-S Bulldogs placed third and fourth respectively. Mary would win 75 varsity matches as a 3-year starter. She was coached by IWCOA Hall of Fame Coaches, Rob Porter, Tom Porter and Steve Combs. Combs had a huge influence on her summer freestyle wrestling. To continue pursuing the sport post high school, Mary needed to focus and excel at freestyle.

While still in High School she became involved with women's wrestling competitions. She represented the USA competing in age group World Championships, winning silver in 1998 at Cadet Worlds and gold in 1999.  She won silver in the 2000 Junior World Championships and a bronze in 2003. Mary also took home a bronze in the 2005 World University Games. All told, Mary was a Cadet World Champ and she would win 5 total world level medals.

After high school Mary attended multiple colleges pursuing her wrestling endeavors, including the U.S. Olympic Education Center at Northern Michigan University. She eventually moved on to become a resident athlete at the Olympic Training Center in Colorado Springs.  Mary placed fourth in the '04 & '08 Olympic Trials. She won the USA World Team Trails in 2006 and finished 9th at the Senior World Championships in Guangzhou China. She competed on the 2007 World Cup Team, placing 5th.  Mary was on the U.S. National team for 7 years, representing the U.S. internationally in tournaments in 15 countries during her career.

After Mary's career came to an end due to injury, she continued on the road to recovery earning her degree in Community Health Education. She has turned her love of athletics and fitness into the health and wellness realm with Personal Training and CrossFit. Mary is now engaged to her fiancé Jeremy. Together they reside on the Big Island in Hawaii.