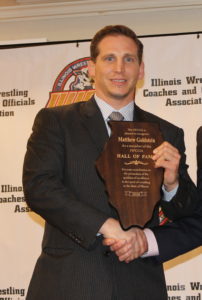 Class of 2019
James B. Conant High School
Matt Goldstein won 3 IKWF State Titles in 1990, 91, & 92 under the tutelage of coach Dave Kramer. Dave also coached Matt to 3 Cadet National Championships in 1991 & 92 prior to attending James B. Conant High School. Matt won 2 Greco-Roman National titles and 1 Freestyle. Matt was a Cadet World Team member in 1991, where he wrestled for the United States in Istanbul, Turkey.
Matt was coached by IWCOA Hall of Fame Coaches, Jim Cartwright, Randy Conrad, and John Kane at Conant High School from 1993-96. They coached him to 1st, 2nd, and 3rd place finishes in the IHSA state tournament at 103 lbs., 112 lbs., and 119 lbs. While at Conant, Matt was a 5-time Asics Junior National Finalist. He was a two-time junior Greco-Roman National Champion, a two-time runner up in Greco and a finalist in freestyle. In 1994, Matt wrestled for the United States on the Junior National Greco-Roman World Team in Budapest, Hungary. While at Conant, Matt compiled over 150 wins with less than 10 losses throughout his 4-year high school career.
Matt began his college career at the University of Wisconsin wrestling under Olympic Silver Medalist Barry Davis. While there, he was an NCAA National qualifier. He transferred to Lehigh University in 1999. While at Lehigh, Matt wrestled under Coaches Greg Strobel and Pat Santoro. Matt was a 2-time NCAA Division 1 National qualifier at 141 lbs., and finished his career ranked in the top 12. Matt won the Greco-Roman University Nationals in 2001 at 66 Kg (145.5 lbs.). He was 6th at the 2001 Greco-Roman World Team trials. Matt also wrestled in the Maccabiah Games in 2001 in Tel-Aviv, Israel. He finished 3rd in Greco-Roman and 1st in freestyle at 66 Kilos. He was the only 2 sport athlete at the games, where he would also finished 3rd in Judo.
Matt graduated from Lehigh University with a Bachelor of Arts in History in 2001. Matt then went on to receive his Juris Doctorate at Loyola University-Chicago in 2005. He is now in Medical Device Sales, selling endoscopy equipment for Richard Wolf Medical Devices.
While in Law School, Matt coached for a year at the University of Chicago with IWCOA Hall of Fame coach Leo Kocher. Following that, Matt coached at Stevenson High School for a year. He then coached with Doug Klein at Ida Crown Jewish Academy for 4 years. While there he coached Stanley Dayan to a Regional Championship where he beat the state champion to be that year. The school's religious policy kept him from wrestling after the Regionals. Matt now coaches his friend Joe Siprut's 2 children amongst others in order to give back to the sport that has given him so much.