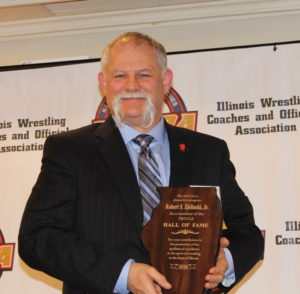 Class of 2019
McHenry, IL
Rob Zielinski began wrestling in 1974 as a freshman in high school when he was recruited by IWCOA Hall of Fame coach Chuck Farina during a physical education class at East Leyden High School. Rob wrestled all four years for the Eagles, finishing his career at 155 lbs. as a District runner-up, a sectional qualifier, and a member of the undefeated, AA Illinois State Champions in 1978.
After high school, Rob wrestled for the Purple Aces at the University of Evansville. During this time, injuries kept Rob off the mat as a competitor, but he worked with the intramural department as an official for volleyball, football, soccer, and wrestling.
In 1982, Rob graduated with a Bachelors of Arts in Elementary Education and returned home to Franklin Park to teach elementary and junior high math and science. While there, Rob became a varsity wrestling assistant at Leyden High School. The wrestling Eagles were highly successful, finishing 2nd in 1985 and 3rd in 1986. Rob eventually left to join IWCOA Hall of Fame coach Terry Clarke as his assistant to help revive the program at York High School. In three short years, the Dukes went from 3 wins to the sectional finals, one match from the state tournament.
Rob's career path then took him into school administration and out of the coaching ranks. As we all know, wrestling is a life style, so Rob looked to officiating to continue to stay connected to wrestling.
Rob has been involved as an IHSA Certified official for 30 years. Over that time, he has officiated 25 regional tournaments, 15 individual sectional tournaments, 10 team sectionals, and 9 individual and team state championships as well as 8 IESA state tournaments. Additional tournaments include: Midwest Nationals, Barrington Invitational, Conant Invitational, DeKalb Flavin Invite, Harvard Sciacca-Holtfreter, Leyden Conrad Invitational, Oak Park-River Forest tournament, Sycamore tournament, Vernon Hills dual team, IWCOA Fresh/Soph tournament, and Illinois Wrestling Federation state finals. As an administrator, six wrestling teams have qualified for the state tournament and Rob was voted a finalist for Administrator of the Year.
Rob continues to serve the wrestling community by serving on the IHSA Wrestling Advisory Committee, the IHSA Officials Advisory Committee, and as an IHSA Wrestling Clinician.
Rob currently resides in McHenry, Illinois with Marge, his loving wife of thirty-four years. They have two grown children; Eric, a surgical resident in Chicago, and Bennett, a Mental Health Therapist for a non-profit agency in the state of Iowa.