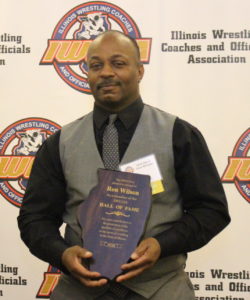 Class of 2018
Hirsch High School/Bowen High School
Ron was born and raised in Chicago and attended Chicago Public Schools throughout elementary and High School. He started his wrestling career in 1970 at Avalon Park District on the south side of Chicago and wrestled at Hirsch High School from 1975 to 1979. Ron was an I.H.S.A. state qualifier in 1979 at 112 lbs. He attended North Central College and wrestled there for a year, then went on to wrestle at Wright Jr. College, where he earned a degree in Special Ed and P.E. In 1981 Ron started as an intern at Hirsch High School where he was also the wrestling coach from 1981 to 1986. He joined the business world from 1986 thru 1999. In 2000, Ron went back to teach special education at Bowen High school and there he became the Head Wrestling Coach.
In 2003, Ron joined the Chicago Fire Department and took a short leave of absence from Bowen until his training was finished. While a firefighter, Ron continued coaching and mentoring on his off days. In 2003, Bowen won its first city championship and became the first Chicago public school to win an IHSA regional championship. They would go on to win the 2004 and 2013 city championship along with IHSA regional championships in 2010, 2011, 2012, 2013, 2014, 2016, and 2017. In 2012 and 2013 Bowen made it to the final 8 of the dual team state.
Throughout Ron's Bowen coaching career, he has had 35 city champions, 48 regional champions, 2 sectional champions, 39 state qualifiers, 16 state placers, and 1 IHSA State Champion.
In addition to being the wrestling coach, Ron was also Bowen's head athletic director from 2013-2016, and the girls and boys head volleyball coach from 2005 to present. His girls won back to back conferences titles in 2012 and 2013, and the boys won the 2015 volleyball conference with a 15-0 record. Ron is proud to say, 48 of his athletes have gone to college on 4-year scholarship, 20 have earned degrees, 8 became teachers, 4 became wrestling coaches, 3 became police officers, and 1 is entering the NFL draft this year from Kansas. Many others have joined the business world.
Throughout his many years of coaching, Ron is grateful for the opportunity to have worked with so many great people within the wrestling family. He is truly honored to be nominated for this distinguished award. Ron is thankful for the opportunity to help young men and women develop the life skills they will need to "Carry the torch". He would like to specifically thank his three mentors: Dr. John West (deceased), his high school coach Mr. Charles Frazier, and true friend to the end, IWCOA Hall of Famer Mr. Gregory Brooks.