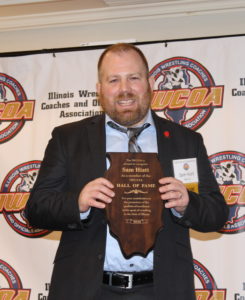 Class of 2019
DeKalb High School and Northern Illinois University
Sam Hiatt was introduced to the sport of wrestling at a young age along with his two brothers Andy and Max Hiatt. His brother Andy was a 4-time All-state wrestler including a 2-time state champion and his brother Max was also an all-state wrestler.
Sam was coached by Hall of Famer Arch Richoz to the 1996 IESA State championship for DeKalb Huntley Middle School. He then went on to wrestle for Hall of Fame coach Terry McCoy at DeKalb high school for 4 years. During those years, Sam complied a 159-13 record for the Barbs. He was a 4 time Upstate Eight Conference Champion, a 3-time regional champion, a 2-time sectional champion, and a 4-time all-state wrestler. He finished 6th in the state in 1997 at 112 lbs., 4th in the state in 1998 at 119 lbs., 3rd in the state in 1999 at 125 lbs. Sam was the IHSA state champion in 2000 at 130 lbs.
Sam went on to wrestle at Northern Illinois University for Dave Grant. After redshirting freshman year, Sam was a 4-year starter winning more than 100 matches in his college career. He was a two-time MAC champion and qualified for the NCAA tournament three times. In 2004, he made it to the round of 12. Other college highlights included being a 3-time captain for the Huskies, wrestling in the NWCA All-Star Dual, and being named a First Team Academic All-American. He was also named the NIU Outstanding Senior athlete in 2005. Sam graduated from Northern Illinois University with a degree in Accounting.
After becoming involved as an assistant coach at DeKalb high school and coaching at the DeKalb Wrestling Club, Sam decided to go back to Northern Illinois University to pursue a career in education and receive a teaching certificate. In 2016, Sam was hired at DeKalb High School as both teacher and head wrestling coach.  The DeKalb Barbs qualified 10 wrestlers this year to the IHSA Individual State Tournament and after being Ranked 6th they would bring home the 4th place trophy at the IHSA State Dual Team Championships.
Sam and his wife Megan have two children, Hayes and Brynlee, and they reside in DeKalb, Illinois.