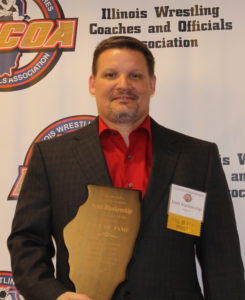 Class of 2019
Milan, IL
Scott Blankenship began his wrestling career at the age of 7, wrestling many open tournaments during the summer years until Junior High started. Scott began wrestling for Rockridge Junior High School in 1981 under Coach Rick Amy. Scott was an IKWF State qualifier at 95 lbs. his eighth-grade year.
Scott was a member of the Rockridge High School wrestling team from 1983 and 1987 under head coach Craig Fredrichs and assistant coach Rick Amy. Scott would win 90 matches during his high school career. In 1986 as a varsity 138 pounder, Scott helped Rockridge earn 3rd place in the IHSA Dual Team State Tournament. As a senior in 1987 Scott again wrestled at 138 lbs.  placing 3rd in the IHSA Individual State Tournament and his Rockridge Rockets would win the IHSA Dual Team State Championship.
After high school, he obtained a job as a draftsman at KJWW Engineering in Rock Island, Illinois. Scott worked his way up to a Senior Electrical Designer and just celebrated his 30-year anniversary at the company.
Scott became a wrestling official in 1992, following in his father Dave Blankenship's footsteps. Dave Blankenship, was an IHSA wrestling official for 25-years. Dave and Scott are members of a rare group of father and son combinations who would reach the state tournament level as wrestling officials. Scott has now officiated for 27 years and was chosen to officiate 20 IHSA Regionals, 15 IHSA Sectionals, 10 IHSA Dual Team Sectionals, 4 IHSA Dual Team State Tournaments, 6 IHSA Individual State Tournaments. Scott has also worked the Illinois/Indiana All-Star Classic Duals, and was an NCAA Division III official for 4 years. He worked the 1999 NCAA Division III National Finals as an assistant referee.