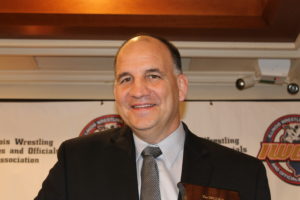 Class of 2019
Frankfort Falcons, Tinley Park High School, and Southern Illinois University Edwardsville
At the age of seven, Tom began his wrestling career for the Tinley Park Bulldogs, where he was coached by Mike Stuckley and his dad, Frank Blaha. In 1982, the Frankfort Falcons Wrestling Club was started by Frank Blaha and Butch Bormet. That same season, weighing 111 pounds, Tom won the first state championship for the Falcons. The following year, Tom took another IKWF state title at 135 pounds.
Tom started his freshman year in 1984 at Tinley Park High School and wrestled for Coach Dave Foss. Before graduating in 1987, he qualified for state three times and was a two-time state finalist. Tom placed second in 1986 at 145 and second in 1987 at 155. Other accomplishments include four-time conference champ, all-time wins leader (his record was eventually shattered in 2016 by his former teammate's son, Eric Schultz), and All-Conference lineman for the 1986 4A state champion football team. Tom had four winning seasons in high school, never lost a dual meet match and posted a career record of 133-13-2.
After high school, Tom wrestled for Southern Illinois University at Edwardsville from 1987-1992; he was coached by IWCOA Hall of Famer, Larry Kristoff, and went on to become an NCAA Division 2 qualifier in 1989 and 1992. He placed 8th in 1989 at 150 pounds and 5th in 1992 at 158 pounds. His wrestling achievements were not the only memorable part of SIUE; Tom also met the love of his life, Sherri, who has always been his biggest and best supporter.
After graduating college, Tom's first job was at Granite City High School, where he taught and coached for six years. During his time there, the team was ranked 10th in the nation, with multiple state placers. After he left Granite City, Tom served as head coach for Cahokia High School during the 1999-2000 school year; that year, he had two state qualifiers.
Tom moved on to Collinsville High School; he is currently in his 19th year as head coach for the Kahoks and entered the 2018-2019 season with a school record of 254 coaching wins. Tom has had 17 consecutive winning seasons, which is quite the accomplishment at a school that is known for its basketball program. While Tom has many fond memories from coaching the Kahoks, getting the opportunity to coach his sons is at the top of his list. In 2009, Tom started the Jr. Kahok IKWF Kids Club, which he still coaches today.
When asked about where his love for wrestling came from, Tom responded with, "I guess you could say I basically grew up in the sport". Wrestling runs in Tom's blood, and it has always been his dream to coach. Tom's dad (Frank Blaha), his Uncle John, and Uncles Dwain and Jimmy Capodice all wrestled at Carl Sandburg High School under Coach John Anderson; his cousins wrestled at De La Salle High School and Lincoln Way Central High School.
Tom has been fortunate to work with so many great coaches, who are dedicated to the sport of wrestling, and would like to recognize the following current and former coaches: Tj Slay, Mark Whitaker, Khris Whelan, Mike Matthews, Ryan Stolcis, Pete Trapp, Johnny Anderson, Charlie Hunter, and Jordan May. Blaha says, "The Kahok wrestling program would not be possible without a great coaching staff; their hard work and dedication does not go unnoticed. I have been very lucky to work with some top coaches over the years".
Tom's favorite part of coaching is watching his athletes grow as individuals during their time in the program, and continuing to cheer them on after as they become successful in life. Tom says, "There is no better feeling in the world than knowing I helped play a positive role in the lives of my wrestlers".