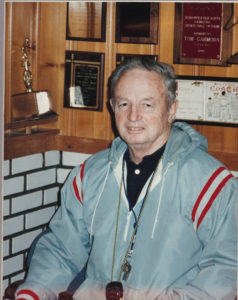 Hall of Fame Class of 1996
Jacksonville
Coach
Tom graduated from Granite City High School and placed second in the state.  He wrestled for Hall Of Famer, Ted Seabrooke and Lawrence Mccauley, both deceased.  At Arkansas State, he wrestled for the future-famous coach at Iowa State, Dr. Harold Nichols.  During this time he placed second in the National Junior AAU.
In the Marine Corps, he wrestled in the Naval training center events and the Far Western AAU.  His teaching-coaching career has been at Jacksonville for 37 years.  His teams won 353 meets, won 8 Conference Championships and 10 Regionals.  He had 39 State Qualifiers, 6 Placewinners, and they also won 11 other major tournaments.
He was instrumental in starting the Illinois School for the Deaf program. Bob Mansell worked out with Jacksonville, entered the State Tournament as a freshman and sophomore for ISD and in his junior year ISD officially began their program. The Illinois School for the Deaf has awarded Tom a citation for his contribution to ISD.
Tom has officiated for 20 years at the junior high school, high school and college level in that area. Tom has been elected to the Granite City High School Hall of Fame and the Jacksonville High School Hall of Fame.
One of his proudest achievements is that 35 former students and wrestlers have followed in his footsteps.