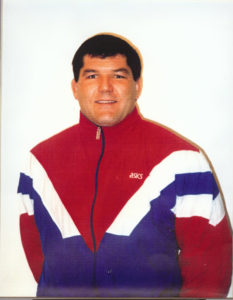 Hall of Fame Class of 1996
Bloom Township
Wrestler
Tom wrestled at Bloom Township for Coach Greg Zuidema, where he was a state qualifier.  He placed 5th as a high schooler in the junior nationals.  At Triton Junior College, he wrestled for Hall of Famer Art Kraft at Triton, Tom won two national junior college championships, pinning all 8 opponents in these two years and was named Outstanding Wrestler as a sophomore.
He wrestled for Olympic Coach Joe Seay at Oklahoma State and was a two-time Big 8 Champion and placed in the NCAA Division I, 4th as a junior and 3rd as a senior.  He won the Hall of Fame classic in 1985 and 1986.  He won the East-West All-Star meet in 1986 and 1987, and placed 5 times in the Midlands – twice a champion.
Internationally, Tom has been involved in numerous tournaments and has traveled all over the world.  He has placed 11 times in the US Nationals, never lower than 3rd.  He was 2nd in the World Cup in Mongolia, 2nd in the Pan American trials, Champion at Yasar Dogu in Turkey, and 2nd in 1992 Olympic trials.  He won the Sunkist Open 3 times, 2nd once, 2nd in the Krasnoyarsk, Russia tournament, 2nd in the Medved tournament in Russia, Cuban champion twice, Canadian Cup champion, and Champion of the Panama Cup.  He has placed in the Olympic festivals and world team trials.  In 1987, Tom won the championship ring from USA wrestling, which is given to the man who scores the most competitive points in sponsored USA events.
Tom has been an assistant coach at Oklahoma State and is presently assisting at Purdue.  He is still competing and is ranked #2 in the United States. Most of his losses in the United States have been to #1 Bruce Baumgartner, two-time Olympic champion, and three- time world champion.