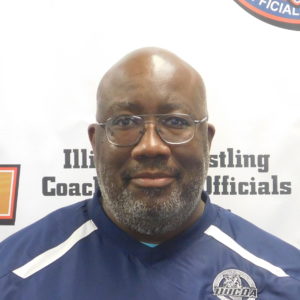 Class of 2005
Born in Chicago, IL, Tony Clarke began his high school wrestling in North Chicago. He wrestled for three years under Hall of Famer Amos Jones. He also lettered in Cross-County and Track. He graduated from Waukegan West High School in 1982 and was a sectional qualifier.
Tony began working for the Department of Defense at Great Lakes Naval Base in 1984 until the present time. He coached two years with the North Chicago Wrestling Club and eight years with the Hawkeye wrestling Club. During that time, he led numerous teams to regional and sectional titles and had two IKWF State Champions and several place winners. He then coached for two years with the Corsairs Wrestling Club and four years at Lake Bluff Junior High School. During that time he coached an IWF State Champ and an IESA State Champ. He has worked as that freshman coach for the past two years at Carmel High School in Mundelein under another Hall of Famer, Joe Scordino.
He began officiating in 1984. Since that time, he has officiated eighteen IHSA regional and fourteen IHSA sectionals. He also has officiated nine IHSA individual state finals and three IHSA dual team state finals. Tony served as the coordinator of officials at the 2003 Dual Team State Finals and the 2005 Individual State Finals. In additional to numerous IKWF/IWF and IESA regional and sectional tournaments, Tony has officiated in three IKWF individual state finals, two IWF individual state finals and seven IESA individual state finals.
Tony is currently an IHSA wrestling clinician and has served on the IHSA Wrestling Advisory Committee, IHSA Ad-Hoc Committee for weight control and IESA Wrestling Advisory Committee. He is the assignment chairman for the Mid-Suburban League and West Suburban Conference.
In 1996, the IWCOA name Tony as Official of the year and in 1001 he was selected as National Federation of Officials Association Official of the year.