Class 2A state champions stories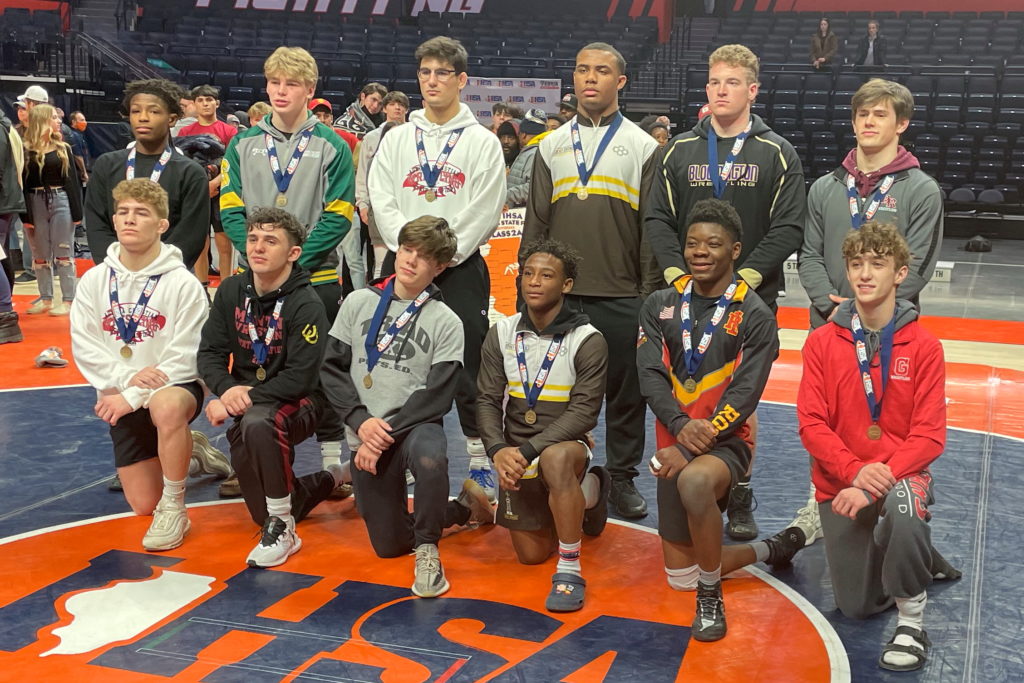 By Patrick Z. McGavin
For the IWCOA
CHAMPAIGN — The beauty of the state tournament is the format.
By jamming together the state's best wrestlers by enrollment, geography is less important than matchups.
The state series invariably finds a way to bring the two best together. Sure, upsets happen.
Aurora Christian senior Braden Stauffenberg and Sycamore senior Brayden Peet had, one might argue, a historical destiny to meet here.
They were matched together at the regional and sectional. Peet won the first, Stauffenberg the rematch during the sectional.
Naturally, the State Farm Center gave rise to the rubber match. It was a knockout.
Aurora Christian and Joliet Catholic had three finalists and two state champions.
All three Aurora Christian wrestlers, including Stauffenberg, had their roots at Montini before transferring.
Grayslake Central had four finalists, Washington three and Deerfield two.
The cream clearly rose to the top.
When the history of this year's Class 2A individual state championships are written, what is going to remembered are the remarkable closings.
Several went to overtime, and a couple were decided in the final seconds.
It was that kind of a memorable and revealing night nobody is likely to forget.
Here is a closer look at what happened in each weight class.
Class 2A state champions—
106 pounds—Andrew Davis, Glenwood, sophomore
Weeks out of the start of the state series, Andrew Davis was not even sure of his status.
A hand and back injury put him on the shelf for half the season.
"First it was my hand, and then it was my back," Davis said. "I wasn't sure how I'd be coming of the injuries."
It turns out, he was as good it gets.
Davis completed an undefeated season with the 5-2 decision over Grayslake Central sophomore Anthony Alanis for the 106-pound state championship.
"If anything, with the time off, maybe that meant I was a little fresher," he said.
Rangy and lithe, Alanis (48-5) scored the opening points on a first period takedown.
Davis (17-0) shook off the early deficit, using his superb footwork, balance and quickness to offset his opponent's superior size.
His second period escape and takedown swung the match.
"I just knew I had to stay confident, and I could ride him out and be strong," Davis said.
He was just beginning to articulate the significance of the moment.
"It means I can get two more," he said.
Davis edged Aurora Christian freshman Deven Casey 3-2 in the semifinals. Alanis secured the majority decision 14-4 over Kaneland senior Cameron Phillips in his half of the bracket.
Casey (32-7) defeated Phillips (40-7) by majority decision for third place. Junior Caden Hatton (46-7) of Mahomet-Seymour defeated freshman Bradley Ruckman (42-9) of Civic Memorial in the fifth-place match.
113 pounds—Gylon Sims, Joliet Catholic, junior
More than 730 days passed the last time Joliet Catholic sophomore Gylon Sims stood at Mat 2 at State Farm Center.
As a freshman two years ago, Sims reached the final only to be soundly beaten by Washington's Kannon Webster.
The memory stung.
"I want to talk about that experience my freshman year against Kannon," Sims said.
"I got majored, and that definitely lit a fire under me. It made me hungry. I was happy being in the finals, but not satisfied.
"Getting the beating I got just made me more hungry."
Sims turned the tables with a dominant 17-6 major decision over Rochelle freshman Xavier Villalobos for the 113-pound state championship.
Sims (33-4) took charge at the start, taking control with five quick points on a takedown and reverse cradle that resulted in three near-fall points.
I felt I could have done better with the cradle, technique-wise, but I stuck with it, and it worked," Sims said.
"I got my three back points, and that was a big confidence booster."
He posted four additional takedowns for the rout. He achieved his dream.
"I mirrored what Kannon did to me," he said.
Sims reached the final with a technical fall over St. Rita junior Austin Dangles (19-10) in the semifinal.
Villalobos defeated Crystal Lake South's previously unbeaten Josh Glover 5-3 in his semifinal.
Glover (30-1) captured the third-place bracket by defeating Geneseo freshman Zachary Montez with the 4-2 decision. St. Patrick's Olin Walker (39-16) defeated Dangles for fifth place.
120 pounds—Colby Crouch, Triad, sophomore
In a scintillating showdown of elite underclassmen, Triad's Colby Crouch pulled out a Houdini-like escape in the closing minutes to defeat Washington's precocious freshman Peyton Cox 5-4 for the 120-pound state championship.
He eluded Cox's hold on his ankle and foot in the final 15 seconds.
Crouch (35-0) completed a standout individual season.
"He's a tough kid who has a lot of good training partners, and comes from a very good high school program," Crouch said.
"I don't know if being older gave me the edge in the match. I just had a little bit more experience."
The marquee showdown was a daring example of back and forth actions. Crouch took the early 2-0 lead with a first period takedown.
Cox (41-3) responded with an escape and takedown in the second period for the 3-2 advantage.
Colby set up his winning action with another takedown in the third period that created the 4-4 deadlock.
"I got the job done, and that's all that matters," Crouch said. "Being an undefeated state champion is cool, but I still have more work to do.
"I still have two more years, and two more chances to win a state title."
Crouch won the lower bracket with a first period fall over Antioch sophomore Edgar Albino in the semifinal.
Cox defeated Morton's Connor Kidd 10-5 in his semifinal bracket.
Albino (41-2) captured third place with a second period fall over Kidd (36-6).
Bloomington's Connor Nishida (36-8) edged Galesburg's Gauge Shipp 5-4 in the fifth-place match. Shipp finished the year 41-7.
126 pounds—Markel Baker, Freeport, senior
Freeport senior Markel Baker is not afraid of wrestling from behind.
He always stays composed and cool.
"It was really just a feel thing," he said. "I had to feel him out at first, and get a little boost."
Facing a savvy and skilled opponent in Aurora Christian's Joe Fernau, Baker had to find his own rhythm and space.
His power and perseverance resulted in the 5-4 victory for his undefeated state championship at 126 pounds.
"Even though he took the lead, I knew I could come back," Baker said.
As a sophomore wrestling at Montini two years ago, Fernau (26-7) captured the Class 3A 106-pound state championship.
His experience showed at the start as he jumped out to the early advantage.
Baker adjusted and found his groove during the middle of the second period. His escape and reversal put him up 3-2.
With the match tied at 3-apiece, Baker (127) used his explosive first step to overpower Fernau for the 5-3 lead.
Baker qualified for the title match with a late third period fall over Mattoon sophomore Korbin Bateman (36-6) in the semifinals.
Fernau required overtime to edge Rockford East freshman Donald Cannon (28-7).
Oak Forest junior Caden Muselman (33-4) defeated Bateman by a 6-2 decision in the third-place match. Cannon edged Galesburg sophomore Rocky Almendarez (37-9) for fifth place.
132 pounds–Kannon Webster, Washington, junior
Kannon Webster is in a class by himself.
"Just pushing myself in the practice room, and getting better from my teammates every day is what I focused on," he said.
After capturing the 106-pound state championship two years ago, he showed no layoff from taking last year off.
Webster put on a clinic with a 24-9 technical fall over Mascoutah's Santino Robinson for the 132-pound state championship.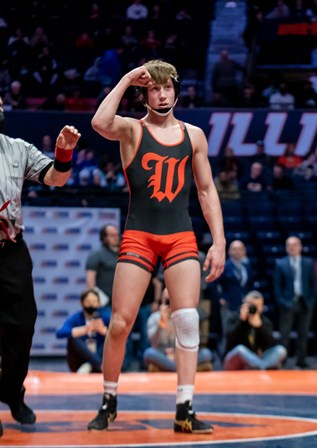 The matchup appeared to be the best of the day. Webster spent the season toggling between 126 and 132 pounds. A transfer from Missouri, Robinson (44-2) was a two-time state finalist.
As great and skilled as he is, Robinson was no match for the power, finesse and technical superiority of Webster (48-1).
"I wanted to dominate," Webster said. "It felt really special to have last year off, and come back with a more normal season this year.
"I just pushed myself to score in the practice room, and that paid off in my matches."
Webster staked his claim as the most dominant wrestler in the class. He posted falls in the preliminaries, and defeated Aurora Christian freshman Josh Vasquez (24-10) by technical fall in the semifinal.
Robinson defeated St. Patrick standout Sean Conway 8-4 in the semifinals of the lower bracket.
Conway (51-2) fought back for the 7-2 decision over Vasquez for third place. The University of Chicago recruit rewrote all of his school's records for career victories and falls.
Joey Biciocci (41-10) of Civic Memorial posted the third period fall over Deerfield's Renzo Morgan (33-13) in the fifth-place match.
138 pounds–Aoci Bernard, Rock Island, senior
Nothing races the mind of a wrestler than the sense of having his back exposed for near points.
"I heard all of my coaches yelling at me, and I could hear all of the fans screaming, and I knew I had to get up," Rock Island senior Aoci Bernard said.
In an extraordinary and pulse-pounding final seconds, Bernard nearly saw his dream fade as Deerfield's Kai Neumark in the final seconds at 138 pounds.
Trailing 6-4 as time wound down, Neumark (38-2) made a seemingly miraculous takedown with six seconds remaining.
Aoci's momentum appeared to take him toward his back.
He executed a brilliant and deft rolling action that created separation as time expired.
Officials awarded him the escape point for the thrilling and remarkable 7-6 victory for the state championship.
"The moment I hit my back, I knew I had to get out, and I hit that roll," Aoci said.
"I didn't want to go into overtime. I was tired, and he was tired. As soon as I got him to his back, time ran out and I knew I won. I knew I got the job done."
Aoci reached the championship match with an 8-4 decision over sophomore Bryce Griffin (41-7) of Civic Memorial in the semifinals.
Newmark earned the major decision over Owen O'Connor (26-12) of Joliet Catholic in the upper bracket.
Antioch junior Caleb Nobiling (39-7) defeated Griffin 4-2 for the third-place prize.
O'Connor captured fifth-place honors with the 4-1 victory over Jacksonville junior Collin Reif (35-9).
145 pounds–Jayden Colon, Montini, sophomore
Jayden Colon was waiting for his moment.
After a scoreless first period in his 145-pound state title match against Joliet Catholic's Mason Alessio, he saw his chance.
He shook off an Alessio reversal that tied that match at 3-3.
His third period escape and subsequent takedown fueled his 6-3 decision.
"Early workouts, and getting there on the weekends, even when I didn't want to be there," Colon said, explaining his conditioning and toughness.
Colon (25-4) nullified Alessio's superior reach and height with excellent footwork and balance.
"It was just staying tight, getting close and finding the moves the worked best for me, and opening it up and getting it out there," Colon said.
Colon reached the final with the impressive first period fall of Mattoon's Kiefer Duncan in the semifinals. Alessio (34-5) posted the 6-0 decision over Sterling's Drew Kested.
Duncan (43-3) captured third place with a 1-0 decision over Rochelle senior Caleb Nadig (36-6). Deerfield's Lucio Morgan (42-6) was awarded fifth place over Kested (34-10) by forfeit.
152 pounds–Braden Stauffenberg, Montini, senior
Aurora Christian senior Braden Stauffenberg had to do the unimaginable—defeating a high quality opponent for the third time in two weeks.
"I have never had to go through that, and push through that before, facing a solid, hard-fought wrestler three weeks in a row in the finals," he said.
"I just wanted to stay positive and keep my foot on the gas pedal."
Stauffenberg prevailed 5-3 in an epic overtime clash of the 152-pound state championship.
Peet (43-3) initiated actions, forcing Stauffenberg to come up with the proper counter.
He did just that. Peet got the early takedown, only to see Stauffenberg create the reversal.
Peet's second period escape was echoed by Stauffenberg's escape at the start of the third period.
"I knew that my shape is better than every 152-pounder in the state," Stauffenberg said.
"I knew if I kept pounding and pounding, I am going to go for it and eventually get it."
In the grueling, charged back and forth, he saw his chance early in the overtime.
"I saw an advantage, during overtime, when we went out of bounds, and he was still staying on the line, and I am right back at the center of the mat and ready to go.
"I saw that as an advantage."
Peet was valiant and humble in defeat.
"It's hard to wrestle like that after doing it three weeks in a row," Peet said. "It sucks to lose that way.
"If I was going to lose to somebody, it was going to be him."
Just as his match was ending in 2A, Conant junior Ethan Stiles completed his stunning 1-0 upset of previously undefeated Damari Reed of Shepard.
Stauffenberg administered Stiles' only defeat during the season.
Stauffenberg survived Montini sophomore David Mayora 2-0 in his semifinal bracket.
Peet defeated Freeport's Tarrone Jackson by the 7-2 decision in the lower bracket.
Mayora (18-4) won by first period fall over Jackson for third place. Marion's Nate Dampier (41-3) won by fall over Stamos Tsakiris (40-8) for fifth place.
160 pounds—Benjamin Shvartsman, Deerfield, senior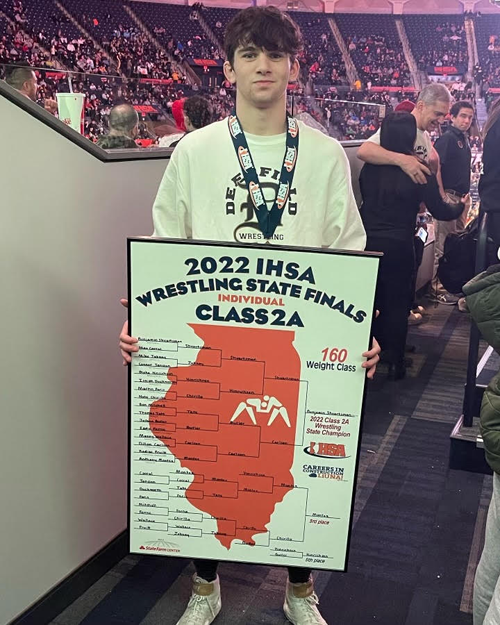 The third time was history.
Deerfield senior Benjamin Shvartsman prevailed 3-1 over Crystal Lake Central's Dillon Carlson for the 160-pound state title.
Shvartsman (46-0) defeated Carlson for the third time this season.
His late first period takedown was the crucial action.
"I got my overbook, and he shot in, and I saw the opportunity and I took it and I got the go-behind," he said.
"From there, I just made sure I shut his offense down."
The two are set to wrestle Tuesday at the team sectional dual.
"I wasn't really thinking about my record," Shvartsman said. "I was just trying to get my ties, and score points.
"With that came the state title and the undefeated record."
Shvartsman defeated Washington junior Blake Hinrichsen by major decision in the upper semifinal bracket.
Carlson (44-5) defeated Kenwood senior Joshua Butler 8-5 on his side of the bracket.
Geneseo senior Anthony Montez (48-3) edged Brother Rice's Nate Chirillo (20-5) for third place. Hinrichsen (36-14) won by fall over Butler for fifth place.
By finishing sixth, Butler (33-10) is the lone Public League wrestler to earn all-state honors.
170 pounds—Tom Bennett, Brother Rice, senior
Brother Rice senior Tom Bennett has an open-open philosophy.
As long as time is on the clock, he is never out.
"I had close matches the whole week," he said. "I had that close match in the semifinals, so I was comfortable being in that situation."
Bennett used a takedown with two seconds remaining for the 3-1 victory over Crystal Lake Central's Aaron Cramer for the 170-pound state title.
Cramer broke the tie with a second period escape. Bennett (31-1) pulled even with an escape with 43 seconds remaining.
"I like to be both slick and explosive," Bennett said. "I want to hit it on all cylinders.
"This was a really tough bracket, so you have to be tough. You have to be good mentally."
Bennett stunned top-ranked and previously undefeated Abe Wojciekiwicz 3-2 in the semifinal round. Cramer (47-2) defeated Lemont's Alex Tagler 7-2 in the lower bracket.
Wójcikiewicz (41-1) edged Tagler 1-0 for third place honors. Tagler (35-5) administered Bennett his only loss during the season.
Deerfield junior Aiden Cohen (44-5), who took Bennett to overtime in the quarterfinal round, won by first period fall for fifth place over Mahomet-Seymour junior Brennan Houser (42-10).
182 pounds—Shane Moran, Crystal Lake South, senior
Crystal Lake South senior Shane Moran has developed a remarkable rivalry with Grayslake Central sophomore Marty Jens.
They each placed in the top-5 in the IWCOA state finals last year.
They split in the lead up to the state finals, with Moran avenging a regular-season loss for the 3-1 semifinal victory in the sectionals.
Now the two renewed acquaintances, on the biggest stage.
Jens jumped out to the 3-0 lead before Moran stormed back with two takedowns for the 5-3 decision in the 182-pound state championship.
"I have always had a motor," Moran said. "I always work hard, and I always push myself in the room.
"It comes down to who wants it more."
Moran (36-4) said time was on his side.
"It was my last run—my final high school match—and he still has two more years," Moran said.
"He can still win the title."
Moran dominated Fenwick senior Conor Paris with the technical fall in the semifinal bracket.
Jens (47-3) posted the second period fall over Lemont's Moe Khalil (35-6) in the lower bracket.
In the third-place final, Mt. Vernon senior Jared Shafer (40-4) captured the 7-1 decision over Lake Forest's Charlie Heydorn (28-8). Khalil edged Paris (29-9) with the 1-0 decision for fifth place.
195 pounds—Nate Wemstrom, Aurora Christian, senior
Aurora Christian senior Nate Wemstrom had plenty of time to mull over a rematch with Washington senior Donnie Hidden.
"He beat me earlier in the year 7-2," he said. "I was gunning for him. I knew he was going to shoot those shots.
"For a couple of months, I just trained on my defense. I got so comfortable that I could just do it with my eyes closed."
His attention to detail paid off spectacularly.
Wenstrom frustrated Hidden's offensive aggression and secured the 3-1 overtime victory for the 195-pound state championship.
"A lot of the Aurora Christian guys, we feel like we train harder than anyone."
Wemstrom (37-5) outlasted previously unbeaten T.F. North junior Alex Jackson 3-0 in the upper semifinal bracket. Hidden (25-2) won the marquee semifinal showdown with Mateo Casillas of Mahomet-Seymour 5-3.
In the third-place bracket, Casillas (53-2) responded with the sharp 3-0 decision over Joliet Catholic senior Owen Gerdes (30-12).
Bloomington's Anthony Curry (35-10) captured the fifth-place bracket with the 3-2 decision over Jackson (20-3).
220 pounds—Jack Weltha, Bloomington, senior
Jack Weltha knew he could not react the same way and expect a different outcome against top-ranked and unbeaten Jordan Sommers.
"I was wrestling very defensive the first two times he beat me, and wrestling defensive is not going to win you matches," Weltha said.
"I knew I had to go in. My strategy was to take more shots, and that's what I did."
His tactical switch paid off as the Bloomington senior staged a hard shot for the takedown for his stunning 5-3 overtime victory in the 220-pound championship.
Just seven seconds remained in the first overtime.
"I knew I had to keep scoring," Weltha said.
Sommers (43-1) took the early 3-0 lead with a takedown and escape.
Weltha stayed confident.
"I just wanted to go at it to the best of my ability," he said. "I didn't want to take lazy shots.
"I knew I had to keep attacking."
Weltha (35-3) qualified for the final by dispatching St. Patrick senior Alex Goworowski 5-2 in the lower semifinal.
Sommers won by technical fall over Mattoon junior Leo Meyer in the upper bracket.
In the third place final, Washington senior Tyler Casey (39-5) captured honors with the 3-2 decision over Centennial sophomore Jack Barnhart (40-5).
Goworowski (47-6) earned fifth-place distinction with his 5-1 decision over Meyer (35-12).
285–Dillan Johnson, Joliet Catholic, sophomore
The heavyweight showdown was colored by football.
Joliet Catholic sophomore Dillan Johnson was the starting defensive tackle on the Hilltoppers' Class 4A state champion.
Fenwick's Jimmy Liston was the starting center on the Friars' Class 5A state champion.
They were natural antagonists.
Liston was arguably the biggest surprise of the day, ranked among the honorable mention against the top-ranked and unbeaten Johnson.
The precocious Johnson captured the IWCOA state championship last year as a freshman.
Liston showed guile and power. He was no match for the speed and power of Johnson.
His ferocious and quick action stunned Liston with the first period pin for the 285-pound state championship.
Johnson (34-0) showcased his dazzling athleticism and power by posting four falls at state.
"My style is unorthodox," Johnson said. "I don't really like underhooks, or things like that.
"I just like wrestling outside, and keep moving. I don't think of myself as better than anyone. The way I look at it, I have two more years to keep growing."
He won by first period fall over Sycamore's Lincoln Cooley in the semifinals. Liston (35-5) stunned No. 2-ranked Alex Hamrick of Glenwood 5-2 in the upper bracket.
Notre Dame's Karl Schmalz (37-5) edged Aurora Christian senior Braden Hunter (12-4), who had a truncated season due to his recovery from knee surgery, for third place.
Hamrick (50-4) posted the second period fall over Cooley (40-8.)