Fremd wins six titles to roll to Berman Classic championship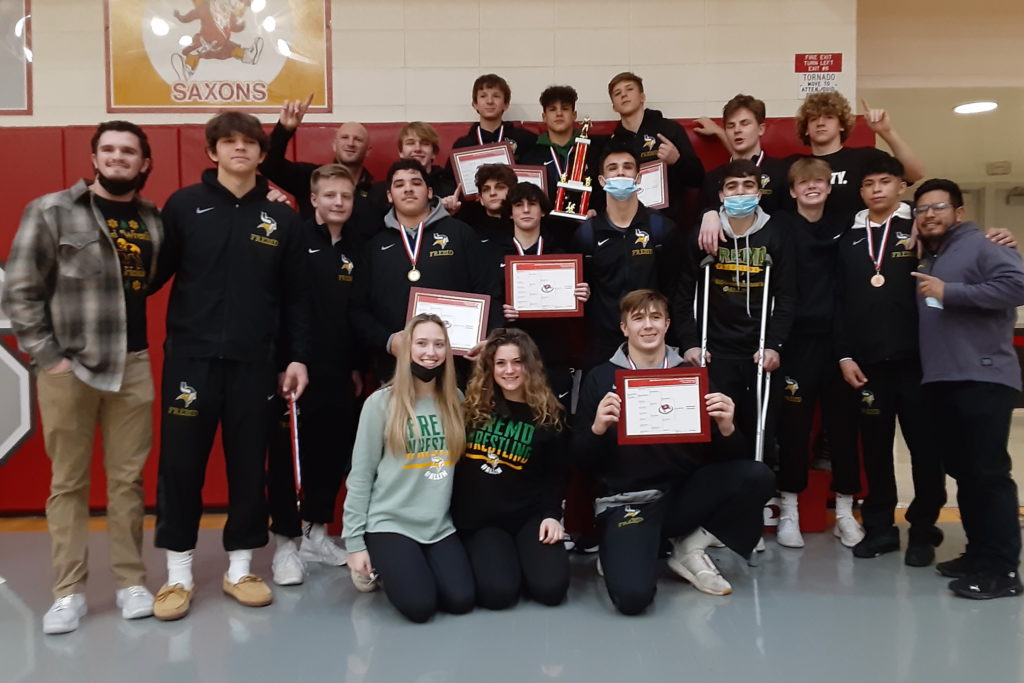 By Curt Herron
For the IWCOA

PALATINE – After not being held last season for the first time since it began in 1955, Palatine's Berman Holiday Wrestling Classic staged its return on Tuesday with 15 teams competing in the 66th-annual event, which is Illinois' oldest regular season tournament. It's named in honor of longtime assistant coach and tournament manager Al Berman, a 2001 IWCOA hall of famer who along with his wife Sally, were integral parts of an event which featured some of the best competition in the state for many years.

Considering that the United States is experiencing a record-setting number of COVID-19 cases, it's not surprising that one half of the brackets had nine or less entrants, including one with only five, and the average for the tournament was just over nine individuals at each weight class.
Fremd dominated the competition, placing 10 of its 11 individuals in the top three with seven of them advancing to the title mat and six winning championships. Coach Jeff Keske's Vikings, who are tenth in Class 3A in the IWCOA rankings, scored 214 points to win the team title by 90 points as it became the fifth Mid-Suburban League school to win the event and just the third to do so since the last time that a Palatine school won a title, which was in 1988 when the host Pirates repeated as tournament champions.
The battle for the rest of the top-five spots was tight as Oak Forest used four finalists and three champions to claim second place with 124 points while Hinsdale South placed four in the top-three to take third place with 117.5 points, edging fourth-place York (116.5) and fifth-place Mundelein (114.5).
Fremd, which took second in the 2019 Berman and turned in fifth-place finishes in its two earlier tournaments this season, Barrington's Moore-Prettyman and Prospect's Mudge-McMorrow, hopes that its balanced lineup that features several ranked individuals has what it takes to be a factor not only in the MSL but to also help it win its third regional title and first since 1996, when it made its lone appearance in the IHSA dual team finals.
Winning titles for the champion Vikings were Wiley Jessup (106), Evan Gosz (113), Maddox Khalimsky (132), Charlie Fifield (145), Casey Bending (220) and Cristian Gonzalez (285) while Matt Meehan (160) placed second and Jake Crandall (126), Jared Werner (170) and AJ Del Mar (182) all claimed third place.
"The Berman tournament has been going on for 66 years, so we take a lot of pride in winning this tournament,' said Keske, a Libertyville graduate who competed for 2000 IWCOA hall of famer Dale Eggert. "Maybe there's not as many teams as we originally thought but we still feel really good about our performance today, getting seven guys in the finals and having several guys who won tournaments for the first time ever today, so that was really cool to see.
"The work ethic has been great and everyone has been really supportive of this team and the leaders have really stepped up to make everyone feel part of the group, and not the varsity guys, so we feel really good about that and what we're doing moving forward. Today we only had three seniors in the lineup today and we were missing three weight classes. We're looking forward to the end of the season and this last month before the postseason and we know that in order to achieve our goals that we're going to need all 14 wrestlers to pitch in and help out. We're really looking forward to that challenge ahead of us in the next month."
Oak Forest and Lake Park both had three champions while York and Leyden each had one. Winning titles for coach Shawn Forst's runner-up Bengals were Tyler Evitts (120), Ivan Corral (152) and Joe Castaneda (170) while Caden Muselman (126) took second and Joe Loranger (132) placed fourth.
Winning titles for Lake Park (82, ninth) were Dominik Mallinder (126), Mikey DiBenedetto (138) and Joey Olalde (160) while York got a title from Evan Grazzini (182), second-place finishes from Zach Parisi (113) and Sean Van Sleet (132) and a third from Dom Begora (285) while Sean Berger (126) had the most falls in the least time with three in 7:13.
The other champion in the field, Leyden's Colin O'Neill (195), received the tournament's Outstanding Wrestler Award. Other top finishers for Leyden (92, seventh) were second-place finishers Sebastian Rojas (182) and Gus Tosterud (220) and Russell Klug (132), who placed third.
Leading the way for coach Steve Matozzi's third-place Hornets were runner-up Alec Miller (152) and third-place finishers Oscar Choi (120), Manny Wallace (160) and Griffin Carr (220). Fifth-place Mundelein's top finishers were runner-up Henri Ortiz (195) and third-place finisher Erick Nova (145).
Maine South (97.5, sixth) had six top-four finishers. They were Christos Vaselopulos (106) and Nathan Beltran (138) in second, Teddy Flores (113) in third and Nico Chisari (160), Cole Cichowski (170) and Tommy Porrello (195) in fourth. Rolling Meadows (85, eighth) had two second-place finishers, Alan Velasquez (120) and Dominic Andrejek (170) while Kyle King (113), Ben Escalante (126) and Jaiden Montgomery (145) placed fourth.
Grayslake North (81, tenth) was led by runner-up Connor Kozanecki (145), third-place finishers Armen Jerikian (138) and Alex Carbajal (152) and fourth-place finisher Nik Green (285). Zion-Benton (75, 11th) received a second-place finish from Sean Taylor (285) and fourths from Jon Marquez (106), Luis Medina (120) and Julian Zetina-Torres (152).

South Elgin (42.5, 12th) got a third from Will Ardson (195) and a fourth from Andre Rios (138) and Palatine (40, 13th) got a third from Emmanuel Rodriguez (106) and a fourth from Leonel Franco (220). And the top placer for short-handed Minooka (34, 14th), the tourney's three-time defending champion, was Tyler Green (182), who took fourth.
Here's a summary of the Berman Holiday Classic champions along with the other top-four finishers at their weight classes:

106 – Wiley Jessup, Fremd
When Fremd senior Wiley Jessup began his high school career, he didn't get the opportunity to train against someone who was older and had experienced success. So as he finishes up with the Vikings, the sixth-place finisher in the IWCOA finals is happy to be able to practice with and give guidance to a talented newcomer, freshman Evan Gosz.
The pair continued their tournament success as both won championships to kick off a dominant performance for the team champions as Jessup claimed top honors at 106 with a fall in 3:02 over Maine South sophomore Christos Vaselopulos and Gosz followed with a title at 113. For the third straight tournament, Jessup and Gosz both advanced to the title mat with the senior taking top honors at Prospect and second at Barrington while the freshman captured firsts at both events.
"It's really awesome to see Evan as a freshman doing that well," Jessup said. "I enjoy it because I wish I had someone like that for me when I was a freshman. I kind of try to pass on my knowledge to him because he's a really good wrestler now. We're very in line with each other (the team) and very supportive of one another and it's really fun at dual meets and tournaments just watching how others do and supporting them. I'm really proud of what coach Keske has made of this program because he's brought a lot of his experience and skills here. I'm really proud of how the whole team is doing this year and is performing really well against tough teams that we had tough losses to last year."
Jessup (18-2), who's ranked fourth at 106 in Class 3A, advanced to his third-straight tournament finals with a fall in 0:47 over Palatine junior Emmanuel Rodriguez. Vaselopulos (13-6) became one of two Hawks who advanced to the title mat in their initial individual invite when he recorded a 7-5 semifinal win over Zion-Benton freshman Jon Marquez.
In the third-place match, Rodriguez (5-3) turned in his best tournament finish of the season and gave the host Pirates their top showing for the day when he captured a 5-2 victory over Marquez (10-8), who also finished fourth at Antioch in his initial prep tournament.

113 – Evan Gosz, Fremd
It certainly says a lot about a freshman when he can not only advance to three-consecutive tournament finals to begin his high school career but also win titles in all three of those events, and that's just what Fremd freshman Evan Gosz has accomplished thus far.
Gosz (23-1), who's ranked seventh in Class 3A, added to his championships at Barrington and Prospect with a Berman Classic title at 113 when he captured a 7-1 victory over York junior Zach Parisi in the finals. It was a rematch of the Mudge-McMorrow title match where Gosz won by fall in 3:25. The Vikings freshman recorded a fall in 1:15 in the semifinals over Rolling Meadows senior Kyle King.
"It feels good," Gosz said. "I was told that high school was a lot tougher, and obviously it is with a lot stronger guys, but I think because of my background of wrestling in IK and wrestling around has really helped me out. He helps me out and teaches me the ropes and stuff, so that's fun. I'm just hoping that I can finish as strong as I've started."
Parisi (16-2), who has suffered both of his losses to Gosz, advanced to his second-straight tournament final with a 9-3 semifinals win over Maine South sophomore Teddy Flores.
Flores (14-3) claimed third place with a fall in 5:17 over King (7-11), who claimed a third-place finish in his initial tournament this season, which was at Vernon Hills.

120 – Tyler Evitts, Oak Forest
After qualifying for state for the last two seasons, Oak Forest senior Tyler Evitts is hoping that the third time will be the charm for him to reach the awards stand for the first time and he's off to a good start after improving to 11-1 following an 8-2 victory over Rolling Meadows junior Alan Velasquez in the 120 title match.
Evitts was one of three champions and four finalists for the runner-up Bengals, who placed six of their seven competitors in the top five at their weights. He advanced to the title mat with a fall in 3:19 over Hinsdale South senior Oscar Choi.
"This feels pretty good because sophomore year when I came here I took fifth, so this is an improvement," Evitts said. "I like how I'm shooting and I actually took a shot. As a freshman, sophomore and junior I probably had 10 shots."
Velasquez (12-7), whose previous best finish this season was a third at Rockford East, was one of two finalists for the Mustangs. He earned his spot opposite Evitts with a 5-3 semifinals decision over Zion-Benton freshman Luis Medina.
In the third-place match, Choi (8-7), a 2020 state qualifier who won a title at his school's Matozzi Invite, became the first of three Hornets to take third place when he recorded a fall in 2:14 over Medina (6-4).

126 – Dominik Mallinder, Lake Park
After finishing second to Plainfield North's Jacob Macatangay at 126 in Class 3A at the IWCOA finals, Lake Park senior Dominik Mallinder has understandably been focused on another trip to the awards stand this season in the IHSA finals.
Ranked eighth in a weight class that features four others who have placed first or second at state, Mallinder is 13-3 following a 6-1 win in the 126 finals over Oak Forest junior Caden Muselman. Mallinder, a Berman champ in 2019 and runner-up at Conant and Glenbrook South this year, had two falls, with one in 2:54 in the semifinals over Rolling Meadows sophomore Ben Escalante.
"Getting second place at that tournament (IWCOA) really put a fire under me and made me realize that I need to work harder to get first place," Mallinder said. "It was a very good opportunity. There's a lot more to be done but I feel good with where I'm at right now."
Muselman (12-2), who's ranked second in 2A at 132, is a two-time state qualifier who placed fourth in the IWCOA finals in 2A at 126. Competing in his first invitational tournament of the season, he earned his spot in the finals with a fall in his opener and then a 5-2 semifinals decision over Fremd junior Jake Crandall.
Crandall (19-7) was one of three Vikings to place third after winning by technical fall over Escalante (11-5), whose best finish this season was second-place at Rockford East.

132 – Maddox Khalimsky, Fremd
Boosted by a fourth-place finish at 126 in 3A at the IWCOA finals, Fremd junior Maddox Khalimsky hopes to make another run at the awards stand this season in Champaign. He improved to 19-3 and became one of his team's six champions after winning a 9-3 decision over York junior Sean Van Sleet in the 132 finals.
Khalimsky reached his second tournament finals, with Prospect being the other, and won his first title of the season. Ranked ninth in Class 3A, he recorded a fall in 0:48 in his first match and then captured a win by technical fall in the semifinals over Oak Forest senior Joe Loranger.
"Everybody's doing their part and we have good partners in the room, so everybody is getting better," Khalimsky said. "Coach Keske is doing all of the right things and making sure we stick with the technique. He's bringing in other coaches from outside of our room to come and wrestle with us to improve our technique. We're building upon what we've already got and we will be better. Even though we didn't have a complete season (last year), it was a complete season. In my freshman year, I didn't even make it to sectionals so I'm glad that I kind of got to show off what I learned in that last-minute opportunity."
Van Sleet (12-3) advanced to the finals with a pair of decisions, which included a 10-4 victory over Leyden sophomore Russell Kleg in the semifinals.
In the third-place match at 132, Kleg (10-3) claimed a 10-2 major decision over Loranger (4-3).

138 – Mikey DiBenedetto, Lake Park
After opening the season with a title at Conant, Lake Park junior Mikey DiBenedetto wasn't so pleased with his next trip to a tournament finals, when he took second by sudden victory at Glenbrook South. He made his third trip to the finals and won a second title with a 10-3 victory over Maine South junior Nathan Beltran in the 138 title match.
DiBenedetto, a two-time state qualifier who's ranked sixth in 3A, improved to 15-2 after recording a fall in 1:44 in his first match and then getting a pin in 4:50 in the semifinals against Grayslake North senior Armen Jerikian.
"Dominik is my partner and we're pushing each other in the gym," DiBenedetto said. "Even though I was a qualifier, I'm not satisfied with that, I really want a state title, I'm working for that. I'm running all of the time and lifting weights all of the time and am pushing me and Dom. As a team, we connect and we click, we know how to push each other and when we're about to quit, we tell each other that you've got to keep going and pushing it. We're not just teammates, we're all friends outside of wrestling."
Beltran (15-3), competing in his first invitational tournament of the season, advanced to the finals with a pair of falls, winning in 2:25 in his first match and then getting a pin in 1:48 over South Elgin junior Andre Rios in the semifinals.
Jerikian (14-3) equalled his third-place finish at Vernon Hills when he finished third with an 11-3 major decision over Rios (14-7), whose best finish was a second at Fenton.

145 – Charlie Fifield, Fremd
Fremd senior Charlie Fifield used a dominating performance to capture the 145 title and to become the fourth of six individuals from his team who won Berman Classic titles after winning by technical fall in the title match over Grayslake North senior Connor Kozanecki.
Ranked sixth at his weight, the 2020 state qualifier and 2019 Berman runner-up, also took second at Prospect and third at Barrington this season. He improved to 25-3 after recording a fall in his first match and then getting a win by technical fall over Mundelein's Erick Nova in the semifinals.
"It was kind of a nice break coming to a tournament like this," Fifield said. "It was nice to get in here and to dominate and see a lot of guys have success. I like our team camaraderie. We're just really close and tight-knit as compared to other years. A lot of guys are leading in their own ways, whether that's vocally or by example. It's just a really good atmosphere and I love to be a part of the team."
Kozanecki (17-5), who also claimed second place at Richmond-Burton, opened with a 6-0 decision before recording a fall in 2:54 in the semifinals over Rolling Meadows senior Jaiden Montgomery.
In the third-place match, Nova (3-1) captured the third win by technical fall in the bracket in his victory over Montgomery (4-2) for his team's second-best finish of the day.

152 – Ivan Corral, Oak Forest
Last season could have been a frustrating one for Oak Forest's Ivan Corral since it appeared that the 2020 state qualifier might not get a chance to go back to state. But thanks to the IWCOA, he not only qualified for state for a second time, he finished fifth at 132 in Class 2A.
Boosted by that trip to the awards stand, the Bengals senior has even bigger hopes for this season and is off to a strong start with a 13-3 record after capturing top honors at 152 in the Berman Classic, which was his first invitational tournament of the season. He had falls in his first two matches, including one in 4:52 in the semifinals over Zion-Benton junior Julian Zetina-Torres and then claimed a 9-3 decision over Hinsdale South sophomore Alec Miller in the title match.
"We've been shut down once or twice already this year because of COVID, so it was nice to get out here for our first tournament of the year," Corral said. "I think I wrestled pretty good. I like the brothership that we've formed over the years."
Miller (4-3), who entered the event with just one win in three matches, used a pin and a win by technical fall to advance him to the semifinals, where recorded a fall in 4:56 over Grayslake North freshman Alex Carbajal.
Carbajal (12-8), whose best tournament showing had been a fourth at Richmond-Burton, bounced back from his semifinal loss to get a fall in the third-place match in 2:20 over Zetina-Torres (7-8).

160 – Joey Olalde, Lake Park
For a while, it appeared as if Joey Olalde was Texas-bound and would complete his high school career there. But the move didn't last long and the senior is happy to still be at Lake Park after he improved to 16-0 with a 6-0 decision over Fremd junior Matt Meehan in the 160 finals to give him his third invite title of the season.
Olalde, who's tenth-ranked in Class 3A at 160, added to his previous championship wins at Conant and Glenbrook South. He opened the day with two falls, including one in 4:54 over Maine South senior Nico Chisari in the semifinals.
"I'm 16-0 right now," Olalde said. "Dom Mallinder pushes me in the room every day. There's a big weight difference but he's still a guy who gets after it. It's a crazy story that I moved to Texas before the state series, so I didn't get a chance to wrestle in that. But I just moved back a few months ago, so I'm excited to get back out here and show Illinois what's up. We're up and coming. It's good that we have me and Dom as senior captains to push each other and Mikey, too. It's great to be back in Illinois. Nothing beats this."
Meehan (20-4) was one of the seven Vikings who reached the title mat. He got there with a pair of major decisions, including by a 16-2 margin in the semifinals against Hinsdale South senior Manny Wallace.
Wallace (14-5), who won a title at his own Matozzi invite, took third place with a fall in 1:29 over Chisari (8-5), who was competing in his initial individual invite of the season.

170 – Joe Castaneda, Oak Forest
There was a common theme for Oak Forest's three champions and four finalists at the Berman Classic and that was that all of them were able to be state qualifiers at the IWCOA finals, which includes junior Joe Castaneda, who took first at 170 with a 7-4 decision over Rolling Meadows senior Dominic Andrejek.
Castaneda (14-6) made the most of his first individual invite of the season by advancing in his opener due to injury default and then capturing a 7-6 semifinal victory over Fremd junior Jared Werner.
"I weighed in at about 158, and I wrestled up to 170 and I still managed to take first," Castaneda said. "I already took time off from staying in shape and being in practice and some of our teammates are getting sick again. If we weren't down in numbers, I think we could do pretty good downstate, too, but it makes it harder in practice and in terms of competing for state as a team."
Andrejek (16-6), whose best previous tournament finish this season was a third at Rockford East, won a pair of two-point decisions to advance to the finals, including a 10-8 overtime triumph over Maine South senior Cole Cichowski in the semifinals.
Werner (3-1) performed well in his season debut, getting two falls and bouncing back from his narrow semifinal loss with a 7-4 victory in the third-place match over Cichowski (8-6), who was competing in his first individual tournament this year.

182 – Evan Grazzini, York
York junior Evan Grazzini was one of only two Berman Classic champions who didn't need to go the full six minutes in any of his three matches as he captured the title at 182 with a fall in 2:53 over Leyden's Sebastian Rojas to improve to 15-4 on the season.
Grazzini opened with a win by technical fall before getting a pin in 3:37 over Fremd sophomore AJ Del Mar in the semifinals to become one of the three Dukes to reach the title mat and the only one to capture a title, which also was the initial championship for the team who had no title winners at Prospect, where Grazzini placed third.
"It feels great," Grazzini said. "This is my first one in high school. I need to stay within myself. When I stick to my game plan and I wrestle like I know how to wrestle, I'm a pretty good wrestler and I think that will be the difference-maker when it gets time to go downstate. We have a really strong team and we work well together. Everybody has the same goals and we're rolling. It allows us to thrive with us all wanting the same thing and being able to work together, it's great."
Rojas (2-1) won his first match of the season by injury default and advanced to the finals with a fall in 3:01 in the semifinals over Minooka's Tyler Green, who was also seeing his first competition of the season.
Del Mar went 2-1 on the day with two falls, with the last one coming in the third-place match where he recorded a pin in 1:36 over Green.

195 – Colin O'Neill, Leyden
Leyden senior Colin O'Neill not only claimed his second tournament championship in two tries when he claimed top honors at 195 but he also was the Berman Classic's Outstanding Wrestler Award winner after recording a fall in 3:55 over Mundelein senior Henri Ortiz.
O'Neill, who was ranked eighth in Class 3A at 182, added to the Conant championship that he won at 195 to start the season. He advanced to the title mat with a 9-4 decision over Maine South junior Tommy Porrello. He credits much of his improvement to his coach, John Kading, a 2000 IWCOA hall of famer.
"I started off kind of rough and missed the first week or so of wrestling," O'Neill said. "I was no more so scared as I would say, determined, to push myself harder than I would before. I have a short amount of time in a week and x amount of hours at practice. There's definitely a lot more to work on, not even for myself since I think I'm doing good, but more for what our coach wants us to do. He sees so much potential in every wrestler. He's one of the best, so I'm grateful."
Ortiz (2-1) recorded two falls to reach the finals, with one in 4:51 in the semifinals against South Elgin junior Will Ardson (13-5), who took third place after capturing a 10-4 victory over Porrello.

220 – Casey Bending, Fremd
Fremd junior Casey Bending captured his first tournament title of the season and joined five Vikings teammates on top of the award stand after capturing top honors at 220 with a 3-0 victory over Leyden senior Gus Tosterud.
Bending, who finished third at Prospect, improved to 24-6 after opening with a pair of falls, including one in 3:00 over Hinsdale South junior Griffin Carr in the semifinals.
"As a team, we definitely earned this spot after going through other tournaments," Bending said. "We've had really great conditioning and I'd say that all of the conditioning has paid off. I don't know where I'd be without coach Keske. I play in two other sports, football and track and field. Not only does wrestling help you physically, but it also changes you mentally and emotionally. I'm glad that I've been able to wrestle with them since junior high school. I'm glad that I could have someone just looking after me and also have someone that I can get some tips from."
Tosterud (12-4), an IWCOA qualifier who placed fourth at Conant, recorded two first-period falls to become one of three finalists for the Eagles. In the semifinals, he won by fall in 1:38 over Palatine senior Leonel Franco.
Carr (11-7), who took third at the Matozzi invite, claimed third place again when he won by injury default over Franco (13-6), who placed third at Buffalo Grove.

285 – Cristian Gonzalez, Fremd
Fremd senior Cristian Gonzalez captured his initial varsity tournament title and did so by winning three decisions, with the last one being a 7-6 victory over Zion-Benton senior Sean Taylor in the 285 title match.
Gonzalez, who is 10-1, won 3-1 in his opener and then captured a 5-0 decision over York junior Dom Begora in the semifinals to earn a spot as one of his team's seven finalists and six champions that helped lead 10th-ranked Fremd to the team title.
"This was my first varsity tournament ever," Gonzalez said. "It was a great feeling, surreal almost. I came off the mat and saw everyone cheering me on and knowing what our team accomplished was a great feeling. Our slogan is 'all in' and everybody is really committed to that this year. Everybody is doing everything that they can for the team at all times, whether that's in practice or in a match, they're leaving everything on the mat. We have some really good guys at our lighter weights that start us on a really good note and we have good guys throughout. It's a really good program overall and we showed that today and I hope that we can continue to show that for the rest of the season."
Taylor (12-2) opened with a pair of falls, with the second of those coming in 2:40 in the semifinals against Grayslake North junior Nik Green. Begora (7-5) recorded a fall in 1:56 in the third place-match against Green (6-4).