Geneseo, Comet and Brockman Invitationals roundup from Jan. 14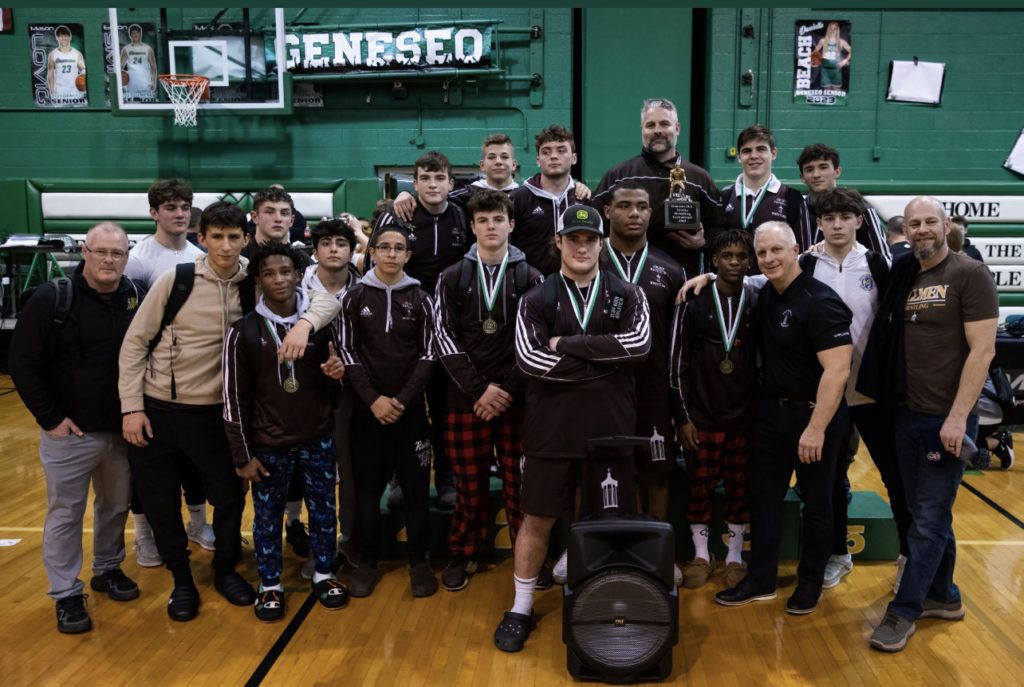 By Curt Herron
Joliet Catholic Academy rolls to Geneseo Invitational championship 
Joliet Catholic Academy had five champions and six other individuals who placed fifth or better to dominate at the 23-team Geneseo Invitational, scoring 311.5 points to capture top honors by 110.5 points over Cedar Rapids Prairie, IA, which scored 201 points. The host Maple Leafs claimed third place with 187 points while Downers Grove South finished fourth with 165 points.
Rounding out the top 12 teams in the field were Huntley (153), Riverdale (144.5), Civic Memorial (129.5), Deerfield (126.5), Belleville East (120), Moline (117), Oak Forest (107) and Belvidere (105.5).
Ranked Class 2A teams in the field were Joliet Catholic Academy (1st), Geneseo (4th), Deerfield (11th), Aurora Christian (13th), Oak Forest (14th) and Civic Memorial (16th) as well as one of the top Class 1A teams, Riverdale (3rd).
Leading the way for coach Ryan Cumbee's champion Hilltoppers, who are the defending Class 2A champions, were title winners Dillan Johnson (285), Zach Pomatto (195), Mason Alessio (160), Gylon Sims (120) and Jason Hampton (113) while Hunter Powell (220) and Nico Ronchetti (182) both finished second.
Connor Cumbee (152) placed third, Nolan Vogel (132) and Noah Avina (106) were fourth and Jake Hamiti (138) took fifth while Luke Hamiti (145) also scored points for JCA, who also won a title at Hinsdale Central's Whitlatch and took fourth at DeKalb's Flavin and The Clash in LaCrosse, Wisconsin.
"This was a great weekend of competition for us," Hilltoppers coach Ryan Cumbee said. "Up and down the lineup we wrestled well and gained confidence. It comes at a great time in the season after a bit of a grind in the schedule. Looking forward to using this momentum to carry us into the state series."
Prairie, the lone Iowa team in the field, was led by second-place finishers Collin Velky (195), Tyler Lee (132), Blake Gioimo (120) and Dylan Munson (106).
Top performers for coach Jon Murray's third-place host Maple Leafs were champion Zachary Montez (132), runner-up Levi Neumann (285) and third-place finisher Grady Hull (113). Tim Stohl (220) and Landon Shoemaker (182) were fourth and Tim Sebastian (106) took sixth.
Placewinners for coach Sean Lovelace's fourth-place Mustangs were runner-up Luke Swan (152) and third-place finishers Keandre Miles (195) and Matty Lapacek (182). Connor Kelly (160) placed fourth while James Croswell (285), RJ Samuels (170), Donnie Fields (120) and Miguel Castaneda (113) all finished fifth.
Other champions were Moline's James Soliz (182) and Noah Tapia (145), Belvidere's Colin Young (152) and Brayden Teunnisen (106), LaSalle-Peru's Connor Lorden (220), Civic Memorial's Abe Wojcikiewicz (170), Rich Township's Nasir Bailey (138) and Deerfield's Jordan Rasof (126).
Also finishing in second place were Riverdale's Alex Watson (170) and Brock Smith (138), Aurora Christian's Taythan Silva (160), Belvidere's Antonio Alvarado (145), Granite City's Brenden Rayl (126) and Morton's Caleb Lenning (113).
In a matchup of defending state champions at 138, Bailey, who won IHSA titles for Rich Township last season and for TF North in 2020 with a Texas title won in between, improved to 30-1 after winning by technical fall in 3:31 over Smith, who was a Class 1A champion last season. It was the first defeat in 34 matches for the Riverdale senior.
Other returning state champions who also won Geneseo titles were Johnson and Sims while state runners-up from a year ago who also placed first were Alessio and Tapia.
In some of the closest title matches, Teunnisen won 3-1 in sudden victory over Munson at 106, Soliz edged Rochetti 2-1 at 182, Alessio prevailed 5-2 over Silva at 160, Young beat Swan 8-5 at 152 and Tapia captured a 5-1 decision over Alvarado at 145.
Winning titles by fall were Johnson (285), Lorden (220), Pomatto (195), Montez (132), Rasof (126), Sims (120) and Hampton (113) while Wojciekiewicz (170) won by technical fall.
JCA had three of the four individuals who were tied for most team points with 34. Johnson, Pomatto and Sims, with Lorden being the other. Montez and Hampton were next-best with 33 points while Wojcikiewicz had 32.5 points, Tapia had 32 team points and Soliz, Teunnisen and Young were tied with 30 points.
Two other Riverdale athletes suffered their first defeats in the semifinals and took third. Senior Collin Altensey, a Class 1A champion last season, fell 2-0 to Silva at 160 for his lone loss in 37 matches and freshman Dean Wainwright lost 5-2 to Munson at 106 for his only setback in 32 matches.
Also claiming third-place finishes were Belleville East's Jonathon Rulo (285) and Warren Zeisset (138), Oak Forest's Adam Richter (220) and Max Corral (170), Civic Memorial's Bryce Griffin (145), Deerfield's Renzo Morgan (132), Huntley's Adam Pena (126) and Aurora Christian's Deven Casey (120).
Others who finished fourth were Deerfield's Aiden Cohen (170) and Luke Reddy (120), Huntley's Markos Mihalopoulos (285), O'Fallon's Kyle Kujawa (195), Oak Forest's Steve Strelow (152), Belleville East's Nick Fetters (126), Riverdale's Tharren Jacobs (113) and Prairie, IA's Casey Kelley (145) and Wyatt Vlasek (138).
Additional fifth-place finishers were Huntley's Ben Wiley (220), Wyatt Theobald (195) and Vlad Maluhin (132), Riverdale's Zac Bradley (182), Oak Forest's Jackson Castenada (160), Morton's Clay McKee (152), Granite City's Dylan Boyd (145), Moline's Kayden Serrano (126) and Civic Memorial's Bradley Ruckman (106).
Sixth-place showings were also turned in by Cahokia's Quinterrous Jones (220) and Correion Midget (182), Moline's Trystan Duyvejonck (195) and Jack Sibley (132), Huntley's Aiden Lira (120) and Zack Hornickel (113), Deerfield's Grant Goldsmith (160), Belleville East's Terence Willis (152), Oak Forest's Hunter Daniel (145) and Belvidere's Dom Girardin (138).
Individuals with the best records after the invitational were Tapia (38-0, 1.000), Johnson (29-0, 1.000), Altensey (36-1, .973), Montez (34-1, .971), Smith (33-1, .971), Bailey (30-1, .968), Wainwright (31-1, .969), Lorden (26-1, .963), Rulo (20-1, .952), Alvarado (39-2, .951), Teunnisen (36-2, .947), Watson (33-2, .943), Wojcikiewicz (33-2, .943), Morgan (23-2, .920), Alessio (28-3, .903), Young (36-4, .900), Griffin (35-4, .897), Soliz (30-4, .882), Rasof (31-5, .861) and Zeisset (30-5, .857).
Championship matches of the Geneseo Invitational
106 – Brayden Teunnisen (Belvidere) SV 3-1 Dylan Munson (Cedar Rapids Prairie, IA)
113 – Jason Hampton (Joliet Catholic Academy) F 3:52 Caleb Lenning (Morton)
120 – Gylon Sims (Joliet Catholic Academy) F 4:33 Blake Gioimo (Cedar Rapids Prairie, IA)
126 – Jordan Rasof (Deerfield) F 3:27 Brenden Rayl (Granite City)
132 – Zachary Montez (Geneseo) F 3:47 Tyler Lane (Cedar Rapids Prairie, IA)
138 – Nasir Bailey (Rich Township) TF 3:31 Brock Smith (Riverdale)
145 – Noah Tapia (Moline) D 5-1 Antonio Alvarado (Belvidere)
152 – Colin Young (Belvidere) D 8-5 Luke Swan (Downers Grove South)
160 – Mason Alessio (Joliet Catholic Academy) D 5-2 Taythan Silva (Aurora Christian)
170 – Abe Wojcikiewicz (Civic Memorial) TF 4:33 Alex Watson (Riverdale)
182 – James Soliz (Moline) D 2-1 Nico Ronchetti (Joliet Catholic Academy)
195 – Zach Pomatto (Joliet Catholic Academy) F 3:44 Collin Velky (Cedar Rapids Prairie, IA)
220 – Connor Lorden (LaSalle-Peru) F 1:46 Hunter Powell (Joliet Catholic Academy)
285 – Dillan Johnson (Joliet Catholic Academy) F 3:38 Levi Neumann (Geneseo)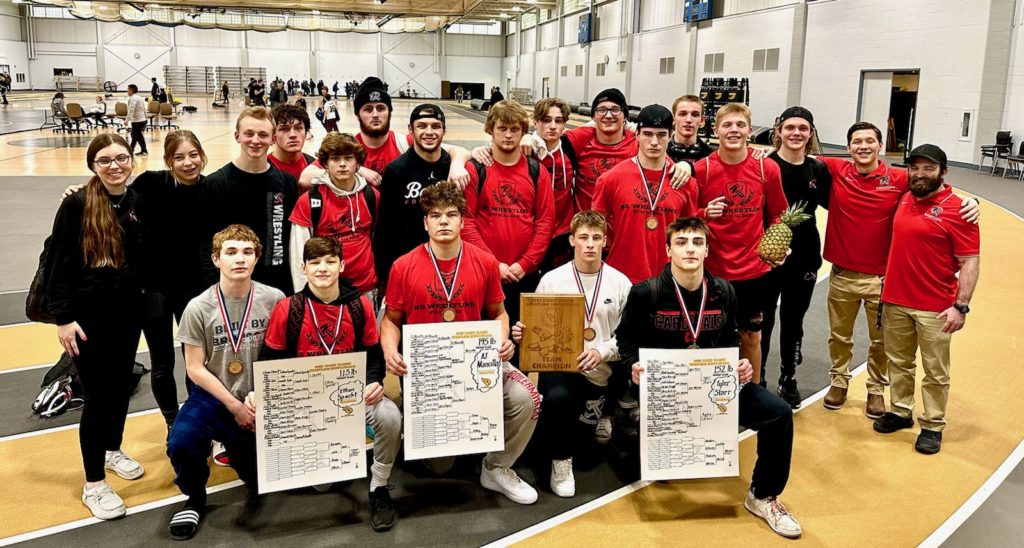 Bradley-Bourbonnais captures title at Reed-Custer's Comet Classic
Three champions and six other placewinners helped Bradley-Bourbonnais to claim the title at the Reed-Custer Comet Classic with 219 points while Seneca claimed second-place with 170 points and Clifton Central/Iroquois West edged host Reed-Custer 145.5-143.5 for third place.
PORTA/A-C Central/Greenview finished just behind for fifth place with 141 points while Joliet Central (136), Hoopeston Area/Milford (131.5), El Paso-Gridley (130), Sandwich (128) were next and Bremen (112) edged Plano (111.5) to round out the top of the field in the 23-team competition that took place in Braidwood.
Winning titles for coach Micky Spiwak's champion Boilermakers were AJ Mancilla (195), Tyler Starr (152) and Ethan Spacht (113) while Levi Greenlee (138) and Tate McCord (106) placed third. Cayden Ghere (182) and Cameron Borneman (120) were fifth and Anthony Smiley (285) and Max Fischer (126) finished sixth.
"Tate McCord is a sophomore at 106, and is really having himself quite a season", Spiwak said. "He wasn't varsity for us last year, got 39 off-season practices in, and now is 22-8, got third for us here, and picked up 20 massive team points. Ethan Spacht at 113 pinned his way through this tournament for the second year in a row. He is a returning state placewinner, and an incredibly impressive wrestler that we can always count on. He makes doing hard things in wrestling, like beating 22 other teams, look easy. Levi Greenlee at 138 is a leader for us and a great role model. He is one of the toughest, most coachable people on Earth. He ended up placing third, and he is not happy about it. I love his 'never satisfied' attitude.
"Ty Starr at 152 made this tournament look easy. He was hungry after last year's Comet Classic performance, where he beat a really good kid in the semis, and then lost on a last-second score in the finals. This year, he pinned everybody except for a major decision in the semis. Ty won his finals match via a first-period pin, and then immediately did over 100 kettlebell swings. He is hungry to do well in the postseason this year. Cayden Ghere is a senior that is the ultimate team guy. He has had no problem doing what is best for the team, which has meant that he has spent most of the season up a weight class at 195. He has still managed to compile a winning record, despite being up a weight class for almost all of his matches. He ended up placing top five for us at this 23-team tournament, and collecting 19 big team points along the way.
"AJ Mancilla is an absolute freak. We put him up a weight class for this tournament because that was what was best for the team, and he delivered as always. He had a tough triple overtime ride out for the win in the finals against a very athletic Joliet Central opponent. AJ is such a smart wrestler. He always knows the situation, and is very good at the skill of winning regardless of the situation. This is AJ's second win in triple overtime where his opponent got to choose the bottom position this season, a very tough spot to win from. Anthony Smiley at 285 is a first-year wrestler and he really stepped up huge for us this weekend. He has been very coachable, cleaned up his mistakes throughout the season, and built on his strengths. To be 40 pounds underweight, a first-year wrestler, and place top 6 out of 23 teams is very impressive.
"Overall, this team is filled with very tough, resilient athletes. That's all I ever want to coach. I'll take tough over good 100 times out of 100. This is also a very fun group to hang out with, that gets along very well. I think that is an important part of their success, they love each other and don't want to let each other down when they are representing each other on the mat."
Top performers for coach Todd Yegge's runner-up Fighting Irish were champion Nate Othon (145), runner-up Asher Hamby (160) and third-place finishers Chris Peura (195) and Ethan Othon (113) while Collin Wright (170) took fourth and Nick Grant (132) placed fifth.
Leading the way for the coach Travis Williams' third-place Comets were runners-up Kayden Cody (132) and Evan Cox (126) and third-place finisher Giona Panozzo (145) while Chris Andrade (152) took fifth and Blake Hemp (113) finished sixth.
Turning in best showings for coach Yale Davis' host Comets were champion Rex Pfiefer (170), runner-up Kody Marschner (220) and third-place finisher Gunnar Berg (285) while Dominic Alaimo (182) and Jeremy Eggleston (138) both finished fourth.
PORTA and Bremen both had three champions. Winning titles for the Bluejays were Bryar Lane (182), Jacob Vogel (138) and Mike Minor (126) while the Braves' first-place finishers were Alex Jackson (220), Nore' Turner (120) and Morgan Turner (106).
Vernon Hills' Max Accettura (285), El Paso-Gridley's Dax Gentes (160) and Tinley Park's
Andrew Koepke (132) also placed first. Four individuals repeated as champions in the event, Spacht, Gentes, Mancilla and Accettura.
Other second-place finishers were Plano's Alex Diaz (285) and Rich Amakiri (182), El Paso-Gridley's Waylon Melick (145) and Logan Gibson (120), Joliet Central's Charles Walker (195),
Winnebago's Charley Murray (170), Hoopeston Area's Ayden Larkin (152), Sandwich's Sy Smith (138), Wilmington's Landon Dooley (113) and Ottawa Township's Ivan Munoz (106).
In a clash of unbeaten competitors at 220, Jackson (19-0) won by fall in 2:45 over Marschner (21-1).
Some of the closest title matches were Mancilla winning 4-3 by ultimate tiebreaker over Walker at 195, Morgan Turner prevailing 6-5 over Munoz at 106 and Accettura beating Diaz 5-2 at 285.
Title winners by fall were Jackson (220), Pfiefer (170), Starr (152), Othon (145), Vogel (138), Koepke (132) and Spacht (113). Minor claimed a 12-2 major decision over Cox at 126, Lane won an 8-2 decision over Amakiri at 182, Gentes was an 8-2 winner over Hamby at 160 and Nore' Turner claimed a 7-0 victory over Gibson at 120.
Nate Othon and Koepke led all competitors with 32 team points while Jackson had 31.5 points and Starr had 31 team points. There was a five-way tie for fifth with 30 points between Accettura, Mancilla, Pfiefer, Spacht and Vogel while Lane and Minor had 29 team points.
Top records among finalists following the Classic were Jackson (19-0, 1.000), Gentes (30-1, .968), Marschner (21-1, .952), Nore' Turner (18-1, .947), Mancilla (32-2, .941), Spacht (28-2, .933), Lane (35-3, .921), Morgan Turner (20-2, .909), Pfiefer (28-3, .903), Hamby (26-3, .897), Munoz (16-2, .889), Diaz (23-3, .884), Starr (29-5, .853), and Amakiri (17-3, .850).
Also claiming third place finishes were Hoopeston Area's Angel Zamora (160), Rasiah Jones (132) and Aiden Bell (126), Ottawa Township's Charles Medrow (220), El Paso-Gridley's Cody Langland (182), Sandwich's Bryce Decker (170), Saint Viator's John Whelan (152) and Dwight's Dylan Crouch (120).
Additional fourth-place finishers were Joliet Central's Brian Mendez (126), Alex Fernandez (120) and Isaiah Kan (113), Sandwich's Gabriel Galvan (145) and Miles Corder (132), Bremen's Eric Perez-Nava (285), Plano's Eliyas Peray (220), Vernon Hills' Kevin Halley (195), Manteno's Carter Watkins (160), Herscher's Payden Strahan (152) and Olympia/Heyworth's Ryan Ballinger (106).
Others who finished fifth were Olympia's Nolen Yeary (220) and Bryson Wilson (126), PORTA's Issak Espenschied (285), Wilmington's Hunter Hayes (195), El Paso-Gridley's Ethan Whitman (170), Vernon Hills' Ilya Dvoryannikov (160), Kankakee's Caleb Dickens (145), Joliet Central's Jorge Robles (138), Ottawa Township's Dallas Harmon (113) and Hoopeston Area's Charlie Flores (106).
The other six-place finishers were Joliet Central's Andre Miller (182) and Brody Walsh (106), Hoopeston Area's Ceasar Espinoza (138) and Talan Nelson (120), Tinley Park's Eric Jenkkins (220), Kankakee's Michael Bannerman-Blankston (195), Wilmington's Parker Adams (170), Plano's Gio Diaz (160), Sandwich's Josh Lehman (152), PORTA's Mitchell Horn (145) and Ottawa Township's Nico Stanfill (132).
Reed-Custer Comet Classic championship matches
106 – Morgan Turner (Bremen) D 6-5 Ivan Munoz (Ottawa Township)
113 – Ethan Spacht (Bradley-Bourbonnais) F 0:57 Landon Dooley (Wilmington)
120 – Nore' Turner (Bremen) D 7-0 Logan Gibson (El Paso-Gridley)
126 – Mike Minor (PORTA) MD 12-2 Evan Cox (Clifton Central)
132 – Andrew Koepke (Tinley Park) F 1:05 Kayden Cody (Clifton Central)
138 – Jacob Vogel (PORTA) F 1:06 Sy Smith (Sandwich)
145 – Nate Othon (Seneca) F 4:55 Waylon Melick (El Paso-Gridley)
152 – Tyler Starr (Bradley-Bourbonnais) F 1:01 Ayden Larkin (Hoopeston Area)
160 – Dax Gentes (El Paso-Gridley) D 8-2 Asher Hamby (Seneca)
170 – Rex Pfiefer (Reed-Custer) F 1:06 Charley Murray (Winnebago)
182 – Bryar Lane (PORTA) D 8-2 Rich Amakiri (Plano)
195 – AJ Mancilla (Bradley-Bourbonnais) UTB 4-3 Charles Walker (Joliet Central)
220 – Alex Jackson (Bremen) F 2:45 Kody Marschner (Reed-Custer)
285 – Max Accettura (Vernon Hills) D 5-2 Alex Diaz (Plano)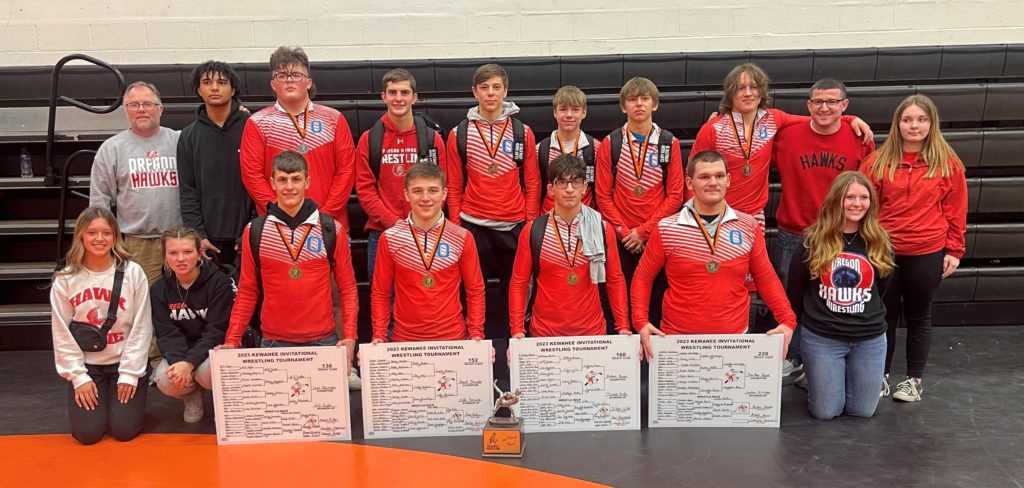 Oregon claims top honors at Kewanee's Brockman Invite
Behind four champions and two runners-up, Oregon captured the championship at Kewanee's Helmut Brockman Invite with 242 points while the host Boilermakers took second place with 187 points and Knoxville claimed third place with 151 points.
Rounding out the top half of the 20-team competition were Sherrard (120), Morrison (114.5), Eureka (114), Monmouth-Roseville (107.5), Polo/Forreston/Eastland/Milledgeville (102.5), Farmington/Cuba (101) and Fulton (98).
Top performers for coach Justin Lahman's champion Hawks were title winners Jonathon Alaniz (220), Anthony Bauer (160), Grant Stender (152) and Lane Halverson (138) and runners-up Evan Flaharty (285) and Jackson Messenger (113). Taking third place were Quentin Berry (182), Landyn Windham (170) and Preston Labay (120) while Ethan Mowry (132) was fourth.
This was the third tournament title for Oregon, who is ranked fourth in Class 1A. The other championships were won at Stillman Valley and Polo. While the Hawks only had 10 competitors, all of them finished in the top four and six of those advanced to title matches.
"We had a few guys out this weekend and only took 10 wrestlers to Kewanee," Lahman said. "We weren't sure how we would finish as a team, but the goal was for everyone to improve in areas we have been practicing on. We managed to get all 10 into the semifinals, with six of them making the finals.
"We had great leadership in the seniors that were competing and some great wrestling from the freshman and sophomores to help lift the team to the title. The team knew they were going to have to battle all day long to finish where they wanted. It was a long day for us, and the team came away very happy with their performance."
Leading the way for coach Charley Eads' second-place Boilermakers were runners-up Alejandro Duarte (182), Jaxson Hicks (160), Will Taylor (138) and Kingston Peterson (106), third-place finisher Max Kelly (152) and Ben Taylor (126), who placed fourth.
Individuals with the best showings for coach Mike Leab's third-place Blue Bullets were runners-up Jaxin Johnson (170) and Adam Scalf (120), third-place finishers William Stowe (285), Gage Fox (132) and Hunter Johnson (113) while Dilan VanBeveran (195) and Joe Wall (145) took fourth place.
Other champions were Sherrard's Walker Anderson (195) and Callum Thomson (113), Fulton's Zane Pannell (170) and Ben Fosdick (145), Rockford Auburn's Damarion Love (285), Farmington's Rese Shymansky (182), Polo's Wyatt Doty (132), Somonauk/Leland's Aiden
Rowan (126), Morrison's Levi Milder (120) and Streator/Woodland's Nicholas Pollett (106). Three individuals repeated as champions, Bauer, Doty and Pannell.
Also finishing second were Eureka's Landon Wierenga (220), St. Bede Academy's Ryan Migliorini (195), Monmouth Union's Jake McElwee (152), Sherrard's Kaden Dutton (145), Morrison's Camden Pruis (132) and Farmington's Bradlee Ellis (126).
In the closest title march, Alaniz edged Wierenga 2-1 at 220. Love beat Flaharty 12-6 at 285 and Rowan won a major decision over Ellis at 126. The other championships were all won by fall.
Additional third-place finishers were Polo's Maddux Hayden (195), Lucas Nelson (126) and Josiah Perez (106), Eureka's Dillon Wiles (160) and Gage Heath (145), Streator's Aydan Radke (220) and Sherrard's Jayden Thomson (138). Perez suffered his first loss in the semifinals to runner-up Peterson.
Others who placed fourth were Monmouth-Roseville's Jay Raymond (160), Gabe Ortiz-Morgan (152) and Edgar Jiguan (113), Rockford Auburn's Jawhed Wainwright (182) and Ntahuyamana Pacifique (106), Fulton's Braiden Damhoff (285), Mendota's Albert Harris (220), Eureka's Wyatt Zacha (170), Morrison's Zach Miller (138) and Farmington's Caleb Showalter (120)
Best records for those who placed fourth or better were Pannell (35-0, 1.000), Love (9-0, 1.000), Perez (17-1, .944), Taylor (24-2, .923), Anderson (23-2, .920), Shymansky (23-2, .920), Fosdick (33-3, .917), Doty (20-2, .909), Rowan (19-3, .864), Kelly (23-4, .852), Pollett (22-4, .846) and Halverson (27-5, .844).
The tournament is named for Helmut Brockman, who was a three-sport coach and also an athletic director during a 33-year career at Kewanee, which has named the school's gymnasium in his honor. He was an early inductee in the Illinois High School Football Coaches Association hall of fame.
Championship matches at Kewanee's Brockman Invite
106 – Nicholas Pollett (Streator) F Kingston Peterson (Kewanee)
113 – Callum Thomson (Sherrard) F Jackson Messenger (Oregon)
120 – Levi Milder (Morrison) F Adam Scalf (Knoxville)
126 – Aiden Rowan (Somonauk) MD Bradlee Ellis (Farmington)
132 – Wyatt Doty (Polo) F Camden Pruis (Morrison)
138 – Lane Halverson (Oregon) F Will Taylor (Kewanee)
145 – Ben Fosdick (Fulton) F Kaden Dutton (Sherrard)
152 – Grant Stender (Oregon) F Jake McElwee (Monmouth United)
160 – Anthony Bauer (Oregon) F Jaxson Hicks (Kewanee)
170 – Zane Pannell (Fulton) F Jaxin Johnson (Knoxville)
182 – Rese Shymansky (Farmington) F Alejandro Duarte (Kewanee)
195 – Walker Anderson (Sherrard) F Ryan Migliorini (St. Bede Academy)
220 – Jonathon Alaniz (Oregon) D 2-1 Landon Wierenga (Eureka)
285 – Damarion Love (Rockford Auburn) D 12-6 Evan Flaharty (Oregon)
Antioch takes fourth at Bettendorf Midwest Shootout
Antioch led the way for the three Illinois squads that took part in the 15-team Bettendorf Midwest Shootout in Bettendorf, Iowa. Five Illinois athletes advanced to the title mat but they all fell to competitors from the top two teams in the field.
Coach Wilbur Borrero's Sequoits placed fourth with 132 points while Plainfield East (73.5) and Sterling (73) also took part in the event which featured 11 Iowa squads and one team from Missouri.
Host Bettendorf, IA took top honors with 229 points while Johnston, IA was second with 188.5 points and Dubuque Hempstead, IA finished third with 157.5 points. This is the fourth top-four tournament showing for Antioch, which is ranked sixth in Class 2A. The Sequoits took second in their own tournament and also at Rich Township.
The Sequoits were led by four second-place finishes and it also received one third and one fourth. Placing second were Seth Gomez (182), Anthony Streib (138), Edgar Albino (132) and Gavin Hanrahan (113). Ben Vazquez (160) took third, Caleb Nobiling (145) was fourth, Chase Nobiling (120) placed seventh while Elias Bentley (170) and Tanner Jurinek (126) finished eighth.
Albino (19-3) dropped a 9-4 decision to Bettendorf, IA's Jayce Luna (27-3) in the 132 finals. Hanrahan (19-3) fell in the 113 title match to Bettendorf, IA's Jake Knight (29-1) by a 14-6 score.
Streib (13-2) lost by technical fall in 6:00 to Bettendorf, IA's Lincoln Jipp (28-6) in the 138 title match. Gomez (18-10) was pinned in 2:43 to Johnston, IA's Sam Zindel (27-2) for the 182 championship.
Plainfield East had five individuals who placed eighth or better. Niko Duggan (152) was second, Aiden Villar (120) finished fourth, Roderick Burnett (195) took fifth, Jerry Nino (160) was sixth and Nathan Lopez (182) placed eighth.
Duggan (19-6) lost a 9-3 decision to Johnston, IA's Jacob Helgeson (33-0) in the 152 title match.
Sterling had five competitors who were eighth or better. Gage Tate (170) was third, Thomas Tate (160) and Javier Luna (220) took fourth, Tatum Allen (152) was seventh and Cael Lyons (106) placed eighth.
Championship matches involving Illinois athletes at Bettendorf, IA Midwest Shootout
113 – Jake Knight (Bettendorf, IA) MD 14-6 Gavin Hanrahan (Antioch)
132 – Jayce Luna (Bettendorf, IA) D 9-4 Edgar Albino (Antioch)
138 – Lincoln Jipp (Bettendorf, IA) TF 6:00 Anthony Streib (Antioch)
152 – Jacob Helgeson (Johnston, IA) D 9-3 Niko Duggan (Plainfield East)
182 – Sam Zindel (Johnston, IA) F 2:43 Seth Gomez (Antioch)