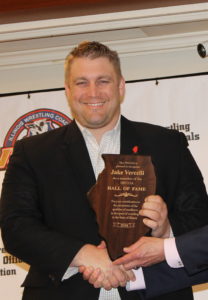 Class of 2019
Joliet Catholic and Purdue
Jake Vercelli attended Joliet Catholic where he wrestled and played football. He would wrestle 4 years for IWCOA Hall of Fame coach Corey McLaughlin. Jake was a 2-time captain of the team and in 1997 he would finish as the IHSA state runner up after amassing 139 career wins.
Jake attended Purdue University graduating in 2002 with a degree in Computer Technology. While at Purdue he wrestled for Tom Erikson and would become a 2-time captain, and 2-time All American. He was the leader in total pins during the 2002 season.
Since college graduation, Jake was an assistant coach for 2 years at Wilmington High School. He now resides in Shorewood Illinois and is employed as a Senior Sales Executive in IT sales.