Hersey captures 1st MSL crown since 2001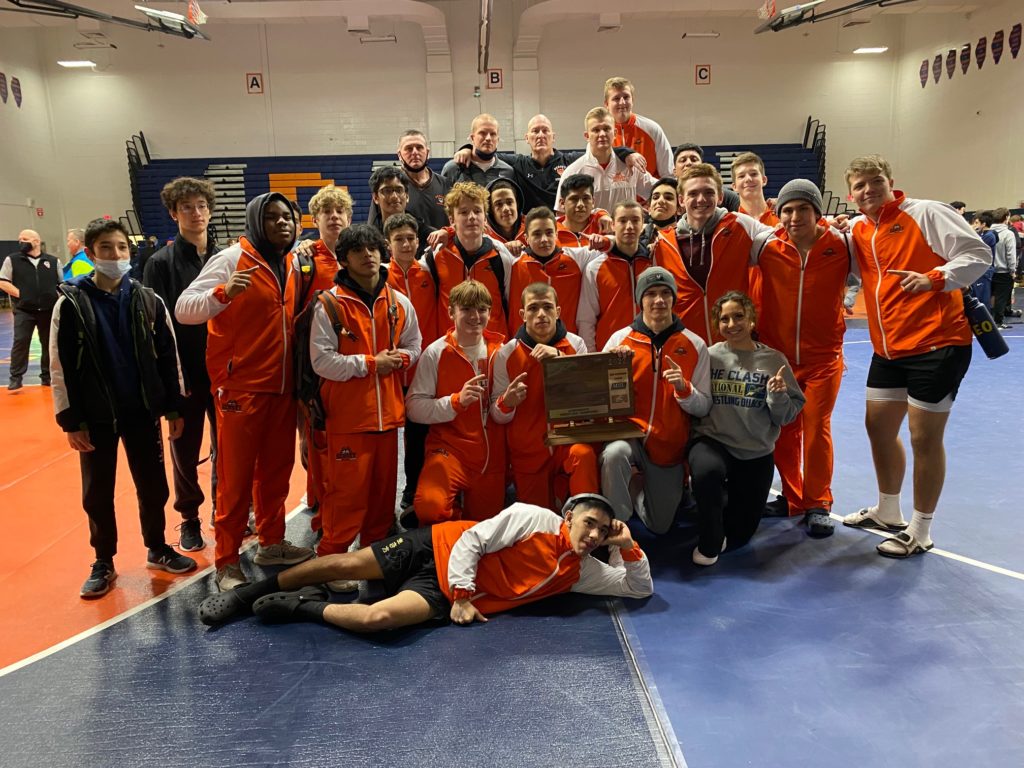 By Mike Garofola
For the IWCOA

After a disastrous round in the semifinals that saw Hersey drop seven-of-nine bouts, head coach Joe Rupslauk, and his two top men, Manny Mejia and Billy Spassov brought the troops together and gave the Huskies the famous 'It Ain't Over Until It's Over' speech.

"That and let's just go out there and wrestle for each other like we have all season long," was all Rupslauk needed to say as he then watched his club overcome a 30-point deficit to leap-frog over Conant, Fremd, and then division rival Prospect to take the lead for good at the 49th MSL Conference Wrestling Tournament at host Buffalo Grove.

The MSL East champion Huskies claimed their 9th league title and first since 2001. Hersey collected 14 medals overall, and 12 in the consolation rounds to outscore runner-up Fremd 237.5-215.5. Prospect (211.50), Conant (194.0) and Barrington (191.0) rounded out the top five during two days of quality throughout the brackets.

"This is the way this team has competed all year. We're a tight knit bunch that wrestles for each other first, and right now I cannot tell you how proud I am of these guys," said Rupslauk.

"This program was really bad four years ago. We basically had the two Joyce brothers (Zach and Matt) plus Sean Paton, who all made sectionals, but after that we just were unable to come close to filling out a lineup," said Rupslauk.

"We began our building project with guys like Billy and Manny and slowly things turned around with hard work, dedication, and a belief that – as I told them – we could win the MSL when they're seniors."

"We were just terrible during those first two years," agreed Spassov with a wry smile.

"But Rup always believed in us right from the start, and we believed in him so we all knew what had to be done after the semifinals, and my teammates really came through when we needed it most."

"The biggest reason for our success is coach," Mejia said. "He's made this program like a family, he's upgraded our tournament schedule so we can be challenged every weekend, and he's been the difference for all of us."

When the Huskies fell behind by 30 to front runner Prospect (179.5-149.5) it meant the 12 wrestlers who were still alive in the back-draw would have to stay alive in order to earn valuable points.

They did just that, eventually advancing 8 into third-place bouts, and converting one half-dozen into victories.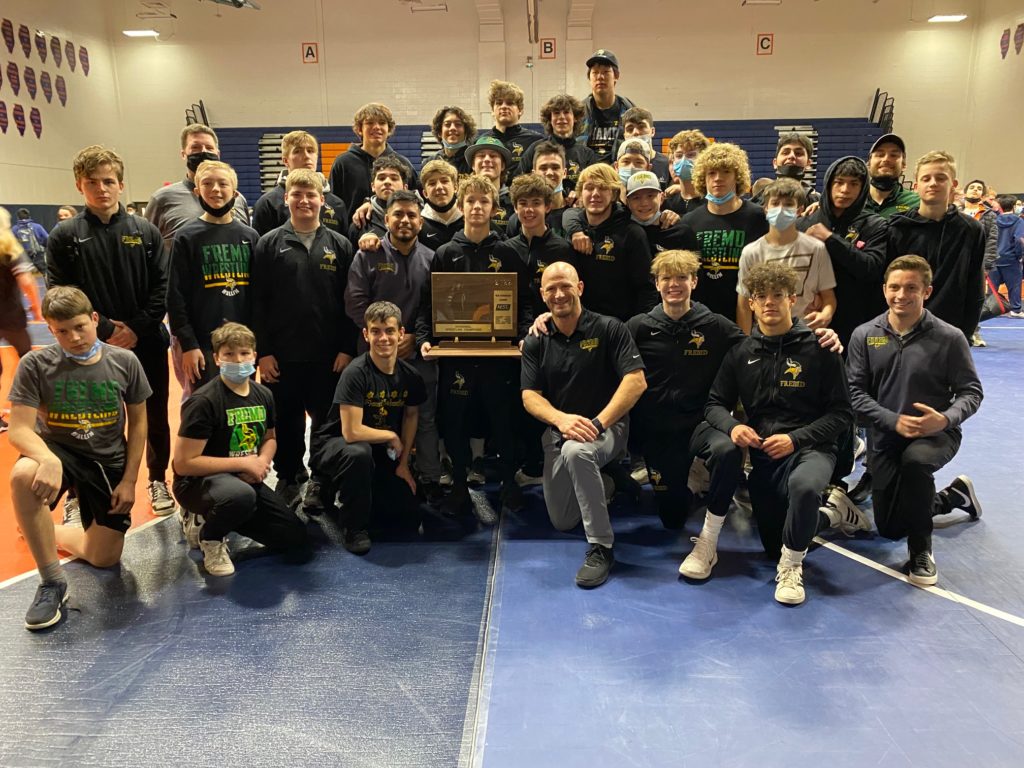 "Hersey just crushed it after the semifinals," said Fremd head coach, Jeff Keske,who came within one point (208.50-207.50) after 126 pounds, but never drew closer thereafter.

"Credit Joe's guys, they went out and did what they had to, and even with just two in the finals, their depth proved to be the difference today."

Third-place Prospect might have been in the thick of things if not for the rough ride the Knights took in the finals. The Knights won just two of the six they were part of, including three consecutive defeats to dash the hopes of Tom Whalens' club for good.

Conant enjoyed a solid tournament, claiming a tournament high four individual titles, while fifth-place Barrington took home three, the same as Fremd.

"It was a great tournament, which was expected with so many state-ranked wrestlers here, plus four teams in the top 20," began Barrington head coach, Dave Udchik.

"Hersey really came through with their big finish, so credit Joe and his guys for a well-deserved conference championship."

"This MSL title happened because of the great effort from each guy in our starting lineup, especially from the guys who kept on winning in their consolation matches, which really proved to be the difference today," said a proud Rupslauk.

Let's have a look now at each weight class:

106 – Wiley Jessup, Fremd

When you have a guy like Wiley Jessup leading off, it more than likely will begin a wonderful day of results for the Fremd wrestling team.

The Vikings senior won his third major of the year, while running his overall record to an impressive 32-2 following his 17th pin of the season to help lead his club to second place finish in this MSL Conference Tournament.

"Wiley has improved his neutral defense, and understanding of when to use his scrambling skills, but it's his leadership that has his teammates just loving the motivational speeches he gives," Fremd head coach Jeff Keske said of Jessup, who now has 11 wins over state-ranked opponents.

Jessup had his hands full early on with Brady Phelps (24-2) of Schaumburg, trailing the talented freshman 6-2, then 6-5 when (Jessup) recorded his 27th near fall of the campaign near the edge.

"Brady is a very good wrestler, who likes to go upper body, so I was prepared for that,but when I went down early on I just stayed composed and looked to get back into the match before the first period was over," said Jessup, who drew back even at 6-6 to start the second period, went up moments later (8-6) with a take-down, before closing out Phelps with his pin at 3:15.

Jessup, fourth overall in Rob Sherrill's IWCOA 3A rankings, has contributed 166 total team points on the season, and 69 near-fall points.

113 – Evan Gosz, Fremd

It appears that as the post-season draws closer, Evan Gosz is the guy who is next up to lead the Vikings during his next three seasons.

The Vikings freshman collected his team-high fourth major trophy after yet another sterling performance, which ended with his 17th pin of the season at just 1:39 over Elk Grove sophomore Grant Madl.

"I wrestled Grant in back in seventh grade and he was a solid opponent then, and he is now," said Gosz. Gosz has had terrific results against several state-ranked opponents, including defending state champion and current No. 1 Jameson Garcia of Marmion Academy as well as No. 4 Caelan Riley of Libertyville, who will compete next fall at The Citadel.

"Wiley is just a great partner in the room and he's helped me in so many ways," Gosz said. "And having a head coach like (Jeff) Keske is a big reason for what I've been able to do so far."

No. 6, Gosz has recorded 28 near-falls, good for 76 overall points, while contributing 162 team points for the MSL West division champions.

"Evan's leg riding is much improved," Keske said. "He would get reversed in middle school while riding legs, and his counter attacking from the neutral position has really improved as well."

Elk Grove coach Dan Vargas likes what the sophomore Madl is bringing to the sport.

"Grant just absolutely loves to compete and wrestle. He's a rare breed that will go after anyone and does not shy away from tough competition," Vargas said.

"His confidence and ability to wrestle through positions is always iimproving, and will continue to serve him well. In his final with (Gosz) our plan was to just to attack, wrestle how he always does, and just focus on what he's able to do well."

120 – Tom Miller, Prospect

Tom Miller became the second member of his family to become an MSL conference champ, after his 15-2 major decision over No. 2 seed Sam Santangelo (11-7) from Conant.

Miller would start fast, and finish strong, piling up points all along the way, particularly after his opening period 5-2 advantage. That lead quickly became 9-2, and the Knights senior went to work in search of bonus points to help his club.

"It feels real good to win a conference championship, just like my brother Joe did in 2020," said Miller.

Joe Miller claimed his title at 138 pounds to help the Knights nab second place honors behind eventual 2020 MSL champion Barrington.

"My plan all along was to lock him up as much as I could, and try to score as many points as I could on top. Things worked pretty good for me in my final," said Miller, who defended an attempted ankle pick from Santangelo when the two began the third period in neutral. After successfully stopping the Santangelo shot, Miller scored a takedown to make it 11-2 before adding a near fall with 30 seconds left to make it 14-2.

126 – Brian Beers, Barrington

A two-time state qualifier and now three-time MSL champ, Brian Beers (32-4) made an early lead stand up when the Barrington senior defended with all his might to defeat Schaumburg junior, Caden Kirchner (26-6) 3-0 to claim the 126-pound trophy.

"That first takedown in the first period was big – especially against Caden, who is so long," offered Beers, who earlier in the season defeated Kirchner 1-0.

"I expected a low-scoring, defensive match so again, that's why scoring first was so important. Plus, it gave me the chance to ride out the period, and just work as hard as I could to keep the lead, and make him work harder than he wanted to," said Beers, who with this win now has 141 career victories.

There were six stalemate calls in this contest, the last coming shortly after Beers, who started down to begin the third period scored a late escape to make it 3-0.

"I was looking to sink a half to add to my lead, but he fought hard – so I just worked hard to keep him down, and not allow him any chance to score in the last 30 seconds or so," said Beers.

"Brian's defense and positioning were very good in his final. He wrestled a smart match against Caden, who is a very good wrestler," said Broncos head coach Dave Udchik.

132 – Will Baysingar (Prospect)

When Will Baysingar squashed the competition to win at the 61st Mudge-McMorrow Invite inside his own fieldhouse, he was quick to say that he was happy with the title, but it was back to his 24-7 approach to the sport to further enhance his game.

After another dominating tournament performance where the Prospect junior overwhelmed the competition to earn his third major, Baysingar accepted gratulations before turning the conversation around to talk about his lone defeat of the season.

Baysingar ran his record to a dazzling 39-1 when he recorded a pair of falls in advance of his 12-3 major decision over Maddox Khalimsky (25-6) of Fremd, who came in as the No. 9 man at 132, and fourth-place medal winner at the IWCOA state tournament.

"It's great to win a second MSL title against a quality opponent, and to help my team stay in the race for a conference championship, but my 9-4 loss to Kannon Webster (Washington) at the Flavin is something that will make me work even harder, in and away from the room," said Baysingar, an IWCOA state champion last year who is No. 4 at 126.

"That loss exposed a few things that I need to address. So while you never want to take a loss, that's one that I'll learn from in order to fine tune some things," said Baysingar, who will join Webster in the fall of 2023 at the University of Illinois.

Intense, focused, with wonderful speed and finishing ability, Baysingar added a near-fall towards the end of the first period to go up 5-0, then scrambled free of a Khalimsky midway through the second period to make it 10-1 en route to victory.

138 – Phil Chapa, Barrington

Phil Chapa (29-9) would breathe some life into the Broncos' chances of holding off Conant for a top four finish when he recorded a well-deserved 13-9 decision over Lennon Steinkuehler (30-5) from Prospect.

After the opening period ended level at 5-5, the two engaged for the next four minutes as they kept the scoreboard operator alert, and ready to add points as they came fast and furious.

"We knew Lennon was a big time thrower, so my tie-ups were important, and something I had to do really well," said Chapa.

"It was a little more scoring that I expected, but I felt good throughout and I was ready to compete," Chapa said. Chapa enjoyed an 11-7 advantage with a minute left before a takedown with 17 seconds remaining ensured Chapa's 100th career win, and a greeting party from his teammates after his arm was raised.

"Phil is a hard worker, who has been a three-year starter. He battled injuries this entire season but he came back to get himself a conference championship," said Udchik.

Chapa, who would like to continue to wrestle on the collegiate level next fall, has Bradley and the Milwaukee School of Engineering listed as two of his favorites.

145 – Charlie Fifield, Fremd

It took just over six minutes for Charlie Fifield (35-4) to give Fremd its third individual title, and his second straight major when his takedown in the first extra session decided the 145-pound weight class.

The Vikings senior unlocked the key to his MSL crown when his takedown near the edge broke a 1-1 match with rival Damien Puma (Prospect, 27-8) to give the Vikings star a 3-1 decision.

"Every time Damien and I have wrestled, the matches have been very close. I beat him 5-4 earlier this year so I expected this one to be just as hard-fought and close," said Fifield, a state qualifier in 2020 with 39 victories, before he tore both ACL's to erase his junior season.

Fifield would book his spot in the finals with back-to-back tech-falls, giving him 15 on the year.

"Charlie's hand fighting, neutral defense, and finding ways to win tight matches late in the action are just three areas that we've seen improvement in him," said Fremd coach Jeff Keske.

"His commitment, dedication, and work ethic are second to none, witnessed by his determination in coming back from two ACL surgeries."

The University of Illinois recruit has an eye-popping 85 near falls, as well as 217 near-fall points thus far, plus 98 takedowns.

"It was nice to win an MSL championship and to see the team do well also, but there's still a lot ahead of us to work for," said Fifield, No. 6 in the IWCOA rankings.

152 – Ethan Stiles, Conant

Fresh off his triumphant return from his championship run at the prestigious Doc' Buchanan tournament in California, Conant junior Ethan Stiles (21-1) entered this tournament as the prohibitive favorite to collect an MSL crown.

Stiles, the No. 2 man in the most recent IWCOA rankings, didn't disappoint. The former Montini Catholic star and IWCOA state championclosed out a stubborn Connor Munn (25-9) of Prospect in the final with an 18-6 major decision.

"I would have liked to make it three pins on the day to finish strong, and to help my team earn bonus points, but I'm still happy with winning it all. Now it's time to turn my attention to the state series," said Stiles, third in the state in 2020 at Montini, and second most recently at the Dvorak, where he dropped a 7-3 decision in the final to former Montini teammate and the current No. 1 man in 2A at 152, Braden Stauffenberg.

"You always learn a few things from a loss, things that I'll need to work on, and this is the time of the year to clean things up," offered Stiles, who at the Doc' Buchanan, beat Noah Tolentino from California state power, Clovis, 3-0 at 148 pounds.

160 – CJ Gilbert, Conant

Stiles' victory inspired upper-weight success for the Cougars, who used a trio of wins after the Stiles triumph to help ensure a well-deserved fourth place finish just ahead of division rival Barrington.

Senior CJ Gilbert (24-6) overcame an early 4-2 deficit to top seed Billy Spassov (32-8) to register a stunning second period pin (2:26) over the Hersey captain to claim his first ever MSL crown.

"It feels really good right now to win a conference title," admitted Gilbert.

"I knew from before that (Spassov) is very aggressive, and looks to shoot a lot, but I stayed composed. I thought I defended his shots and after I posted him up, and turned him onto his back, I felt confident I could finish him off."

"CJ was really looking forward to this tournament as he had the opportunity to avenge two early season losses (to Fremd's Matt Meehan and Spassov) and that's exactly what he did in his semifinal and final," Conant coach Andrew Guilde said of Gilbert, who is a 2021 IWCOA state qualifier.

"We knew his final would be tough, and (Spassov) is as tough as they come, but CJ is dangerous from everywhere he's a pinner. Once he gets his hands locked, he finishes matches."

170 – Cody Sebo, Conant

Conant's Cody Sebo (21-9) followed up Gilberts' win with a hard fought 7-6 decision over top seed Jalen Curtis (24-4), holding off the talented Hoffman Estates junior to claim his first MSL title.

"Sebo really put a complete match together for his final," began Guilde.

"Curtis is tough, he's fast, strong, and very technical, so we knew going into the finals that Cody has to wrestle six minute hard, and that's exactly what he did."

"This is something I've been working for for a long time, so to win a conference championship in my senior year means a lot to me," said Sebo, who is planning on a studying finance in college, while looking to continue to wrestle, perhaps at the University of Dubuque, should the opportunity present itself.

"It was important to get the first takedown in my final, and to turn up the pressure on him in the second period. When he was able to get closer towards the end of the match, I just stayed calm and positive to hold onto the victory," said Sebo, who led 6-1 after two periods, using a double to grab the lead, before Curtis came back within one (7-6) with a takedown of his own with 17 seconds remaining.

"It's all about Sebo believing in himself. That's really been the only missing ingredient in his game but with each match, his confidence continues to grow," added Guilde.

182 – Ayden Salley, Barrington

Ayden Salley proved he belonged with the big club after his marvelous effort at the prestigious Rex Whitlach, just before the new year, when the Barrington sophomore came home with a second-place medal at 182 pounds.

Salley went one better when he captured his first major of the campaign, and first-ever league title when he registered a fall at 3:30 over AJ Hernandez (Conant, 18-10) to give his club its third championship of the tournament.

"It's kind of tough being a sophomore at this weight class. There's a lot to learn, and you are going up a lot of guys who are older and have more experience," began Salley, now 23-6 on the season.

"But we have a great coaching staff and I have a great partner in the room with Zach (Meyer), and a lot of support from my teammates, so that's made it all a little easier for me."

Salley gave up the sport in second grade then returned two years later, thanks in part to his uncle, Jason Salley, an IHSA referee, who was the first to greet his nephew upon his victory.

Salley said he watches plenty of film of his opponents, which in this particular contest would help in his preparation.

"I watch so much video," he said. "It helps with my confidence and in knowing what the plan will be before I go out there."

Salley opened up a 5-0 advantage with a nicely-executed near-fall near the edge in the first period. He conceded two points early into the second period to make it 6-3, before a scramble and flurry led to his pin.

"Ayden had a great tournament for himself, he's officially in the big leagues," Barrington coach Dave Udchik said.

195 – Henry Chang, Conant

Yet another Conant senior helped the cause for head coach Andrew Guilde's club when a marvelous overtime effort from Henry Chang resulted in a hard-fought 11-9 victory over No. 2 seed Zach Meyer (31-6) from Barrington.

Meyer, who recently committed to play football at the University of Chicago, appeared to be in control of the contest when he cradled up Chang to increase his second period advantage to 7-2. Chang escaped and earned a takedown with 9 seconds left in the period to make it 7-5. 

Meyer executed an escape to make it 8-5 in advance of the third period.

"I had to be more defensive in that second period in order to hang in the match. I knew going in that he likes to go heavy on the legs, but when we got to overtime it felt to me like he was getting tired. So I went outside and locked him down to get the takedown to win," said Chang, who was up 9-7 in the third period before Meyer drew back even with 30 seconds left in regulation.

"Chang is all heart, he loves to compete, and will put everything he has into every second that he's out there," says Guilde.

"This final was a rematch from last week where Henry won, and although he got himself into that early hole, he's a guy who never quits and he just kept coming. Because of that he was able to get himself another well-deserved victory in overtime."

Chang (24-6) plans to major in Data Sciences at either Purdue, Illinois or Wisconsin in the fall.

220 – Manny Mejia, Hersey

There were plenty of reasons for the Hersey team victory, but head coach Joe Rupslauk says it all begins with his 220-pound champion Manny Mejia, No. 8 in the IWCOA rankings.

"Manny is such a quiet and humble guy. He really doesn't like to talk about himself or his accomplishments. For him it's family first, and his family is this team, and he just loves to be with his teammates grinding," said Rupslauk of his senior, who pinned his way to his second major of the season.

"Manny has just scratched the surface in his wrestling career. He just goes out and wrestles whoever is across from him," Rupslauk said.

"He does not care who is ranked, and where. His mental approach to the sport is what is important to him at all times. He's an athlete whose offense has really opened up on his feet, and fundamentally he can attack in so many different ways."

With his three victories, Mejia (38-5) is now within four wins of assistant coach Hunter Rollins, who in 2013 went 42-2 on his way to a second place state finish at 160 pounds.

"Hunter has been a huge part of Manny's success. He made all-tournament recently at The Clash, and we expect his to compete for a state medal and to continue to work hard, and improve in order to help lead our team forward," said Rupslauk.

Despite his loss in the final to Mejia, junior Casey Bending (Fremd, 33-9) enjoyed a wonderful day which included two hard fought decisions to help him advance.

Bending won his first major title of the season just before the new year at the Berman Holiday Classic at host Palatine.

285 – Kehinde Akintunde, Hoffman Estates

In the wild and unpredictable world of the heavyweight division it was, well, wild and unpredictable.

Oleg Simakov (Hersey, 32-11) and Sean Mitchell (Prospect, 20-3) may have been the clear favorites to reach the final but they found themselves on the short end of things when the unknown junior from Hoffman Estates, Kehinde Akintunde, stunned both on his way to the first Hawks league championship since 2009.

Akintunde, who came to the United States three years ago from Nigeria, pinned the top two seeds in winning his MSL title. He pinned Mitchell in the final at 3:29 to end this tournament in style.

"Kehinde is a great athlete, who also plays football, and was encouraged to wrestle. For a first-year wrestler, he had himself quite a day," said a proud Leo Clark, the Hawks head coach.

"I am really glad my football coaches told me to wrestle. It's been a lot of fun and I really enjoy the sport. I feel with my quickness, speed and athleticism, I can have some success in my first year in the sport," said Akintunde, who came in at 234 pounds.

"Kehinde has come a long way in a short time, and he's beginning to figure things out with his hips, and positioning," Clark said. "But he knows there's a lot more to learn if he wants to be able to compete with the big boys."

Akintunde (21-13) who plays on both sides of the line for the Hawks football team, pinned his way into the final from his No. 4 seed spot in the bracket, including top the top seed (Simakov) in his semifinal at 1:54.

The Hawks claimed the MSL crown in 2009, with Patrick Scully (119), Tommy Wadas (145), Andrew Petit (160) and heavyweight, Mike Eisele all winning individual titles on that day.

Scully and Petit would later advance into the state tournament.
FROM THE IWCOA: If you are enjoying these articles, please consider a small donation to the IWCOA so that we can continue funding feature stories for our website and social media. The IWCOA is non-profit, 501(c)(3) organization. Click this link to make a donation. Thank you!