Lockport hosts a whale of a 3A Regional
By Patrick Z. McGavin
Lincoln-Way East senior Jake LaMonto had the longest weeks of his young life awaiting the opportunity to avenge his loss against Lockport sophomore Andrew Blackburn-Forst.
The stage was set at this year's Class 3A Lockport Regional, as LaMonto and Blackburn-Forst were the two top seeds of the 195-pound weight class at opposite ends of the bracket. LaMonto, the top-seed, was haunted by his loss in the conference championship.
LaMonto won the first match between the two earlier this year via 8-5 decision. and he jumped out to an apparently commanding lead against Blackburn-Forst on a conference title mat, only to see the dynamic and athletic Blackburn-Forst respond with a stunning pin.
"This whole week, I focused a lot of my game play specifically on him," LaMonto said. "I thought a lot about keeping my composure. When I got down in the match, I knew that I had to come back."
Refreshed and jacked up by two quick pins in the preliminary stages, Blackburn-Forst seized the quick advantage with the first takedown just 12 seconds into the match.
He also earned back points and he was leading 6-0 midway through the second period.
Things were not looking up for LaMonto but in a flash, everything changed.
Blackburn-Forst took hold of a single leg but LaMonto broke free and then drove through the Lockport sophomore, stunningly putting him on his back.
Blackburn-Forst fought off his back and escaped the 7-5 lead but the brazen and confident LaMonto locked up the match at 7-7 apiece with another takedown.
Blackburn-Forst took an 8-7 lead with an escape but LaMonto again tied the match with an escape to start the third. The 8-8 tie held until the closing seconds of the match, when LaMonto earned a takedown and back points to win a 12-8 comeback thriller in the best match of the day.
"The last takedown was one of my go-to moves," he said. "It was a sweep single, and I practiced it the whole year. I knew if I continued to put pressure on him, some of my shots would open.
"I took full advantage of it, and I took him down."
Ranked No. 10 at 195 in Rob Sherrill's IWCOA rankings, LaMonto improved his record to 32-5, while No. 9 Blackburn-Forst is now 35-7.
The performance of Bloom senior Jevin Dampier in the back draw at 195 was also significant. Dampier's win in the third-place match ensured that all nine schools qualified at least one individual for the Class 3A Quincy Sectional on Saturday, February 15.
In the team race, Lockport dominated the lower weights in winning its sixth consecutive regional with 190 points to outdistance Lincoln-Way West (158).
Lincoln-Way East finished third with 124.50 points.
Lockport had the perfect symmetry: three winners, three runner-ups and three third-place finishers. Lincoln-Way West and Andrew matched Lockport with three individual champions, but couldn't match the Porters' depth across the board; Lockport is also unbeaten in dual meets this year, with a 19-0 record.
Six of the nine competing schools had an individual champion. Fourth-place Andrew had three first-, two second- and one third-place finisher.
Homewood-Flossmoor and Providence also had five qualifiers.
Marian Catholic had two individual champions in freshman Vincent Robinson (120) and the comeback story of Kendall Norfleet (145).
"You never know what is going to happen," Lockport coach Josh Oster said. "Competition is competition, and we had some kids who were pretty confident coming into the regionals. Every kid scored points. We had 30 different kids win a dual match this year."
The regional largely played out to the expected narrative with a couple of stunning examples. Ten of the 14 regional champions were the top-seeded wrestlers in their weight class.
Two second-seeds, a third-seed and a fourth-seed also captured individual championships.
Lockport featured dominant performances by individual champions Kaleb Thompson (113), Mikey Kaminski (126) and Keegan Roberson (132).
Thompson, ranked No. 4, ran his record to 17-1 by recording a pin and two technical falls. Against Lincoln-Way West freshman Tyler Mansker in the championship, Thompson had five takedowns in the first period in running out to a 15-4 lead.
Thompson, Kaminski and Roberson are heirs to Porters' greats Matt Ramos and Anthony Molton, former lower weight state champions who helped establish the program's culture and standards of excellence.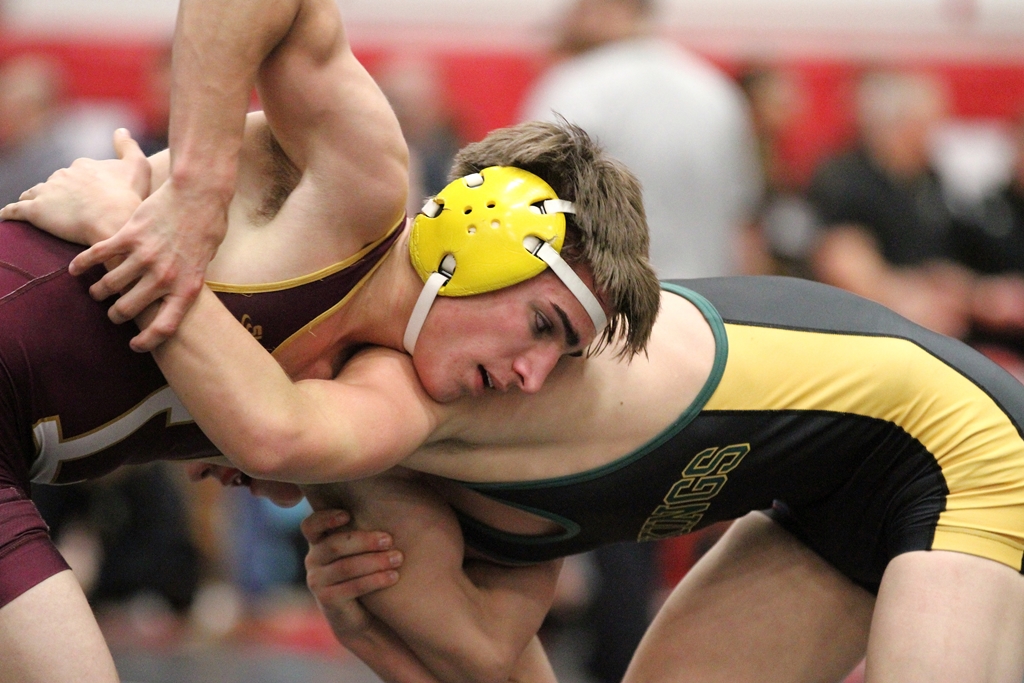 Kaminski posted back-to-back technical falls in capturing his title at 126 pounds. Ranked No. 3, Kaminski worked at a feverish pace, destabilizing opponents with speed, quickness and superb technique.
He overpowered Lincoln-Way East freshman Ari Zaeske with a second period technical fall (20-5) that held particular significance.
"I'm at thirteen technical falls on the season, and I'm going for the school record, which is 16, by our coach, Josh Oster," Kaminski said.
"Ramos and Molton are the ones who really inspired me," Kaminski continued. "The coaches got me into wrestling and taught me all of those things. Having those two great wrestlers from my freshman to junior years, getting their advice and seeing how they wrestled, it was the greatest experience I could ask for."
Roberson's title-mat showdown with Andrew senior Kyle Silzer at 132 was another of the day's marquee events. It marked the fourth time this year the two clashed.
Roberson held a 2-1 advantage in the season series, with each match decided by one point. Roberson won twice in 1-0 matches, while Silzer struck back to win a 4-3 decision.
Roberson knew the situation demanded a different response, and he could not use the past to predict how the match would play out.
"I just (stayed on) offense the whole time," he said. "All of the other times, I was just defending the whole time. This time, I opened up my offense and I actually shot. In the other three matches, I did not shoot very much. I was tired of the 1-0 matches and I knew I had to start working on it."
Roberson was aggressive from the start, securing the early advantage with the first period takedown he parlayed into an impressive 9-0 victory.
Roberson (ranked No. 6) is now 29-7 and Silzer (No. 7) is 32-8.
Roberson also talked of the impact of the Porters' legacy of accomplishment.
"It is really just motivation," he said of Ramos and Molton, "and seeing guys coming out of Lockport and going to great (colleges). That is just motivation to go out and achieve something."
The Roberson-Silzer showdown also underscored the deeply personal, family connections that bind so much of the sport.
Silzer's younger brother, freshman Trevor Silzer, defeated Providence freshman Billy Meiszner, 3-1 in the 106-pound championship.
Trevor Silzer recorded a late first-period single and takedown that was the difference. The two wrestlers traded off escapes for the final margin. Meiszner had several strong chances at his own takedown in the final minute, twice getting in deep against Silzer's body, but Silzer fought him off.
Lockport sophomore Cody Silzer, a cousin of the brothers from Andrew, also qualified by finishing third at 170 pounds.
A traditional power at Class 2A, Marian Catholic has experienced a problem with numbers in making the leap the higher class size.
The Spartans featured two dynamic and thrilling performers in the precocious Robinson, ranked No. 4 at 120. Up just 5-3 to start the third period, he put on a magnificent closing run in powering past Andrew's very capable Joey Roti 15-6 in the 120-pound final. The win improved Robinson's record to 21-2.
"I just like to attack first and get the match going," he said. "I like to attack and get into my moves. I never want my matches to be close, so I just have to go. My mentality was just to come out here and dominate every match. You can't hit a moving target."
Junior Kendall Norfleet also broke the streak of the top-seeded wrestlers who won the first six weight classes.
The third seed at 145 pounds, Norfleet improved his record to 33-6 with a first period pin and a very impressive majority decision over Providence's highly regarded Kevin Countryman, a top-4 state finisher last year.
Norfleet then beat Lincoln-Way West's Garrett Geiger 8-5 for his first regional championship.
"I knew him and his brother (Payton Geiger). I knew what he was capable of, and I knew I had to come up with something to win," Norfleet said.
"I had the advantage, and I know that nobody can really dig out of a hole. If you get yourself down four or five points, it is hard to come back against somebody good."
Garrett Geiger takes a season record of 35-5 to this year's sectional meet.
The victory marked something special for Norfleet, whose older brother, Kordell Norfleet, was a two-time state champion who now wrestles at Arizona State University.
"My brother is one of the main influences on my style," he said. "Now I have a state title to win. I made some dumb mistakes last year. I didn't make weight.
"My freshman year, I didn't make it out of the sectionals. Just knowing they expect somebody else to win, it gives you motivation. I have to make a name for myself and prove a lot of people wrong."
Garrett Geigner's fraternal twin brother, Payton Geiger, recorded a second period pin against Homewood-Flossmoor junior Stacey Terry to capture the 160-pound title.
Lincoln-Way West's power is concentrated in the middle weights with its four "horsemen" — the Geigner twins, junior Javen Estrada and Brock Pfeifer.
Ranked No. 5, Estrada continued his season-long impressive performance with a 10-2 majority decision over Lockport junior Nate Ramsey at 138 pounds.
Pfeifer, who's ranked No. 7, defeated Lockport senior Joe Oster by fall at 3:44 at 152 pounds. Estrada is now 37-1; Pfeifer is 33-5.
"I knew what I had to do right away," Pfeifer said. "At times, I thought the pace was not quick enough. I wish it were quicker, but I got the job done.
"The next week is going to be a tough one. I have a lot of guys who have similar types of skills as I do, and I have to make sure that I am better than them."
Every regional has a dark horse, a victor who comes seemingly out of nowhere. On Saturday the honor belonged to Andrew senior Nick Barberi at 170 pounds.
Barberi entered the regional with a 17-20 record. He also came with the sense of a clean slate, the chance to begin anew.
"I wrestled hard and I wrestled aggressive," Barberi said. "Coming in here, I told myself I just had to be aggressive and I could beat anybody here."
He stunned top-seeded Ian Swidergal of Lincoln-Way West with a 3-0 decision in the semifinal round. He punctuated his run with the 9-6 title victory over Romeo Williams of Homewood-Flossmoor.
The fourth-seeded Barberi was the lowest-seeded champion.
Homewood-Flossmoor sophomore Haku Watson-Castro ran his record to 26-7 with a 7-1 title-mat decision at 182 over Lincoln-Way West junior Andrew Hesse.
In the title match at 220 pounds, Andrew senior Andrew Salah upended top-seed Justin Thomas of Homewood-Flossmoor by 8-3 decision.
Fittingly, the day that started as a kind of coronation that followed the season-long dominance and depth of Lockport ended with the most shocking upset imaginable.
The 285-pound final was thought to be a fait accompli with the state's top-ranked wrestler, Providence sophomore Ryan Boersma, overpowering the opposition.
Homewood-Flossmoor junior Brian Smith had other ideas.

Smith (20-9) took Boersma to his back and pinned him, stunning the crowd with the fall just 26 seconds into the match and handing Boersma (37-2) his first loss to an in-state opponent this season.

Smith provided a stunning ending to a fine day of wrestling in Lockport. "I was just trying to work the move, and it was not working so he tried to throw me and I just adjusted from there," Smith said. "I believe I caught him by surprise."