MARIAN CENTRAL TAKES ESCC TITLE
Host Joilet Catholic Academy impresses as runner-up.

by Mike Garofola

Joilet Catholic Academy –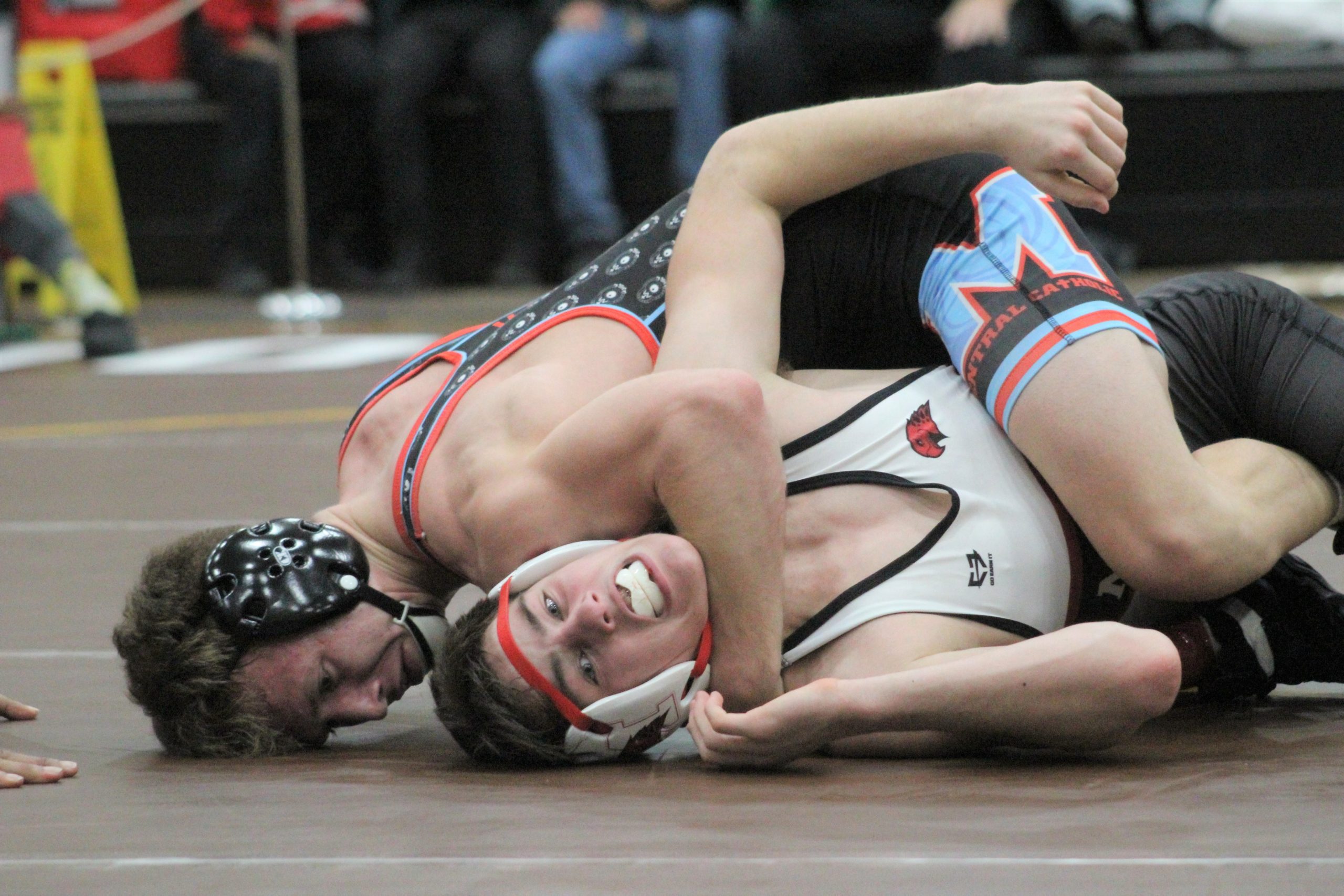 Marian Central Catholic drove over 80 miles to claim its second ESCC championship trophy in program history Friday night at tourney host Joilet Catholic Academy.

The point differential for the Hurricanes was not as dramatic as it was when the No. 1 club in 2A won the Geneva Invite, or, one week later at Batavia – but on this night, it was enough to hold off ever improving Joilet Catholic Academy, which has gone from nothing to something in three short years.

The Hilltoppers won (5) individual titles, one more than MCC, who, with its gift of depth, and brilliance from both Daniel Valeria and Dylan Connell, outscored the home side 176.5 – 159.5.

"The goal is always more than winning the ESCC, especially with the start the postseason about to begin – but we're still happy to leave with the conference championship (it's) just that we still have a lot of work ahead of us to get ready for regionals next weekend," admitted Valeria, now 36-0 after another marvelous performance at 132 to win the second title for his club – ahead of Connell (170) then Nico Lopez at 182.

"It's all about the team when we go to a tournament," continued Valeria, who will wrestle next fall at St. Cloud State, and who has set his sites on either education as a guidance counselor, or in the field of physical therapy.
"I love to compete, it's the 'work' I do right now, so I wrestle for the team (first) – then myself, all the time looking to make a big contribution for my team."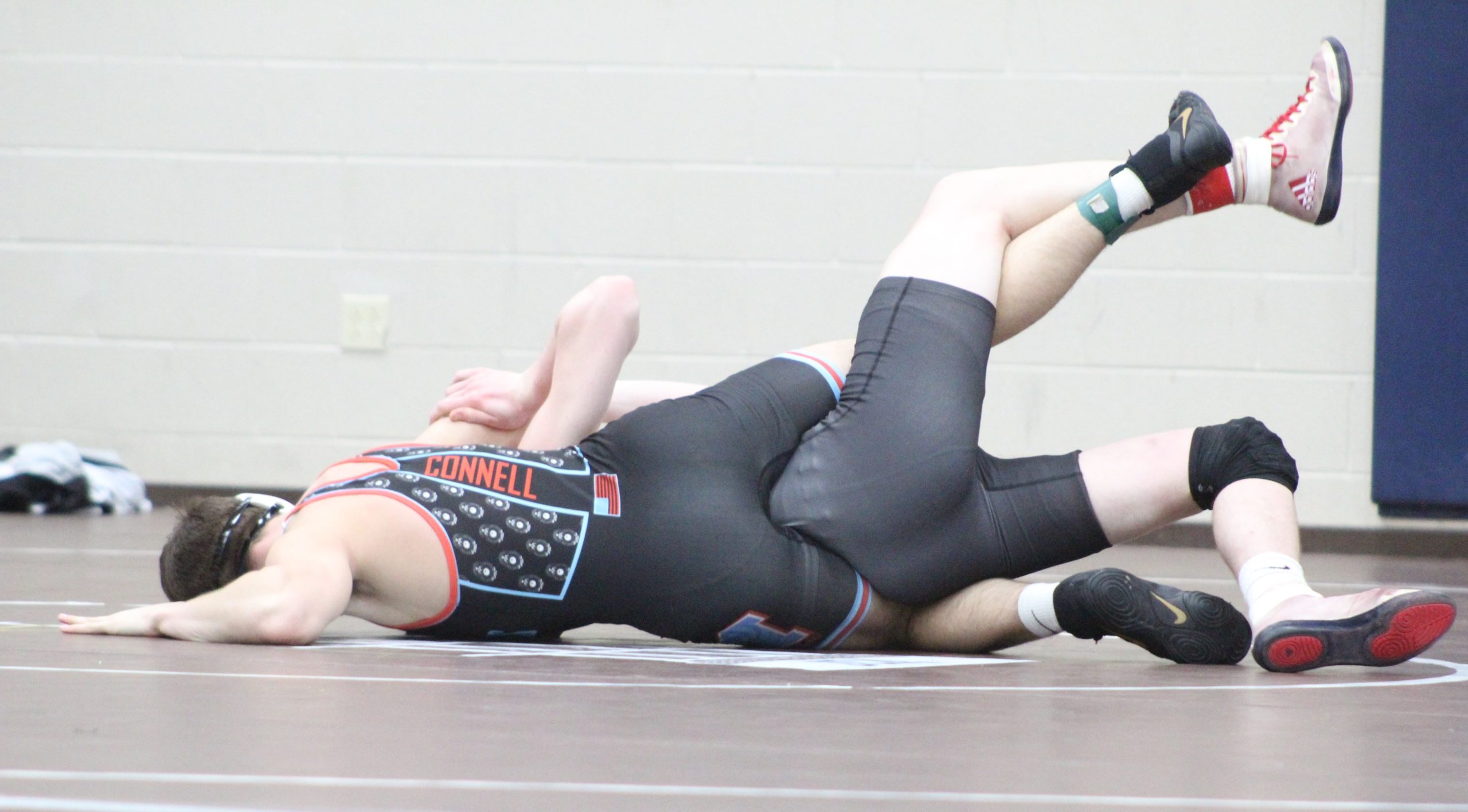 The top rated 170-pounder (Connell) continues to destroy whatever stands in his way – earning high praise from the likes of head coach Augie Genovese (Notre Dame) while watching the performance of the two-time state champ.

"It's not fair to say, but (Dylan) makes it looks so easy out there – he's really something else to watch," said Genovese while watching the MCC junior during his semifinal victory.

"It's nice to hear those type(s) of comments from others, but I have never enjoyed talking about myself or my individual accomplishments – instead I just let my work out on the mat speak for me," said a humble Connell, now 35-0.

Connell and tournament O.W.  – DJ Hamiti, had a chance to chat in between sessions, and the two stars, with a combined (4) state titles would later show why each are on the road to a third state crown.

"DJ and I have known each other since our IKWF days, and we've been able to see each other at Team Illinois events as well – so it's great to 'catch-up' with him, and hopefully in three weeks down in Champaign," said Connell.
Hamiti, again, was unstoppable at 152, winning his second ESCC title, the first coming two years ago as a freshmen at 106 pounds.

"For me, right now, it's all about staying healthy, working hard in the room, and with my conditioning – and cleaning up all of the little things in advance of the postseason (where) my goal is not to get scored upon," said Hamiti.

The genie might be out of the bottle for Hamiti, and his Hilltoppers' mates – who three years ago at the ESCC tourney finished dead last with a paltry 43 points – before increasing that point total to 103.5 last season and a fifth place finish.

"There wasn't much here when I came in three years ago," began Cumbee, who came over from a successful run at Marmion Academy to join the program to work alongside Mac McLaughlin.

"DJ and Jack (Finnegan) were are only two medal winners back then, but we've built around those guys, and the work ethic from those (two) along with our three other ESCC champions  has brought our room to another level, and I could not be more proud of this team on this night, and in our gym."

The junior Finegan (30-12) would avenge a 3-1 loss last week to Bryce Shelton with a hard fought six minute defensive effort to win at 138.
"Bryce is very good, so I knew it would be a dogfight in our final, but that take-down with 13 seconds left in the second period to put me up 2-1 was big, and allowed me to ride out most of the third period to get the win," said Finegan.

Hilltoppers rookie, Gylon Sims (106, 32-5) would get the home crowd ready for more when he opened the final session with sensational 19-7 major decision victory over Ethan Bednarczyk (20-19) from Marist.

"Being in a room with a two-time state champ like (Hamiti) has made a big influence on me because of the way he trains and works harder each and everyday," said Sims, currently fifth in the most recent IWCOA poll.

The hits kept coming for the Hilltoppers faithful with sophomore Shay Korhorn following up Sims' victory with a 3-2 victory over No. 6 Sean Conway (St. Patrick, 27-5) who finished third a year ago in Champaign.
In a edgy six minute affair, Korhorn (33-8) took a 1-0 lead in the second period with an early escape, conceded a third period escape to Conway – then hit the match winner at five minutes, before holding off his opponent for good.

"I was 'decent' at the start of the year, but I've made steady improvement with each week thanks to the coaches, and my teammates in the room who constantly push us to work and train even harder," said Korhorn, who was a starer on the JV last season.

MCC senior Elon Rodriguez (34-2) would slow the Hilltoppers' run with his well-played 5-0 decision over Owen Dunlap (32-8) of Marist in the 120-pound final.

"It's all about staying mentally strong in order to close out your opponents," said Rodriguez, who now has four majors to his credit this season.
"It's nice to win as a team, but after tonight, it's obvious to me that we have a lot of the little things to clean up before regionals begin next weekend."
The aforementioned Nico Lopez, who came over from Montini Catholic during the offseason to give the Hurricanes another upper weight weapon, earned the fourth and final individual title for his club with his 7-3 decision over Marist junior, Bobby Gaylord.

"It was disappointing to lose my final at Batavia (Justin Peake, Johnsburg) to a reversal with ten seconds left in the match – so that loss would help (me) keep my focus more clear in this match, and especially in the third period when it really counts," said Lopez, a state qualifier a year ago with 21 wins at 160 pounds.

Lopez defended a shot from Gaylord with 30 seconds remaining, and turned it around to increase his lead to 7-3 with a take-down at 17 seconds.
Ghee Rachal (220) and Tom Munoz (285) would end the night for Marist on a high note with back-to-back victories for the eventual third place team that scored 151 overall points, far ahead of fourth-place St. Patrick and its 72 points.

Rachal, second here a year ago as a freshmen, could not be touched in his two bouts – winning his first with a pin at 3:35, and the final, in which he needed but 29 seconds to achieve success.

"Coming from a wrestling family like (mine) your going to get a lot of experience, and you better be tough to withstand it all," said the affable Rachal (34-4) whose twin brothers, Baan and WeWe and Baan, are both redshirt freshmen at Illinois this season.

In the always unpredictable heavyweight division, it was Munoz (21-9) who came out on top when he pinned his way to his first ESCC title of his career.

"Not making it downstate after twice advancing into sectionals was enough motivation for me to work as hard as I could in the offseason," said Munoz, who will attend Illinois State next fall, where he plans on majoring in Special Education.

Munoz, a defensive lineman on the Marist football team, says the two sports are great for each other, and have helped his advancement in both.

"Wrestling has helped with my toughness, hips, footwork, and conditioning, which is so important when your competing at this weight," said Munoz.

Last year-here, Louie Stec, himself a star at football at Nazareth Academy, and now playing at the University of Iowa, was crowned heavyweight champ, along with two others for head coach, Denis Laughlin.

On this night, Laughlin would celebrate two individual titles, each the first ever for Alex Carillo and Robert Gurley, both strong candidates to medal in Champaign in class A competition.

Carillo, a three-time state qualifier, turned in a quality six minutes to decison Peter Marinopolous (Marist) in a 145-pound final that ended 9-5.
Marinopolous would defeat No. 2 seed Vincent Swindell (23-11) earlier in the semifinal round – with Swindell suffering an injury that forced the Carmel Catholic senior out of action as a precautionary measure.

This championship night for Carillo (29-4) was highlighted by his program record 118th career victory – breaking the old record set by Pat Vitek, who was fourth overall at state in 2013.

"It's an awesome feeling knowing I have the most wins in our program, and tonight, hopefully, will be the start of a great run towards a state medal," said Carillo, who, along with Gurley, were key figures on the 7A state runner-up football team last November.

Carillo, fifth in the IWCOA poll, will continue his football career, likely as a running back, at Valparaiso University in the fall.

His teammate Gurley (30-2) came back twice in his 195-pound final with Lou Gaddy (11-3) to defeat the Marian Central Catholic junior, 7-5
Gaddy took an early lead with a take-down near the edge, then go up 4-2 midway through the second period.

An escape by Gaddy to start the third period leveled things at 5-5, until Gurley prevailed with his match-winning two.

"I was eliminated in the blood round (5-3) last year at sectionals in the final seconds, so you (know) that was all I needed to motivate me during the offseason," admitted Gurley, who went out at 36-6 overall in 2019.
Gurley, a linebacker, and strong safety last fall, will take his 3.95 GPA (4.00) to Indianapolis University after visits to NIU, SIU and Minnesota, where he will continue to play football, and begin his studies in kinesiology.

I am very fortunate to have young men like Alex and Robert in our program, their work ethic, presence in the room, and terrific personalities make our room a great place to be," said Laughlin, who added that Gurley will be lead in an upcoming musical at Nazareth following the state tournament.

No. 6 Terrence Stamp added the fifth championship to the Hilltoppers total after his impressive performance at 160 pounds, including his 8-1 decision over No. 8 Kaden Randazzo (33-4) of Marian Central Catholic.

Stamp (30-11) who transferred over from nearby Joilet West, where as a sophomore he advanced into sectionals, says the chance to be in the Hilltoppers program was one to good to pass up.

"Just being in a room with a guy like DJ (Hamiti) makes all of us better, and along with my teammates and coaching staff, coming here is the best thing for me," said Stamp, who pushed the pace in his final, and was strong on top when asked to ride out his opponent.

It appears that Marian Catholic freshmen, Vincent Robinson is ready to continue the success that his brother Travis Ford-Melton (Purdue) began when he stepped into the Monarchs room.

From the opening moments of his first round match – and right up until the referee signaled his technical fall victory at 126 pounds – Robinson made a strong statement on what to expect in the next three weeks.

"Travis was unbelievably good, but I want to be better than he ever was," Robinson said boldly as recording a pair of dynamic major decision vicories in his first two bouts – followed with an extraordinary effort in his final that featured power, lightning quick speed, power and the ability to finish a shot at will.

"I like to think that I can be the best, and right now, I feel like I am kind of flying under the radar heading into the postseason, which is a good place to be," continued Robinson, who came through the Twisters youth program, where he was a IKWF State Champion.

While the teams slowly made their way out into the night – Cumbee had this to say before, he too, left for home.

"I could not be more excited about the way we're entering the state series, all of my guys are laser focused on their goals to improve in the room, which aligns perfectly with my message that you earn your medal at practice (competition) is where you pick it up."

"I anticipate this momentum to be contagious, and carry us deep into the posteaason."

The Hilltoppers move on to compete at the Rich East regional, Marian Central Catholic travels to Woodstock North, while Marist stays close to its campus at Stagg.