Marmion Academy captures title in first Clint Arlis Invitational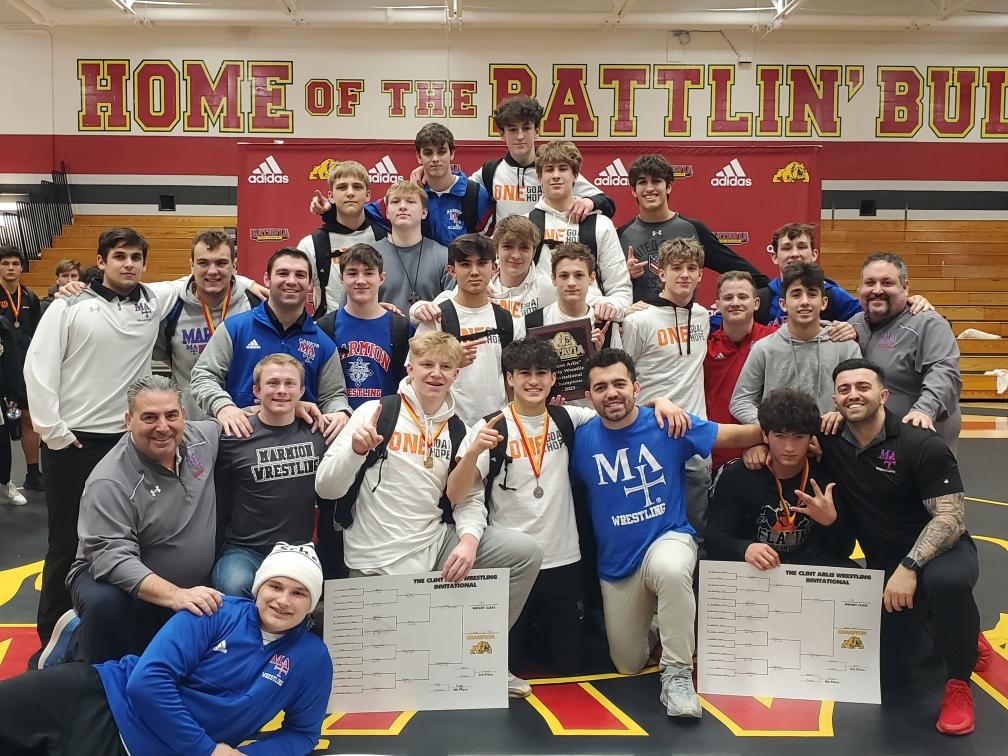 By Mike Garofola
BATAVIA – With six ranked teams and nearly 50 wrestlers ranked in the top 10 of their respective weight divisions on hand at the Clint Arlis Invite, there's no doubt that fans of this sport would pour into the Batavia gym on Saturday to get a close-up view of the action.
Marmion Academy, top-ranked in Class 3A, was the favorite from the onset to lift the championship trophy and despite missing one of its best in Jameson Garcia and also Zach Stewart, as well as two other starters, Cadets head coach Anthony Cirrincione watched his men outscore Class 2A power Washington by 38.5 points (208.5-170) to collect the team title.
The host Bulldogs were third with 157.5 points while Hinsdale Central (127.5) and Marian Catholic Central (115.5) rounded out the top five.
"The boys knew we would not be at full strength for this great tournament, that had quality competition, and was well-organized, so we really wanted to see how hard we could compete and where we fell as a team as a result," said Cirrincione, whose club also suffered a couple of injuries during the competition.
"Collectively, we're very happy with winning this tournament, and as a staff, we are extremely proud of how hard the boys wrestled, especially our freshman, Joey Favia, who won at 220, and of course, Jack (Lesher) who dominated at 182, who has really come into his own as an elite wrestler."
"We have a hard-working, dedicated bunch of guys with a nice blend of young wrestlers and veterans, who come into the room each day and do whatever it takes to become better wrestlers, and teammates," added Lesher.
The Cadets also had five second-place finishers, Brody Kelly (132), Santino Scolaro (145), Collin Carrigan (152), Tegan Chumbley (160) and Sean Scheck (285).
The path to victory appeared to be clear once the Cadets went into the lunch break with a 31- point advantage over Washington, which increased to 43 points just ahead of the final session.
A handful of high-profile men did not make it here on this day, including Garcia at 126 and West Chicago's Noah Allen, who is No. 4 at 152, which also happened to have an array of talent.
Batavia's Kaden Fetterolf was part of this elite group of champions, and the Bulldogs senior gave the home crowd plenty to celebrate when he beat Marmion Academy's then-No. 1 Collin Carrigan in the final contest of the tournament.
Andrew had three champions at the lowest weights, Dino Haleem (106), Max Siegel (113) and Trevor Silzer (120). Washington also had three champions, Peyton Cox (138), Kannon Webster (145) and Justin Hoffer (220). Marian Central Catholic had two title winners, Kaden Harman (126) and Max Astacio (160). Others who won titles were Jacobs' James Wright (132), McHenry's Chris Moore (170) and Downers Grove North's Ben Bielawski (285).
Also claiming second-place finishes were Grant's Vince Jasinski (106) and Cameron Lattimore (195), Batavia's Ino Garcia (113) and Aidan Huck (126), Hinsdale Central's Cody Tavoso (138) and Marko Ivanisevic (220), Maine South's Theodore Flores (120), Washington's Blake Hinrichsen (170) and Buffalo Grove's Vlad Fedorchenko (182).
Astacio, Cox and Webster led all competitors in the Clint Arlis Invite with 29 team points while Bielawski was next with 28. Other leaders in team points were Lesher (27.5), Favia (27), Harman (26), Moore (26), Haleem (25.5), Siegel (25), Wright (25) and Fetterolf (24.5).
Finalists with the top records through the Clint Arlis Invite were Fetterolf (36-0, 1.000), Webster (31-0, 1.000), Moore (28-0, 1.000), Ivanisevic (31-1, .969), Bielawski (28-1, .966), Hoffer (25-1, .962), Tavoso (32-2, .941), Silzer (30-2, .938), Siegel (28-2, .933), Cox (27-2, .931), Carrigan (17-2, .895), Flores (25-3, .893), Wright (25-3, .893) and Haleem (28-4, .875).
Before the awards presentation, longtime assistant and wrestling legend in Illinois, Tom Arlis, provided a moving tribute to his son, Clint, who passed away suddenly a year ago.
Clint Arlis, a 2005 graduate from Batavia, starred on the mats, with three trips downstate, a program-high 437 career takedowns and he was second overall in career victories, before going on to wrestle at the University of Illinois, where he double-majored in Architecture and Engineering.
Illinois head coach Mike Poeta paid tribute via a recorded message, where he announced his program would honor Clint Arlis with an annual Heart of a Warrior Award, which former Deerfield star Jake Reicin was the first to receive last February.
Team Results
Marmion Academy 208.5, Washington 170, Batavia 157.5, Hinsdale Central 127.5, Marian Central Catholic 115.5, Andrew 110.5, Grant 106.5, Downers Grove North 99, McHenry 96.5, Naperville North 88, Maine South 79.5, Lemont 76.5, Hononegah 65.5, Harlem 57, Jacobs 55.5, Buffalo Grove 49, Leyden 37, Addison Trail 18, West Chicago 17
Championship Matches of Batavia's Clint Arlis Invitational
106 – Dino Haleem (Andrew) SV 10-5 Vince Jasinski (Grant)
113 – Max Siegel (Andrew) F 1:36 Ino Garcia (Batavia)
120 – Trevor Silzer (Andrew) D 8-4 Theodore Flores (Maine South)
126 – Kaden Harman (Marian Central Catholic) D 9-7 Aidan Huck (Batavia)
132 – James Wright (Jacobs) D 9-5 Brody Kelly (Marmion Academy)
138 – Peyton Cox (Washington) MD 10-1 Cody Tavoso (Hinsdale Central)
145 – Kannon Webster (Washington) F 1:18 Santino Scolaro (Marmion Academy)
152 – Kaden Fetterolf (Batavia) D 6-4 Collin Carrigan (Marmion Academy)
160 – Max Astacio (Marian Central Catholic) F 3:40 Tegan Chumbley (Marmion Academy)
170 – Chris Moore (McHenry) MD 18-8 Blake Hinrichsen (Washington)
182 – Jack Lesher (Marmion Academy) F 3:59 Vlad Fedorchenko (Buffalo Grove)
195 – Joey Favia (Marmion Academy) D 2-1 Cameron Lattimore (Grant)
220 – Justin Hoffer (Washington) D 5-2 Marko Ivanisevic (Hinsdale Central)
285 – Ben Bielawski (Downers Grove North) F 4:29 Sean Scheck (Marmion Academy)
Here is a breakdown of the Clint Arlis Invitational champions and their weight classes:
106 – Dino Haleem, Andrew
Dino Haleem would inspire lower weight success for Andrew when the freshman registered a thrilling 10-5 sudden victory win over Grant freshman Vince Jasinski, who came from the No. 4- seed to advance into the final.
Haleem (28-4) chased Jasinski (23-7) from the early going when he fell behind 3-0 in the first 30 seconds of this contest, drawing back closer at 3-2 with a nicely-executed reversal, only to find himself down once again when Jasinski earned a takedown near the edge midway through the second period.
"I got off to a slow start, then gave up that takedown to go down 5-3 after the second period (but) I think all the time in the room going against my teammates Max (Siegel) and Trevor Silzer really helped me in a match like this (because) I never really panicked, and was able to get back to what I wanted to do," said Haleem, who like Jasinski can be found in the Honorable Mention part of the latest IWCOA poll.
"Dino has grown a lot over the season, he continues to improve and buy into our program, and every day he is looking to get better as he continues to put in the work that is needed," Andrew head coach Peter Kowalczuk said. "We are all excited to see how he finishes up the season."
Haleem advanced after a major decision victory to open his tournament, followed by another major decision in the semifinals, while Jasinski claimed a pair of pins before his semifinal against the top-seed, Marmion Academy's No. 3 Nicholas Garcia (19-3), who was forced to take an injury default to end his day, and took fourth place.
McHenry's Ryan Hansen (26-9) took third place. In the fifth-place match, Hononegah's Jackson Olson (24-7) won a 6-2 decision over Downers Grove North's Tyler Tiangco (15-10).
113 – Max Siegel, Andrew
A cutting-edge attack administered by Max Siegel proved no match for the three opponents the Andrew junior faced en route to him lifting his second big trophy of the season after earning top honors recently at Granite City's Red Schmitt Holiday Tournament.
Siegel (28-2), No. 3 in the polls and an IWCOA state runner-up in 2021, was clearly the best in a field which included three others in the top 10: Batavia's Ino Garcia, Marmion Academy's Donny Pigoni and Washington's Noah Woods, with Woods falling to Siegel in the semifinals and Garcia (14-5) getting pinned by him at 1:45 in the title match.
"It was a good win against Ino, because I beat him in the final at Granite City (so) he had a little more incentive in this final for sure," said Siegel, who won his opener at state a year ago, before dropping his next two. "Your season never ends the way you hope when it's not on the podium, so obviously, my goal is to get back down (there) and onto the podium."
Garcia, Pigoni and Siegel were all part of the 106-pound state field in 2022, and if not for an slight injury, Jacobs' Dominic Ducato, who's ranked seventh, would have also been in the tournament making four state qualifiers at the Clint Arlis at 113.
"(Mad) Max, as we call him, is on a tear right now," said Andrew head coach Peter Kowalczuk, said, who was head coach at Fenwick, after starring at nearby Oak Park and River Forest.
"(He) is wrestling the best he has in his career thus far, he's always looking to score points, and create offense, and it's been awesome to see that his hard work is paying off for him,"
Garcia grabbed a 4-3 overtime victory over Pigoni in the semifinals to advance and Pigoni (18-10) later won 3-0 over Woods (21-11) to capture third place honors. McHenry's Jimmy Norris (19-14) took fifth place with a fall in 1:59 over Hinsdale Central's Sam Murante (12-4).
120 – Trevor Silzer, Andrew
Trevor Silzer completed a lower weight sweep for Andrew when the tenth-ranked senior beat Maine South's eighth-ranked Teddy Flores 8-4 after Flores came back from a 5-1 second period deficit to pull to within 5-4.
"It was the kind of a start you want to get in any match, the first takedown, and another to add to your lead (but) he got that 'half' in on me, which led to a reversal to make it a much closer match than I wanted," Silzer said.
The reversal that Silzer (30-2) spoke of came after the Thunderbolts senior rode Flores (25-3) hard to open the second period, only to be surprised by getting reversed to bring the score to 5-4 with 90 seconds left in the second period.
"I feel like I am much better on both top, and bottom, and that was the difference in this match," said Silzer, who added two more at the final whistle to claim his 8-4 decision.
"Trevor continues to wrestle smart, and controlled matches, and he puts it all on the line each time he goes out – he's dialing it in at the right time," Kowalczuk said.
Silzer, a two-time state qualifier, and a fourth-place medal winner a year ago at 113 with a 35-4 record, recently committed to wrestle next fall at Northern Illinois University, where he will set about earning a degree in Accounting.
Silzer trains at Victory Elite, where, among others, a two-time state runner-up, Homewood-Flossmoor's Vincent Robinson, trains, as well.
Grant's Ethan Tarvin (20-7) won by fall in 5:04 over Batavia's Jack Duraski (13-6) to claim third place. Lemont's Carter Mikolajzak (31-6) recorded a fall in 1:20 over Buffalo Grove's Daniel Diaz to finish fifth.
126 – Kaden Harman, Marian Central Catholic
Kaden Harman has a clear view of his future, but for now, the focus is only on reaching the top of the podium at the 1A state tournament.
The Marian Central Catholic junior cruised into his 126-pound final where he met Batavia's Aidan Huck, ranked fifth in Class 3A, who did all that he could to chip away at a 5-1 deficit before falling short to Harman, ranked fourth in 1A, who earned a hard-fought 9-7 decision.
"I've been working on keeping things simple, doing the right things and taking advantage of having coaches like (Jordan) Blanton and (Ryan) Prater who bring it all into the room each day to help prepare for what's ahead of us," said Harman, who now has three on the season after also collecting trophies at Antioch and the Mid-States.
"I've worked really hard on my offense this year after being a little too defensive last year and getting these tough six minute matches against 3A guys is exactly what I need to make a long run at the state tournament."
"Kaden is peaking at the right time (he) puts the work in, so it only makes sense that he's having success," said Hurricanes co-head coach, Ryan Prater. "In his final, he limited his mistakes, and had stingy defense against a great kid (we) were able to control the ties, and get to our offense, and it is his hand fighting which has shown big improvement that help lead us to get to our attacks, and end the match with three takedowns against one of the best in the 3A."
A reversal from Huck (31-6) drew the Batavia senior closer, to within 5-3, but Harman (23-8) answered right away when he kept his hips up in order to finish his second takedown of the third period to extend his advantage to 7-3 with 30 seconds left.
While wrestling is not in the future for Harman after high school, becoming a pilot and serving his country is high on his list of priorities.
"I've already signed on with the National Guard, which for the next six years to drill every weekend, but my goal is to get a degree in aviation, maybe at SIU-Carbondale, and one day be a pilot," Harman said proudly.
Naperville North's Tyler Sternstein (22-7) recorded a fall in 1:19 over McHenry's Lucas Van Diepen (19-17) to claim third place. Grant's Erik Rodriguez (27-8) beat Downers Grove North's Aidan Cummings with a fall in 1:09 for fifth place.
132 – James Wright, Jacobs
James Wright had the look of a champion all throughout the Clint Arlis Invite, which began with a pair of master class victories via a fall and 12-1 major decision to reach the 132 finals.
Once there, the Jacobs senior, who's a three-time state qualifier that's ranked fourth, took a first-period lead with two takedowns, then held off Marmion Academy freshman Brody Kelly to record a 9-5 victory.
"(James') match with Kelly was a good one, he looked like we got a little tired at the end, which is never the case with him, lack of nutrition on his behalf, but nonetheless, he came out on top, which was a good learning moment for him, and is what that is what we are striving for and can always improve on," Jacobs coach Gary Conrad said. "Our goal now is to stay healthy, and fit in order to wrestle our best at the end when it really counts."
"Since that first weekend at the Moore-Prettyman, I've worked really hard on my positioning, shots, and set-ups, cleaning things up, and put a lot of extra time with my cardio and fitness to help survive those tough six minutes matches that will be coming at me later on," said Wright, who also won titles at Barrington and Leyden and took third place at the Dvorak.
Wright's hopes at state were dashed a year ago as he fell one win short of a medal when he lost to Glenbard North's Paul Woo, 4-2, after recording two major decision victories.
"I still think about how close I was to getting that state medal, and it's something that has motivated me this season," said Wright, who is now 25-3 and was 26-8 last season.
Hinsdale Central's Liam Ryan (23-9) won a 16-2 major decision over West Chicago's Donovan Avila (23-8) for third place. And Marian Central Catholic's Vance Williams (29-6), who's No. 3 in Class 1A, recorded a fall in 2:16 over Batavia's Moses Yanez to finish fifth.
138 – Peyton Cox, Washington
Peyton Cox and Kannon Webster took the wind out of the sails of the fields at 132 and 138, when the two top stars at their weight each bumped up from their usual spots at 132 and 138.
Cox (27-2) would show why he's No. 1 at 132 after capping a four-match performance with his 10-1 victory over Hinsdale Central's No. 4 Cody Tavoso (32-2) that began with three-consecutive pins in just over two minutes to send the Washington sophomore into the finals.
"I cut way too much weight last season so this year, at 132 I feel so much better physically, and ready for what lies ahead in the next four to five weeks of the season," said Cox, who was a state runner-up at 120 a year ago.
"When I came to Washington there were great leaders in the room like Donnie Hidden and obviously Kannon plus a great coaching staff led by coach (Nick) Miller – so I've learned a lot already, I was kind of under the radar last season, which was good, but now that I am the guy everyone is looking to beat,so it's important to work harder, and look to improve each day we go into the room."
Marian Central Catholic's Nick Davidson (21-14) won by fall in 2:58 over Jacobs' Anton Barfield Harris in the third-place match. And Lemont's Sammy Schuit (23-7), who's No. 4 in 2A, took fifth place with a fall in 3:12 over Batavia's Ethan Brauer.
145 – Kannon Webster, Washington
It was a weight class that already looked to be a crowded one with a trio of top-10 men in the state, along with a pair of honorable mention competitors, but once the name of Kannon Webster was added to the 16-man field at 145, the race was on for second place.
The University of Illinois-bound Webster (31-0), whose list of accomplishments is as long as this tournament story, tore through the bracket with ease to win his second major of the season, adding to his Ironman crown in which he came back from a 3-1 deficit to defeat Ponderosa, CO's Brandon Cannon 5-4 on a third period takedown.
"It's all about just getting cleaner and sharper each time we go into the room, and improving top and bottom, which is something I feel is better than it was compared to last season," says Webster, one of the top men in the nation at his weight, who will go in search soon for his third- straight state championship.
Webster, who is No. 1 in the nation at 138 in the WIN rankings, according to Rob Sherrill, ended his marvelous day with a pin over Marmion Academy's Santino Scolaro at 1:18.
"Kannon makes everyone in the room be at their best, his work ethic is just amazing," says teammate Peyton Cox.
"It's close to home, maybe 60 miles, the coaching staff, especially coach (Mike) Poeta is fantastic, the facilities, and my future teammates, make it all the right place for me," Webster said of his decision to wrestle at Illinois next season.
Scolaro (22-6), who's No. 7 in 3A, advanced into the final following his hard-fought 5-2 decision over Batavia senior Cael Andrews when he staved off a late attempt by Andrews in the corner.
Andrews (33-3), who's No. 8 in 3A, won a 9-2 decision over Marian Central Catholic's Charlie Fitzgerald (27-10), who's No. 6 in 1A, for third place. Lemont's Johnny O'Connor (32-5), who's No. 8 in 2A, captured a 5-1 decision over Hononegah's Connor Diemel (20-10) to take fifth place.
152 – Kaden Fetterolf, Batavia
Something had to give in this weight class, and it eventually did.
With three of the top five in the state at 3A, plus another top-four man from 2A spaced throughout this high-profile 152-pound bracket, it was only fitting that the final match of this tournament was under the spotlight, featuring Marmion Academy's No. 1 Collin Carrigan and hometown favorite Kaden Fetterolf, who got his chance to shine.
The Bulldogs star, who came in as the No. 5 man in the state and now is No. 1 after improving to 36-0, had already sent off his first two opponents with ease, before using a 3-0 decision over Washington's Cael Miller, (12-4) No. 4 in 2A, to reach the final against top-rated Carrigan, who's now ranked third.
Carrigan (17-2) had earlier survived an intense encounter with Downers Grove North's No. 3 Harrison Konder (25-2) during a marathon, six-minute semifinal that went Carrigan's way by a 4-3 score.
With the big crowd turning its full attention to mat No. 1, Fetterolf struck first with an early takedown to take a 2-0 lead into the second period, which soon became even at 2-2.
Before the third period would begin, both coaches met with officials at the table to clear some confusion on what was the correct score, which many in the audience believed was a 3-2 advantage to Fetterolf.
After a long delay, all agreed it was indeed a 2-2 match with one period remaining.
"It was all about staying composed, and keeping a clear head while they were figuring things out at the table, and I really feel on behalf (that) was most important for me at that point," Fetterolf said.
Once the third period began, and with Fetterolf starting down, the Batavia junior registered an escape right away, then went to work on adding to his 3-2 lead.
"That second takedown to make it 5-2 really made a difference, I could sense it set Collin back for a moment, but he came right back to make it a tight match to the finish," Fetterolf said.
With 53 seconds left, Carrigan reversed to make it 5-4, then deferred a one-point escape to give Fetterolf a 6-4 advantage. A wild scramble near the edge, in which Fetterolf escaped gave him a 6-4 victory
"It's an amazing feeling to win (here) and against a great opponent, but to be honest, we will all celebrate for a couple of hours, then it's back to work, and time to put this one behind me for good," Fetterolf said
"What a way to end the tournament for Kaden, and the Batavia wrestling program, but there's a lot of wrestling ahead of us to come," said Bulldogs head coach Ryan Farwell.
Konder went on to take third place with a 13-0 win over Miller. Marian Central Catholic's Ethan Struck (25-12) claimed fifth place with an 11-1 victory over Hononegah's Max Haskins.
160 – Max Astacio, Marian Central Catholic
Max Astacio has come a long way in a year after a rookie season at Marian Central Catholic that saw the junior lose in his blood-round match at the Princeton Sectional following third place medals at both the conference and regional tournaments.
Astacio (30-7) went to work right away at the bottom of his 160-pound bracket by dispatching his first two opponents, both from Class 3A, with pins before
unleashing a rousing six-minute effort in his semifinal against Hinsdale Central's Zach Kruse and advanced into the final following his 15-3 major decision victory.
Despite a valiant attempt to continue through the pain of an injury, Marmion Academy's top-seed Tegan Chumbley (13-11) was forced to default, giving Astacio his first title of the season.
"Max is one of our leaders (he) just leads by example, coming into the room each day with a hard hat, and lunch pail, and just goes to work," said Ryan Prater, who along with Jordan Blanton are now in charge of the Hurricanes' program.
Prater who starred at Plainfield Central, was a three-time state medalist, and state champion in 2007, before going on to the University of Illinois and then making the move to Elmhurst College where he claimed a Division 3 national championship.
Prater, and Blanton co-own Relentless Training in Johnsburg where many, in, and around the area train.
"Astacio's hand fighting, and motion on his feet are looking great, he pays the price on top, and hustles to take it out of his opponents once you break someone's will to compete, they become that much easier to defeat," said Prater, of Astacio, who was rated No. 3 in 1A.
Kruse (25-10) beat Naperville North's Kai Goodrick (17-6) in the third place match. Jacobs' Billy Albrecht (16-8) finished fifth after recording a fall in 2:48 over Harlem's Ben Larsen (20-10).
170 – Chris Moore, McHenry
Chris Moore continued his unbeaten season by collecting his fourth major tournament trophy after dominating the competition to add his Batavia crown to those earned at the Moore-Prettyman, Dvorak, and Mid-States.
Moore (28-0), was a state runner-up last year and in the 2021 IWCOA finals after winning a title as a freshman. The McHenry senior followed two wins by technical fall with an 18-8 major decision over Washington's Blake Hinrichsen (23-5), who's recond second in 2A.
"I'm just trying to be better each time out, get to my turns, continue to add points during the match, and just squeezing the life out of my opponents, and not allowing them to get anything off of me," said Moore, who admits to being upset with himself when he gave up a takedown to Hinrichsen in the late stages of his is finals match.
"I never like giving up points that way, so this week I'll look to clean a few things up to make sure it doesn't happen again," said Moore, No. 2 in the 3A behind Mount Carmel junior Colin Kelly, who he lost to last season in sudden victory 3-1 in the 152-pound state final.
"It's all about doing the right things to get back to the final, and winning it this time," said Moore, who won it all in 2020 at 113 at Aurora Christian, and has captured back-to-back second place medals in 3A at McHenry.
Hononegah's Elliot Diemel (27-7) won by fall in 2:46 over Leyden's Diego Mendoza (19-9) for third place, for the top medals won by each team. In the fifth-place match, Harlem's Kaden Christensen (14-4) got a pin in 0:32 over Maine South's Sam Bartell (20-6).
182 – Jack Lesher, Marmion Academy
Marmion Academy's Jack Lesher credits just about everyone associated with the Cadets' program for his mercurial rise to the top spot in Class 3A at 182, but much of the success that Lesher has achieved thus far must be put on the broad shoulders of the affable young man who collected his first major of the season.
None of his rivals challenged his eventual climb atop the podium that saw Lesher (21-5) fit a technical fall victory around two pins, including his final against Buffalo Grove senior Vlad Fedorchenko (19-6) in 3:59.
"We have the best room in the state, with an amazing coaching staff, and some terrific partners like Ed Perry, Sean Scheck and our freshman star, Joey Favia, who I treat like my little brother, in, and out of the room," said
Lesher, who got off to a slow start due to an injury and the football season.
"I missed some time with a leg injury, so I went at things a little slow at the start, iced a lot, and then worked hard to get back my fitness, and cardio, while fine-tuning a few things each time we went into the room, and right now I am feeling ready to go for what's ahead of us," said Lesher, who was fourth a year ago at state at 182.
Lesher, who was named All-State in 5A this season while playing both linebacker and running back, and has already received a scholarship offer to play at Akron University.
Batavia's Jack Brozny (24-8) took third place with a 12-3 major decision over Naperville North's Kyle Gatlin (14-8). For fifth, Hinsdale Central's Tyler Riggi (19-13) won by fall in 0:41 over Harlem's Andrew Redmon (17-11).
195 – Joey Favia, Marmion Academy
Just as his teammate Jack Lesher was quick to say how important he was to his success and development, Joey Favia responded with a glowing compliment of his veteran mate who has gone a long way towards Favia coming of age in the land of big men during his rookie season.
Favia, who was the No. 4 seed in this weight class, opened play with a pair of super-quick pins, before recording a 13-5 major decision triumph over the top-seed, Batavia's Ben Brown and then holding off Grant's Cameron Lattimore during his 2-1 win to capture the top prize at 195.
"In an incredibly intense room, with so many great wrestlers, Lesher is a tremendous leader and influence for me in my first year of high school, and is one of the main reasons that I've felt so comfortable wrestling at this level and weight class," said Favia (16-5), whose first-period takedown of Lattimore (22-10) would hold up despite a couple of nasty cross-face maneuvers from the Grant senior in the second period with the hope of turning Favia, who had started down to open the period.
"He (Lattimore) was big and strong, so it was important to stay in good position, be smart, and defensive, especially in the third period when he took a few shots late in the match," said Favia.
In another one-point decision, Washington's Josh Hoffer (18-14) edged Downers Grove North's Griff Keown 1-0 to claim third place. Brown (18-7) took fifth with a fall in 3:57 over Buffalo Grove's Caden Watson (18-6).
220 – Justin Hoffer, Washington
There is always a big target on the No. 1 man, and Washington senior Justin Hoffer took aim, and successfully fired through the heart of the bullseye, which was top-rated Marko Ivanisevic.
Hoffer was solid from start-to-finish during his well-deserved 5-2 victory over the Hinsdale Central star, who dropped his first match of the year in the process, and is now 31-1.
"You always want to beat the No. 1 guy, but to be honest, that wasn't what that match was all about, it was about wrestling a smart, strong six minutes against a quality opponent, and getting the win," said Hoffer, now ranked third in the 2A poll.
"That was a very well wrestled match by Justin, he did really well on his angles, and re-start (shots) to get take-downs, and his movement, and spacing that kept a big, strong, and long guy like Ivanisevic from doing what he wanted was outstanding," said Washington head coach Nick Miller, who is in charge of a Panthers program that is currently No. 2 behind reigning state champion, Joliet Catholic Academy in the latest IWCOA polls.
Hoffer, who was 38-10 a year ago, was in the Panthers starting lineup at 220 when the club would fall to the eventual 2A dual-team state champs 30-29 on its home mats last season.
The Panthers star was unable to get out of the Sycamore Sectional in a loaded heavyweight field which included Joliet Catholic Academy state champion Dillan Johnson and two other state medal winners.
"I feel great at 220 this season, I am much stronger, and quicker, and feel like I have a very good chance at state this year," said Hoffer, who will major in college in Fire Science with an eye on becoming a firefighter eventually.
Marmion Academy's Ed Perry (26-5) won by fall in 2:23 over Batavia's Asher Sheldon (27-8) for third place. Downers Grove North's Cael Brezina (18-11) captured a 7-0 decision over Hononegah's Isaak Smith (22-8) for fifth place.
285 – Ben Bielawski, Downers Grove North
There never seems to be a day that Chris McGrath is not impressed by his big man Ben Bielawski, who once again turned in another first-class performance to win his second major of the season, adding to an earlier title win at Wheaton Warrenville South's Ewoldt Invitational.
Bielawski (28-1), who moved up to No. 4 in the rankings and is on his way to playing football next fall at Division 3 power University of Wisconsin-Whitewater, pinned his way to the top, finishing off Marmion Academy's No. 7 Sean Scheck (21-6) in style at 4:29.
"The irony with Ben is that he's a great football player, and will play that sport in college, but he's really coming into his own as a wrestler, and likely has some of his best in 'this' sport ahead of him if he stayed with it," said McGrath. "He's worked so hard all his life, and especially this year when he came back from football so much bigger, and stronger than ever before."
"I am so much better both physically, and mentally than last year, and I really feel coming from the blue collar area like Woodridge gives me the chip on my shoulder to work harder than anyone else," said Bielawski.
Bielawski, who has the speed and quickness of a 95-pounder and strength and power of a heavyweight, came off the scales at 230 pounds, making him one of the lightest of all big men in this field.
"I can surprise some guys with my quickness, but I've worked really hard leading up to the football season lifting to make me as strong and fit as possible to go with these guys in this weight class," offered the Mustangs senior, who is a three-time state qualifier.
Lemont's Alex Pasquale (28-4), who is No. 7 in 2A, claimed third place with a 3-1 decision over Maine South's Tyler Fortis (22-5). In the fifth-place match, Andrew's Michael McDonough (17-10) won an 11-4 decision over McHenry's Jesse Saavedra (26-13).