OPRF wins 2nd team title in 2 weeks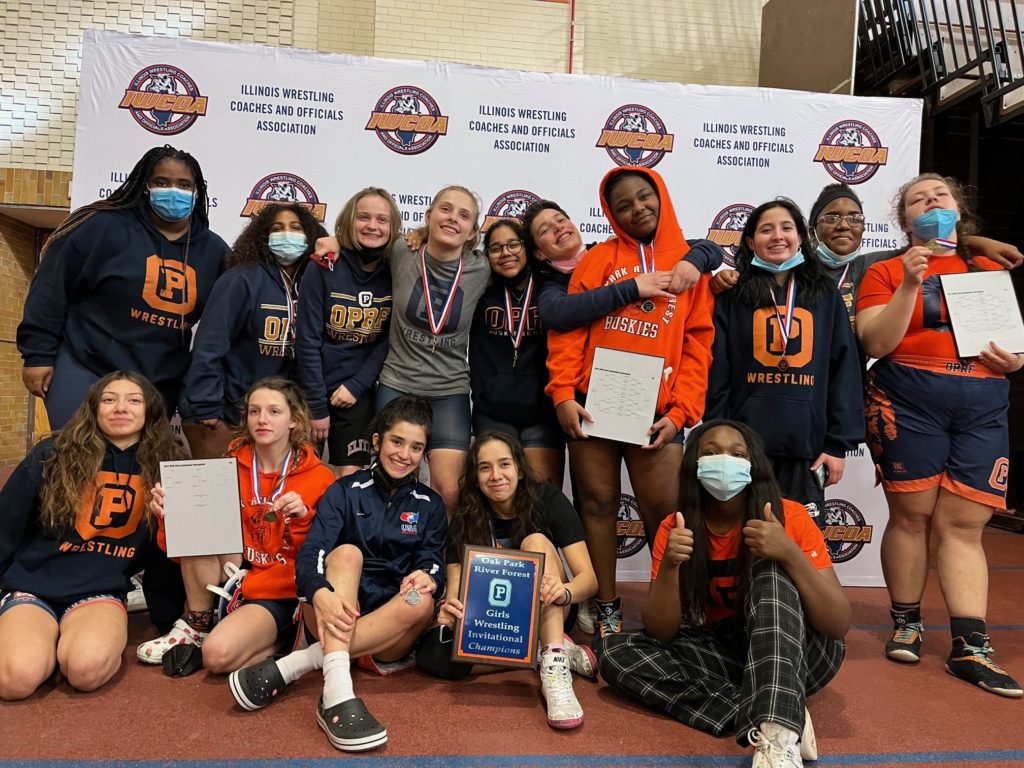 By Gary Larsen
For the IWCOA

There will be no IHSA team dual team state finals for girls this year but if there were, you can bet Oak Park and River Forest would be one of Illinois' favorites to make a run at a team state title.

The host Huskies won their second big-tournament title in as many weeks after out-pointing second-place Andrew 182-118 in Saturday's 26-team OPRF Girls Invitational Tournament.

Oak Park won a 26-team tournament at Hoffman Estates one week earlier, 187-183 over second-place Schaumburg.
"I'm pretty pleased with how things are progressing this season," Huskies coach Fred Arkin said. "It's been a good couple of weeks."

 Three OPRF wrestlers scaled the highest step on the awards stand Saturday, in Bentley Hills (100), Tiffany White (190), and Sarah Epshtein (235). White also won an individual title at Hoffman Estates.

Arkin's Huskies also got seconds from Camila Neuman (110), Maria Diaz (120), Keydy Peralta (145) and Tamera Erving (235), with Erving placing as a non-scoring wrestler for Oak Park, which also got fourths from Ana Banuelos (105), Bella Tyma (135) and Megan Barajas (155).
Arkin is happy with his girls' on-mat accomplishments thus far but he's even happier about what they've shown him during trying times.
"I'm so proud of the way these girls have hung together through some incredible circumstances," he said. "We were on our way to the IWCOA state tournament in March of 2020 when COVID hit and the tournament was shut down. Since that time, these girls have stuck together, worked hard and done workouts on zoom from basements and bedrooms and back porches.

"We've been in parks, parking lots — you name it, we've done whatever we could to keep them together as a team and they've all been there and participated. They've worked hard, haven't complained and it's been heartening to see it, for them to come together under circumstances that have really been onerous."

Of the 26 teams present, six had a double-digit number of wrestlers entered in the tournament and all of those teams predictably finished among the top eight. Oak Park entered 13 wrestlers and Andrew entered 11 into the tournament.
Morton's 11 wrestlers finished third (110 points), Homewood-Flossmoor's 12 wrestlers place fourth (96), and Glenbard West (80) placed fifth with 10 wrestlers.

Larkin placed sixth with four wrestlers entered, Lane Tech placed seventh with four wrestlers, and Wilmington's four wrestlers brought home an eight-place finish.

Yorkville only entered two wrestlers in the tournament and both won titles, in Yami Aguirre (115) and Natasha Markoutsis (130).
Andrew's second-place finish came thanks to a title win from Kate Cygan (125), a third from Janae Vargas (140), fourths from Charlianne Johnson (120) and Alyssa Keane (130), fifths from Sophia Figueroa (110) and Lana Shualbi (135), and sixths from Ava McGuire (145) and Emma Akpan (170).
2022 OPRF Invitational champions stories:
100 – Bentley Hills, Oak Park and River Forest
Only two wrestlers were entered into the bracket at 100, in Morton's Ariana Diaz and OPRF's Bentley Hills, so the two squared off in a best-of-three-match showdown for the title.

Hills posted a pair of falls against Diaz to improve to 12-3 on the season.
Hills placed third at the 26-team Hoffman Estates Invitational one week prior with a pin in her third-place match over Gracie Pattison of Bismarck-Henning.

"Bentley has been awesome," OPRF coach Fred Arkin said. "She started out as a manager for the boys team her freshman year and we convinced her to try wrestling her sophomore year.

"She's been working hard, developing strength, and she has really good agility and quickness. She can get physical, she's not afraid of anybody, she has a good leg attack and she can be a hammer on top."
Hills won both matches against Diaz (9-7) by fall to take the best-of-three pairing.

105 – Gabriella Gomez, Glenbard North
A pair of top freshmen met on the title mat at 105 and when it was over, Glenbard North's Gabriella Gomez (2-0) had earned a 17-10 decision over Burlington Central's Victoria Macias (15-2).

Gomez was the Panthers' lone entrant in the tournament and is currently ranked No. 9 in the country at 100 pounds by USA Wrestling.
Gomez pinned Hubbard's Diana Cervantes (2-1) in their semifinal match while Macias won by tech fall in her semifinal against Oak Park's Ana Banuelos (4-7).
110 – Ariana Flores, Evanston
Evanston junior Ariana Flores was a dancer a few years ago, when she was introduced to wrestling and needed to make a choice. For her, the choice was easy.
"I gave up dancing," Flores said. "I did not enjoy it whatsoever."
That decision set Flores on a path that most recently resulted in her beating a previously unbeaten wrestler and winning a tournament title. Flores (9-3) had a takedown and a reversal before posting a third-period pin of OPRF's Camila Neuman (16-1) in the finals at 110.
Flores didn't know Neuman was unbeaten, or that she had won a tournament title at Hoffman Estates one week earlier.
"Going into matches I try not to focus on the other person, and just wrestle to the best of my ability," Flores said. "I was kind of following through with everything I've been practicing and stick to my basics and what I can do."

Flores posted three pins on the day in winning her title, while Neuman had a pin and a major decision to reach the finals. Joliet Catholic's Grace Laird placed third with a fall against Maine East's Amy Villegas.

Flores has gone from a shy freshman to a junior captain for Evanston's girls program and coach Rudy Salinas.

"She has put in a lot of hard work and she's a good ambassador for us, as a captain," Salinas said. "It was a good breakthrough weekend for her in terms of getting some recognition but we've also reminded her that the goal this year was not to win the Oak Park tournament. She has loftier goals and she's keeping her eyes on the prize."

That prize is obviously a place on the awards stand at this year's inaugural IHSA girls state tournament in February. And after topping a wrestler in Neuman, who placed fifth at 101 at last year's IWCOA state finals, Flores is on track.
"My mindset has changed this year. It's become much more of a positive mindset," Flores said. "And last year I wasn't always the person to take the first shot but this year my mindset is to be the shooter, get the first move, get the first takedown. I've been improving but I want to improve a lot more with that.

"(Salinas) always says wrestling helps build and show character and I think that's something I've seen in myself. My confidence has grown as a wrestler and I can see myself become a better and more well-rounded person. It's a hard sport but it does push you to be better and have a better mindset."
115 – Yami Aguirre, Yorkville
A stacked weight class at 115 featured four semifinalists with a cumulative season record of 62-12.The lone wrestler left standing atop the awards stand was Yorkville sophomore Yami Aguirre (14-2).

Aguirre opened with a win by fall over OPRF's Andrea Munoz (12-7) in their quarterfinal match, then won 3-1 in overtime against previously unbeaten Hannah Suboni-Kaufman (18-1) of Maine East in a semifinal match.
"I didn't know she was undefeated because I try not to look at my bracket so I don't get intimidated," Aguirre said. "My coach just told me I'd be wrestling a tough girl but I had no clue she was undefeated. I don't think I've ever beaten someone who was undefeated this year. She was tough and it was a really good match."

Aguirre and Suboni-Kaufman were tied 1-1 after three periods.
"I was trying to go for shots the whole match but she kept getting me in a headlock so I couldn't finish my shots," Aguirre said. "Neither one of us could finish our shots."
Aguirre escaped twice to get the 3-1 overtime win, advancing to the finals against Morton's Neida Arreola (10-7). Arreola opened with a pair of pins before reaching the finals with a 4-2 semifinal win over Lane Tech's second-seeded Sharon Moreno (19-6).
Aguirre said she felt more in control of her finals match, where she topped Arreola by 7-0 decision. Suboni-Kaufman bounced back to take third, pinning Moreno in the second period.

The sophomore Aguirre didn't wrestle last year due to COVID and although she's in her first full year of high school wrestling, she's been in the sport for eight years.

"I'd go and support my brothers at practice," Aguirre said. "One day I just got tired of sitting there and decided to get on the mat. I liked being able to beat up on boys and not get in trouble for it."

Aguirre's only two losses this year came to Ashlyn Strenz of Sandwich and Lincoln-Way Central's Gracie Guarino, and those losses taught her arguably the sport's most important lesson.
"I need to be more confident. I tend to get a bit intimidated and that can't happen," Aguirre said. "I need to worry about myself and not be worried about anyone else, or overthinking it. I'm looking forward to wrestling those girls again."

Coach Kevin Roth agrees with Aguirre's perspective moving forward.

"When she's confident, she's pretty unstoppable," Roth said. "She wrestled really well. She knows her stuff and she looked pretty dominant all day. She has a good shot, she's not afraid to shoot, and she's aggressive."
120 – Leilany De Leon-Martinez, Morton
When Morton junior Leilany De Leon-Martinez develops the consistent ability to truly open up in a match, she's going to be a handful for opponents who line up against her.

Heck, she's already a handful.
"She's a very talented young lady," Morton coach Joe Helton said.

De Leon-Martinez won an OPRF title at 120 pounds when she posted an 11-0 decision against a tough wrestler in OPRF's top-seeded Maria Diaz (14-5). De Leon-Martinez improved to 12-2 on the year in winning her first tournament title. She also placed second in a tournament at Maine East this season.

The thing is, De Leon-Martinez is not quite as comfortable taking shots as she'd like to be. She did manage to find a comfort zone offensively earlier this year, but that was when the friendly junior discovered that if she talked to her opponents or the referee during a match — just your basic chit-chat — only then was she able to relax enough to engage her own offense.
"The only time I felt comfortable was talking before shooting," De Leon-Martinez laughed. "But I got in trouble for doing that."

Discouraged from talking during her matches, De Leon-Martinez had to instead rely on being a more defensive, counter wrestler. During her title match against Diaz, she twice scored off Diaz's shots and turned her each time in building a lead.

"I saw Maria wrestle on her Instagram and she's really good," De Leon-Martinez said. "I didn't feel comfortable shooting so it was mostly sprawling. She shot, I got (behind her), and then I got back points."

De Leon-Martinez opened the tournament with a decision win, then a pin in her semifinal match against Andrew's Charlianne Johnson. Diaz posted two pins to reach the finals, including a semifinal pin against Morton's Ximena Juarez (13-5). Juarez then pinned Johnson on the third-place mat.
And it was one of the friendliest wrestlers in the gym who took home the top prize.
"She's just a selfless person and cares about each of her teammates," Helton said. "She has the ability to go out carefree and wrestle to the best of her ability. She did very well against her opponents and she continues to surprise people with her abilities each week."
125 – Kate Cygan, Andrew
Four pins and a tournament title.

That's what Andrew junior Katherine Cygan earned Saturday but simplifying her day down to such simple math doesn't do justice to what the Thunderbolts' 125-pounder did in Oak Park: none of her four opponents even survived to the second period against her.

Cygan is proof of something that's always been true in wrestling — that the most important part of any wrestler is the six inches of space between their ears, where either confidence or nervousness dictates everything.
"When I'm nervous I'm too hesitant and I'm second-guessing myself," Cygan said. "When I'm more confident, I just go for it. I think about what I need to do and I just do it."
Andrew coach Demeri Pajic has watched Cygan's growth firsthand.
"I've seen a full 180 of her confidence this year," Pajic said. "In her second match she got taken down and I didn't see any fear in her. She got a reversal and a pin, right away. She looked confident and just went out there tough, and mean, like nobody was going to stop her. Something clicked for her."
Cygan's pins came at the :40, :37, 1:42, and 1:50 marks of her four matches, capped by her pin of Lane Tech's Uyen Le on the title mat. Ask Cygan about her day and it turns out she was just looking for redemption.

"I was a little nervous because Thursday we had a meet and I didn't do very well. I was worried about having the same outcome," Cygan said. "But it turned out the opposite."

Cygan wasn't able to wrestle last year due to injury and she's looking forward to participating inthe inaugural IHSA girls state tournament in February.

"I was really excited to come into this year," Cygan said. "I am so excited. I can't wait."

"I started wrestling because I wanted to get tough. People might see me and think 'she's so nice' but I have a tough side and I wanted to show that with wrestling. So it's been a good outlet."
130 – Natasha Markoutsis, Yorkville
Returning high school wrestlers who placed second at the state finals the previous year have a unique perspective, having come so close to winning the state's top prize before falling just short.

Yorkville senior Natasha Markoutsis was an IWCOA state runner-up at 132 last year, and she has taken that unique perspective to toss a shovelful of coal into the blast furnace of her motivation.
"For sure I used that as motivation," she said. "I just want to keep getting better and I want to be number one so bad. Taking second last year was an awakening for me that I'm not the best yet and I have things that I have to work out. There are people out there who work harder than me but if I keep working harder to be the best I can be, I can live with whatever happens."

Markoutsis (16-0) won the Oak Park title at 130 with a second-period fall in the finals against Morton's Karla Topete (14-3), but in a tough bracket she had to first win her semifinal match over Coal City's Carly Ford (9-2), who placed third in state at 132 last year.
Markoutsis won by fall in the third period against Ford. Yorkville only brought two wrestlers to the tournament and with her fall against Topete, Markoutsis joined teammate Yami Aguirre (115) as an Oak Park champion.
"She knows her stuff and she just goes to work," coach Kevin Roth said of Markoutsis. "She's fun to watch and she's a student of the sport. Where guys can get by on their strength, girls don't always have that so they have to be good technicians. And I love Natasha's wrestling on the mat. When she gets you down on the mat, she's going to ride you out."

Markoutsis is currently ranked No. 10 nationally at 132 by USA Wrestling. But even a nationally-ranked wrestler can have a scare, and Markoutsis got a wakeup call in her title match against Topete.
"I almost got put on my back," Markoutsis said. "(Topete) had a lot of arm strength, there was a lot of scrambling, and she knew her offense and defense. She was a really good opponent and I'm glad I got to wrestle her."

135 – Al Ghala Mariam Al-Radi, Niles West
Odds are, no one has taken the path into Illinois high school wrestling that Niles West junior Al Ghala Mariam Al-Radi has traveled.
Born in Syria, Al-Radi and her family moved to Jordan before arriving in the U.S. when she was in sixth grade, as the oldest of six children. She began wrestling her freshman year for coach Anthony Genovesi and she hit the ground running.

"We took her down to the IWCOA tournament last year and she took fourth," Genovesi said. "This year she only has one loss. She's a strong kid and now she's learning how to actually wrestle. She's more focused, trying to improve her technique, and she's working harder. It's been really nice to see. She's getting better and she's a tough kid."

Al-Radi (11-1) took the crown at 135 with a tech fall win over Morton's Faith Comas (11-3). Top-seeded Al-Radi posted two wins by fall to reach the finals. The formerly raw freshman is striving for seasoning in her junior year.
"Freshman year I really only knew a couple moves. Now I'm focusing more on the techniques and moves, using my coaches feedback more often and I am listening way better on the mat," Al-Radi said. "I didn't like taking fourth place at the state tournament last year so I am very excited to be a part of the tournament this year."
Al-Radi has not hesitated to get involved in athletics at Niles West and wrestling fills a unique need.
"I've done diving, wrestling, and water polo. I like being a part of a team," Al-Radi said. "But I like wrestling because I focus more on myself and improving my own skills. It is easier to depend on myself and know that I can win individually."
Comas reached the finals with a pair of pins, over Evanston's Carmen Tracey-Amoroso and Lane Tech's Noemi Marchan, who finished third with a 2-1 decision over OPRF's Bella Tyma.
140 – Attalia Watson-Castro, Homewood-Flossmoor
After opening the tournament with two byes, it was past noon in Oak Park before Homewood-Flossmoor's Attalia Watson-Castro wrestled her first match, a semifinal against Niles West's Aiazah Khan.

"That match had to be a 'go' match for me, since I didn't have as many matches as the other girls," Watson-Castro said.

'Go' she did, winning by fall in the first period to set up her title match at 140 against previously unbeaten Ari Navarro (17-1) of Glenbard West, who had won an individual title one week prior at Hoffman Estates.
Watson-Castro (7-2) made it count, winning by fall over Navarro at the 1:57 mark of their finals match.
"She was stronger and taller so I had to adjust what I was going to do," Watson-Castro said "The goal was to get a takedown in the first fifteen seconds, get three takedowns, and work my turns."

The game plan worked for the junior Watson-Castro, who has battled injury this season and whose coach believes the following: "She is poised to dominate the state series if she can stay healthy," Homewood-Flossmoor coach Scott Aronson said.

Watson-Castro also won an individual title at this year's 25-team Normal Community Invitational. She didn't wrestle her freshman year due to COVID and focused on Fargo last year.

This year, she's ready to make a run at a state title, at the inaugural IHSA state tournament for girls in February.

"This is my ninth year wrestling," Watson-Castro said. "It's going to be fun getting a chance to win a state title. The thing I love about wrestling is it teaches you so many life lessons. It isn't just wrestling.

"It's hard and it gets harder, but you just have to fight through it. Getting out there and wrestling in front of everyone is the easy part; practicing and being in a hot wrestling room for two to three hours a day — that's the hard part. Once you get past the hard part, it's easy."

Navarro won by fall in her semifinal match against Andrew's Janae Vargas, and Vargas then pinned Niles West's Khan for third place.
145 – Dyani Rivera, West Aurora
Cheerleading, softball, wrestling — with so little time to spare outside of those three interests, it's no wonder West Aurora senior Dyani Rivera was happy to only spend 47 seconds on the title mat at 145 in Oak Park.

"My season never comes to an end. I'm always busy," Rivera said. "I'll have to skip nationals in cheerleading to go to the state tournament in wrestling this year. I have a lot of titles in cheer but I want a state title in wrestling."

After opening Saturday's tournament with a fall in 56 seconds, Rivera's biggest test of the day came in her semifinal match against top-seeded Adrianna Demos (12-3) of Warren.

A back-and-forth match against Demos ended with Rivera posting a 4-0 decision win. Rivera scored a takedown on a single-leg shot in the first period and countered a Demos shot in the second period for her 4-0 lead.

Demos chose top in the third period, riding Rivera out but unable to turn her to the final buzzer.
"(Demos) was really good and I was kind of nervous going into that match," Rivera said. "But I just went into it with the mindset that I needed to work hard and focus on what I need to work on. Then I was able to do what I did."
Rivera won by fall at the :47 mark of her title match against OPRF's Keydy Peralta. That win marked Rivera's second tournament title of the season, having also won a title at Maine East. She also placed second at Normal's 25-team tournament this year.
Rivera began wrestling at age four at her mother's urging and quickly fell in love with the sport.
"I loved the feeling when you win, especially when you beat the boys," Rivera said. "It's even better when you can make them cry.
"Wrestling has taught me to stay strong and never give up. It's great that girls are getting more into it and getting recognized."

Peralta (7-2) reached the finals with a fall and then a 9-3 semifinal decision against Fenton's Sophia Sosa (10-6). Demos then topped Sosa by 8-4 decision on the third-place mat
155 – Lexi Ritchie, Unity
Unity's Lexi Ritchie could be the poster child for toughness.

The sophomore is now fully committed to year-round wrestling and plans to wrestle in college. She placed second at 152 pounds at last year's IWCOA state tournament as a freshman.

Before that, Ritchie played tackle football with the boys' team. And what she liked about playing linebacker tells you all you need to know about her competitive nature.
"My favorite part was the contact," Ritchie said. "There was no complicated part about it."
Unity coach Logan Patton admires the edge that Ritchie brings to the mat.
"She's physical. She'd rather wrestle boys than girls and she's still learning," Patton said. "She wants to grasp so much wrestling so quickly and honestly doesn't really even know her style yet. But she's a brute and she's going to come at you and wrestle hard."

Ritchie (8-0) entered the OPRF tournament as the top seed at 155 and tore a path to an individual title. She posted a tech fall and three pins, capped by a pin in the finals against Larkin's Giselle Ayala (12-7).

Ayala won by fall and then won a 4-2 semifinal decision over Fenton's Yamile Penaloza to reach the finals. Penaloza then won by fall on the third-place mat against Oak Park's Megan Barajas.
Ritchie has only been taken into the third period of a match once this season, and all of her wins have been by fall and tech fall. As she develops her own style, Ritchie is already more comfortable than she was in certain positions on the mat as a newcomer to the sport last year.
"Now I get to positions where before I might end up on my back, but now I'm coming out on top of those scrambles," she said.
Ritchie was a Fargo all-American during the off-season and she views that experience as pivotal in her young wrestling career. "Wrestling those people was a good measure of where I am at the national level," Ritchie said. "Later I was able to beat a lot of those girls. I also wrestle with the boys, and where I have to be careful against boys, that fear isn't in my mind against girls."
After placing second downstate last year, nothing but the top of the awards stand at this year's state tournament will do for Ritchie.
"The opportunity for me to win four state titles has been taken away, so I want to do the next best thing and win three," she said.
170 – Maria Ferrer, Larkin
2021 IWCOA state champion Maria Ferrer's rampage through the 170-pound weight class in Illinois continued in Oak Park. The Larkin junior won another individual title as she chases her goal to win her first IHSA state crown.

Ferrer earned three pins and improved to 21-0 with her pin of Downer Grove South's Gracie Swierczynski. To this point in the season, through 21 matches, no opponent has made it through six minutes of wrestling with her and none of her three opponents in Oak Park made it to the second period with the reigning state champion.

Ferrer is even better this year.
"Last year it was more hip-toss and headlock. This year it's more shooting, and sweeps, and me getting lower and shooting more. I'm being faster when it comes to shooting," she said.

Larkin coach Patrick Hillebrand has enjoyed watching his junior's evolution as a wrestler.

"I've had her since she was a freshman. It's been a lot about her confidence," Hillebrand said. "She works hard, battles anyone she goes up against, she's easily coached, and the biggest thing for her was understanding what she's good at."
Ferrer suffered the only two losses of her high school career during her freshman year two years ago. She has 21 pins in 21 wins this season. She even bumped up in weight for this season's Normal tournament to win a title at 190 pounds.

Despite her dominance, Ferrer takes nothing for granted.

"I'm getting to know more people and they're coming closer to me. It's more competitive now," Ferrer said."I don't pay attention to who I need to beat. Anything can happen so I just focus on what I have to do. If someone is strong I just have to be stronger."

Not to be overlooked where Ferrer is concerned is her level of desire to see girls wrestling flourish in Illinois, and her willingness to help foster that growth.

She wants to see Larkin's girls program grow to a level that teams like Schaumburg, Oak Park, and Morton already enjoy.
"There were full teams at Oak Park and that was so amazing to see," Ferrer said. "So that's something I have to work towards for our program. I have to work for that."

190 – Tiffany White, Oak Park and River Forest
The lone title match in Oak Park between previously unbeaten wrestlers took place at 190, where 2021 IWCOA state champion Noella Vazquez of Fenton took on IWCOA state runner-up Tiffany White of Oak Park. Vazquez won her state title last year at 182 pounds, while White was a state runner-up at 170.

Both wrestlers cruised to the finals before White (16-0) won by fall over Vazquez (13-1) to take the tournament crown.

"It was a really good match and Tiffany looked really aggressive," OPRF coach Fred Arkin said. "She's a real physical wrestler, she likes to hand-fight hard, has a good leg attack and she brings it. She's just a tough, aggressive girl."

White won the title at 190 one week earlier at Hoffman Estates. Glenbard West's Ella Rejman (14-5) placed third in Oak Park and Morton's Diana Rodriguez (7-6) finished fourth.
235 – Sarah Epshtein, Oak Park and River Forest
A week after placing second at Hoffman Estates, Oak Park sophomore Sarah Epshtein (9-1) took the title in Oak Park with a pin in the finals over Huskies teammate Tamera Erving.

Erving (6-6) won 7-0 in her semifinal match against Downers Grove South's Brianna Fellows (9-4). Epshtein pinned Homewood-Flossmoor's Jocelyn Williams (9-4) in their semifinal match to reach the finals.

The sophomore Epshtein placed second one week prior at the Hoffman Estates tournament and OPRF coach Fred Arkin has a blue-collar, cerebral wrestler in his practice room at 235.
"Sarah came out during the pandemic and she has been working incredibly hard," Arkin said. "She's gaining strength, looks good and moves well, and she's like a straight-A student. She approaches her wrestling as though it's a chemistry experiment. She's very analytical. She knows what she wants to do, she knows how to get there, and she's a real student of the sport."
FROM THE IWCOA: If you are enjoying these articles, please consider a small donation to the IWCOA so that we can continue funding feature stories for our website and social media. The IWCOA is non-profit, 501(c)(3) organization. Click this link to make a donation. Thank you!