Schaumburg takes title at Streamwood Regional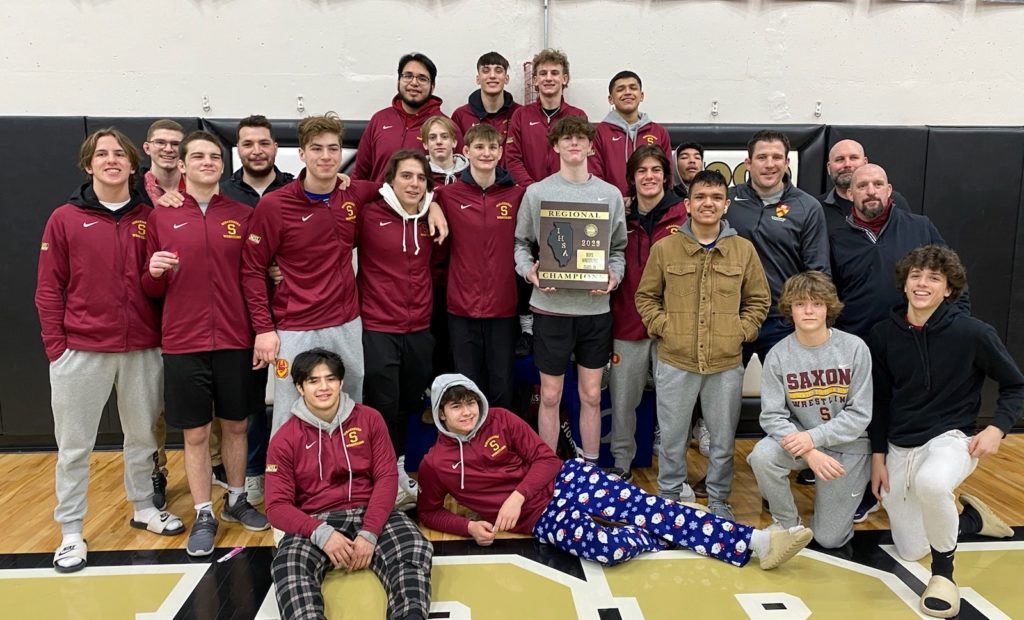 By Mike Garofola
The 2022-2023 wrestling season has been one to remember for Mike LeVanti and his club from Schaumburg.
Dual-team victories over state-ranked Batavia, Fremd, Lemont, and McHenry; winning the Rex Lewis tournament; and entering the weekend as the No. 15-rated 3A team in the state per Rob Sherrill's Illinois Matmen rankings; and an impressive 18-2-0 record in duals.
The Saxons also ended a long draught of regional success when LeVanti's men lifted the championship trophy at Streamwood on Saturday afternoon – keeping the pressure on a valiant South Elgin side which was as close as 19 points away (171.5-152.5.) just ahead of finals.
In the end, the Saxons won their first regional crown since 2010, the same year the program celebrated a MSL title with a 19-2-0 overall record under then-head coach Matt Gruszka.
"It's been a long time coming," smiled LeVanti, who watched five of his men claim individual titles, and an even dozen headed to the Conant sectional next Friday afternoon.
"The overall effort was terrific today – we asked the team to go after bonus points when they could, and they all came through as needed all throughout the day, right up through the final session. Obviously, I am very proud of all of them," LeVanti said.
Schaumburg senior Caden Kirchner was one of five that delivered individual championship performances.

"It feels great to be a part of history today," Kirchner said. "We've been talking about this weekend for a long time, and we all felt like we had something to prove. Now we'll get back in the room to prepare for sectionals, before turning our attention towards dual-team sectionals against York in a couple of weeks."
It was in 2010 that the Saxons faithful were thrilled to a trio of men: Danny Malik, Joe LaManna, and future two-time state champion and Stanford University star Josh Marchok making it downstate, with Marchok earning a third place medal.
LaManna claimed sixth place overall in 2011, before Logan Gruzska and Tony Vezzetti each brought home state medals in 2016.
The Saxons finished with 214 points Saturday, South Elgin scored 175.5, and third-place Conant ended its day with 156 points.
South Elgin senior Nico Clinite won his second regional title for the second-place Storm.

"Our coaching staff has been key to turning our program around," Clinite said. "Everyone has been working harder than ever to get better, and it has shown with the success we've had."
Clinite was a key figure in South Elgin's first ever UEC Conference Tournament win, as well as its UEC dual-meet crown with a perfect 9-0-0 record.
The Storm advanced seven into sectionals, followed closely by Conant and Lake Park with six apiece, while fourth-place Hoffman Estates earned five sectional spots.
Here now is a look at each weight class:
106: Demetrios Carrera, South Elgin
Demetrios Carrera continued his remarkable rookie season when he brushed off all those who stood in his way to win the big prize at 106 pounds, his fifth tournament win on the season, and third-straight following his second pin of the day in under two minutes.
The freshman phenom, who continues to move up the charts in the state polls, needed just 1:59 to put away Austin Phelps (Schaumburg, 19-15), one match after needing just 29 seconds to win his semifinal.
"It feels great to win a regional in my freshmen year," Carrera said. "I never really expected to be in a position to do so. But I always felt with all of my offseason work in Freestyle and Greco, plus the extra time spent in our great room that it was possible to have the chance to have a lot of success."
Carrera's 36-1 season record includes 16 pins, two of which he delivered en route to championship titles earned at the Berman Holiday Classic, and UEC Conference tournament.
"Sectionals will be tough," Carrera said. "There will be a lot of really talented guys in our group, but winning here gives me a top four seed, and first-round bye, which I hope to use to my advantage."
.
South Elgin coach Jim Gloudeman appreciates what Carrera brings to the table.

"Demetrios is always dialed in – laser focused, and always ready to compete," Gloudeman said. "He dominated in every position of all of his matches, and he just gets better and better every time out."
In his final year at Elgin, Ruben Campuzano (18-17) will enjoy his first visit to sectionals after his third-place finish at 106.
113: Brady Phelps, Schaumburg
Brady Phelps struck gold as the first of five champions Schaumburg would claim on the day, helping to inspire a marvelous final session in which Phelps (34-0) and his mates garnered a tourney-high 12 spots in the Conant sectional next week.
"We have a really good mix of guys on the team this year, from returning state qualifiers and potential state medal winners," said Phelps, a two-time regional champ and currently ranked No 4 in Illinois. "It's an always-improving group of guys who have helped turn our room into an intense and hard-working group."
Phelps went to work early on league rival Luis Flores (Conant, 17-10) whom he went on to defeat 6-0 by using a hard ride during nearly all of the second period to extend his advantage further after taking a 2-0 first-period lead.
"My number one goal is obviously winning a state title, but the focus right now is to win sectionals to get myself a top-four seed at state," added Phelps, who now has five tournament titles to his credit thus far.
Lake Park freshman Nick Merola, now 25-9 on the season, also advanced to sectionals.
120: Callen Kirchner, Schaumburg
Callen Kirchner would make it two straight for the Saxons following his 10-3 decision over Sam Santangelo (Conant, 24-7) who was looking to earn his second consecutive regional crown.
Kirchner (33-5), ranked just outside the top 10 this week, is aiming for a second trip to Champaign after the Saxons' sophomore added a pair of pins to give him 20 on the year en route to his climb atop the podium.
"I am a lot more aggressive this season, and have really worked on my game on top," Kirchner said. "With both of those things better this year, I've been able to add points throughout the match to help me put my opponents away quicker."
Kirchner, who grew from 5-foot-8 to 6-foot tall since last year, used his long and lean frame to throw a spider web over his rivals all day.
Seregio Hernandez (23-18) from Lake Park became a first-time sectional qualifier following his third place finish at 120.
126: Rocco Fontela, Schaumburg
With nationally-ranked Ben Davino (St. Charles East) at the top of the weight class at sectionals, along with No. 10 Sean VanSleet (York) as the second highest-ranked wrestler there, the regional title Rocco Fontela (Schaumburg, 25-10) claimed Saturday is exactly what the Saxons' sophomore needed to inspire hopes of wrestling on the final weekend of the season.
"I was a jayvee guy last year, and being around our top guys like Phelps and Callen Kirchner in the room has really helped pushed me this year, and given me the confidence that I can be better," said Fontela after his pin at 3:33 over South Elgin senior Anthony Vasquez (17-8) gave him his first individual title of the year.
Saxons coach Mike Levanti has seen Fontela make great strides this season.

"Rocco has been a case study in trust and maturity," Levanti said. "It's not always easy for a guy with talent to accept that there might be a better way to do things. But once he began to read the sheet music instead of sort of blindly improvising, he immediately made a huge jump in the way he wrestles.
"If he can eliminate the few mistakes he is still making, I really like his shot next weekend at sectionals."
With the customary first round bye awarded to the four regional champions at sectionals, Fontela will face the winner of the Christian Chavez (Glenbard North, 37-10) and Nicasio Acino (Elk Grove, 20-14) opener.
JR Leach (Lake Park, 14-17) defeated Matt Goolish (Conant, 19-12) via 14-11 in their third-place match thriller to advance.
132: Andre Rios, South Elgin
South Elgin senior Andre Rios (23-7,14 pins) left little doubt as to who was the best in this weight class, as the second of three Storm wrestlers to raise an individual championship trophy on Saturday.
Rios wrapped a pair of pins around his hard-fought 11-8 victory in the semifinals to give the Storm its second title, and his second of the campaign after grabbing the UEC crown last weekend.
"It is real important in my senior year that I give it everything I have, especially in the postseason," Rios said. "It began really well at conference and into regionals. This win gives me a lot of momentum heading into sectionals.

"Since just before the new year I've been working a lot on getting better on top, being more patient, and moving a lot more, so I feel real good right now and I'm really looking forward to sectionals next weekend."
Rios used a three-point near fall as the first period ended to take a commanding 7-1 lead on Cam Whitworth (Conant) who earlier stunned top seed AJ Quevado (17-8) of Schaumburg in semifinal action.
"Andre was locked in and ready to go right from the start today, as he was at the conference tournament," Gloudeman said of Rios, who used a pair of pins, and a tech-fall to win his first UEC title ever.
Quevado fought back to secure third place and his first trip to sectionals.
138: Leo Rosas, South Elgin
The other half of the remarkable rookie duo at South Elgin, Leo Rosas (32-4) had far too much firepower for the rest of this group as he cruised to victory, capped with a pin of Vince Merola (24-8) from Lake Park in the waning moments of his final at 138.
"I am really lucky to have guys like Andre (Rios) and Nico (Clinite) to go with every day in the room. Andre is a great scrambler, which has really helped that part of my game," said Rosas, now with 20 pins on the season.
"I have to admit I was a little nervous before my final, but once I got that first take-down, I was able to finally settle in.
"Since the Berman I've been a lot more patient, and I've been so much better with my attack. I'm taking more control of the match and not letting my opponents rest by adding as many points as I can."

"Leo wrestles with a lot of confidence," Storm coach Jim Gloudeman said. "He never stops wrestling in all positions, and his scrambling ability has really gotten the job done for him."
Aiden Ploski (Schaumburg, 20-10) is on his way to sectionals for the first time with his third-place finish at 138.
145: Nico Clinite, South Elgin
A great team always needs a great leader – someone with a strong spirit, high character, and the respect of the coaching staff and his teammates. In Nico Clinite, that is exactly what South Elgin and head coach Jim Gloudeman have.
"Nico is our silent warrior," Gloudeman said. "He leads by example, on and off the mat, and he brings great energy and effort each day into the room, and when he competes."
Two-time regional champ Clinite recorded his team-high 24th pin of the season in his final with Gavin Hinkle (23-13) of Schaumburg.
"This is a good start to the postseason, but there's some unfinished business that I have to take care of," said Clinite, who lost in the blood round a year ago at Conant to finish his junior campaign at 26-3.
Clinite, now a sparkling 37-3 on the year after earning his fifth major of the season, is a four-year varsity starter for the Storm.
"That loss at sectionals last year really stung, and I haven't really stopped training since then either," said Clinite, who is looking at Luther College, Concordia in Wisconsin, and UW-Parkside, among others, with the plan of going into the field of nursing.
Chase Hofstetter (Lake Park, 15-15) finished third at 145 to earn sectional advancement.
152: Caden Kirchner, Schaumburg
There wasn't anyone in the the 152-pound weight division able to match the dominance of Caden Kirchner, who put an exclamation point on his performance with with a tech fall win in his final with Julian Bonilla (Hoffman Estates, 29-10) to claim his second regional title.
The Saxons' senior, ranked No. 7 in a high-profile weight class, ran his record to a sparkling 35-2 on the season. Both of his losses this season came to No. 1 Kaden Fetterfolf (Batavia, 41-0) who was state runner-up in 2022 at 138.
"Our weight class in the state is really deep and talented, but I feel that I can compete with anyone in front of me in the rankings," Kirchner said. "Ever since the first tournament of the season I've worked hard to clean things up, and I've worked on my fitness to get myself ready for the two big weekends ahead of me." said Kirchner, now with 17 pins and (9) major decisions in the scorebook.
Kirchner, now with 17 pins and nine major decisions, is a two-time state qualifier and sixth-place medal winner two years ago at the IWCOA state tourney. He opened in fine fashion against Bonilla with a
strong first period, which rolled into an equally impressive second period in which he added to his 7-0 advantage with a late near fall to make it 12-0 when the middle period came to an end.
Lake Park freshman Joey Michilini escaped with a thrilling 11-10 decision over Justin Deaton (Conant) to earn his first visit to sectionals.
160: Ethan Stiles, Conant
In wrestling, talent means nothing without work ethic, rigor, and precision in what you do, and Ethan Stiles checks every box.
The Conant senior garnered yet another major title, his fifth in a season which has seen the two-time state champion collect individual titles at the prestigious Ironman and Dvorak. Conant coach Andrew Guilde had this to say about Stiles' (25-0, 16 pins) road to another state title:
"Ethan doesn't want to just win, he wants to be the best. "Right now he's not just trying to win his third state championship, he's trying to do everything he can to dominate each and every opponent he wrestles.
"This year is about legacy for Ethan. He wants to leave his mark on Illinois wrestling and in doing so, go down as one of the best ever."
Schaumburg's Logan Meyer (26-12) fell victim to the brilliance of Stiles, but Saxons head coach, Mike LeVanti had high praise for the senior Meyer.
"This might sound strange considering a couple of guys we have in our program, but Logan is as complete, and talented a wrestler as anyone in our room," LeVanti said. "He's an extremely bright young man (1400 SAT score) and sometimes it's tough for guys who are that smart to just go with their gut, and let it rip.
"If we can find a way to get him to do that, then watch out."
William Ball (Hoffman Estates, 22-13) also earned sectional qualification at 160.
170: Fabian Ramirez, Elgin
Fabian Ramirez was overcome with emotion after his magnificent day at this venue came to an end, when the Elgin sophomore recorded a pin at 1:11 over Gabe Inorio (Streamwood, 12-8) to win the first of two individual titles for the Maroons and head coach Gary Parciak.
"The feeling I'm having right now is just amazing," said Ramirez (18-6), who was fourth a year ago at regionals to dash his hopes of joining his good friend and Maroons heavyweight Adam Lambaz at sectionals a year ago.
"I can't tell you how mad I was last year when I finished fourth. To be honest, this year I was able to get myself into three finals and I finished second in all of them, and I found myself just 'settling' to be second.
"Last week at the UEC conference tournament, I made up my mind that I would not settle for second place, and I didn't. So with that (UEC) title and this one, I feel like everything is kind of falling into place for me."
Parciak likes what he's seeing from Ramirez.

"The Motto of our program is 'it's a choice', and you could tell that Fabian made the choice to get the pin in his final," Parciak said. "He is relentless on top, always looking to add pins, and as soon as he got the take-down (vs Inorio) he just kept working for the pin."
17 of the 18 wins on the season from Ramirez (18-6) have ended with a pin.
AJ Hernandez (Conant, 21-13) had to come all the way back in the consolation bracket to earn his second straight sectional appearance after the Conant senior was stunned in his semifinal by Inorio.
182: Jacob Acevedo, Schaumburg
There was not much to enjoy in 2022 for Schaumburg senior Jacob Acevedo, who endured a heart-breaking loss in the blood round of regionals. He and his mates also finished far behind regional champion and long-time division rival Conant.
One year later, Acevedo (31-8) has plenty to celebrate, with both he and the Saxons lifting the team trophy on Saturday. Acevedo won a hard fought 12-8 decision over Josh Taylor (South Elgin, 25-9, 19 pins) to give him his first ever regional crown.
"Last year did not end the way I would have wanted it to," Acevedo said, "but this year, in my last season of high school wrestling, winning an individual regional title and being part of the first team championship in a long time feels real good right now.
"We have a great room that feeds off of each other, so I'm not surprised about our results today. Now I'm looking forward to heading to sectionals, and I'm super excited about my chances to get downstate."

Schaumburg coach Mike LeVanti has seen Acevedo mature on the mat this season.
"Jacob's evolution from an explosive athlete who could be dangerous to a savvy, calculated opponent has been very impressive," LeVanti said. "He's always going to error on the side of rough and ready, but the patience and situational awareness he showed in the final showed me his name should be in the conversation next week and beyond."
Acevedo drew back level with Taylor at 5-5 with a slick, nifty move to record a take-down just moments into the second period. He took the lead for good (7-6) at three minutes before earning a three-point near fall as the buzzer sounded.
Acevedo ensured victory with a hard ride for the final 45 seconds before time.
Hector Flores (Larkin, 20-11) won a 7-5 decision over league rival Max Dominguez (Streamwood, 18-7) to finish third.
195: Josh Ellery, Hoffman Estates
Josh Ellery was almost speechless when approached to discuss his victory at 195 pounds, after a second straight pin in just under four minutes gave Hoffman Estates its lone title on the day. Ellery had also just earned his second-straight sectional appearance.
"Being a regional champion feels really good," Ellery said. "As a senior it's my last chance to do something in the postseason. I'm really happy about this – there's not much more I can say."

Ellery is now 30-6 on the year after going19-10 a year ago.
"Josh is a humble kid, who doesn't really like talking about himself much," Hoffman Estates coach Leo Clark said. "But I can tell you he's a young man who works hard, committed himself to get better during the offseason, and was always lifting and attending offseason events. All of that hard work has come to pay off for him.
"His confidence and demeanor on the mat are those of a skilled wrestler, and regionals for him were all about showing everyone that he can hang with the top guys. He has lost close matches to top-ranked guys, so he wants to prove to himself that he can be a top wrestler as well at state."
South Elgin senior Danny Viscuso (22-13) who lost to Ellery in the finals, is a first time sectional qualifier, as is third-place finisher Jimmy Zinchuk of Schaumburg.
220: Harley Stary, Conant
For someone who didn't wrestle his freshman year, Harley Stary has tasted plenty of success during his short career at Conant. That success now includes a second straight sectional appearance after winning it all at 220 pounds, with a pin at 0:58 in the finals against Abdulhamid Olowu (Hoffman Estates, 15-15).
"I guess I was a little lucky to make it downstate last year but that trip to state really inspired me to get to work on every part of my game," Stary said. "I'm better now in neutral, in my attack, footwork, and hand fighting. I feel like my confidence has improved so much more and now I'm really ready to make a push to get back downstate and win a medal."

Stary improved to 25-9 after spending less than three minutes on the mat to claim the top prize
"Harley took his freshman year off and didn't wrestle, so last year coming into the season, he wasn't sure of himself," Conant coach Andrew Guilde said. "After qualifying last year, he's been wrestling with confidence and you can see it by how he approaches everything, from practice to the way he competes."
Stary (17 pins) who was one of four captains on the Cougars football team last fall, has found that wrestling may have taken over as his No. 1 sport this season. That's thanks in part to the success he has enjoyed, and from just being in a room that is led by Guilde and state champion Ethan Stiles.
"We've got a great room, with a great coaching staff, and I really feel so much more comfortable. I'm happy to be a part of it," said Stary, who plays middle linebacker and offensive guard during football season.
Streamwood's Josiah Torres finished third at 220 to become a sectional qualifier.
285: Adam Lambaz, Elgin
Those in the heavyweight division know it's either a pin or a push-and-pull decision that likely decides the match. On Saturday, senior Adam Lambaz provided a pin-happy day for Elgin wrestling fans.

Lambaz pinned his last two opponents, including Hoffman Estates' Kehinde Akintunde (16-2) to win his first regional crown, and move one step closer to a second consecutive trip downstate.
"(Akintunde) is a big-time thrower," Lambaz (27-2) said. "He always looks to throw guys. He's tall, strong, and lean, but I stayed composed, kept my hips and body back, and then looked for my chance. When I had him on his back, I knew he was gassed, and all I had to do was finish him off."
Lambaz, who entered the weekend as the No. 6-rated big man in the state, now has three major titles to his credit, plus 20 pins for coach Gary Parciak.
"Adam just wrestled such a smart, tough match in his final," Parciak said. He was doing his best to dominate the ties with an underhook, and two-on-ones, forcing the action, until he saw his opening. Then he capitalized on it."
"Fabian and I are Academy nerds here at Elgin, so I'm really thrilled about his regional title," Lambaz said. "He's like a little brother to me and I've tried to be a mentor for him."
Schaumburg junior Cesar Alvarez-Cuatepitizi became the final man from the Saxons to earn a spot at the Conant sectional following his third-place finish at 285.
Team Totals:
Schaumburg 214.0, South Elgin 174.5, Conant 156.0, Hoffman Estates 105.0, Lake Park 97.0, Elgin 73.0,