Short-handed DeKalb captures Flavin Invite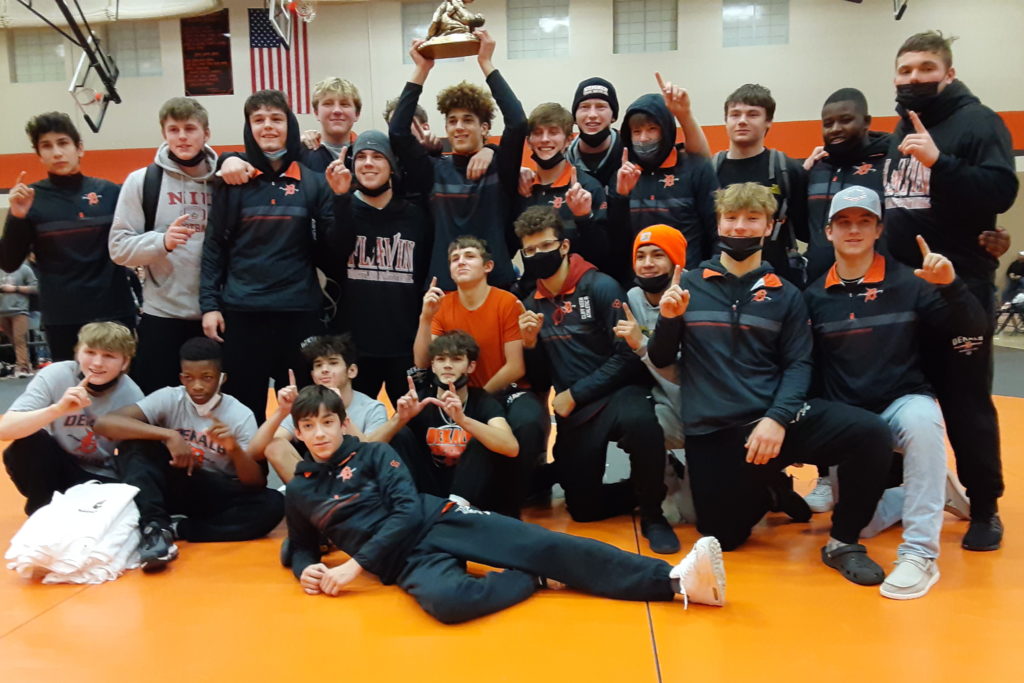 By Curt Herron
For the IWCOA
DEKALB – When a team faces the prospect of being without four individuals that it hoped to be competing on the final day of a major tournament, it's a good bet that their chances of winning a championship will be greatly diminished.
That's just the scenario that DeKalb faced on Thursday at its own Flavin Invite but instead of making excuses for the disappointing turn of events, it found a way to defeat three quality opponents, with two of those victories coming in dramatic fashion.
The Barbs followed up on a 42-24 win over 2019 champion Mukwonago of Wisconsin with a 35-31 victory over Father Ryan of Tennessee and then wrapped up the title of the Champion's pool of the 26-team tournament with a 33-32 triumph over Marist. On the first day of the invite, DeKalb captured a 73-3 win over Pewaukee of Wisconsin and won 50-24 over Glenbard West.
It was a clutch performance for a program that's second in Class 3A in Rob Sherrill's IWCOA rankings. Coach Sam Hiatt's Barbs not only needed to claim a win in the final march against Father Ryan but could afford to lose by no more than a decision in the last match of their dual meet against coach Brendan Heffernan's 3A fifth-ranked RedHawks.
That capped a 5-0 showing over the two days for DeKalb, a program which placed fourth in the Class 3A dual team finals in 2019 and qualified again for state in 2020. Winning a title at their own Flavin Invite, named for the man who started the Barbs' program and also coached at Northern Illinois University, 1977 IWCOA hall of famer Don Flavin, is another significant accomplishment in a season where the team has also placed third at the Dvorak and fourth at the Dan Gable Donnybrook.
The most notable Barb who was unable to compete was Bradley Gillum, a three-time state qualifier who won the IWCOA title and was second in the IHSA in 2020. The top-ranked individual at 182 in 3A was a runner-up at last week's Dvorak and also was second at the Dan Gable Donnybrook.
Individuals who also competed in the Dvorak and on the first day of the Flavin but sat out on day two of the event were Jacob Luce, Damien Lopez and Caleb Wall, who combined to go 5-1. Lopez placed sixth in 2020 in the IHSA and is ranked third at 152. Two who didn't take part in the Dvorak but went 2-1 in the champion's pool were Rory Burright, who had another win on day one, and Hussein Thahab.
"We had some guys out, but at the end of the year it could be like that and we don't know," said Hiatt, a 2019 IWCOA hall of famer who's a 2000 DeKalb graduate that was a four-time placewinner and a state champion as a senior. "We could have had a bad attitude going into it with having four guys out but it was a whole-team effort.
"Getting ready for the end of the year, these duals are huge. That's why we have the Flavin and try to get as many tough teams as we can because we want that experience for the end of the year. Father Ryan, Marist and Mukwonago are all good and we had a lot of good teams here. Four years ago we made it 32 teams instead of 16 teams and it's really picked up."
DeKalb's Danny Aranda, who went 4-1 at 120 and 126, competed in the final matches of his team's victories over Father Ryan and Marist.
Against Father Ryan, his 9-1 win over Brody Gobbell at 120 proved to be the difference in what was a 31-31 tie heading into that match. Then against the RedHawks with the hosts holding a 33-29 lead, Aranda did his job again, avoiding a major decision and a tie after bumping up to 126 to meet Will Denny, who won an 8-3 decision.
"You can't really let pressure get into your head, it's going to mess with you," Aranda said. "You have to do your own job and make sure that it gets done and not let the team down. Make sure that you do your job and listen to your coaches and listen to your teammates.
"All of our guys are good and we're going to get the job done, no matter who is missing. I like how we all have a good mindset and we find a way to get the job done. If we're losing or we're down, we keep fighting and we keep grinding. Our team is just a whole bunch of grinders and it doesn't matter if we're missing four guys, we're going to get the job done."
Barbs who posted 5-0 records in the competition were Kaden Klapprodt at 106, Danny Curran at 132, Tommy Curran at 145 and 152 and Lukes Schmerbach at 170 and 182.
Austin Martin went 4-1 at 138 and 145 and Burright went 3-1 at 113 and 120 while Lopez won both of his matches at 152 and Wall also went 2-0 at 160. Thahab went 2-1 at 152 and 160 and Nate Sauer went 2-1 at 285 and finishing with 3-2 efforts were Bryson Buhk at 195 and Gavin Engh at 220 and 285.
In the final dual meet between the Barbs and RedHawks, the hosts jumped out to a 21-6 lead after five matches thanks to a win by technical fall by Danny Curran at 132, a pin by Martin in 3:05 at 145, a forfeit win for Tommy Curran at 152 and a 14-2 major decision from Thahab over Ryan Lanigan at 160 while Marist led briefly at 6-5 following a fall by Matthew Cornfield in 2:50 at 138.
Marist responded with four victories in the next five matches to close to within 27-25 as Tommy Boland received a forfeit win at 170, Peter Marinopoulos won a 14-5 major decision over Buhk at 195, Ghee Rachal had a fall in 1:42 at 220 and Mike Maloney won 4-2 over Engh at 285 while the Barbs got a fall from Schmerbach in 1:57 at 182.
After Klapprodt won 6-2 over George Marinopoulos at 106, Michael Esteban countered with a 14-2 major decision over Ben Lopez at 113 to pull Marist to within 30-29. But Burright won 4-1 over Luka Anoshenko at 120 to put the hosts up by four and after Denny took an 8-3 lead over Aranda in the finale at 126, he was unable to score again.
"It was awesome," Schmerbach said. "The team came together and everyone kind of unified and we all realized what we had to do. We realized that people had to get pins, and get majors and bonus points are key, and you can't give up any bonus points. All in all, the team did great. Everyone's different and has their own style, but when it comes down to a big dual like that, people have to wrestle for the team, they have to step up. Our coach said that you have to be a hero today and that there's guys who have to step up and there's just times that you have to realize that maybe you are the one that has to do it.
"I like just how close we are together. Everyone bonds together and it's awesome. The team really works well together and practices are always good because everyone always works really hard. And the team just keeps persevering and we keep coming through. Everyone doubted us here because we had four guys out and they were like, 'you're not going to win this'. But we came together and just showed it."
After winning the first six matches to jump out to a 25-0 lead in their victory over Mukwonago, the Barbs needed to stage a big rally in order to claim the narrow win over Father Ryan, a perennial state power in Tennessee, who wound up edging Marist by criteria in its first dual of the champions' pool to help it claim second place in the competition.
Recording falls against Mukwonago were Danny Curran in 0:17 at 132 and Klapprodt in 3:01 at 106 while Martin got a win by technical fall at 138. Burright (120), Aranda (126), Schmerbach (170) and Buhk (195) all won major decisions and Tommy Curran (145), Thahab (152) and Engh (220) all won decisions by three points.
In the Barbs' meet against Father Ryan, they fell behind 25-13 through eight matches with Danny Curran winning a major decision at 132, Tommy Curran getting a fall in 1:54 at 145 and Schmerbach capturing a 6-5 win over Joey Terry at 170 while Martin fell 5-4 to Chancery Deane at 138.
But Buhk got a fall in 4:58 at 195 and Engh added a fall in 0:52 at 220 before Nate Sauer won 5-4 over Abraham Cromartie on a tiebreaker at 285 to put the hosts up at 28-25.
After Klapprodt won an 8-5 decision over Ethan Lampert at 106 to make it 31-25, Father Ryan's Joseph Calvin countered with a quick fall at 113, which forced a tie and that set the stage for Aranda's major decision at 120 to wrap up the victory.
"It's just good that everyone came together with our deficit of having four people out," Klapprodt said. "We had to come together as a team and finish strong and knew we could dominate in this tournament as long as we did what we needed to do. Everybody has a great bond and friendship and we all get along together. Our team just fits together well.
"You have to be a leader. If you're winning a match, you have to score as many points as you can. Bonus points are key, especially in these really close matches. And if you're losing, you can't let up bonus points at all. It's great since teams come out here from all over the place and we just have to defend our home base, this is where we're at. If anybody wants to come in here and take it from us, it's not going to happen."
In a sign of just how competitive the Flavin was, all but one of Marist's five dual meets were decided by four points or less. The RedHawks went 1-2 in the champion's pool to finish third. After falling 33-33 by criteria to Father Ryan, they won 38-36 over Mukwonago. On the first day of the event, they beat Yorkville Christian 45-22 and Deerfield 38-34.
The RedHawks brought a young team to both the Flavin and the Dvorak, where they placed seventh. Of the individuals who competed in those tournaments, half are freshmen or sophomores and just two are seniors. The seventh-place showing at the Dvorak and a third at the Flavin demonstrates that Marist can compete with the best in Class 3A.
Marist last took part in the IHSA dual team finals in 2014 when it placed second to Oak Park and River Forest under Heffernan, a 1999 Marist graduate who was a two-time medalist for 1995 IWCOA hall of famer and National Wrestling Hall of Fame Illinois chapter inductee Mark Gervais, who he succeed as head coach in 2008.
"We love the dual team format like this," said Heffernan, who comes from a family that has produced several outstanding coaches. "Obviously, number one, it's great because everyone gets a lot of matches, but two, there's so many lessons that our young guys need to learn. The last thing I said before we prayed was that every point counts and then we go out and our first dual was a tie and it went down to the criteria, so that was awesome and good for them to experience. We're just enjoying seeing the young guys competing as hard as they're competing and doing as well as they're doing. And they're giving a lot of energy and enthusiasm to the seniors, too, which is nice.
"We need these guys to start truly believing how tough they are. Now they see that we are right there with everybody and anybody. Their challenge now is to train that way. We plan on getting a lot better by the time that February rolls around, so it should be exciting."
Leading the way for Marist with 5-0 records were Peter Marinopoulos at 195 and Rachal at 220 and 285 while Esteban went 4-1 at 113 and Boland was 4-1 at 160 and 170.
Turning in 3-1 efforts were Denny at 126, Ricky Ericksen at 145 and 152 and Maloney at 220 and 285. Cornfield went 2-1 at 138 while George Marinopoulos went 3-2 at 106.
"This was great competition coming off of the Dvorak," Denny said. "My bracket had a couple of ranked kids in it, so that was great. Then coming here with great teams. We battled with two tough matches the first day and then had a team from Tennessee with great competitors and that was something new. I'm just a freshman so on the first day of practice I was super excited seeing what the team was bringing to the table."
In Marist's first dual of the champion's pool, things were looking good for Father Ryan when it won the first four matches to go up 18-0 and six of the first eight to grab a 30-9 advantage with the lone wins by the RedHawks during that stretch coming on Ericksen's 6-0 decision over Sawyer Rutherford at 145 and a fall by Boland in 3:47 at 160.
But the RedHawks responded with falls from Conor Phelan in 1:59 at 182, Peter Marinopolous in 2:30 at 195 and Rachal in 4:00 at 220 to close to within 30-27. Maloney won a 3-0 decision over Cromartie to tie things at 30-30 and George Marinopoulous captured a 1-0 decision over Lampert to give the RedHawks their first lead at 33-30.
But Calvin evened it again at 33-33 with an 8-5 decision over Esteban and the Tennesseans got the victory thanks to first points,16-10, which is far down on the list of criteria.
"I actually didn't wrestle in the Dvorak, I was a helper," Maloney said. "So wrestling heavyweight this week, I had to eat a lot because I had to wrestle up since I'm usually at 195, so it was a challenge. Ghee Rachal is a great kid. I want to wrestle 220, but I can't because of him. I like that everyone is friends with everyone."
The RedHawks bounced back from their tough setback to Father Ryan by claiming a 38-36 win over Mukwonago in the second round. Recording falls in that dual were Cornfield in 3:22 at 138, Boland in 2:00 at 160, Peter Marinopoulos in 1:12 at 195, Rachal in 1:22 at 220, George Marinopoulos in 4:48 at 106 and Esteban in 2:31 at 113 while Ricky Ericksen won 6-4 in sudden victory over Devin Lawrence at 152 and Brandon Weber (132) and Luka Anoshenko (120) both lost decisions.
"In duals, you get a little more nervous and tense-up because you feel like the pressure is on, but you just need to control those feelings," Esteban said. "I started to open up a little more and focus on my attacks and trying to control the pace. I like the type of bond that we have."
Father Ryan edged Marist 33-33 on criteria by first points scored in the first round of the pool and responded to its 35-31 defeat to DeKalb with a 54-24 victory in its finale against Mukwonago. The school from Nashville went 5-1 and got 6-0 performances from Calvin at 113, Calvin Eason at 126 and 132 and Ben Stigamier at 152.
Mukwonago finished 2-3 after going 0-3 in the champion's pool. Leading the way for the fourth-place finishers in the tournament was Hayden Chitwood, who went 5-0 at 182.
Claiming fifth place overall and first place in the gold pool was Washington, which finished with a 4-1 record. Prospect went 4-2 to finish second in the pool while Deerfield placed third and Glenbard West was fourth to round out the top-eight.
Washington, which is ranked second in Class 2A, was the IHSA 2A runner-up to Lemont in 2020 and has advanced to the championship mat in the 2A dual team finals for the last six seasons, winning four-straight championships from 2016-2019. Deerfield, which is ranked fourth in 2A, hopes to advance to dual team state for the first time since 2017.
In the gold pool, Washington won 42-33 over Deerfield, 39-27 over Prospect and 45-21 against Glenbard West. Prospect beat Glenbard West 37-28 and Deerfield 39-33 while Deerfield captured a 35-33 victory over Glenbard West.
Leading the way for coach Nick Miller's Panthers with 5-0 records were Peyton Cox at 126, Kannon Webster at 132, Donnie Hidden at 195 and 220 and Tyler Casey at 220 and 285. Cael Miller went 4-1 at 152 and Justin Hoffer went 3-1 at 195 and 220. Going 3-2 were Josh Biagini at 138 and Blake Hinrichsen at 160 and 170.
In one of the biggest showdowns of the day, Webster won a 9-4 decision over Prospect's Will Baysingar at 132 in a clash of two juniors who've won state titles. Webster is a 2020 IHSA champion who's top-ranked at 126 in Class 2A while Baysingar is a two-time medalist and 2021 IWCOA champion who's ranked third in 3A at 126.
And in another interesting clash in the pool that featured top-ranked individuals from Class 2A and 3A at 195, Hidden, an IWCOA champion and two-time placer in 2A claimed an 11-6 decision over Glenbard West's Philip Dozier, a two-time qualifier who took in 3A at the IWCOA.
Prospect received 6-0 showings from Joel Muehlenbeck at 106 and 113, Tom Miller at 120 and Lennon Steinkuehler at 138. Going 5-1 for the Knights were Will Baysingar at 132 and Jacob Grzesiak at 195 and 220 while Damien Puma went 4-1 at 145 and 152.
Leading Deerfield with 6-0 records were Lucio Morgan at 145, Benjamin Shvartsman at 152 and 160, Aiden Cohen at 170 and Braeden Wittkamp at 182 and 195. Going 4-2 for coach Marc Pechter's Warriors were Luke Reddy at 113, Jordan Rasof at 120, Renzo Morgan at 132 and 138 and Stamos Tsakiris at 152 and 160.
Leading Glenbard West with 4-1 efforts were Ulises Rosas at 113, Isaiah Perez at 126 and Philip Dozier at 195. Also for the Hilltoppers, Pat Shadid went 3-1 at 170 and turning in 3-2 records were Carson Prunty at 106, Max Konopka at 160 and Morley Coval at 285.
Lockport placed ninth and Yorkville Christian tenth after the two were the top-two finishers in the Silver Pool, in which Pewaukee, Wisconsin took third and Minooka was fourth.
The Porters, who are ranked third in 3A, were missing several top performers who took part in the Powerade Tournament in Canonsburg, Pennsylvania. They included champion Brayden Thompson as well as two other medalists, Andrew Blackburn-Forst, who was fifth, and Keegan Roberson, who placed sixth.
Lockport closed the competition with a 45-17 victory over Yorkville Christian to finish 5-1. The Porters also won 60-11 over Pewaukee and 62-3 against Minooka. Coach Josh Oster's squad hopes to qualify for the dual team finals for the third-straight season and for the sixth in seven years and capture its first trophy since 2017, when it capped a three-run of trophies that culminated in a state championship.
Leading the Porters with a 5-0 finish was Aidan Nolting at 195 while Nore Turner went 4-0 at 106, Carlos Munoz-Flores went 3-0 at 132 and Paul Kadlec went 3-0 at 160.
Paul Rasp went 4-1 at 182 while Matt Giorgetti was 3-1 at 113 and Jad Alwawi went 3-1 at 126. Going 2-0 were Liam Zimmerman at 106 and 113 and Ben Markham at 120.
Going 6-0 to lead Yorkville Christian, which is ranked ninth in Class 1A and beat Minooka 55-19 and Pewaukee 56-18, were Noah Dial at 138 and 145 and Jackson Gillen at 170. Also for the Mustangs, Aiden Larsen went 4-1 at 106 while going 4-2 were Isaac Bourge at 120, Braulio Flores at 138 and 145, Drew Torza at 152 and Michael Esquivel at 285.
In what some might consider to be an upset, Gillen, who's ranked fifth in 1A at 170, recorded a fall in 5:55 over Sycamore's Zack Crawford, who was top-ranked at 160 in 2A.
Minooka, who also fell 42-34 to Pewaukee, received 5-1 efforts from AJ Frescura at 113 and Joseph Westerhoff at 170 while Chase Musser went 4-2 at 106 and Louis Johnson went 4-2 at 195.
Oswego beat Glenwood 39-30 to take first in the bronze pool with a 4-2 record while Crystal Lake Central defeated Providence Catholic 45-30 for third place in that pool. The Panthers went 4-2 with their other pool wins being 45-31 over Providence and 46-30 over Crystal Lake Central.
Leading Oswego was Andrew Johnson, who went 6-0 at 160, while Brayden Swanson went 5-1 at 113 and Vincent Manfre went 4-1 at 106. Going 4-2 were Ryan Goddard at 120, Logan Guerrero at 126 and 132, Brayden Hedquist at 126 and 132, Joseph Griffin at 152 and Michael Sturm at 220.
Glenwood, which is tenth in Class 2A and won 41-34 over Crystal Lake Central and 42-35 over Providence, was led by 6-0 showings by Aden Byal at 145 and Alex Hamrick at 285. Going 4-2 for the Titans were Brandon Bray at 195 and Jaidyn Lee at 220.
Dillon Carlson went 6-0 at 160 and 170 to pace Crystal Lake Central, which is ranked sixth in Class 2A and hopes to get back to dual team state for the first time since 2017 and its first trophy since 2016. Going 5-1 for coach Justen Lehr's Tigers was Leonardo Diaz at 285 and Erik Maldonado went 4-1 at 182 and 195. Posting 4-2 records were Payton Ramsey at 106, Cayden Parks at 145 and 152 and Connor Lezama at 152 and 160.
Providence was led by 6-0 efforts by Billy Meiszner at 132 and Liam McDermott at 220 while Kyle Lindsey went 5-1 at 138, RJ Schneider went 4-2 at 285 and Geno Papes went 3-1 at 145 and 152.
Several other teams in the competition had individuals who turned in good performances.
Andrew got 5-0 efforts from Max Siegel at 113, Trevor Silzer at 120 and 126 and Jack Cronin at 195 while Casey Griffin went 3-0 at 120.
Glenbard East was led by Andrew Gron, who went 6-0 at 132 and 138 and Diego Garcia, who went 6-0 at 138 and 145 while Waleed Binmahfooz went 5-1 at 106.
Grant received a 5-0 showings from Ivan Hernandez at 285 while Cameron Lattimore went 4-1 at 220 and Ayanne Jazinski went 3-1 at 106.
Plainfield South received 6-0 efforts from Rocco Silva went at 120 and John Pacewic at 195 and 220 while Rudy Silva went 5-1 at 113 and Matthew Janiak went 5-1 at 170.
Sycamore received 5-0 showings from Brayden Peet at 152, Gus Cambier at 160, Gable Carrick at 182 and Lincoln Cooley at 285 while Zack Crawford went 4-1 at 170.
Taft received a 6-0 performance from Colin Roque at 132 and 138 while Patrick Diete went 4-1 at 126.
Wheaton North got 5-0 finishes from Sam Lemp at 132 and Devin Medina at 152 while going 4-1 were JD Jones at 138, Mikey Rosch at 170 and Eli Cook at 182.
And York got 5-0 efforts from Zach Parisi at 113 and 120, Sean Berger at 126 and Evan Grazzini at 182 while Jack Connell went 5-1 at 145 and 152.