St. Patrick tops Fenwick for 2A team title at Fenton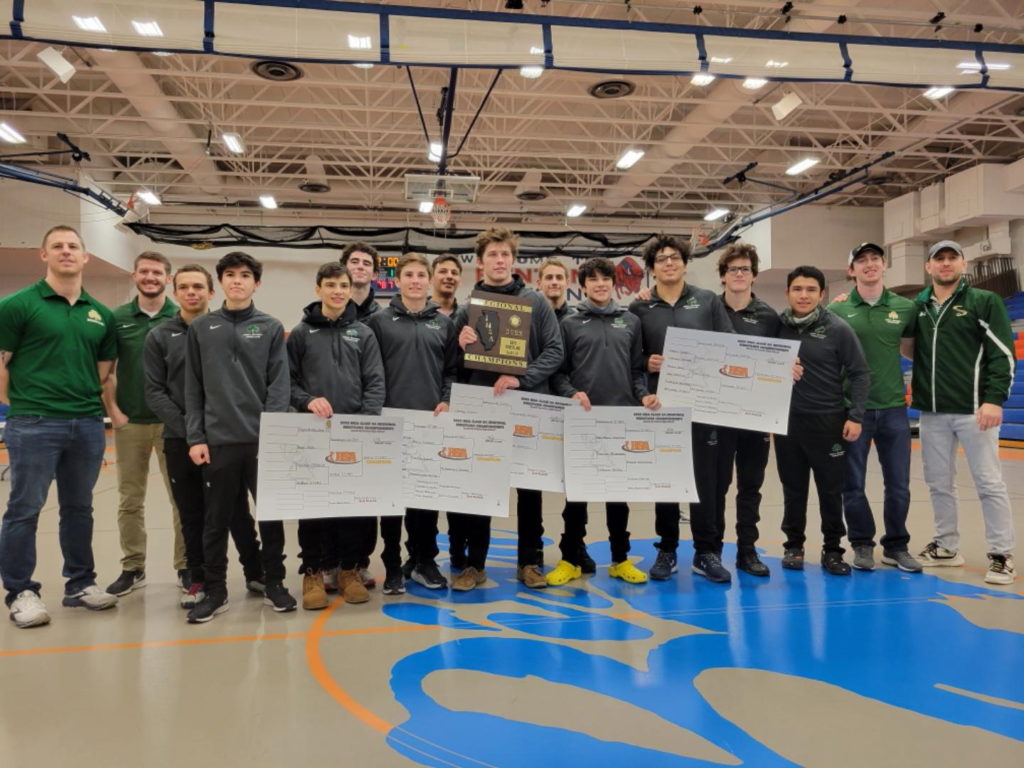 By Gary Larsen
For the IWCOA
St. Patrick won its seventh team regional title in program history Saturday at Fenton and to think, coach Tom Kelliher nearly missed it.
I wasn't able to show up until the finals. I had a baby this week and we got discharged from the hospital about 11 this morning," Kelliher said. "So it's been a pretty wild day."
The Shamrocks posted a 219-188 edge over second-place Fenwick in winning its 2A regional crown in Bensenville. Fenton (115), Montini (152) and Elmwood Park (57) rounded out the top five team finishes.
St. Patrick won fives individual titles among the eight finalists it sent to the title mat, and advanced 11 of the 12 wrestlers it entered to this year's Deerfield 2A individual sectional.
"The past couple years we had a smaller team and regional championships haven't been an option," St. Patrick senior Alex Goworowski said. "This year we had some younger kids fill some spots and we were able to win a regional championship, which is huge. Our young guys may not have all the technique, but the fight is there."
Goworowski (220), Olin Walker (113), Niko Karamaniolas (120), Sean Conway (132), and Gio Hernandez (170) all won regional titles, while Justin Ranzonni (106), Jack Clancy (182), and Aiden Gomez (195) placed second.
Ben Kusar (138), Devin Nichol (145), and PJ Summers (152) all placed third to earn sectional advancement.
"These guys have just worked so hard and you can see that in their conditioning," Kelliher said. "They push the pace, they're focused — you really couldn't ask for a better group of kids to have some success. We've had amazing senior captains and a lot of leadership."
Saturday's team regional plaque for St. Patrick will be added to the school's trophy case along with hardware commemorating team titles in 2003 and 2012 under coach Patrick Duggan, and 2015-17 and 2019 under coach Dominic Angelo.
Tri-captains Conway, Summers, and Goworowski are proud to be a part of a bit of program history.
"We have a lot of young guys," Conway said. "We hit a dropoff at a few weight classes but by the end of the season, they got the basics down and we've been able to fill out a lineup. We've just told them 'keep coming to practice because you're going to get better."
Fenwick advanced 10 wrestlers to the Deerfield sectional, led by individual regional champions Tommy Sullivan (138), Conor Paris (182), and Jimmy Liston (285). Montini had four champions in Jayden Colon (145), David Mayora (152), Will Prater (160) and Evan Jocic (195).
Elmwood Park's Jack Dombeck (106) and Schurz's Majd Hamarsha (120) were also regional champions at Fenton.

Also earning sectional advancement and placing second at Fenton were Fenton's Kon Papadopoulos (113), Alberto Bracamontes (132), Justin Dickeson (138), and Viktor Klimczyk (170), Fenwick's Rowan White (145), Finn McGee (152), Martin Paris (160), and Conor Stetz (220),Montini's David Hernandez (120), Ridgewood's Kris Popovich (126), and Schurz's Danny Ortiz (285).

With the top three finishers earning sectional advancement from Illinois regionals, the third-place mat — as it is each year — saw victory and heartbreak.

Placing third at Fenton were Fenton's Anthony Bigham (106), Kris Nogueda (120), Joshua Dickeson (126), Jovany Zuniga (160), and Dorien Vazquez (182), Montini's Max Neal (113) and Mick Ranquist (220), Fenwick's Aiden Burns (132), Vincent Fiorvanti (170), and Julian Richard (195), and Westinghouse's Davarein Stevenson (285).
Bensenville regional champions' stories:

106 – Jack Dombeck, Elmwood Park
The Tigers' freshman won a tournament title at Walther Christian, placed second at the Metro Suburban Conference tournament, and third at Harvard this season. Dombeck (30-5) added a regional championship to his individual resume with a pair of pins in Bensenville, capped by a fall against St. Patrick's Justin Ranzonni in the finals.
A freshman season is typically spent acclimating to varsity wrestling.
"I learned how to wrestle hard in matches and I've definitely wrestled stronger kids and more experienced kids this year," Dombeck said. "But I was expecting this — I've had a goal to qualify for state."

Where has most of his improvement come?

"On my feet," Dombeck said. "I'm taking more shots and scoring more points."
Fenton's Anthony Bigham finished third to also advance to Saturday's Deerfield individual sectional, and Ridgewood's Sal Reina finished fourth.

113 – Olin Walker, St. Patrick
Walker (33-13) handed the only previously unbeaten wrestler in the tournament his first loss, when the Shamrocks' sophomore won 13-3 over Fenton's Kon Papadopoulos (22-1) in the finals at 113.

Walker, ranked No. 7 at 113, improved to 33-13 for regional champion St. Patrick. Walker won a tournament title at Buffalo Grove this year, placed third at Glenbrook South and Lincoln, and fourth at Antioch and the East Suburban Catholic Conference tournament. He was an IWCOA state qualifier last year as a freshman at 106.

Walker found a takedown early against Papadopoulos and earned back points en route to a 4-0 lead after a period. He led 6-1 after two periods before breaking the match open in the third.
"In the beginning of the season I was kind of slow on my feet. I didn't move enough," Walker said. "Now I feel like I'm moving faster and I've gotten a lot more aggressive. I feel good and I'm excited for the sectional."

Montini's Max Neal advanced to the sectional with a 14-9 decision over Fenwick's Evan Hickman on the third-place mat.

120 – Majd Hamarsha, Schurz
The junior Hamarsha (6-4) showed toughness in his title match against Montini's David Hernandez (10-11), breaking a 7-7 second-period tie with a takedown that gave him a 9-7 lead that he'd never relinquish, on his way to a 13-11 win and a regional championship.
"It feels good," Hamarsha said.
Schurz coach James Marable was proud of his junior's accomplishment, especially considering Hamarsha's history.

"He's from Palestine and he's only wrestled for two years," Marable said. "He's got good fundamentals, a good double-leg, and a good single-leg. It's been a lot of repetition and it's worked for him."

Fenton's Kris Nogueda placed third and Fenwick's CJ Brown was fourth at 120.
126 – Niko Karamaniolis, St. Patrick
One of two sophomores to win regional crowns for the Shamrocks, along with Olin Walker, Karamaniolis (24-12) used a pair of pins at Fenton to advance to Deerfield's sectional.
Karamaniolis pinned Ridgewood's Kris Popovich in the first period to claim his crown.
"Niko is a sophomore and a kid who came up through 312 (kids' club) and he's been wrestling for a long time," St. Patrick coach Tom Kelliher said. "He works really hard in the room and he's one of the kids I'm most proud of because he's been through his ups and downs but he has kept his head up, he stayed in it, and he's really peaking at the right time."
Fenton's Joshua Dickeson won 10-1 over Montini's Lewis Wais-Montoya to place third.
132 – Sean Conway, St. Patrick
The St. Patrick senior improved to 44-1 with a fall against Fenton's Alberto Bracamontes (14-6) in the finals. Conway is ranked No. 2 at 132 and has won individual tournament titles this year at Antioch, Buffalo Grove, Glenbrook South, Lincoln, and this year's East Suburban Catholic Conference meet.
Conway placed third at 106 at the 2019 IHSA state finals; sixth at 116 in 2020; and second at 126 at the IWCOA state finals in 2021.
What does Conway's coach appreciate about his senior captain?
"How much time have you got?" Kelliher said. "Sean is the kind of kid that we've been able to build a successful program around. He's been a leader since the day he stepped into the room and he just does everything the right way."
Conway's senior-year focus and urgency are driving him during his final go-round as a high school wrestler.
"I'm trying to be as dominant as I can in each win," Conway said. "I feel like I have more edge this year than I did last year. I haven't won state and it's something I need to achieve. The sectional will be harder and now I just need to focus on each individual match at a time, and don't look ahead."
Fenwick's Aiden Burns (17-11) won by fall on the third-place mat to advance, against Elmwood Park's Konrad Trestka (20-17).
138 – Tommy Sullivan, Fenwick
There was only one takedown in the title match at 138 and Fenwick's Tommy Sullivan got it, fighting off a headlock from Fenton's Justin Dickeson in the second period and scoring off of it.
Sullivan (22-10) escaped to start the third period for a 3-1 lead, and that's the way it stayed for the Friars senior, who went into the tournament with thoughts of winning his first regional title.
"I had that mindset going into it and I was really motivated," Sullivan said. "I started wrestling my freshman year and this was always a goal of mine. Now it's on to sectionals and hopefully I can qualify for state."
Sullivan wrestled at 152 last season but dropped to 138 for his final bite at the apple in his senior year. The drop to 138 took some getting used to.
"At the start of the season I started slow, like I lacked energy, but now I'm feeling back to normal, full of energy," Sullivan said. "I improved on my riding skills and my takedowns this year and I've become more well-rounded overall."
St. Patrick's Ben Kusar won by fall over Elmwood Park's Mark Gomez to advance from the third-place match.
145 – Jayden Colon, Montini
The No. 2-ranked 145-pounder in Illinois posted two pins to improve to 18-4 and win the first regional title of his career in Bensenville.
All four of Colon's losses have come to wrestlers outside of Illinois and he finished fourth at this year's formidable Cheesehead tournament in Wisconsin.
"I haven't really wrestled anyone in 2A yet. Most of our (meets) have been with 3A teams," Colon said. "I'll just go into the sectional believing I'm the one who's going to take the title this year and be ready for anyone that's coming in."
Colon's second-period pin of Fenwick's Rowan White (16-12) gave Montini its first of four regional titles on the day.
"I've gone after every guy I've wrestled. My hand-fighting has gotten a lot better, and now I'm better at pushing the pace and making kids tired," Colon said. "I need to work on getting more leg attacks, getting in more, and getting in faster earlier in matches."
St. Patrick's Devin Nichol advanced to Deerfield's sectional with fall on the third-place mat against Elmwood Park's Josh Dascola.
152 – David Mayora, Montini
After wrestling up at 170 as a freshman last year, Montini's David Mayora hit the weight room, improved his diet, and emerged this year as the No. 6-ranked 152 pounder in Illinois.
"Last year I struggled a little bit but this year I found my comfortable weight," Mayora said. "I added a little bit of muscle and having to wrestle against bigger guys last year made me better. I held my own and beat a ranked kid or two last year, but this is a lot easier."
Mayora's second-period fall in the finals against Fenwick's Finn McGee earned him his first regional title and improved his season record to 11-3. The sophomore put his remaining wrestling goal for the season in its simplest terms:
"I want to win everything," Mayora said.
St. Patrick's PJ Summers won by fall on the third-place mat to advance, over Fenton's Artur Zawitkowski.
160 – Will Prater, Montini
Prater was a state qualifier at 170 for last year's IWCOA state finals and the junior is currently ranked No. 5 in Illinois at 160. He won a regional title Saturday with a 10-2 decision over Fenwick's Martin Paris (17-10) on the title mat.
The junior Prater (11-9) placed third at this year's Chicago Catholic League tournament and was 16th at the Cheesehead in January.
Fenton's Jovany Zuniga placed third to advance, with a fall against St. Patrick's Danny Espinoza.
170 – Gio Hernandez, St. Patrick
St. Patrick's Gio Hernandez (36-11) won tournament titles at Antioch and Buffalo Grove this season, and became a regional champion with an overtime win in the finals against Fenton's Viktor Klimczyk (22-2).
Hernandez also placed second at Lincoln and third at both the Glenbrook South and East Suburban Catholic tournaments this season.
Hernandez took another step forward as a wrestler in his junior year.
"Gio has just come leaps and bounds. It's amazing to see the growth in him since he was in seventh or eighth grade to where he is now," St. Patrick coach Tom Kelliher said. "You see it in his confidence level, in the way he's been wrestling."
Hernandez used a takedown in overtime to win 3-1 over Klimczyk in the finals.
"He was a lot stronger than me and I was just trying to use my stamina. I knew if I could last to the third, I could wear him down and take a shot," Hernandez said.
Fenwick's Vincent Fiorvanti won by fall on the third-place mat against Ridgewood's Kevin Mimini.
182 – Conor Paris, Fenwick
Fenwick's Conor Paris was a state qualifier two years ago as a sophomore at 170, and it didn't come easy.
"I was 145 pounds but had to wrestle up at 170 because we were so good at the middle weight classes," Paris said. "But I've learned a lot and I've had great coaches. We only had four seniors this year but we had seven guys in the finals today so we've done really well."
Paris (25-4) posted a pin on the title mat at 182 over St. Patrick's Jack Clancy (23-22) to win his regional title, adding that to first-place tournament finishes at Hinsdale South and Morton, and a fifth at this year's Chicago Catholic League tournament.
Fenton's Dorien Vaazquez placed third with a fall against Sam Ostrowski.
195 – Evan Jocic, Montini
A war of underclassmen at 195 saw Montini freshman Evan Jocic emerge with a regional title in Bensenville.
Jocic (7-8) used a pair of pins to win the first regional title of his career, winning by fall over St. Patrick sophomore Aiden Gomez (7-8). Fenwick freshman Julian Richard (6-4) advanced to Deerfield's sectional with a fall on the third-place mat against Fenton sophomore Austin Platta (8-11).
220 – Alex Goworoswki, St. Patrick
St. Patrick's 220-pound senior is currently ranked 4th in Illinois and after winning a regional title Saturday he talked about his progression since wrestling 182 as a sophomore and 195 last season.
"I'm a lot more aggressive this year," Goworowski said. "I feel faster since I bumped up to 220 and I feel just as strong as anyone in the weight class."
Goworowski (41-4) won tournament titles at Glenbrook South and Lincoln this season, placed second at Antioch, and third at the Chicago Catholic League tournament. He was an IHSA state qualifier at 182 two years ago and placed 6th at 195 at the IWCOA finals last year.
"It's my last year of wrestling because I'm trying to play college football next year," Goworowski said, "so I want to finish out on top."
Goworowski pinned Fenwick's Conor Stetz (15-11) on the title mat, while Montini's Mick Ranquist pinned Elmwood Park's Omari Evans for third.
285 – Jimmy Liston, Fenwick
Fenwick senior Jimmy Liston (30-3) was also a lineman on the Friars' football team and he has enjoyed his time wearing Fenwick colors.
"My dad always says he likes wrestling more than football but I've done both since I was a freshman," Liston said. "The whole experience has been great and I wouldn't trade any of it for the world."
Liston's two pins at Fenton earned him a regional title, capped by a first-period fall against Schurz's Danny Ortiz (16-2). Liston won a tournament title at Hinsdale South this year, placed second at Morton, and finished to returning state champion Ryan Boersma of Mt. Carmel at this year's Chicago Catholic League tournament.
He has his eye on a place on the podium in Champaign.
"I'm a career heavyweight," Liston said. "I'm in better shape and I'm more knowledgable about the sport than I was as a freshman. Every experience I've had has made me better." Westinghouse's Davarein Stevenson placed third with a fall against Fenton's Tom Klos.