Warren takes Lake County Invite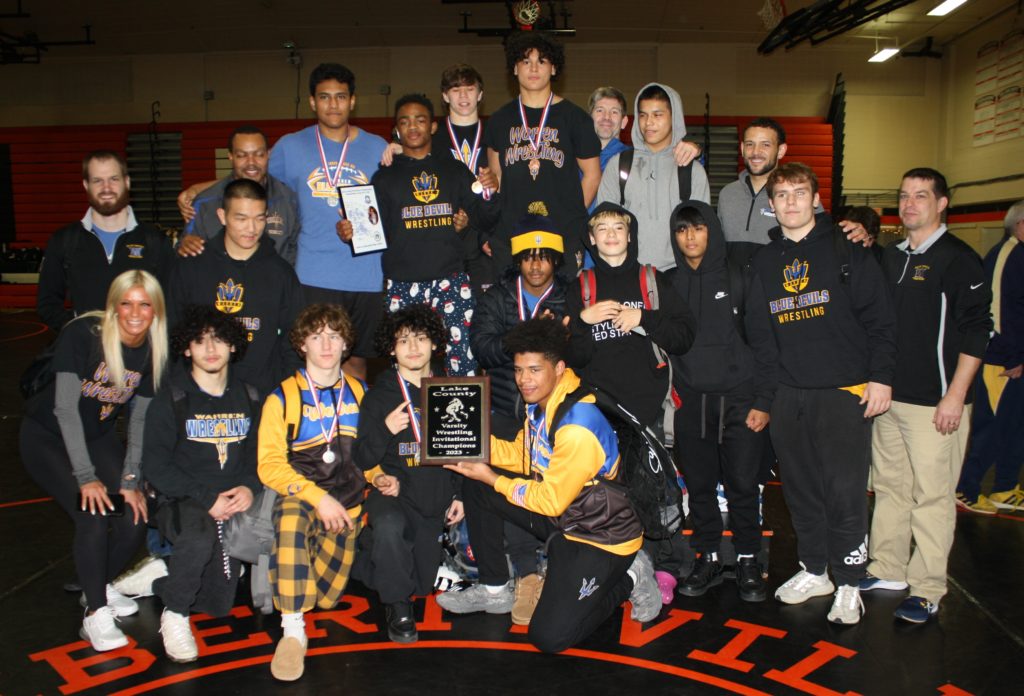 by Mike Garofola
Warren has been crowned 2023 Lake County Invite champs for the second time in four years by using a strong finish in the medal count, especially in the top half of the medal stand count. The Blue Devils collected five of their ten overall medals in third place, which was four more than runner-up Libertyville.
When this 6th annual contest came to an end on Saturday inside an energized, and raucous gym at host Libertyville, the champion Blue Devils would earn 212.0 points, eight points clear of the Wildcats (204), and 41.5 more than Stevenson (171.5) to round out the top three on the final leaderboard.
Grant would edge Mundelein by one (154.0-153.0) to finish fourth.
"We did what we had to do in order to hold off Libertyville – get bonus points wherever possible, compete as hard as we could in our matches, and do our best to finish top 3-4 to help the team out," Warren coach Brad Janicek said. "I am obviously proud of the effort from the guys over these two days.
"I reminded the guys we won this tournament four years ago, then failed to win regionals two weeks later. So while today is something we should all be proud about, there's obviously a lot of work still ahead of us as we prepare for the final four weeks of the season."
This tournament is unique in-that the North Suburban Conference (NSC) and Northern Lake County Conference (NLCC) are brought together in this sport only to give fans of both 2A and 3A plenty to enjoy over the two days of play.
The 2023 version of this Invite provided would see all sorts of talent all throughout the brackets, witnessed by nearly 25 men ranked in the top 10 of the latest state polls, with several capable of competing for a state title later on in Champaign.
The tourney champion Blue Devils now have a pair of invitational championships to celebrate, one more than 2A power Antioch and one less than Stevenson, which has three.
Warren will now look to garner a 'double' this Friday at Mundelein when the NSC meets to decide league champion in a dual meet scenario to finish off the remainder of the regular season schedule for all.
The Blue Devils must beat both Lake Forest and Zion-Benton to force a potential three-way tie with Libertyville and Stevenson, while hoping for a little help from its league rivals.
Libertyville, which has now been runner-up at this invite six times, stands alone in the NSC at 5-0, with Stevenson and Zion-Benton left on the docket for coach Dale Eggerts' club.
Warren has already defeated Stevenson, so if Libertyville beats Stevenson the Wildcats win the league crown outright, whereas a loss to Stevenson could create a three-way tie.
Stevenson star Lorenzo Frezza would join Joel Vandervere (Warren) and Danny Pucino (Libertyville) as the only three-time Invite champs in the short history of this high-profile event.
Pucino now wrestles at the University of Illinois, while Vandervere is at Northwestern.
Let's now take a look at each weight class and its champions:
106: Anthony Alanis Grayslake Central
A simply sensational start to his tournament would end with Anthony Alanis claiming the first championship trophy of the final session after the Grayslake Central senior completed a three-match sweep at 106 pounds.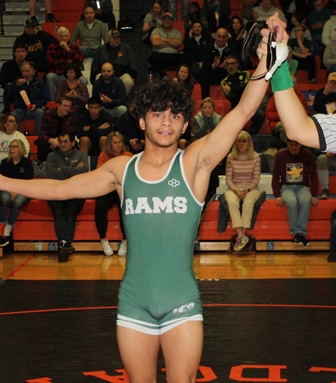 The No. 1 man in the state at 2A would collect his fifth major title of the season, and second Lake County Invite title following his 11-4 decision over Wauconda sophomore Gavin Rockey (20-3) to move his overall record on the season to a near perfect 34-1.
"Anthony wrestled very well over the week – a lot of clean take-downs on his feet, especially in the finals, and I felt like he wrestled well in all areas: neutral, top, and bottom," began Rams head coach, Matt Joseph.
"He goes out and puts up points early and often, and has become a dominant wrestler because of that all season long."
"My only focus is getting back downstate, and winning it all," began Alanis, second a year ago at 106, and sixth in 2021.
"I am working out three times a day: before school I lift, we're in the room after school, then off to Relentless to train where there's a bunch of state champions, and place-winners in the room every night.
"For me, I want to improve one percent every day in order to reach my goal of being a state champion," added Alanis, who recorded two pins this season to give him 13 on the season.
"Anthony is one of our hardest working kids in the room, is a great leader, and he's peaking at the right time of the year, and is poised to make a great run in the postseason," Joseph said.
Jonathan Marquez (Warren, 21-6) and Vince Jasinski (Grant, 25-9) were third and fourth, respectively.
113: Grayson Kongkaeow, Round Lake
Grayson Kongkaeow had a lot to prove to himself and others, and the Round Lake junior did just that with his 11-4 decision over Carlos Ordonez (Warren, 21-9) to capture the 113-pound crown, and first of two on the day for the Panthers' program.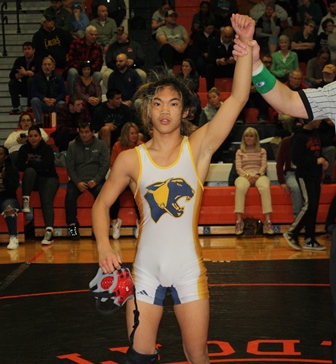 "I really thought I'd be at 120 this season, but Alejandro (Cordova) took over that spot in our lineup," Kongkaeow said. "My goal this year is to prove that I belong at this weight, and that I can help our team being there." Kongkaeow (28-10) was a regional champion a year ago and blood-round victim at the Barrington sectional one week later.
"If I was at 120 there would be a lot of guys bigger, stronger, and maybe at 124 pounds, so this is the right weight for me and I feel really good at 113," added Kongaeow, who trains at Relentless Training Center (RTC) and whose sister (Riley) is an accomplished wrestler herself, recently winning the 100-pound title at the Sally Berman Holiday Classic at host Palatine High School.
Nate Randle (Wauconda, 18-5), and Yash Jagtap (Stevenson, 22-19) finished third and fourth overall.
120: Bryce Durlacher, Mundelein
A shoulder injury at the Berman Holiday Classic may have slowed No. 10 Bryce Durlacher (23-2) for a short time, but the Mundelein senior and returning fifth-place state medal winner showed no signs of damage, when he went past the competition to win his second major of the season and second straight Lake County Invite crown.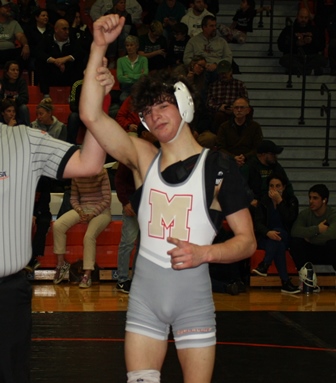 The Mustangs' star rolled into his final against Luke Berktold (Libertyville, 31-9) where he took the lead for good at three minutes (2-0) then slowly added to his advantage until the final whistle of his 7-0 shutout.
"It was tough being out for a few weeks while my shoulder healed," Durlacher said. "I obviously was not able to do any actual work on the mats, so I spent all of my time working on my cardio, and fitness, so I would be ready to go when I was cleared to return." Durlacher's brother Dane, a two-time state medalist, who later wrestled at the University of Illinois, was in his corner.
"My brother has helped with a lot of the little things he's picked up along the way in college, so that's been a big help to me, as has Benji (Albavera) who is my partner in the room," added Durlacher, who was 40-4 a year ago.
Tyler Weidman (Grayslake Central, 31-10) and Ethan Tarvin (22-9) from Grant were third and fourth respectively.
126: Benji Albavera, Mundelein
Benji Albavera could not be more pleased with his first-ever Lake County Invite title, tossing plenty of credit for his success to teammate Bryce Durlacher and his older brother Dane, who have proved to be not only big supporters of the Mustangs senior, but key figures in his desire to advance to state.
"Bryce has been my best friend for a long time," Albavera said. "We drive together to school, and we train at Relentless. He's a great partner, and Dane has really been a big help and influence in the way I train and compete. Both of them are a big reason for this win today, and my season so far,"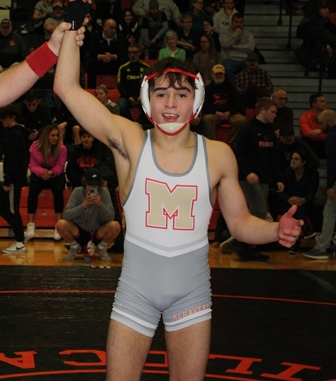 Albavera (24-7) also won at the Marchese Invite at Hoffman Estates earlier this season.
"(Grant's Erik) Rodriguez was a tough opponent, and I knew he would be tough on my legs, but getting that first take-down was important for me," admitted Albavera, whose big throw off the opening whistle set the tone in the first period, which was spent in its entirety on the mat.
Albavera rode Rodriguez hard for all of the second period, then made it 4-0 with a two-point near-fall midway through the second period on his way to a 6-0 decision.
Andrew Chamkin (Stevenson, 24-13) and Orion Moran (Libertyville, 18-16) would round out the top four medal winners.
132: Edgar Albino, Antioch
Edgar Albino still has visions of his 2A semifinal match last February when his route to the final was dashed by Colby Crouch (Triad) who went on to claim the state title at 120 pounds in Champaign.
The Antioch junior, No. 6 in the state at 132, has used that pin he conceded to Crouch as his motivation to get back downstate and win it all in four weeks, a goal he knows is attainable thanks in part to his faith in God, and to himself.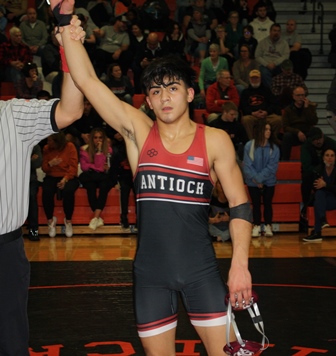 "I put everything in the hands of God, whom I trust, and believe in, and that trust is what has inspired me this season, and nothing else," says Albino (24-3) after accepting his first title of the season after a trio of second place medals at Antioch, Rich Township, and Bettendorf, Iowa.
"My confidence is so much better than last season, so is my footwork, and ability to attack and score points as the match goes on. So the rest is up to me," said Albino, who with two early pins in the tournament now has 11 on the season.
Albino, who was a dazzling 43-2 a year ago to help the Sequoits to its fourth place at the 2A state duals, took a 6-2 lead into the second period against runner-up Cooper Daun (Wauconda) before extending his advantage to 10-4 after four minutes, en route to a well deserved 17-6 major decision victory.
Daun (23-5) would impress on his way to the finals with a pin to open the tourney, followed by a tech-fall.
Zach Piszkiewicz (Warren, 18-14), and Hunter Hill (Libertyville, 23-12) were third and fourth overall.
138: Lorenzo Frezza, Stevenson
No. 2 Lorenzo Frezza produced yet another brilliant performance on the mats, highlighted by a trio of superb efforts from start-to-finish. That performance ended with his tech-fall at 2:25 against Evan Onstad (Warren, 21-4) to give Frezza his fourth major of the season and third Lake County Invite crown of his marvelous career.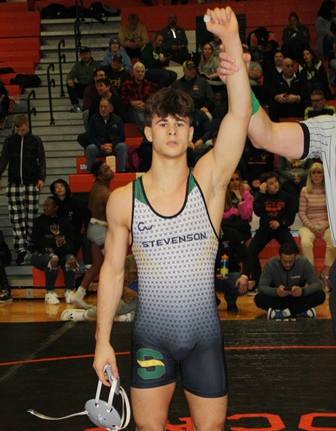 "All I can say is that Lorenzo is laser focused on the task ahead, and he showed that again yesterday, and today with three tremendous matches to win at 138," said a proud Stevenson head coach, Shane Cook, who watched his two-time state medal winner and three-time state qualifier dismantle the competition.
"I recently had a skin issue that kept me out of action far too long," Frezza said. "All I could do was jump rope to stay strong in my cardio and fitness. "It wasn't easy being on the sidelines but maybe it was a blessing in disguise, because I got a little rest and I feel really fresh for the stretch run."
Frezza has wins this season against Will Baysingar (Prospect, No. 2 at 132) and Tyler Guerra (St. Charles East, No. 3 ) included in his perfect 32-0 record.
"It was a good win against a tough opponent (Onstad) and while I'm happy with it, I'm not going to celebrate. We could see each other once or twice more this season," admitted Frezza.
Onstad would beat the No. 2 seed, and current No. 3 man in 2A, Anthony Streib (16-3) in his semifinal when the Antioch senior was forced to take an injury default with 90 seconds from time when he appeared to suffer an ankle injury.
Clayton Honaker (Grant, 16-11) and Logan Andrews (Wauconda, 22-12) were third and fourth, respectively.
145: Scott Busse: Lake Zurich
It appeared after Scott Busse (Lake Zurich) steamrolled his first two opponents that his third and final rival would be the next to suffer the same fate.
As a chess-like first period ended, it appeared that the Bears senior was on his front foot when he grabbed a 2-0 lead after a well-executed take-down against top-seeded Caleb Nobiling (27-8). But instead of adding points at a record pace as he did in his two previous contests, Busse (36-2) was forced to hang on to earn a hard fought, 2-1 decision over the talented senior from Antioch.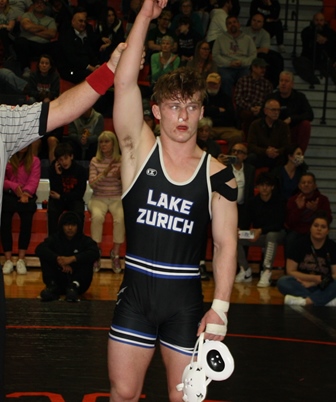 "I knew that Caleb would be a tough opponent in my final, and that it would be closer than my first two matches of the tournament," began Busse, after collecting his fourth major of the season.
"But I didn't attack like I did in those matches, and I could have been better with my angles, been more explosive, and probably could have moved more as well. But it was one of those matches where you have to grind out a win. As the season progresses, those are the types of matches I'll encounter," continued Busse, who will soon go on a visit to SIU-Edwardsville.
Nobiling, No. 2 in the state at 2A behind Bryce Griffin (Civic Memorial) started down in the third period, and immediately would halve the Busse advantage (2-1) with a neat escape.
Busse would admit afterwards he figured he earned two points when he came around Nobiling with 40 seconds on the clock. But after a stalemate with 34.1 remaining, and an attempt by Nobiling with 8.3 seconds left to go was defended smartly by Busse, it was all over.
"It feels great to finally win a conference title in my senior year, now it's all about working hard, and focusing on regionals, sectionals, and the state tournament," added Busse.
Cole Porten (Wauconda, 21-8) and Nicholas Asliani (Carmel Catholic, 26-7) were third and fourth, respectively.
152: Aaron Stewart, Warren
A wrestling fan would be hard-pressed to find a better wrestling rookie than Warren's Aaron Stewart. The freshman, who already amassed an impressive resume prior to entering the Blue Devils room, appears to be on his way to making a big imprint on the prep scene.
Stewart, who already claimed top honors at the Whitlach, and then the prestigious Cheesehead Invite in Wisconsin, left three rivals in his wake en route to the 152-pound title. Stewart gave Warren its lone championship on the day.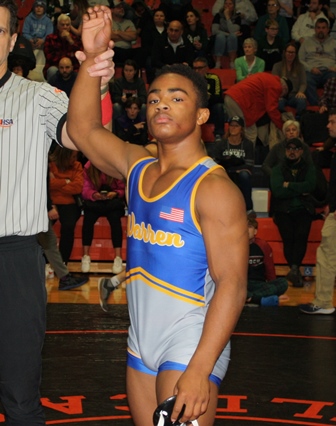 "I am really enjoying being a part of a high school wrestling program, as well as a team that has a great room and great coaches," Stewart (27-1) said, after his second-straight major decision victory ensured his weight division crown.
Stewart sits just behind No. 1 Kaden Fetterolf (Batavia) in the state polls. He opened tourney play with a pin at 1:03, followed by 17-7 major and then another major (23-9) against returning 2A state qualifier Seth Digby (25-7) of Lake Forest.
"I just go into the room each day looking to get myself better on top and bottom, keeping things clean, and getting myself ready for the next four weeks of the season," said Stewart, whose only loss of the season came to the No. 1 man in 2A at 152, David Mayora (Montini), by 4-2 decision at the Neuqua Valley Invite
Themba Sitshela (Stevenson, 22-14) and Aidan Foley (Lake Zurich, 27-14) were third and fourth, respectively.
160: Thomas Schoolman, Stevenson
Stevenson senior Thomas Schoolman saw his 2022 hopes and dreams dashed abruptly when he dropped his first-round match in the back-draw at 145 to Danny Herbert (Loyola) at the Barrington sectional.
"It was a tough way to go out for sure," said Schoolman, who went  33-7 on the season.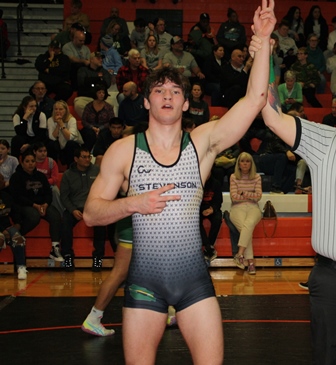 "When it happened, I began wondering to myself if my advancing to the IWCOA state tournament in 2021 was a fluke. So I worked during the offseason on being more patient in my attack, and not so wild with my approach with my shots, and just being a more defensive wrestler.
"Things have really turned around for me, and my confidence is so much better than it was a year ago. Winning here is a great way to begin the last few weeks of the season."
Schoolman, No. 8 in the IWCOA, was encouraged by his title run recently at the Illini Classic, and so was his coach.
"Thomas had a very strong tournament there," Stevenson coach Shane Cook said. "He beat some quality opponents, including the No. 4 kid from St. Charles East (Anthony Gutierrez) in his final, 5-3."
Schoolman (28-3) will wrestle next fall at North Central College in Naperville, where he grew up before moving north to attend Stevenson.
Zac Johnson (21-6) of Wauconda, who fell by major decision (11-2) to Schoolman in the finals, was champion at the Vernon Hills Invite over Thanksgiving weekend, and is third on the Bulldogs in pins with nine overall.
Royce Lopez (Warren, 28-9) and Ben Vazquez (Antioch, 26-10) were third and fourth, respectively.
170: Matt Kubas, Libertyville
Matt Kubas (32-5) would solidify his spot at No. 3 in the most recent state polls with his masterful performance at 170 pounds, which saw the Libertyville junior finish off his last two opponents via tech-falls to win his third title of the campaign.
Kubas, who lost here a year ago in the 160-pound final to eventual state medal winner Justin Warmowski (Grant), beat Stevenson junior Richie Gueorguiev with an unstoppable attack, which ended at 4:30 with the score 18-3.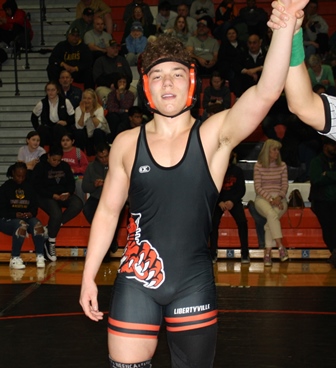 Gueorguiev has made great strides in his first season with the big club, already winning 22 matches thus far.
"(Kubas) gets after it from start to finish," Libertyville coach Dale Eggert said. "There are few who can keep up with his pace.
"Throw in some solid arm bars and it results in him earning a lot of bonus points, witnessed by a pin and two tech-falls in this tournament."
"I like to push the pace and keep scoring in order to continue to rack up points," Kubas said. "I try to put in a strong six minutes of effort, which I feel many of my opponents struggle with." Kubas (32-5) won earlier in the season at the Moore-Prettyman and recently at Glenbard West, and was fifth overall at the Dvorak.
Justice Humphries (Warren, 23-13) and Carter Vincent (Grayslake Central, 28-13) were third and fourth, respectively.
182: Matty Jens, Grayslake Central
Matty Jens struck gold for the third time this season when the No. 1-rated junior from Central beat up-and-coming Caleb Baczek (Libertyville) 18-8 to win his first league title of his career.
Jens (22-0) crushed his first two opponents during the weekend, registering his third tech-fall of the season and then a team-leading 17th pin on the season, before his encounter with the sophomore Baczek. Baczek took over for 'Cats senior Austin Gomez, who was out due to injury.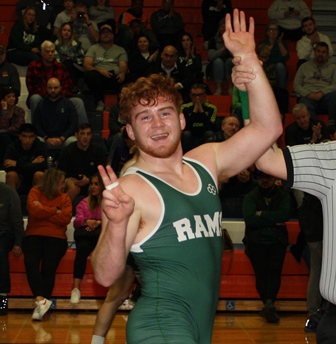 "We were looking forward to seeing Austin in the finals," Grayslake Central coach Matt Joseph said. "(Matty) was injured the first time they would have met. But Libertyville has some terrific depth in its upper weights and (Baczek) was really tough.
"Matty really uses heavy hands, and he kept his foot on the pedal in that final and never took it off. He can beat you in so many ways on his feet, and is constantly attacking, and he rarely gives his opponents a chance to breathe."
Jens has bounced back after some adversity this year.
"I tweaked my ankle earlier in the season, which kept me out of action for nearly three weeks," Jens said. "But I really feel in a way it helped me get my mind straight. I feel better than ever and right now if I can stay healthy the rest of the way, I feel like I can be the best 82-pounder in the state at 2A." Jens was a state runner-up a year ago, and is a two-time state medal winner.
Baczek (13-6) who recently won the Libertyville JV title at 195 pounds, drew even with Jens at 3-3 with 30 seconds remaining in the first period, but fell behind for good (5-3) moments later when Jens recorded a takedown near the edge.
The sophomore Baczek showed plenty of determination and grit to keep the contest close, but Jens extended his advantage to 10-4 at three minutes and kept attacking to finish with a flurry of points.
"We didn't expect Gomez to be out of the lineup this weekend, but if there is a weight class for a starter to go out for us it was 182 because we have a blue-chip sophomore who is big, strong, and fast in Caleb," began Libertyville head coach, Dale Eggert.
"He's had a few spot starts with the varsity and keeping him on our JV team is no longer a challenge. If he continues to improve at this rate, I definitely see a state medal for him in the future."
Antioch senior Seth Gomez (23-11), No. 5 in this state at this weight, finished third ahead of Josh Zimring (17-14) of Stevenson.
195: Aaron Cramer, Grayslake Central
Aaron Cramer would thunder past the finish line to win his second straight Lake County Invite title, and his fourth title of the season, after he smashed the 195-pound field in Libertyville.
The SIU-Edwardsville-bound Cramer (28-0) was a 2022 2A state runner-up, and he provided no relief for his three rivals over the tournament's two days. Cramer racked up his 15th pin and third tech-fall of the season to cruise into the finals, where he used a variety of weapons to beat Cole Matulenko (32-4) of Libertyville.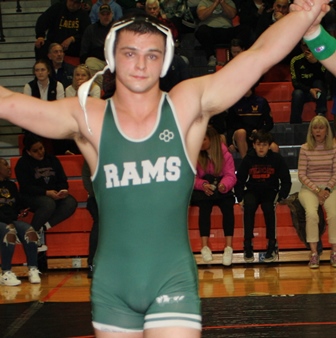 "We expected to see Matulenko in the final, and when Aaron's hands and feet are busy in neutral position, he is hard to defend," coach Matt Joseph said. "With a guy as big and physical like (Matulenko), and Aaron able to get to his attacks and dictate the pace of the match, we were not surprised by the outcome."
Cramer was up to the challenge.
"I was sick of late, but with having Matty (Jens) in the room with me, and taking care of myself, I felt really good at the start of the tournament and through to the final," said Cramer, second a year ago at 170 with a sparkling 47-2 overall record.
The affable upper-weight star suffers from Tracheomalacia, a weakness in the windpipe, where the walls of the trachea are floppy instead of being rigid. The condition was present at birth but not diagnosed fully until he was nine years old.
"I saw a lot of doctors when I was younger, and had a ton of tests done on me, and with having asthma also I use an inhaler to help me breathe easier, and help expand the airways," said Cramer.
"When I do get sick, it always seems to be an upper respiratory thing, which I've gotten used to. It usually keeps me out for a few days or so."
Cramer showed no signs of feeling ill from the onset, as his pace and work rate helped the senior flash a lethal attack en route to a championship run for the No. 2 man in the state, ranked just behind Mateo Casillas from Mahomet-Seymour. Matulenko came in ranked sixth.
Cramer now joins older brothers Alex and Adrien as two-time Lake County Invite champions.
Jeremija Hixson (Warren, 25-8) and Matt Luby (Lake Zurich, 22-11) were third and fourth, respectively.
220: Owen McGrory, Libertyville
Owen McGrory is no longer the surprise of Lake County, or for that matter the state, after the Libertyville junior marched through the 220-pound field on his way to his third major of the season and first ever Lake County Invite title of his career.
"Owen continues to amaze with his handling of other 220-pounders," coach Dale Eggert said. "He weighs just 190 and looks like he still has growing to do, but he's off-the-charts smart. When you throw in his leg riding, which throws off the 220-pounds, it's led to him having quite a season thus far."
McGrory is currently ranked fifth in Illinois.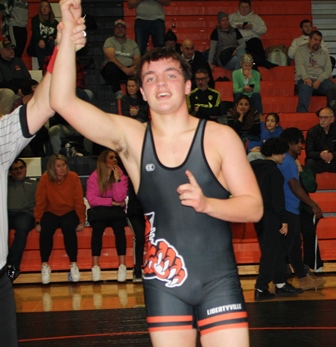 "I have to admit that I've surprised myself this season, but I feel like I've worked hard each day in the room to get better," McGrory (36-5) said. I've used a little bit of a funky style and my leg riding to help me against those guys who are bigger and stronger than me. I'll just keep putting the work in to get ready for the last three or four weeks of the season.
"I used a 'mouse trap' in that final and some strong leg riding to get the advantage against a really strong opponent," added McGrory, after his pin at 3:51 over Anthony Soto (26-9) of Warren.
Grant senior Cameron Lattimore, who was runner-up last weekend at 195 at the Clint Arlis Batavia Invite, placed third ahead of Mundelein sophomore Abisai Hernandez.
285: William Cole, Round Lake
Round Lake sophomore William Cole would end this terrific two-day tournament by claiming the top prize at 285 pounds, the second on the day for a Panthers program which finished 10th overall in a field of 16 clubs.
"William was behind a senior last year (Erik Tellez) and spent the season on the freshmen team," Round Lake coach Mike Hruska said. "He worked hard to get himself ready for the big jump up to the varsity team this year.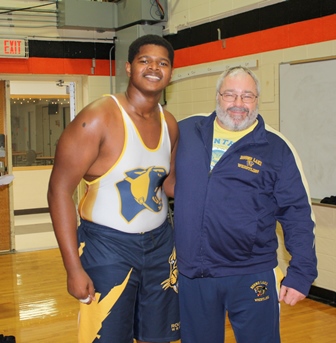 "He's a terrific young man who has come a long way in a short time. Once he grows into his frame, he'll have the chance to become a very good heavyweight for us."

At 6-foot-3 and 250 pounds, Hruska is also an increasingly rare three-sport athlete.
"There was a lot for me to learn but I feel like I'm getting better each time out," Cole said. "I am really enjoying the team and competing at this level as well." Cole is now 25-6 following his 2-0 victory over Grayslake North senior Dallas Dinkla, whom he beat with a super-quick, and crafty reversal at the start of the third period.
"Despite my inexperience at this level, I feel that I have the speed and quick feet to use to my advantage," Cole said. "It kind of worked for me when I started down in the third period, and was able to move quick enough to get the reversal."
Cole also plays on both sides of the ball in football, and throws during the spring track season. He's also a member of the Round Lake Speech and Debate team where he specialized in the Special Occasion Speaking (SOS) event.
Dinkla (14-10) earlier surprised top-seeded Caleb Christensen (Libertyville, 29-10) with a pin at 4:37 in the semifinals. Christensen then defeated Ivan Hernandez (Grant, 23-13) for third-place honors.