WRESTLING PROGRAMS LOOK TO TAKE THE STING OUT OF COVID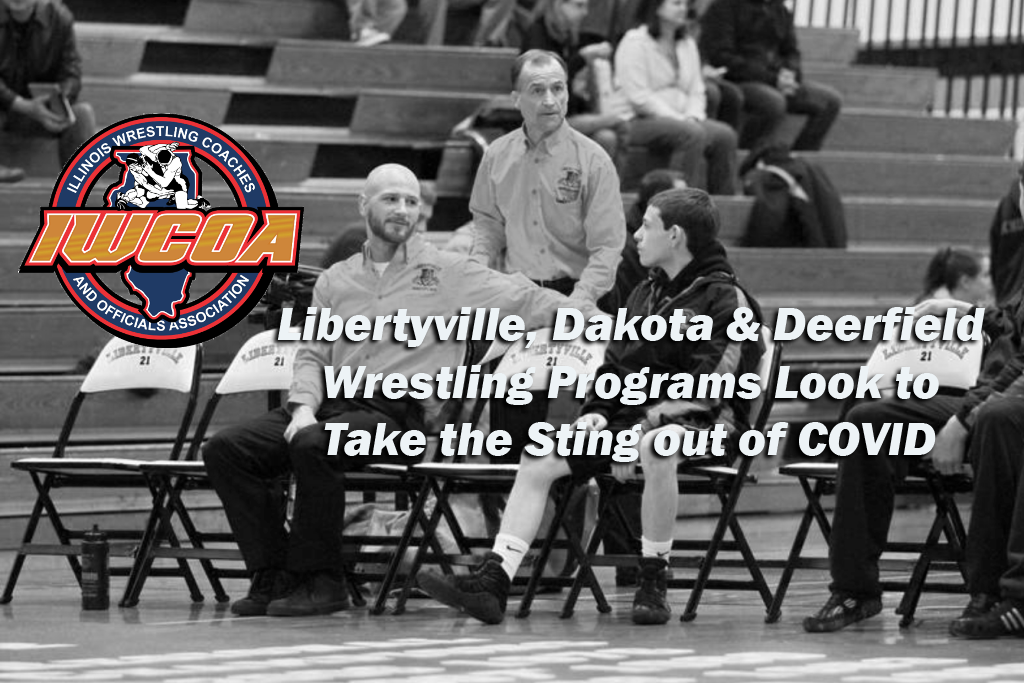 WRESTLING PROGRAMS LOOK TO TAKE THE STING OUT OF COVID – AN IWCOA FEATURE STORY
by Mike Garofola

In sports (or the sport of wrestling) injuries are inevitable.
Even when athletes are in peak physical form, and specifically train to stay fit and mobile, a single errant misstep, awkward landing or violent collision can bend joints and limbs in ways they aren't meant to move.

And while coming back from any injury can will test any athlete – the battle with COVID, which has proved to be a heartless monster, is unlike any injury wrestlers have had to overcome.
The IHSA recently threw the sport a lifeline when it announced a regular season, albeit, a truncated one, which is scheduled to begin April 19.
Long before this announcement, coaches all around the state, including a trio of sensational leaders, have kept their guys engaged in a variety of ways – while providing positive energy, and moral support in order to insure their program remains physically and mentally ready should the 2021 season come true.
Dale Eggert, Pete Alber and Marc Pechter have each tasted regular and postseason success all throughout their careers – watching their lads navigate themselves through the rigors of a long, and arduous campaign in order to find themselves on the podium in Champaign.
Eggert, Alber and Pechter, like each and everyone of their peers, work hard to bring the best they can out of their men, not to only achieve success, but also, and perhaps more importantly, help mold them into fine young men.
While The COVID-19 pandemic has tested and stretched the mental and physical being of all,Eggert the brilliant long time head coach at Libertyville High School – remains unwaveringly optimistic – knowing as long hope remains, the possibility of overcoming this near year long battle will end on a positive note.
"I've seen a lot in all my years in this sport, but nothing quite like this," admits Eggert, who, if there is a 2021 campaign, will begin his 34th as the man in charge at Libertyville, and his 43rd overall..
"You feel badly for all of your guys, everyone in the sport for that matter."
"(But) it's especially difficult for the seniors, who all know there's a chance that high school wrestling – for them – may have ended last February."
Eggert, for those you may not know, sits just outside the top 5 in career victories in the IHSA with 595, to go along with 114 state qualifiers, in what is a sensational coaching resume.
Year in, and year out, Eggerts' lads are always among the most technically and tactically ready wrestlers, which makes a Libertyville wrestler a difficult opponent to pry open during a match.
Libertyville, like every other program in the state, were allotted 20 'contact' days last fall, but after a pair of Wildcats shortened the contact days after becoming infected, Eggert and his staff led just a dozen days.
"It was great seeing 30+ guys in person as we worked on agility, conditioning, footwork, technical things (and) just having dialogue with everyone as a team," said Eggert.
When this was over, Eggert knew he had to continue to keep his men engaged, so he got creative by piecing together Video Homework Assignments. These assignments would include: * viewing a video on defensive moves that scored, and how many of each type there were.* viewing (4) matches of former Wildcats' great, Danny Pucino (now at Illinois) – and listing how many takedowns the 2019 state runner up tallied.* viewing a Nutrition-Weight Control-Making Weight video.
"We're all very fortunate to have a head coach like (Dale) Eggert," proclaimed senior, Chase Baczek, who enjoyed the virtual assignments, and used them to supplement time spent at the Poeta Training Center along with teammate Josh Knudten, and a handful of others, who trained at Poeta also.
"(Eggert) is amazing," continues Baczek.
"The virtual work is great. There's technical, and conditioning things we work on, plus it helps us all stay in touch with each other a couple of times a week."
Baczek, who found himself in the 170-pound 'Group of Granite' division came 'this' close to earning a trip downstate last season when he lost 2-1 in his state qualifying bout at the Barrington sectional.
"(David) Ferrante and Luke Rasmussen went one-two at state, and another guy (Richardo Salinas) finished sixth – so it was tough weight class last season, and that's why it is important to have a season in order to get downstate and get on the podium," admits Baczek, who finished at 37-9 in 2020.
The affable Libertyville senior would compete at the Super 32 at 182 pounds, and despite the high level competition (felt) the trip to Myrtle Beach was well worth the experience.
Baczeks' partner in the room, Josh Knudten, who was one of (3) from Libertyville to make it downstate is a big fan of Eggerts' virtual program as he looks ahead to a hopeful 2021 campaign.
"I look forward to the assignments we receive each week," begins the junior. (It) helps keep me focused and mentally and physically good about myself, as does my regular workouts during the week."
Knudten, who won 32 a year ago, continues his training as if the regular season were about to begin.
"I eat, lift, condition, and continue to train like we were in our season, and with the vaccine now here, I am feeling really good about us having a wrestling season (and) for me, it's all about going out there looking to prove myself as a person who can compete for a state title."
For all the success the Dakota program has achieved – and there's been plenty – Peter Alber, and Andrew Wenzel remain cautiously optimistic of a 2021 wrestling season. Pete Alber has lifted plenty of dual team state championship trophies, and since taking over the Dakota program in 2005, has celebrated dozens of individual titles along the way, including his own in 1981 – but this stoppage in play due to COVID is something that just breaks his heart.
"(It) just stinks there's that chance of not having a season – but it especially difficult knowing it could happen to our seniors," admits Alber. We're all holding out hope the season does in fact start in April, but without a state tournament, so we'll see what eventually happens."
Dakota has collected (5) dual-team state titles under Alber, including his first in 2006 in advance of a marvelous four-year run (2013-2016) when the program brought four straight.
"There's a lot of tradition and pride when it comes to Dakota wrestling – that's why it's difficult not having the guys around full time (everyday) in the room," begins Alber. Having them in the room makes life normal for them – it gives them purpose each and everyday, and allows them to see their friends and teammates on a daily basis – which is what they all need."
Prior to opening up to in-person learning after Thanksgiving, Dakota High School was in full 'remote' which meant Alber and his staff were not allowed in to coach.
"I know a lot of the guys were working hard on their own (also) getting extra work off site at their respective clubs, and traveling out of state to compete when the opportunity was available to them."
Like his head coach, Andrew Wenzel is keeping his fingers crossed he and his mates have a season come mid-April.
"We're all hoping to have a season, it's something we talk about – and coach (Alber) has remained upbeat about our chances whenever we talk and get together," says the top man in the Dakota program.
"It's obviously tough for all of us, especially the seniors, but also for our freshmen, who I want to see experience their first high school wrestling season."
Wenzel has a freshmen brother (Noah) who looks to be ready to compete at 195 this spring. After considering a handful of Ivy League schools, then watching his No. 1 choice (Stanford) announce it would drop the program – Wenzel signed on to attend, and wrestle at the Air Force Academy.
"I know I made the right decision to go to the Academy, it's a great place for me to wrestle, and to challenge myself in the classroom," says Wenzel, who will already know Jared Van Fleet, who was a four-time state medal winner while starring at Stillman Valley High School. After his commitment to the service in completed, Wenzel will look to go onto medical school.
There's another reason Wenzel wants to see his final year at Dakota finish in the room – and that will be securing a second 1A state title after earning his first during his sophomore season. In the championship bout a year ago, Wenzel would take on Logan Deacetis of Prairie Central in contest between the top two men all season long at 170 – with Deacetis holding on for a 3-2 victory.
"Logan was a great opponent, but if I had to do that match over again, I would have push the pace a little more, and get to my offense better."
Back in the day, Deerfield wrestling would have a difficult time taking one step forward, without taking two back. With the Warriors program dangerously close to being put out of its misery – enter Marc Pechter, who in time, turned his club into one of quality, and success by changing the culture from top-to-bottom.
"Deerfield had not won a single dual meet in conference in the ten years prior to me coming here, so there were a lot of things we had to meet face on in order to getting us to where we wanted to be," said Pechter, who last year would guide his men to a 12th consecutive divisional title in the Central Suburban North.
"Those were tough times back then when I got here, but (we) got through it – and now we have to get through another rough time with COVID."
While Pechter would enjoy ten days of pure bliss during the first ever family vacation over the recent holiday break, it also meant for the first time, he and his staff would not be around his guys in the room, and at tournament competition.
"It really hurts to see the guys sitting (this) out right now – especially the seniors, I just can't fathom them possibly seeing their wrestling careers cut short by a year," admits Pechter.
"It's been important for me to stay in touch with the team, making sure they're staying with their workouts, and academics, while for our upperclassmen – reaching out to college coaches so our guys don't slip through the cracks and get lost during these times."
Just like Dale Eggert, the Warriors head coach uses zoom meetings to show a wide variety of subjects to keep his men connected, including: an ESPN documentary on Iowa wrestling, or Dan Gable as a guest speaker, who focused on how to cope during hard times, while also providing inspirational words about USA wrestling.
"We have the guys watch video from the previous years (highlighting) individual and team efforts at duals, tournaments, and the postseason," adds Pechter. Whenever the Warriors get together, Pechter and his stafff stress the importance of first rate hygiene, masks and social distancing – whether lifiting on their own, or part of skill work in small groups.
"Dale, Peter, myself, and everyone else around the state are hoping to have a regular season, and maybe even a state tournament led by the IWCOA – we might even do some outdoor competition out on the football stadium turf as part of a fund-raising event."