Yorkville Christian has big plans after winning Seneca Regional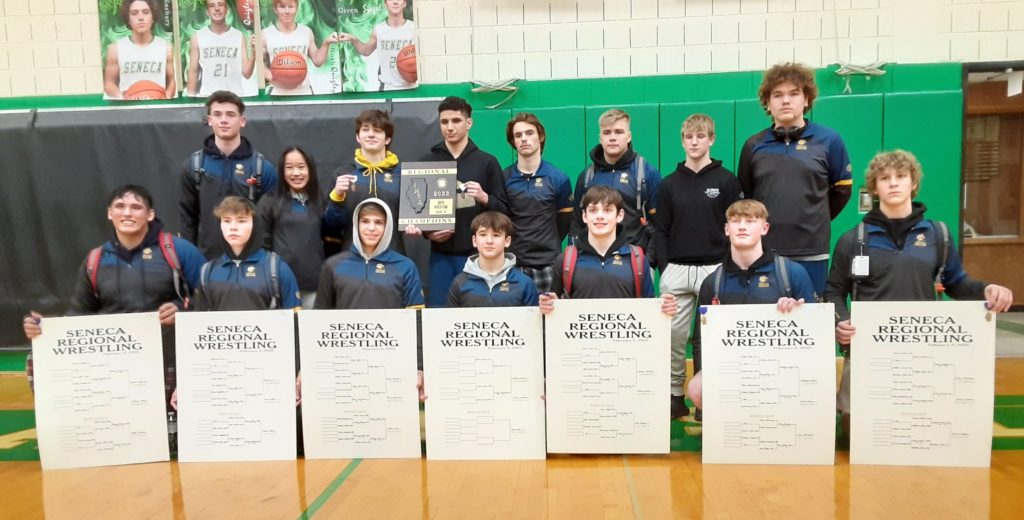 By Curt Herron
For the IWCOA
SENECA – Yorkville Christian heavyweight Michael Esquivel made a bold claim on December 11 after his team sent 14 to the semifinals and had five champions and six second-place finishers to help it score 229 points and beat Sandwich by 49.5 points to claim top honors at the Plano Reaper Classic.
"I know how good this team can be, this is a heck of a team," Esquivel said at the time. "We only had eight guys last year and were trying to get a regional title and we lost by half a point and that hurt and we could have had them if certain things played out. Going into this year, I want that regional title and the sectional title and hopefully the state title. We have a bunch of hammers on our team now that we can make a run at that team state title."
The Mustangs senior definitely was on to something as his team went from honorable mention to ranked ninth at the start of 2022 and had moved up to seventh heading into the Class 1A Seneca Regional, where they met up with third-ranked Coal City, ninth-ranked Reed-Custer and 17th-ranked Seneca in one of the toughest tournaments in the class.
Entering the final round with a three-point lead over the Coalers, Yorkville Christian opened with four title wins in the first five weights to take control and moved ahead by as much as 30 points after two more firsts and settled for a 200-175 final margin over Coal City for top honors after Esquivel capped his team's 7-0 performance in championship matches. Reed-Custer took third place with 122.5 points while Seneca was fourth with 102 points and Peotone took fifth with 88 points to round out the top half of the field.
Following this weekend's regionals, Yorkville Christian, which had just four competitors, including current senior Isaac Bourge, on their first regional team in 2019, is now second in Rob Sherrill's IWCOA rankings behind only Lena-Winslow/Stockton. It moved one spot in front of Coal City, who saw its hopes dashed of getting back to the IHSA dual team finals for the sixth time in seven seasons and adding to the three second-place and two thirds that it has claimed during its successful run in Bloomington.
Coach Mike Vester's Mustangs will be represented by their seven champions and two third-place finishers at the Coal City Sectional, where they hope to have multiple qualifiers for the IHSA finals. Then the first-time regional champions set their sights on the dual team series, which they begin on February 22 when they try to earn a quarterfinal spot against another first-time regional winner, Phoenix Military Academy of Chicago, who took first at the Chicago Hope Academy Regional, at a site still to be determined.
Yorkville Christian has a 14-5 record in dual meets but has only faced a handful of Class 1A opponents. Two of its losses came against Lockport (No. 5 in 3A) while the others were to Marist (No. 2 in 3A), Washington (No. 2 in 2A) and Deerfield (No. 3 in 2A). And they've faced strong competition against bigger schools in tournaments at Antioch, DeKalb, Wisconsin's Cheesehead and Mahomet-Seymour.
Champions for the Mustangs were Aiden Larsen (35-6 at 106), Isaac Bourge (25-9 at 120), Grason Johnson (14-16 at 126), Noah Dial (32-8 at 132), Tyler Martinez (33-10 at 160), Jackson Gillen (39-5 at 170) and Michael Esquivel (30-12 at 285). Finishing in third place were Braulio Flores (26-18 at 138) and Drew Torza (31-13 at 152) while Jackson Mehochko (182) and Christopher Durbin (195) claimed fourth place.
"When we started the season, this is what we wanted, but when you finally get here, you look at it and go, wow, that was an undertaking," Vester said. "You're watching every match and turn of events and then to put seven in the finals and then one-by-one-by-one they started knocking them out. But I could see right after the break that there was a resolve in them to come out and do just that and I was real proud of how they approached their championship matches. Whoever it is that we were going to go up against, in whatever regional or sectional, we knew that we just had to be more prepared.
"When we saw the brackets we knew that they had somebody good at every weight class and that's why they're such a good tournament team. We knew that we had to take care of business and get some bonus points when we could. A lot of them have known each other for a while, so there's family, and when someone new comes in, they bring them in the same way."
Coach Mark Masters' Coalers were led by champions John Housman (26-6 at 113), Braiden Young (31-7 at 182) and Ashton Harvey (6-1 at 195) and second-place finishers Culan Lindemuth (32-7 at 106), Brant Widlowski (35-6 at 120), Jacob Piatak (28-8 at 126), Zach Finch (32-5 at 152) and Derek Carlson (26-5 at 160) while Joey Breneman (20-9 at 170) and Dylan Cronk (19-11 at 220) placed third to advance and Mateo Blessing (145) settled for fourth place.
"They're a very good tournament team and we're a very solid dual meet team and we can put 14 quality kids out there," Masters said. "We had to be perfect today and we that going in, but we weren't. But the kids wrestled real hard and you can't question the effort. We have coaches in the right place at the right time and we're building off of that. And that's what you have to have, everybody's working together and all of the coaches are on the same page with the same goal. It's been consistency in the coaching staff. And the kids need to buy in. It's tough because we have multiple-sport athletes, we're not just wrestlers. We're going in the right direction."
Leading the way for coach Yale Davis' Reed-Custer Comets were champions Landon Markle (31-8 at 145) and Kody Marschner (33-0 at 220) while Ryan Tribble (22-5 at 138) and Gunnar Berg (24-6 at 285) finished second and Sam Begler (24-6 at 126) advanced with a third-place finish. Finishing fourth were Jeremy Eggleston (132), Brenden Tribe (160) and Rex Pfeifer (170).
Coach Todd Yegge's Seneca Fighting Irish were led by second-place finishers Tommy Milton (24-14 at 113) and Owen Feiner (40-5 at 145) while Kyler Hahn (26-8 at 106), Jaden Casey (36-10 at 120), Robby Nelson (32-9 at 132) and Chris Peura (39-7 at 195) placed third and Nick Grant (126), Asher Hamby (152) and Alex Bogner (220) finished fourth.
The tournament's other two champions were Peotone's Marco Spinazzola (36-2 at 138) and Bishop McNamara's Luke Christie (22-2 at 152).
Gillen and Marschner tied for first in team points with 24 while Dial had 23. Bourge, Esquivel and Young each scored 22 points, Spinazzola had 21 points and Johnson, Larsen and Martinez all finished with 20 team points.
Other second-place finishers were Peotone's Ian Kreske (33-10 at 132), Oscar Villalobos (33-13 at 182) and Alex Cardenas (22-16 at 220) and Manteno's Wyatt Young (19-7 at 170) and Gabe Johnson (23-7 at 195).
Bourge, Gillen and Harvey also won regional titles in 2020 while Finch fell a point shy of winning a third title and Flores, Tribble and Young came up short of getting back to the top of the awards stand.
Also finishing in third place to advance to the sectional were Manteno's Carter Watkins (27-6 at 160) and Colin Zeppi (21-5 at 182), Peotone's Kevin Hogan (33-10 at 145) and Wilmington's Blake Shirey (22-6 at 285). Additional individuals who took fourth place were Bishop McNamara's Jackson Jeck (120), Illinois Lutheran's Josyah Holland (138) and Manteno's Damian Alsup (285).
Coal City has the most qualifiers with 10 while Yorkville Christian has nine. Seneca qualified six, Reed-Custer and Peotone both have five advancing and Manteno has four.
Here's a closer look at the champions and other placewinners at the Class 1A Seneca Regional tournament:
106 – Aiden Larsen, Yorkville Christian
Aiden Larsen wanted to get his Yorkville Christian team off to a good start in the final round and the freshman certainly did that by recording a fall in 1:45 over Coal City freshman Culan Lindemuth in the 106 title match.
Larsen (35-6), who's ranked seventh, added to a first-place finish at Plano, by setting the tone for his team in a series of four early title matches that his team won to take control, with three of those coming against Coal City.
"I think that we have a good shot at winning a team state title," Larsen said. "I feel like the rankings mean nothing. I don't think we're a number-seven team and I think we're at the top and I think I can go out there and win an IHSA state title this year. We've wrestled a lot of 3A competition at the Cheesehead and Flavin. Some of these guys have seen maybe one or two 3A teams and we've seen one or two 1A teams. It's one week at a time now, that's what your mindset has to be. It could be your last match."
Lindemuth (32-7) had a battle on his hands in the semifinals and advanced to the title mat with a 3-2 decision over Seneca's Kyler Hahn (26-8), who claimed third place.
113 – John Housman, Coal City
John Housman had a good reason to be a little rusty due to limited competition in recent weeks but the Coal City senior got the job done when it counted by capturing a 2-0 victory over Seneca's Tommy Milton in the 113 title match to become one of his team's three champions.
As a result, Housman (26-6) helped his cause at the sectional tournament that his school hosts while freshman Milton (24-14) will gain valuable postseason experience.
"I had a hard week at practice since I was missing some partners, but I did the best that I could since I hadn't wrestled in awhile," Housman said. "I hadn't wrestled since we went to Princeton to wrestle them and Dakota (January 15). At conference and at other duals, they didn't have any others at 113. I have a few tough kids at sectionals, so I'm taking it match by match."
120 – Isaac Bourge, Yorkville Christian
In a key title match involving the two squads battling for the team championship, Isaac Bourge did his part to help Yorkville Christian get off to a fast start in the finals that ultimately helped to put them in control.
Bourge (25-9), a senior who's ranked fourth with a title at Plano this season to go along with being a state qualifier at both the 2021 IWCOA and 2020 IHSA finals, got a takedown with 25 seconds left in overtime to capture a 3-1 victory over Coal City sophomore Brant Widlowski. Bourge advanced to the finals with two falls, including one in 5:31 in the semifinals over Bishop McNamara junior Jackson Jeck.
"It was crazy close between Coal City and us for team points," Bourge said. "I feel like I started off slow, but in these last matches, everyone has really stepped it up a notch. We faced a lot of Coal City kids in the finals and we were neck and neck, but we turned it up to the next level and have been winning the matches, and that's great. In my freshman year, we started with four kids and we couldn't even do duals, but now we have 19 kids. Just to be able to beat schools that are way bigger than us, it just feels amazing."
Widlowski (35-6) also used a pair of falls to advance to the title mat, winning in the semifinals in 2:19 over Seneca senior Jaden Casey. The two semifinal losers had a tight battle in the third-place match with Casey (36-10) edging Jeck by a 9-8 score.
126 – Grason Johnson, Yorkville Christian
Grason Johnson made it 3-for-3 for Yorkville Christian in decisive head-to-head clashes between Yorkville Christian and Coal City competitors in early title matches that helped to put his team in control for good.
Johnson (14-16), a sophomore, followed Isaac Bourge's dramatic win with a close decision of his own when he captured a 4-1 victory over junior Jacob Piatak. Johnson advanced to the title mat with a 12-3 major decision over Reed-Custer sophomore Sam Begler.
"This is one of the hardest regionals, so it feels good to win it," Johnson said. "As a team, it feels good. We came in here and our coaches said that we were going to win and we came out and said that's what we're going to do. We've put in hard work all year, and so have our coaches have, too, and that's a big part of it. They make practices and tournaments fun and everyone just has a good time. This regional really tested everyone."
Piatek (28-8) also had a decisive win in the semifinals, recording a fall in 0:53 over Seneca freshman Nick Grant. In the third-place match, Begler (24-6) recorded a fall in 2:01 over Grant to advance to the sectional.
132 – Noah Dial, Yorkville Christian
Noah Dial capped a 4-0 start for Yorkville Christian competitors in title matches when he captured a 10-0 major decision over Peotone's Ian Kreske in the 132 finals.
Dial (32-8), a junior who's ranked sixth that also won a title at Mahomet-Seymour and was a state qualifier in 2020, advanced to the title mat with a fall in 2:23 in the semifinals over Coal City sophomore Chase Dehler.
"It does feel good," Dial said. "As a team, this is all that we've been looking for all season. Obviously we want to further ourselves as individuals, but the team state was our biggest goal, for sure. Our coach gave us a really tough schedule, wrestling in the Cheesehead and wrestling Washington and Lockport and all of those good schools. It's just good matches for times like these. I like the energy that we have in and out of the room. We're all super close with each other and support each other, it's a difference, for sure. My ultimate goal is making the state finals. Obviously there's a lot of hard work to get there, but we have a good room to put in that hard work."
Kreske (33-10), a sophomore, advanced to the finals following a pair of decisions, including a 5-4 triumph in the semifinals over Seneca freshman Robby Nelson. In the third-place match, Nelson (32-9) won 8-1 over Reed-Custer freshman Jeremy Eggleston.
138 – Marco Spinazzola, Peotone
Marco Spinaazzola has his sights set on qualifying for state for the third-straight year and the Peotone junior who's ranked seventh seems to have positioned himself to do just that after winning the title at 138 over another state-ranked individual who also competed in both the 2021 IWCOA and 2020 IHSA finals, Reed-Custer's Ryan Tribble.
Spinazzola improved to 36-2 after claiming a 6-2 victory over senior Tribble, who's ranked eighth, in the title match. The Blue Devils standout who also won a title at Unity after beefing up his offseason training, won his semifinal match by technical fall over Seneca sophomore Nate Othon.
"I wrestled him three weeks ago and beat him but he came back stronger than I expected," Spinazzola said about Tribble "I'm really excited and I can't wait till state. I have a few hard kids but I saw my name ranked up there and I thought, okay, I've got a shot at this. I did a lot more offseason training, too, so hopefully that pays off. I worked with Vasil Robinson and me and Vincent were practice partners like all summer and I went to Fargo. It really makes a big difference. I complained about doing to it, but it was worth it."
Tribble (22-5), who was a regional champ in 2020, won a pair of close decisions to advance to the finals, with the last one a 4-2 victory in the semifinals over Yorkville Christian senior Braulio Flores, who also won a regional in 2020. In the third-place match, Flores (26-18) won 17-6 over Illinois Lutheran's Josyah Holland, his school's lone entrant.
145 – Landon Markle, Reed-Custer
Landon Markle is hoping that his junior season is a breakthrough one that allows him to advance to state for the first time and after beating a pair of individuals who have advanced to state before, he may be on his way to doing just that.
Reed-Custer's Markle improved to 31-8 after capturing a 10-6 victory in the 145 finals over Seneca senior Owen Feiner, who was fifth at the IWCOA finals. After opening with a major decision, Markle won 9-3 in the semifinals over Coal City junior Mateo Blessing, who qualified for state in 2020.
"It was definitely a hard one going in since I knew that I had a hard bracket," Markle said. "My coach calls it the gauntlet and you have to face the gauntlet to keep going. I kept telling myself right before my match that I have to start my legacy now. I still have another year, but it all starts this year. We've had a good team all year and our kids have come out and performed. We had some holes that we were trying to fill but we couldn't find people. But throughout that, we still pushed through it and kept going."
Feiner (40-5), who won a title earlier this season at Seneca, followed a win by technical fall with an 8-4 semifinal victory over Peotone senior Kevin Hogan, who qualified for the IWCOA in 2021 and the IHSA in 2020. In the third-place match, Hogan (33-10) advanced after getting a fall in 2:48 over Blessing.
152 – Luke Christie, Bishop McNamara
Luke Christie entered the Seneca Regional as the top-ranked individual at his weight class and now enters the Coal City Sectional in the same position after capturing a 5-4 victory over Coal City senior Zach Finch, who's third-ranked, in the 152 title match.
The Bishop McNamara junior, who won titles at Unity and in the Metro Suburban Conference, is a two-time state qualifier who owns a 22-2 record and has a lot of confidence as he seeks his first state medal. He earned his spot on the title mat after capturing an 11-7 win over Seneca sophomore Asher Hamby in the semifinals.
"It feels good to win this since I had a tough bracket," Christie said. "This was definitely a tough regional and sectionals are going to be harder so it feels good to come out on top. I'm very happy with how my season has been going. I took a few losses, but the confidence is still there. I have one of the best coaches in the state and training partner, Jake Kimberlin. If I can hang with my coach and score here and there, then I know that I can beat anybody in the state. I just have to keep the confidence rolling, even if something happens, you just have to stay mentally there. If you get taken down, you get right back up and take them down. I'm excited to see what happens."
Finch (32-5), who was a state qualifier in 2020 and was vying for a third regional title, earned his spot on the title mat after claiming a 3-1 decision over Yorkville Christian junior Drew Torza in the semifinals. In the third place match, Torza (31-13) won 7-2 over Hamby to earn his spot in the sectional.
160 – Tyler Martinez, Yorkville Christian
Tyler Martinez has an impressive resume this season after capturing a fourth tournament title and now the Yorkville Christian junior looks to add to some of his highlights before this season which included placing eighth in Greco Roman at Fargo and third in the IWCOA finals.
Martinez (33-10) added to titles at Antioch, Plano and Mahomet-Seymour when he captured a 5-1 victory over Coal City junior Derek Carlson in the 160 finals. After opening with a fall, Martinez captured a 7-0 semifinals victory over Manteno sophomore Carter Watkins.
"It was great to come out here and be able to wrestle some of the best teams in 1A after our really hard season that we put together where we were wrestling 2A and 3A schools and only wrestled four total 1A duals," Martinez said. "It was great to come out here and show that our preparation paid off. We knew coming here that Coal City was the team to beat so we knew that we had to win our advancement matches and win with big points. The momentum was great and we went undefeated in the finals. It's a great feeling not only that individual season isn't over with sectionals coming up but that we'll also get to continue our dual team season and hopefully go out and compete for a team state title."
Carlson (26-5) earned his spot on the title mat after recording a fall in 3:00 over Reed-Custer senior Brenden Tribe in the semifinals. In the third-place match, Watkins (27-6) won by fall in 2:34 over Tribe.
170 – Jackson Gillen, Yorkville Christian
Jackson Gillen earned a spot in his fourth tournament finals of the season and added to a title win at Plano when the Yorkville Christian junior, who's ranked fourth, improved to 39-5 by claiming top honors at 170.
Gillen won his title by injury default when Manteno senior Wyatt Young was unable to compete in the title match. Gillen advanced to the finals after winning by fall in 0:37 in the semifinals over Reed-Custer sophomore Rex Pfeifer.
"It was awesome," Gillen said. "We knew that we could come in here and get the title, we just needed to execute, and I think we did that very well. We only wrestled 2A and 3A schools and that really sharpened us up. I think we only wrestled three 1A schools the entire year. You can feel the energy once someone in front of you wins, it just gets you ready for your match. I like how close we are, we're like brothers. We've been around each other so much and it's just good to bond with each other and I think that's important for a team."
Young (19-7), who was a regional champion in 2020, captured a 6-1 victory over Coal City junior Joey Breneman in the semifinals to become one of the Panthers' two finalists. In the third-place match, Breneman (20-9) claimed an 8-5 victory over Pfeifer.
182 – Braiden Young, Coal City
Braiden Young heads into his own sectional as one of the favorites at 182 after claiming top honors in the Seneca Regional with an 11-4 victory over Peotone senior Oscar Villalobos, becoming the first of two Coalers champions.
Young (31-7), a junior who is ranked tenth, was an IWCOA qualifier last year. He earned his spot in the title match when he recorded a fall in 3:33 over Reed-Custer junior Brandon Moorman in the semifinals.
"We wrestled great as a team but we fell a little short." Young said. "But we have some individuals who are going to go on to sectionals and then hopefully they go on to state. It's a lot of fun. We have good coaches and they coach us up and we succeed as a team. There were a lot of hard kids here and it will just keep getting harder but I'm feeling confident. Our wrestling is very competitive and it makes it very good to train. I have a very good coaching staff and my wrestling partner, Derek Carlson, is very good and he's been helping me a lot this year."
Villalobos (33-13) advanced to the finals with a fall in 2:31 over Manteno senior Colin Zeppi. In the third-place match, Zeppi (21-5) won by fall in 2:16 over Yorkville Christian junior Jackson Mehochko.
195 – Ashton Harvey, Coal City
Due to having a broken leg that he suffered in football, Ashton Harvey has definitely had a very abbreviated season, but that might not be the worst thing for the Coal City senior, who was also a regional champion in 2020.
Competing in just his seventh match, Harvey won for the sixth time when he captured a 3-2 decision over Manteno senior Gabe Johnson in the 195 title match. Harvey, who's ranked seventh and was an IHSA qualifier in both 2020 and 2019, earned his spot in the finals with a 5-2 semifinals win over Yorkville Christian junior Christopher Durbin.
"I had a couple of tough matches, but I needed them," Harvey said. "I need to get the gas tank better and need to build up the endurance and get ready for sectionals. Unfortunately we aren't moving on as a team but we definitely have a solid team and hopefully next year they'll make a decent run. Honestly, I'm just excited to be back. I had an injury and came back and only wrestled five matches before regionals and that set me back, for sure. I have a good practice partner in the room, Zach Finch, and we've been working really hard lately. I've been wrestling for a while, so I should be good to go."
Johnson (23-7) earned his spot in the finals when he claimed a 10-8 overtime win over Seneca sophomore Chris Peura in the semifinals. Peura (39-7) bounced back from that tough defeat to claim third place when he won 16-4 over Durbin.
220 – Kody Marschner, Reed-Custer
While there are a lot of outstanding records among the qualifiers who will be competing in the Coal City Sectional, Kody Marschner is the only one with a significant number of matches that hasn't suffered a defeat.
The Reed-Custer junior, who's ranked third, improved to 33-0 after recording a fall in 4:30 over Peotone junior Alex Cardenas in the 220 finals. Marschner, who took second in the IWCOA and qualified for state in 2020, has title wins at Princeton and his school's invite. He got a fall in 45 seconds over Seneca sophomore Alex Bogner in the semifinals.
"It feels really good," Marschner said. "I knew that this would be like a stepping stone for sectionals, because I have a really tough sectional and that's just what I have my eyes on right now. I think that I have a really good shot at winning it this year and next year, that's my goal. We've only had one two-timer, Billy Chancey, and that's what I really want to be. I'm so much better on my feet. Last year, I had shots head down but this year I don't think I have a single shot with my head down. And I've just expanded what I do."
Cardenas (22-16) earned his spot in the finals with a fall in 5:30 over Coal City senior Dylan Cronk. In the third-place match, Cronk (19-11) recorded a fall in 1:14 over Bogner.
285 – Michael Esquivel, Yorkville Christian
Michael Esquivel had high hopes for his senior season after placing fifth at the IWCOA finals and following title wins at Antioch and Plano with a regional championship at 285, the Yorkville Christian athlete is ranked fourth and hopes to perform well in the Coal City Sectional and then pursue state medals both individually and with his team.
Esquivel (30-12) claimed a 3-1 decision over Reed-Custer junior Gunnar Berg to capture the regional championship after recording a fall in 5:51 over Coal City junior Michael Gonzalez in the semifinals.
"I knew what my team could do from my past experiences of winning a team regional at Aurora Christian," Esquivel said. "I knew right away as soon as the building blocks were together that we could win ourselves a team title, the first regional title in school history, and I'm very proud of these guys. I knew that this team could be something, especially under coach Vester. Like I said before at the Reaper, I know what my team can do from the lightweights up to the heavyweights since they know how to compete." Berg (24-6) advanced to the title mat with a fall in 1:36 over Wilmington senior Blake Shirey in the semifinals. In the third place match, Shirey (22-6) recorded a fall in 0:18 over Manteno junior Damian Alsup.
FROM THE IWCOA: If you are enjoying these articles, please consider a small donation to the IWCOA so that we can continue funding feature stories for our website and social media. The IWCOA is non-profit, 501(c)(3) organization. Click this link to make a donation. Thank you!