A little old, a little new highlighted Class 3A dual team field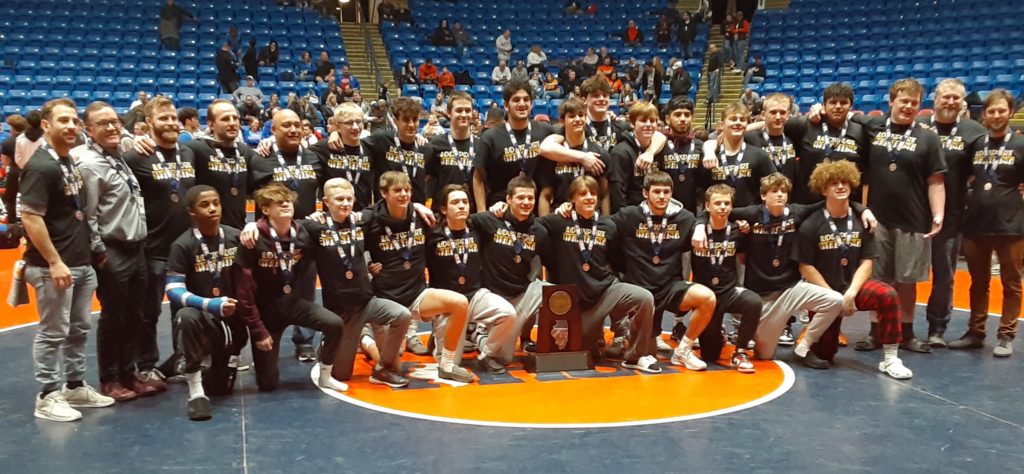 By Mike Garofola
This year's Class 3A field of the IHSA Dual Team State Tournament in Bloomington featured several schools that had been away from the competition for some time, as well as a couple that were making their state debuts.
One team that had one of the longest droughts of any of the eight in the Class 3A finals was St. Charles East, which had made two prior appearances, placing third in 1997 under IWCOA Hall of Fame coach Mick Ruettiger, who was on hand this weekend, and then falling in the quarterfinals in its last visit in 2001, when Steve Smerz was the head coach.
Not only did the Fighting Saints' 22-year absence from the state finals come to an end this year, the program advanced to the championship for the first time and defeated Marmion Academy 28-24 on Saturday at Grossinger Motors Arena to capture their first state title in the sport.
Coach Jason Potter's Saints (22-1), who only lost one dual meet all season to eventual Class 2A runner-up Joliet Catholic Academy, edged defending champion Mount Carmel 32-30 in the quarterfinals before beating Yorkville 44-25 in the semifinals to earn their spot against Marmion.
Coach Anthony Cirrincione's Cadets (18-2) also suffered a loss to JCA. Marmion had last been in the state finals in 2019, when they capped a run of seven-straight state appearances from 2013-2019 under coaches Ryan Cumbee, Donald Reynolds and Nathan Fitzenreider, that featured two second- and two third-place finishes.
Marmion, which beat Hersey 36-31 in the quarterfinals, advanced to the championship match for just the third time following a 36-30 semifinals victory over Lockport, who took third place. This equalled Marmion's best previous finishes, second in 2013 under Cumbee and second in 2016 under Reynolds.
In the title meet, the Saints got wins from Ben Davino (126), Tyler Guerra (138), Jayden Colon (145), Lane Robinson (170), Brody Murray (182), Dom Munaretto (106) and AJ Marino (120) while the Cadets countered with victories from Jameson Garcia (132), Tegan Chumbley (152), Collin Carrigan (160), Jack Lesher (195), Teddy Perry (220), Sean Scheck (285) and Nicholas Garcia (113).
St. Charles East had a fall from Davino, a forfeit win by Munaretto and major decisions from Colon and Marino to go with three decisions while Marmion had a win by technical fall from Perry and a major decision from Lesher along with five decisions.
Lockport beat Yorkville 45-16 to claim third place. The Porters (19-9) are coached by Jameson Oster while the Foxes (18-7) are coached by Jake Oster. It's the first time in the history of the dual team tournament that teams coached by brothers met on the final weekend. In 1989 in AA, Bill Cartwright's Proviso East team took fourth while Jim Cartwright's Conant squad lost in the quarterfinals to eventual champion Providence Catholic but the brothers' squads did not meet.
A year ago, the Porters were coached by Josh Oster, the oldest brother of the three, and they beat Yorkville 39-24 in the St. Laurence Sectional to advance to Bloomington, where they took third place. That was the first time that programs led by two brothers squared off to see whose team would reach the quarterfinals. 
This was the eight state appearance for and the fifth trophy won by Lockport, which took first place in 2017, third place in 2016, 2022 and 2023 and fourth place in 2015, with the previous qualifying teams and trophy winners all coached by Josh Oster.
Yorkville was making its sixth state appearance and its first trip since 2012 in the dual team tournament, and it has placed all six times that it qualified, taking first place in 1993 and 1994 in Class A and third place in 1995 in Class A under Bob Long and second place in 2A in 2009 under Shane Darnell and in second place in 2A in 2012 under Joe Fornell. The Foxes also won a state title in 1976, took second place in 1974, 1977 and 1978 and claimed third place in 1979 when the individual tournament was scored.
In the third-place meet, the Porters got wins from Logan Kaminski (138), Chris Miller (152), Durango Valles (160), Logan Swaw (170), Aidan Nolting (182), Payton Roberson (195), Wojciech Chrobak (285), Dominic Vukobratovich (106), Isaac Zimmerman (113) and Liam Zimmerman (120) with the Zimmermans and Roberson getting pins and Miller, Valles, Nolting and Chrobak winning major decisions. The Foxes' winners were Dominic Recchia (126), Jack Ferguson (132), Ryder Janeczko (145) and Ben Alvarez (220), with Alvarez getting a fall and Janeczko a major decision.
In one semifinals, Marmion trailed Lockport 12-3 through four matches after the Porters got wins from Anthony Sutton (120), Liam Zimmerman (126) and Kaminski (138) while Jameson Garcia (132) won for the Cadets. But Marmion won six of the final 10 matches to reach the title dual. Winning those latter matches were Santino Scolaro (145), Carrigan (160), Lesher (182), Perry (220), Scheck (285) and Nicholas Garcia (106) while Valles (152), Swaw (170), Nolting (195) and Vukobratovich (113) won for Lockport.
In the other semifinals, St. Charles East won six of the first seven matches to take a 32-3 lead and went on to claim a 44-25 victory over Yorkville. Getting wins for the Saints were Logan Tatar (120), Davino (126), Guerra (138), Colon (145), Gavin Connolly (145), Anthony Gutierrez (160), Murray (182), Brandon Swartz (195) and Munaretto (106). The Foxes got wins from Recchia (126), Luke Zook (170), Alvarez (220), Logan Fenoglio (285) and Liam Fenoglio (113).
Two teams made their tournament debuts, York (24-10) and Warren (15-5). Coach Nick Metcalf's York Dukes fell 43-25 to Yorkville in the quarterfinals while coach Brad Janecek's Warren Blue Devils lost 46-18 to Lockport in that same round.
York received wins from Jake Kubycheck (113), Zach Parisi (120), Sean Berger (132), Evan Grazzini (182) and Dominic Begora (285) in its loss to Yorkville. Meanwhile, Warren got victories from Carlos Ordonez (113), Aaron Stewart (152), Justice Humphries (170) and Anthony Soto (220) in its loss to Lockport.
Defending state champion Mount Carmel (10-4) made its 14th state finals appearance but was unable to capture a trophy for only the fifth time after allowing falls in its last two matches to see a 30-20 lead over St. Charles East turn into a 32-30 defeat. This was the third team that coach Alex Tsirtsis has taken the Caravan to state with last year's squad winning the title and the 2020 team taking second place.
Winning matches for the Caravan against St. Charles East were Lukas Tsirtsis (113), Seth Mendoza (120), Jairo Acuna (132), Sergio Lemley (138), Edmund Enright (152), Colin Kelly (170), Rylan Breen (182) and William Jacobson (220). Mount Carmel won eight matches but was outscored 14-6 in bonus points by the eventual state champion.
Hersey (12-5) came up a bit short against Marmion in its third state appearance and first since 1997. Getting wins for the Huskies were Anthony Orozco (120), Max Mukhamedaliyev (132), Fortis Variano (170), Anthony Cambia (195), Oleg Simakov (285) and Dan Lehman (106).
Coach Joe Rupslauk led Hersey to the dual team state finals for the first time since 1997 and this was the program's third state appearance.
From the moment that Hersey opened its doors, wrestling became a force in the area and around the state. Under head coach Tom Porter, the Huskies lifted the IHSA championship trophy in 1971, and 1972, while celebrating state titles from Jim Battaglia, plus a pair from Brad Smith, with Tad DeLuca, Kevin Pancrate and Pat Teefey all collecting state medals as well.
After that, the program would go through a long dry spell, with Rick Mann leading his 1993 and 1997 clubs to dual team state, only to be eliminated with first-round defeats.
So you can imagine how ecstatic Rupslauks' sixth-ranked men were when they went by league rival Prospect, 34-21 last Tuesday before a big crowd in the intimate setting of Marlowe Middle School in nearby Lake in the Hills at the Huntley Dual Team Sectional.
"This win tonight is a product of a group of young men, and their families, who have made the commitment to each other, our coaching staff, and the Hersey wrestling program, and right now, I cannot tell you how proud I am of all these guys," said Rupslauk, before his club climbed to the top of the bleachers for a photo op from a thrilled group of fans, families and peers.
"Tonight was a culmination of so many of us putting the extra work in all throughout the offseason at camps, training, and out-of-town tournaments, it's a great way for the seniors to go out and for the guys coming back, just a great experience, and accomplishment," said senior Aaron Hernandez, a two-time state qualifier, who helped his club easily win the Dundee-Crown Regional to advance into this sectional.
Hernandez opened this contest with a 6-5 decision over four-time state qualifier Damien Puma to start what would be an early intense, tight dual between two longtime MSL East rivals that had the No. 7 Knights (20-8-0) chasing a one-point lead by the Knights after Ben Erhabor came back to beat Conor Mitchell, 9-8.
"(This) is just an amazing feeling right now," said the four-year veteran Erhabor, who will attend the University of Michigan in the fall, and will enter the Nursing Program there. "We all believe in ourselves, and each other, and the support we've received from the coaching staff, school, and parents has made our room feel like a real family so I am not surprised by our success at all."
"Ben is quite a young man," Rupslauk said. "He's the consummate leader (he) stayed back with coach (Jim) Wormsley to run training sessions for us, instead of coming to the state tournament, and made sure that everyone was mentally, and physically ready for Prospect tonight."
The Huskies would go in search of increasing their lead and after the state qualifying trio of Oleg Simakov (285, 41-10), Danny Lehman (106, 37-11) and Abdullokh Khakimov (113, 36-14) recorded a pin, technical fall and major decision, the MSL champs were suddenly leading 24-8.
"Those four-straight wins were big for us, but when Max (Mukhamedaliyev, 126, 38-17) and James Shaffer (132, 29-19) gave us two big wins after (Joel) Muehlenbeck's at 120 kind of slowed us down a bit," said Rupslauk.
Muehlenbeck (34-13) earned his first state medal of his career, along with Jaxon Penovich (45-7) who capped a marvelous rookie season with a fifth-place medal at 195.
With the score standing at 31-11 in favor of the Huskies, impossible for the Knights to overcome, Rupslauk decided not to forfeit his last three matches in order to give Prospect star Will Baysingar (51-1) one last high school match.
"(That) was a real classy move on behalf of Joe, and his staff to allow the last three weight divisions to wrestle, especially (Will) who in most cases would have had to take a forfeit with the match way out of hand," said Prospect head coach, Dan Keller, whose club crushed the field at the Fremd Regional to advance to this dual team sectional.
"Will has had an unbelievable career, he's been the face of Prospect wrestling, and will leave here as the leader in wins, pins, takedowns, and just about every other statistic, while being a tremendous leader, and role model for others to follow.
"It would have been tough to be unable to wrestle one last time in high school, so I really appreciate what Rupslauk, and his team did in order to go out there tonight," said Baysingar, who after his pin midway through the second period, went through the entire line of Huskies along the edge to accept their best wishes, before receiving a big bear hug from Keller on the Knights' side.
"I don't leave with any regrets," said Baysingar, who will wrestle at Illinois next fall. "I won four state medals, one state title, and was state runner-up these past two years, but it's been a great experience while here with a great bunch of teammates along the way, and coaching staff, and I believe I've been able to give back so much to our program, and hopefully helped lead the way for the next group coming through."
On the other side of this cozy gym, a young, and ever-improving No. 14 Warren (15-4-0) got off to a flying start and never looked back as it overwhelmed Belvidere co-op, 60-16, to earn a berth in the 3A dual team state quarterfinals for the first time in program history.
The Blue Devils took inspiration from a thrilling 2-1 overtime victory by its rookie sensation Royce Lopez over three-time state qualifier, and recent state medalist Antonio Alvarado (52-3), who finished third in Champaign at 145, but bumped to 160 on this night where he faced Lopez (38-12) who was one win away from grabbing a state medal last weekend.
"It was the perfect way for us to get going tonight," said Warren coach Brad Janecek, whose club has just two seniors on its roster, and five freshmen and sophomores, all of whom would be key figures in the Blue Devils capturing the Lake County Invite, then the Grant Regional to win a berth in this dual team sectional.
"Our program was really awful the last couple of years, but with the influx of two great freshmen like (Royce) and Aaron Stewart, plus a coaching staff that trains us so differently, and in so many ways, things turned around really quick for us," Blue Devils senior Evan Onstad saif.
Onstad (31-7), a state qualifier at 138, was one of eight who recorded a pin on this night, the first coming from Demetrius Lin at 182, followed by a lightning-quick pin from Jeremija Hixson (34-11) at 195.
"This team has really turned around to become a very good wrestling program, it's exciting to come into the room, and see all of the talent we have – I am really glad I'll be back next season," said Hixson, a three-year veteran who also is a defensive end and fullback on the football team.
Colin Young (46-7), one of three from Belvidere co-op who advanced to state, gave his club a brief lead after his pin at 1:59 followed the Lopez victory.
The 6-3 advantage would be short-lived when Lin, Hixson, Caleb VanLeer (forfeit), Anthony Soto (26-9) and Jonathan Marquez (28-6) at 106 went on a 30-0 scoring spree before 106-pound state runner-up, Brayden Teunissen (41-2) stopped the bleeding with his major decision victory at 113.
"(That) was a very good team from Warren we faced," said Belvidere co-op head coach, Danny Martinez, who had just three seniors in a lineup that won its second straight NIC-10 conference title, and first regional crown since 2004.
"Despite this loss, we have brighter days ahead of us because we're so young, and we have so many terrific guys coming back including Brayden and Colin, of course, and a bunch of guys who have really come around this season."
"Nobody likes to have their season end the way it did tonight, but we had a really good year (and) to get to this dual team sectional says a lot about this team, and the way we've come together to get this far," began Alvarado, a three-time state qualifier, who was fifth last season.
"I hope to wrestle next fall, Illinois is my first choice, but right now I am still sorting things out as far as where I'll go to college," continued Alvarado, who won six majors this season, including Barrington's Moore-Prettyman, Sycamore, conference, regionals and sectionals.
Belvidere sophomore Dominick Girardin won his 30th match of the year with a pin at 145, before Aaron Stewart (44-2) continued his extraordinary rookie season when he ended this near-perfect night for the Blue Devils by taking a forfeit at 152.
"We told the guys after we won the Lake County Invite that we still had some unfinished business to take care of, and that was winning a regional championship, then qualifying for dual-team state, and the guys have been working hard everyday in the room to accomplish what we set out to do," said Janecek..
"There are a lot of reasons for us going to state, the dedication to work to be better from the guys has been important, and their willingness to soak up whatever they can from a first-class group of assistants might be the main reason for our success."