Class 3A State Champions roundup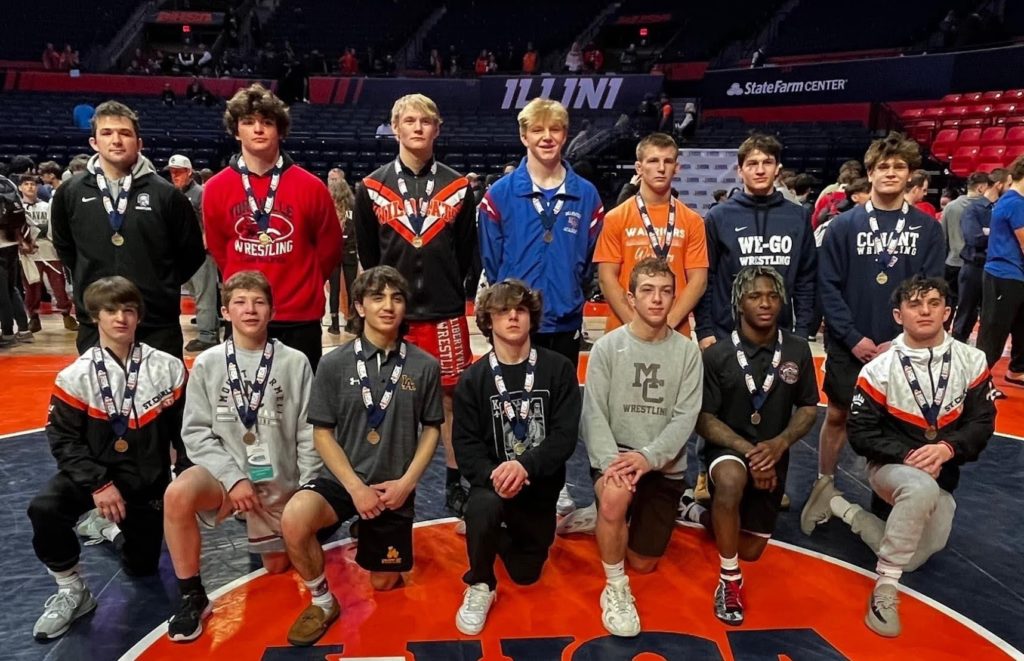 by Mike Garofola
The 84th running of the boys' 3A individual wrestling tournament had a little bit of everything throughout three days in Champaign to keep a raucous crowd alive and engaged.
This wrestling marathon produced triumphs, upsets, breakthroughs, overtime thrillers, and enough storylines to fill a 100-page publication.
The northern half of the state would dominate the final session with 14 individual champions, with St. Charles East taking home a trio of big brackets, and Mt. Carmel with two.
The two state powers, who will meet in a dual-team state quarterfinal Friday in Bloomington, combined for 15 overall medals, with Jason Potters' club leading the way with 9 medals across the weight divisions.
East Suburban Catholic Conference champ Marist and Marmion Academy were next up with four medals each.
So to better commemorate the events of three days of competition, here's a much closer look at each division's champ, and its state medal winners:
106: Dom Munaretto, St. Charles East
Dom Munaretto has won on the world stage, and this season dominated on the prep scene. And despite all of his success, the St. Charles East freshman embraced his first-ever IHSA state title as much as anything he has won.
With his all-out attacking assault, savvy, silky smooth set-up, and non-stop pace and energy, Munaretto (50-0) gave the Saints their first of three state titles, with his 19-7 major decision victory over the talented sophomore from Belvidere North, Brayden Teunissen.
"This feels so awesome right now to win my first state championship," said Munaretto, while becoming a key figure in the Saints advancing to the 3A Dual-Team state tournament for the first time since 2001.
"Wrestling here at St. Charles East is better than I ever expected, and to be a part of a team in a great room with great coaches is something that's really been a lot of fun," added Munaretto, who needed a little extra time to break down the aforementioned Teunissen (48-3), who has also enjoyed a sensational season at North, which recently won its first regional title since 2004.
"(Brayden) was a good opponent, but I know he didn't want me to open up – so he tried to slow me down and tie me up," Munaretto said. "It was important to be patient, continue to shoot, look to my angles, and just wear him down with my fitness, and pace."
Munaretto's plan worked when the lead went from 4-1 at three minutes, to 8-2, then 11-4, before a third-period explosion would guarantee a lop-sided victory.
"Dom is a guy who is always looking to improve – he's always trying new moves, and pushing his limits on what he can, and cannot do on the mat," said teammate Ben Davino, who is a frequent partner of Munaretto – who was a 2022 World Champion representing the United States in Rome in the 45kg category, and No. 3 in most national polls.
The next four men after Munaretto and Teunissen all earned their well-deserved first state medals. In order of finish, third- through sixth-place: Rocco Hayes (Sandburg, 41-7); Nicholas Garcia (Marmion Academy, 28-6); Caden Correll (Normal Community, 51-2); and Maddox Garbis (Plainfield North, 42-5).
113: Seth Mendoza, Mt. Carmel
It was time to pull the fire hose out because Seth Mendoza was just burning things up on mat No. 1 on Saturday night.
The Mt. Carmel sophomore kept the Caravan faithful alive and alert with his high energy, all-action attack that gave him a 3-0 lead from early in the second period, to an eventual tech-fall at 5:46, as the now two-time state champion finished off Deion Johnson (33-7) of Homewood-Flossmoor by a score of 23-8.
Mendoza, who recorded a tech-fall in his 106 final last season, registered a trio of tech-falls, including his 2023 title match.
"It's always about extending my lead during matches," Mendoza said. "Deion, I knew if I did just that he would have a difficult time keeping up with my pace."

With clinical precision, Mendoza would pick apart the No. 2-rated Johnson (33-7), who advanced into this final after edging Brady Phelps of Schaumburg, 4-3 in their Saturday morning semifinal.
Phelps (40-2) was sixth a year ago and now added a fifth place medal to his collection.
Dominic Ducato (35-3) who is on his way to wrestle next fall at St. Cloud State, finished off a sensational season and career for head coach Gary Conrad, who is stepping down after 11 seasons in charge at Jacobs.
"I am super proud of both Dom and James Wright (sixth at 138) – I've known both since they were eight-years old in kids club," Conrad said., "For me, it's a great way to go out with these two great young men, who have been so dedicated to our program, with each having great families to share this experience with."
Ducato would avenge a 4-2 loss suffered here a year ago at the hands of Ethan Spacht (Bradley-Bourbonnais, 41-7) in the quarterfinals – then defeat Spacht once again for third place with a 3-2 decision.
Batavia junior Ino Garcia (Batavia, 25-9), fourth in 2022, added a sixth-place medal to his resume.
120: Massey Odiotti, Loyola Academy
Up until the arrival of Massey Odiotti, the cupboard was nearly bare of state medals at Loyola Academy, except for a sixth-place finish by Michael Paloian in 2012 at 182.
Following his first appearance at state in 2021, Odiotti was runner-up to three-time state champion Ben Davino in 2022, before turning in a memorable and magnificent final year for the Ramblers that would end with the Northwestern-bound wrestler climbing atop the podium in Champaign.
Odiotti (40-6), the top-ranked man at 120 all season long, would validate his status with a pair of pins to start the tournament, followed by an impressive effort during a 12-2 major in his
semifinal victory over AJ Marino (St. Charles East, 40-9).

That win led to Odiotti's hand being raised after Lockport freshman Justin Wardlow (41-13) was unable to wrestle due to an injury suffered in his semifinal bout with eventual fourth-place medalist, Teddy Flores of Maine South.
"I would have liked to have wrestled that final – it's too bad for (Wardlow) – but in the end, I was able to achieve what I came here for," admitted Odiotti, who won the Dvorak and three other majors along the way.
"Coach (Matt) Collum has been the driving force to our program – he's the reason for my improvement, and success, as well as our team, which had its best year ever," said Odiotti.
The Ramblers sent a program high eight wrestlers to the Barrington sectional, and set another record with five in the state field, including 220-pound runner-up, Kai Calcutt.
It was a topsy-turvy three days in this weight class, which saw Nos. 2-4: Zach Stewart, Damian Recendez, and Michael Esteban forced to fight for their wrestling lives in order to claim a state medal. Resendez (Mt. Carmel, 23-13) came away with a fifth place medal, the third of his career.
The aforementioned trio would all be sent off, and into the wrestle-backs of this high-profile field by unheralded but obviously talented opponents such as Flores (40-5), and Joel Muehlenbeck (Prospect, 34-13) who both had been here before, yet had never enjoyed the success they would ultimately enjoy.
Flores, an IWCOA qualifier in his rookie season, would come on strong at the end of the season when he claimed top honors at the Central Suburban League (CSL) tournament, then at regionals the following week, and at the Conant sectional where he beat then-No. 5, AJ Marino, 4-2 in the final.
"Teddy had been at his best coming into sectionals, but after winning there it was then that all of us, including Teddy, felt like he could come in here and compete with anyone," said Maine South head coach, Kevin Hansen, after his best man beat Resendez in his wrestle-back semifinal.
Muehlenbeck (34-13) would jump start his run towards a sixth-place finish with a 9-4 defeat of Resendez in their state opener. He then lost to Flores in the quarterfinals, then two straight in wrestle-backs before Resendez evened the score with the Prospect senior.
"When it's your last state tournament of your career, there are not any more chances to bring home a medal, so to do that this year is really amazing," said Muehlenbeck, who won (42) a year ago at 106.
126: Ben Davino, St. Charles East
No. 1 Ben Davino burst out of the blocks of the 126-pound weight class, and never let up until reaching the final against No. 2 Jameson Garcia (Marmion Academy) in what many in the big crowd inside State Farm Center deemed the premier contest to watch.
The two giants in the prep wrestling world did not let down its audience in a match that pitted the all-action, lethal attack-minded Davino against the clever, crafty, and highly-skilled Garcia..
To give this final even more 'juice' was the fact that these two 26-pound stars came in as two-time state champions, and both nationally-ranked: Davino at No. 1, and the Harvard-bound Garcia, No. 18.
A chess match of sorts would greet the crowd who watched Davino defend a pair of ankle picks, while the St. Charles East junior missed a take-down near the edge to bring the first period to an end.
Davino would start down and easily escape; Garcia would draw even after Davino cut him loose after a hard ride for the first minute of the third period, which gave way to an extra session soon thereafter.
Once there, the speed and pace of this thriller would increase – most notably from Davino, who saw an opening and recorded the eventual take-down, which led to another quick strike that would see this match end at 6-1.
"Jameson is such a great opponent, he can do so many things that you need to be careful of – I was disappointed in the way I wrestled in my final, but it still was great to win a third state title over someone as good as Jameson," Davino said.
"Ben is one of the best there is around," Garcia said. "I had my chances in that first period, and throughout the match we both fought hard to make it a very close match. In the end, when he forced me to take a shot, he just was on me so quick, and that was the match."
Davino now becomes the first in Saints history to claim three state titles to eclipse the two his coach, Jason Potter earned in 1998 and 1999 at 171 pounds.
When the day was done, the Saints program would pick-up eight state medals to bring the overall total for the program to 24.
Fremd sophomore Evan Gosz (43-2) now has a pair of third-place state medals following his 10-4 decision over fourth-place Nathan Knowlton.
Gosz was marvelous over the three days, recording his 24th pin of the season in his state opener, followed with another dominating effort in a 9-1 major decision to set-up his semifinal with Garcia, in which he fell just short in a 2-1 decision.
"I likely waited a little too long to get to my shots, especially in the third period against Jameson," Gosz said. "But I felt I was right there with one of the best in the nation."

Aaron Camacho (Bolingbrook, 34-7) finished fifth, and Hersey sophomore, Maksim Mukhamedaliyev (37-17) who upset No. 4 Aidan Huck (Batavia, 37-11) on Thursday, placed sixth..
132: Sergio Lemley: Mt. Carmel
Sergio Lemley did it again.
The Mt. Carmel senior, No. 2 in the country, won his fourth high school state title, three of which came here in Illinois and the other in Indiana, after holding off four-time state medalist Will Baysingar (Prospect) in an edgy, hard-fought 3-2 affair at 132 pounds.
After a tepid first period, Lemley (35-1) would score all of the points of the match with an escape 15 seconds into the second period, followed by the lone take-down of the contest, near the edge 15 seconds later.
"I knew this match would be a tight, defensive six minutes, so it was important for me to get the lead and then manage it the rest of the way," Lemley said. "I wanted to make sure (Baysingarl) didn't get into his attack where he is so dangerous." Lemley will wrestle next fall at the University of Michigan, where he will major in Mechanical Engineering.
"I did all that I could to get that second period take-down, then just put everything I had into that last period to win this match, and state title," continued Lemley. "(VIncent) Robinson, and Baysingar are great opponents, so to get past both of them is something for me to be proud of."
No. 1-ranked Lemley needed to get by No. 2 Vincent Robinson (Homewood-Flossmoor, 33-3) in his semifinal; he did so, but not easily, with a 2-1 ultimate tie-breaker triumph enough to send him through. Robinson will wrestle at North Carolina State in the fall.
In the top half of this first class bracket, Baysingar (50-2) crushed all three of his opponents, beginning with a tech-fall in his state opener, followed by back-to-back pins, all in under three minutes.
"The goal was to win, and get off the mats as quick as possible to conserve my energy, then watch Lemley and Robinson go after each other," said Baysingar, in advance of his third consecutive state final appearance, who came into the tournament at No. 14 in the nation.
"It was all about scoring off the head lock, and to expose (Lemley) wherever we could after watching hours of film on him," Baysingar continued. "He's a tough guy to score on at any time, and when you're chasing the lead it's especially difficult to do."
Baysingar lost just four matches out of 170 in a four-year career, and will wrestle in the fall for Illinois. "(Baysingar) is our all-time leader in wins, pins, and take-downs, and simply put he is the GOAT of Prospect wrestling. There's no debate on that subject," Prospect head coach Dan Keller said.
Robinson defeated York senior Sean Berger (39-4) for third place, with Mikey Dibenedetto (Glenbard North, 25-8) using a 6-0 victory over James Wright (41-7) of Jacobs to earn fifth place.
Prior to moving over to Glenbard North, Dibenedetto was a 1A state qualifier at IC-Catholic Prep, then twice more at Lake Park, before settling in with Travis Cherry and the Panthers.
Wright successfully garnered his first state medal after three previous attempts to give Jacobs its second medal of the weekend, and seventh in its history.
138: Nasir Bailey, Rich Township
Nasir Bailey (43-1) turned in one of the most dominant three-day performances of his career at State Farm Center to take home his third IHSA title, and fourth straight high school crown after the Rich Township senior recorded a 5-2 decision over Tyler Guerra (46-6) from St. Charles East.
Bailey, No. 2 in the country, would open his last prep tourney with a record-setting pin (13 seconds) then follow with another record-setting effort when he needed just 2:20 to register a technical fall to book his place in the finals against Guerra.
"I took a loss in the semifinals at the Ironman, and it really helped me regain my focus and commitment to working hard, knowing all along that February is when it really meant something," Bailey said.
Bailey, who defeated Guerra 10-3 in his 2022 state semi-final before holding off Baysingar in the 132-pound final, is ranked No. 1 in the nation in a handful of publications and will compete next fall at the University of Arkansas at Little Rock, where his older brother (Bilal) is on the roster at 157.
"My older brothers were there for me in my freshman year, and it was something I was thinking about before and after my final," said Bailey, who was a part of IHSA history when he, along with Sincere, and Bilal all won state titles in 2020 at Thornton Fractional North.
Nasir, and Sincere were Texas state champs the following year, before Nasir returned to claim his third prep crown a year ago.
Guerra, who came in at No. 3 in the latest IWCOA poll would avenge an early season loss to No. 2 Lorenzo Frezza (42-1) with a 4-3 semi-final decision over the Stevenson four-year star.
"(We) learned some things from that 6-4 loss to (Frezza) – who is an incredible talent and can do so many different things to beat you," St. Charles East coach Jason Potter said. "But we knew if he got the lead, Tyler's ability to ride could be the difference in what we figured would be a tight, hard-fought match."
Frezza won in a tie-break on the third-place mat over Hinsdale Central's CodyTavoso.
"I have been so fortunate to have someone like Lorenzo with me for four years," Stevenson coach Shane Cook said. "He's a remarkable young man who has been the type of leader who comes along rarely during your coaching career."
Frezza leaves Cook and his staff with a trio of third-place state medals, four state appearances, and as the the all-time leader in victories with 151, as he departs for Columbia University to continue his wrestling career.
Bailey, Guerra, Frezza, and Tavoso were the clear top four all season. Tavoso (46-4) came back through wrestle-backs to claim fourth place after his defeat of Jacob Lachs (41-14) of Glenbard West to complete a superb career for the Red Devils.
Tavoso joined some lofty company with his fourth state medal, joining former Red Devils Brian Allen, and Juwan Edmond. The Princeton-bound Tavoso set a single season program record for pins with 31 and leaves with 133 career victories.
Lachs won a 6-3 decision on the fifth-place mat over Lockport senior Logan Kaminski (35-23).
145: Jaydon Colon, St. Charles East
The stars appeared to be aligned for No. 1 Noah Tapia, who mashed the competition throughout an unbeaten regular season.
But Jayden Colon had dreams of his own.
Tapia tossed aside all three of his opponents in Champaign with relative ease, setting up a final with Colon, who moved over to St. Charles East after claiming the 2A top prize at 145 for Montini Catholic.
This contest was yet another No. 1 versus No. 2, with Tapia the prohibitive favorite with his six majors, which included the Dvorak title that the Moline star won 6-4 over Colon. So signs pointed to Tapia following in the footsteps of his great friend and former teammate, Kole Brower, who gave the Moline program its 15th state champion when he won at 138 last season.
Colon had other ideas, and his dream materialized in the title match when he recorded an escape with 12 seconds remaining in overtime to take a 4-3 lead, dealing Tapia a heart-breaking defeat.
"I won a state title without really a single terrific shot, just like I did last year at Montini when I beat (Mason) Alessio (Joliet Catholic Academy)," said an exhausted Colon (41-5), who dealt Tapia his first loss of the season to end a remarkable year at 52-1, and 99-4 for two years.
"It was a real grind tonight. My shoulder is aching so it was a lot of grit, determination, and defending in order to keep him from opening up an attack that's dangerous."
Both men looked to throw the other during the first extra session after six minutes were unable to settle this contest, which ended at 3-3 after a Colon reversal initially gave the junior the lead at 3-2 with just the third period remaining.
"We learned some things from that match at the Dvorak, so we had a good plan in place, which I thought worked out really well for me," said Colon.
"When overtime came, I went more to my strength – upper body stuff. And in that last overtime period, I was looking to get the pin but when I was unable to, that's when I grabbed the one point (escape) for the win."

Tapia saw the silver lining of a fine season in the dark cloud of losing on the state title mat.
"This loss hurts a lot but it doesn't mean it was all for nothing," Tapia said. "All of the work I've put in during the offseason and regular season will only make me better in college." Tapia will wrestle next fall at Hofstra University.
No. 3 Antonio Alvarado (Belvidere North, 52-3) ended a superb career in third place to give him two state medals, while Marist sophomore Will Denny (27-8) took home fourth place.
Lake Zurich senior Scott Busse (47-5) earned himself a well deserved fifth-place medal, his first state finals medal in three attempts after a 9-6 decision over Cael Andrews (Batavia, 46-9).
"I broke my ankle here a year ago, then suffered a shoulder injury earlier during this season that likely required surgery," Busse said. "But I never gave in to all of that, and kept working harder each time out with the focus always being to get on the podium, So to reach that goal feels very good right now." Busse recorded almost 250 takedowns while leading Lake Zurich in pins (25) and every other statistic during his wonderful final year with the Bears.
152: Nolan Allen, West Chicago
There were so many deep and talented weight classes in Champaign, and the 152-pound division created plenty of interest in advance.

And why not? The top six men would move up and down in the state rankings, with just about everyone grabbing the top spot before the first whistle of the tournament would open things up in this group.
Jacob Luce (39-13) would strike for the first upset when the DeKalb junior sent No. 6 Harrison Konder (Downers Grove North, 41-6) into wrestle-backs after his 11-5 victory in the quarterfinals.
There would be more to follow as the tournament would progress with No. 3 Nolan Allen (West Chicago) sending No. 1 Kaden Fetterolf (Batavia) off, and into wrestle-backs with a hard fought 6-1 decision. That win earned Allen a spot in the finals with Edmund Enright (Mt. Carmel, 19-3) who managed to navigate his way through this high-profile bunch.
There is an old saying in sports that offense wins games but defense wins championships, and that's exactly what Allen would supply in all four of his matches. Allen's contest with Enright went from 2-1 midway through the second period to his historic pin at 3:53 to give the West Chicago program its first state title since 1979.
When the match ended, Allen leapt into the arms of coach James Phillips.
"I cannot tell you how proud of Nolan we all are right now," Phillips said of Allen (30-0), who never allowed any of his rivals the time, space, or opportunity to pry him open en route to his championship.
"It was a great weight class – so tough, and with so many fantastic wrestlers who were all very capable of putting a lot of points up at any time," Allen said. "But for me, it was all about staying composed and just slowing them down with a lot of hand-fighting and defense. I really felt like I wore all of them down."
Aside from the tactical plan devised for Allen heading into the long weekend, it was his square stance, stingy defense, and almost a dare to his opponents to shoot that proved to be the difference.
"I knew I had to likely grind out a few of my matches this weekend, and I really feel like that was the difference between winning and losing," Allen said. "But that pin in the final was the icing on the cake of an amazing state tournament for me."
The marvelous freshman from Warren Township, Aaron Stewart (43-2), came back from his heart-breaking 3-2 loss to Allen in the semifinals to capture third overall after he beat the 2022 state runner-up Fetterolf (48-3), with Konder (41-6) recording a 3-2 triumph against Luce for fifth place.
"It was an incredible weight class, and I would guess if they came back and wrestled another 8-10 times, there would be a lot of changes in the final standings," said Downers Grove North coach Chris McGrath.
160: Ethan Stiles, Conant
Ethan Stiles started his run towards another state title the day after the Conant senior won in Champaign a year ago at 152.
So it wasn't a surprise when the Nebraska-bound Stiles (31-0) locked up a third title after his sterling performance in his final with No. 2 Logan Swaw (46-2) of Lockport in the 160-pound final.
"It was always about doing whatever it takes to get back out here in the state final, and winning it once again," said Stiles, who was third during his rookie year at Montini Catholic, before capturing an IWCOA crown the next season, when he went a perfect 10-0.
"I've committed myself to improve in all parts of my game – mentally and physically – while paying special attention to my fitness and diet in order to win here one more time, and to prepare for college in the fall."

Stiles handed Swaw his only two losses on the year, the second coming by 3-0 decision in the state finals.
"I knew it would be a real battle with (Swaw), so it was important to be strong, stay in good position, be smart with my shots, get a lead, then defend and ride him as hard as I could in order to break him down."
Swaw, who was sixth here a year ago, and will wrestle at Illinois next fall, was near flawless on his way to the final. Swaw vs. Stiles was the sixth finals match between the No. 1- and No. 2-ranked wrestlers in 3A.
After the referee ruled a stale-mate 90 seconds into the match, Stiles – on his fifth shot of the period – finally recorded a take-down.
Stiles, No. 4 in the nation, rode out Swaw for most of the second period and then grabbed some insurance with an escape to start the final period after. Stiles stayed in control for the rest of the regulation.
"This season it was important for me to be the best leader, in and out of our room, helping our younger guys, and doing my best to show the way for those who will be leaders next year," said Stiles.
"Ethan has been a great leader this year," Conant coach Andrew Guilde said. "He was just so impressive and dominating against whoever he ran into. To be honest, what makes him so difficult to beat is the fact that he has that look of a collegiate wrestler already, which makes him even tougher to beat."
Owen Uppinghouse (Quincy, 44-2), Gunnar Garelli (Lyons Township, 41-11), Luke Swan (Downers Grove South, 39-10, and Anthony Guiterrez (St. Charles East, 28-12) are now all first time state medal winners after finishing third through sixth, respectively.
Swan would defeat Garelli for the Hinsdale Central sectional title, while Uppinghouse, who missed the last half of the 2022 season to an injury, added the 15th state medal to the Quincy program with his third-place finish.
170: Chris Moore, McHenry
With all due respect to the 16-man field at 170-pounds, Colin Kelly (Mt. Carmel) and Chris Moore (McHenry) were the favorites to be in the Grand March.
So it was fitting these two behemoths would meet in the last championship match of the night, in what would also be a rematch of the 160-pound final from a year ago when Kelly would edge Moore in overtime.
When the dust settled after a tight, intense six intense minutes, it was Chris Moore who lifted the big championship bracket board after his 3-2 victory, avenging his 2022 defeat to Kelly and giving the Warriors' program its first ever individual state title.
"Last year my shoulder was in real bad shape, but that's no excuse for my loss to (Kelly) last year," Moore said. "But it was something that I used to make me work as hard as I could, in order to have another run at the state title," said Moore, who was level with Kelly (26-3) at the start of the third period before delivering a takedown with 10 seconds left in the period.
Moore (43-0) would concede an escape with three seconds from time.
"Of course that loss in the final last year stung, but my confidence never wavered and I knew if it was Kelly again in the finals, I wanted to push the pace, be the aggressor, and just keep him on his heels as much as I could," Moore said. "I feel like we executed a very good game plan in order to come away with the win."
"Chris has meant so much to the McHenry program," coach Dan Rohman said. "He's raised the bar within our program, and is never one to shy away from high level competition. All of that has rubbed off on the others in the room, who want to perform at high levels because they have seen how the hard work and dedication of Chris has paid off.
"Last year we had six kids qualify for Fargo, this year we have so many more who are committed to wrestle in the offseason, and it's because of what Chris has accomplished, and all of the time he puts in during the season and in the offseason as well."
Moore, who will continue his career next fall at Illinois, has built an impressive resume to take along with him, including a 91-1 overall record over the past two years, 33 pins, and 29 tech-falls during that time, as well as an astounding 603 takedowns, 451 teams points earned, and 875 match points, while his opponents mustered just 366 against.
Moore won a 2A state medal his freshman year at Aurora Christian, followed that up with a third place 2A finish at Marian Central Catholic, before moving over to McHenry where he set all sorts of records.
Luke Zook (44-8) who led Yorkville with 90 takedowns, earned a third-place medal, while Libertyville junior Matt Kubas (42-9) was fourth
Lane Robinson (St. Charles East, 36-16), and Ari Zaeske (Lincoln-Way West, 41-7) placed fifth and sixth, respectively.
182: Jack Lesher, Marmion Academy
It's not how you start but how you finish, and Jack Lesher firmly believes in that old sports axiom after the way his regular season came to a close.
The Marmion Academy junior opened the final session of the tournament on Saturday in stunning fashion, using a three-point near-fall just as time ended to take a 5-0 advantage over Pekin senior Shamon Handegan. He took that lead into the second period and basically rode out Handegan (41-1) for most of the next four minutes to record a well deserved 6-1 victory, and the 22nd state medal in Marmion's program history.
"I was coming off the football season and I was dealing with a leg injury, which slowed me down even more," Lesher (34-6) said. "But when I got back into wrestling shape, I was ready to make a serious run at a state championship.
"We have a great room of work-out partners and an unbelievable coaching staff. It's the best in the state, in my opinion. So with my faith in God and all of the support around me, it was just go out there and let it fly."
Handegan, who would defeat AJ Mancila (Bradley-Bourbonnais (47-7) in the Normal Community sectional final, was a state qualifier in 2022, and would end his season with a dazzling 40-3 record at 182.
Conor Phelan (34-16) of Marist topped Mancilla for third place, while No. 4 Rylan Breen (Mt. Carmel, 23-11), No. 3 Brody Murray (St. Charles East, 36-7) would finish fifth and sixth, respectively
195: Cole Matulenko, Libertyville
It took all of 31 record-setting seconds for Cole Matulenko to add another state title to the Libertyville books, when a thunderous throw and pin ended the 195-pound final to give the Wildcats their fifth individual state title in program history.
The seismic tremor felt after Matulenko's pin of Marist's No. 1 Peter Marinopoulos (20-1) was tempered slightly when Marinopoulos stayed down on the mat, after appearing to suffer an upper body injury. Thankfully, after being attended to by the stadium medical staff, Marinopoulos was able to walk off under his own power with some assistance.
"It went from total euphoria to – oh, no, Marinopoulos is down and hurt," Matulenko said. "It's not anything you like to see happen to an opponent."
Matulenko has been a one man wrecking crew since claiming the top prize at regionals, following a disappointing loss at the Lake County Invite.
"Things finally came together for me," Matulenko said. "I was lifting during the early morning before school, then again a couple of days a week, and when I told coach (Dale) Eggert about what I was doing he told me maybe it was time to take my foot off the gas with those workouts."
"Cole was looking dead on his feet as we neared the state series," Eggert said. "He wasn't reacting to shots, and just looked sluggish. He was getting quite frustrated.
"He said that outside of practice he was lifting twice per week, which is enough if it's done in an intense manner (but) Cole was lifting four days a week, more than a hour each time, and before school – which combined with him missing out on sleep, really had taken its toll on him."
Eggert's suggestion to ease off was just what the doctor ordered, and it was a refreshed and well-rested Matulenko (44-4) who went on a rampage. He had a pair of pins and a major at regionals, then pinned his way into the Barrington sectional final against freshman phenom Jaxon Penovich (45-7) who had lost to on two prior meetings.
Matulenko topped Penovice by 9-3 decision.
"After watching Cole in his sectional final with Penovich, I figured he had a chance against anyone in his state bracket," Eggert said.
In his first match in Champaign last year, Matulenko lost by 15-6 decision to Marinopoulos.
"Last year did not go well for me, so I was anxious to get back down here to make amends," said Matulenko, who is a three-sport star in wrestling, football, and as a thrower for the track team.
Eggert wanted his top man to keep Marinopoulos off his legs, while looking for his No. 1 shot that he's been nailing his opponents with all season long.
"(Cole) has a great tilt, a move that turned the tide in his semifinal win over (Dominic) Thebeau from Belleville East," Eggert said.
"It's such an amazing feeling to win a state title for our program, coach Eggert, and coach (Vinnie) Jiuditta, who works his magic with all of our upper weight guys on the team," said Matulenko.
"Everyone always believed in me, and it was their support, and me turning over everything to God that made the difference, when I just turned everything over to him."
Matulenko, and his former partner in the room, 2022 state champion Josh Knudten, who drove to Champaign from Ann Arbor where he wrestles for the University of Michigan, would both participate in Fellowship of Christian Athletes huddle at the high school, led by Eggert.
"You could always count on Cole to share something insightful from our weekly message, and I am sure, if you would ask both him and Josh, they would both say they are not in (FCA) to win matches, but instead to grow in their relationship with Jesus Christ," Eggert said.
Matulenko, who will wrestle next fall at UW-Eau Claire would later climb atop the podium alongside Marinopoulos, third place Thebeau, with Hunter Janeczko (Yorkville, 21-6), Penovich, then Matthew Janiak (37-9) of Plainfield South filling out the top six.
"All of this is still hard to believe, but I know it will hit me, maybe later tonight or more than likely tomorrow, and that's when I will really enjoy taking it all in," said Matulenko.
220: Ben Alvarez, Yorkville
Yorkville's Ben Alvarez (38-8) would be crowned state champion in stunning fashion when the Yorkville junior beat freshman phenom Kai Calcutt of Loyola Academy, 3-2, in an ultimate tie-breaker contest that saw a stalling call decide the hard-fought affair.
"That was quite an ending to Ben's final," Yorkville coach Jake Oster said. "You rarely see a match end the way it did with that call.

"It was an intense, and real defensive match for Ben against a talented freshman who likes to attack and throw, which we were aware of. There was a lot of hand-fighting. Ben was really stingy defensively in his final, and for that matter throughout the tournament."
Loyola Academy coach Matt Collum was understandably disappointed in the way the title match ended.
"I don't really remember seeing a call made like that in a state final," said Collum, who saw Calcutt (40-9) draw back even at 2-2 with an escape in the third extra session.
"(Kai) wrestled well all throughout the three days. We let some things get away from us in that final but he was pushing the pace. He showed that he belonged here at state, despite the outcome of the final."
Alvarez's journey to a state title followed an all-too common path.
"I got off to a slow start to the season because of an injury, but I really put the extra time in to catch back up," he said. "With the help of my teammate, Hunter Janeczko, I was able to get myself ready for the last half of the season."
Alvarez who registered 22 pins and 64 takedowns this season, was as stingy as his head coach acknowledged, as witnessed by his 10-0 decision in his state opener, followed by a 2-1 overtime quarterfinal with Ed Perry (Marmion Academy). That win led to a 3-1 thriller in the semifinals over Luke Liberatore (Marist) to ensure his spot in the final.
Leonardo Tovar (Plainfield North, 48-9) would edge Liberatore (34-12) for third with a 4-3 decision, with Hinsdale Central's Marko Ivanisevic (44-3) coming back to claim his second consecutive fifth-place finish over Cooper Caraway (46-10) of Normal Community.
285: Ben Bielawski, Downers Grove North
In the unpredictable world of the heavyweight division, Ben Bielawski predicted after being crowned champion at the Clint Arlis Batavia Invite that he could climb atop the podium in Champaign just as easily as anyone else at 285.
Five weeks later to the day that Bielawski (45-1) proclaimed he was a serious contender, the affable big man from Downers Grove North would make good on his prediction with his 5-3 victory over Jonathan Rulo from Belleville East.
"We all felt Ben could be a state champion," DG North coach Chris McGrath said. "He absolutely threw everything he had into getting ready for his last year of wrestling after the football season. He got bigger, stronger, and quicker, and all of that came shining through in a big way."

McGrath's plan for Bielawski came to fruition in Champaign, as he became the first individual state champion in program history.
"McGrath always believed in me," he said. "As one of the lighter guys in this weight class, it was important to use my speed, and quickness, and my physical and mental strength to win against some of these big guys," said Bielawski, who will play football next fall at D-3 power, UW-Whitewater.
The Trojans' star faced a massive freshman in Rulo.
"(Rulo) was an enormous young man, but Ben is so athletic," McGrath said. "He was an all-state nose tackle for us so he's as strong as it gets, and you saw that in the second period when he reversed (Rulo) to take the lead for good."
The 4-3 advantage Bielawski grabbed became 5-3 when he escaped after starting down, and from there the match saw plenty of hand-fighting from both big men, along with some terrific defending and positioning by Bielawski, who made sure his young opponent could not get in close to strike.
"He was a big, strong kid and he was aggressive, but I felt good throughout the match," said Bielawski, a four-time state qualifier. "I was never in trouble, but I knew I had to stay cool and composed in the final minute in order to win the state title.
"I put so much time in leading up to the football season – lifting to make myself as strong, and fit as I could be to handle guys in this weight class. Tonight all of that effort, commitment, and hard work paid off in a big way."
Sean Scheck (Marmion Academy, 34-9), won a state medal in his first state appearance after his defeat of Joliet West junior Wyatt Schmitt (43-4) in the third place match.
No. 4 Austin Barrett (St. Charles East, 38-9) and No. 5 Adam Lambaz (Elgin, 31-6) finished fifth and sixth, respectively. Lambaz became the first state medal winner for the Maroons since 2008 (Terrel Walker), and the 18th in program history.
"We are all so proud of Adam," Elgin coach Gary Parciak said. "He's a young man that has given so much back to our program, as both a leader and mentor to the younger guys in the room – he's the guy who has helped put our program back on the map."