Anna-Jonesboro takes top honors at Lawrence County Tourney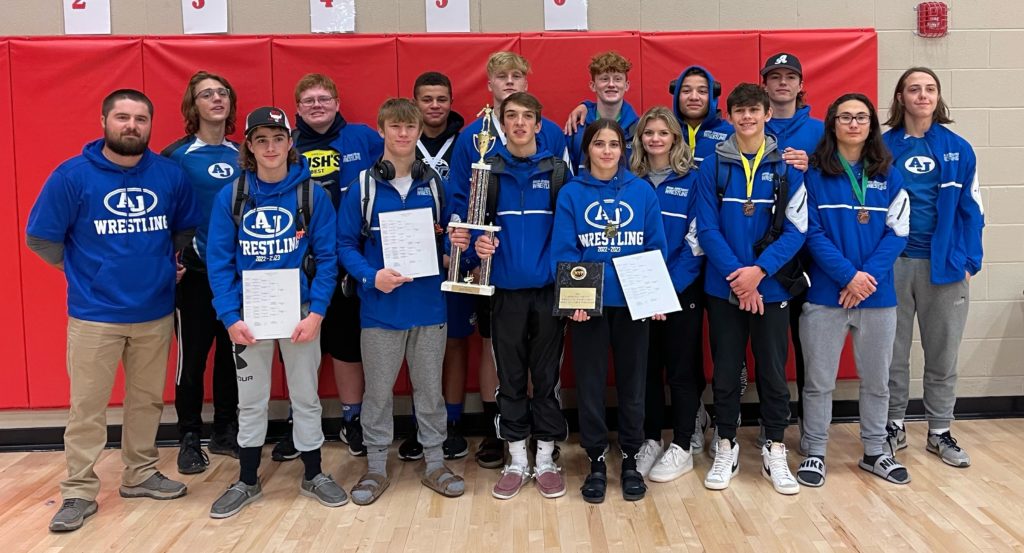 By Curt Herron
Anna-Jonesboro had three champions and 11 individuals who placed fifth or better to help it claim championship honors by a 214-202.5 margin over Frankfort Community at Saturday's Lawrence County Tourney in Lawrenceville.
Harrisburg beat host Lawrenceville/Red Hill186.5-178 for third place while Mt. Carmel (168), Carterville (135) and Fairfield (125) were next in line in the 13-team competition.
One of the highlights for coach Chase Hargrave's champion Wildcats was Zoee Sadler winning top honors at 106 with a 7-2 win over Harrisburg's Rocko Neal in the title match to become the first girl to ever win a championship at the Lawrence County Tourney. She was recognized for that accomplishment by receiving the event's Outstanding Wrestler Award.
Other top finishers for Anna-Jonesboro were champions Drew Sadler (113) and TJ Macy (138) and third-place finishers Daniel Dover (126) and Rayshaun Cannon (170). Taking fourth were Aaron Sheffer (160), Carson Bracken (195) and Levi Jones (220) while Brett Smith (120), Wyatt Wright (132) and Drew Holshouser (152) were fifth.
"I was very proud of the team for going to weight classes that allowed us to win the tournament," Hargrave said. "I look forward to seeing what kind of team we are whenever everyone gets to the correct weight classes. I think as a team we can do big things this season if our kids continue to buy in and work hard every week."
Leading the way for coach Rick Arrington's runner-up Redbirds were champion Gavan Mann (145), second-place finishers Brandon Turner (195) and Branton Chance (285) while Hayeden Hughes (106), Hagle Williams (113), Clayton Dent (138), Astin Swann (152) and Connor Henson (182) all took third place.
Best performers for coach Greg Langley's third-place Bulldogs were champion Tony Keene (120), runners-up Rocko Neal (106) and Aiden Unthank (132) and third-place finisher Briar Butler (145) while Avery Henderson (113) and Brendan Hicks (182) placed fourth.
Eight other teams also had champions. They were Robinson's Jared Hermann (170) and David Staller (182), Richland County's Carson Bissey (126), Lawrenceville/Red Hill's Isaac Foster (132), Herrin's Blue Bishop (152), Mt. Carmel's Joey Farrar (160), Carmi-White County's Nelson Rider (195), Carterville's Zech Miller (220) and Fairfield's Payton Allen (285).
Other second-place finishers were Mt. Carmel's Satchel Taylor (113), Jordan Wood (120) and Zeke Swanson (145), Lawrenceville/Red Hill's Brian Seed (160), Karen Ochs (170) and Nathan Blackwell (220), Oblong/Palestine/Hutsonville's Ian Rosborough (126) and Austin Hargrave (182), Fairfield's Scotty Cuff (138) and Robinson's Kahne Hyre (152).
Championships won by decision were Zoee Sadler over Neal 7-2 (106), Macy beat Cuff 10-6 (138), Hermann defeated Ochs 8-2 (170) and Staller won 3-1 over Hargrave (182).
Title matches that were determined by fall were Drew Sadler in 1:37 over Taylor (113), Keene over Wood in 1:46 (120), Bissey in 2:41 over Rosborough (126), Foster over Unthank in 1:55 (132) and Mann in 0:44 over Swanson (145),
Other first-place matches that were won by fall were Bishop over Hyre in 1:31 (152), Farrar in 1:38 over Seed (160), Rider over Turner in 0:31 (195), Miller in 5:57 over Blackwell (220) and Allen over Chance in 1:18 (285).
Also claiming third place finishes were Mt. Carmel's Evan Hedge (132) and Mason Rayborn (220), Lawrenceville/Red Hill's Dalton Spahn (195) and Dylan Camden (285), Carterville's Landyn Flood (120) and Fairfield's Talan Keoughan (160).
Others finishing in fourth place were Richland County's Levi Ochs (106) and Tuff Troyer (132), Carmi-White County's Matt Wilson (120) and Dylan Ackerman (138), Lawrenceville/Red Hill's Dylan Aten (126), Herrin's Aaron Ragsdale (145), Carterville's Jake Grob (152), Mt. Carmel's Johnnie Askren (170) and Robinson's Dalton Woods (285).