Marmion wins championship at Dan Gable Donnybrook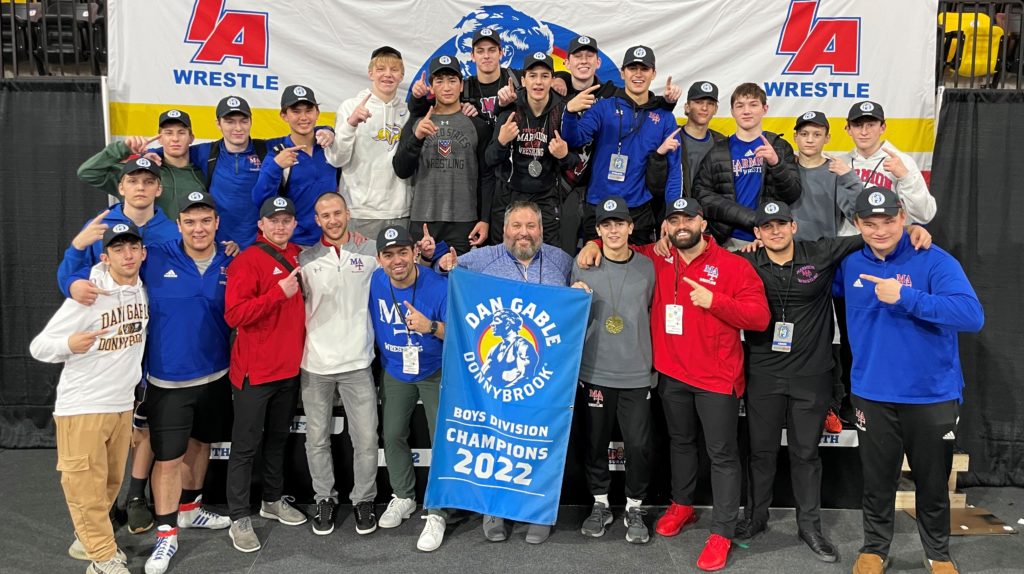 By Curt Herron
Marmion Academy scored 289 points to claim top honors at the Dan Gable Donnybrook over the weekend in Coralville, Iowa. Liberty, MO edged Mount Carmel 269-268 for second place.
Joliet Catholic Academy and Lockport tied for ninth with 182 points. Other Illinois teams in the field were DeKalb (16th, 141), Marian Central Catholic (19th, 120), Hersey (26th, 84), Antioch (32nd, 66), Lincoln-Way West (36th, 46) and Huntley (37th, 28).
Top performers for coach Nathan Fitzenreider's champion Cadets were title winner Jameson Garcia (126), runner-up Nicholas Garcia (106) and third-place finishers Santino Scolaro (145), Edward Perry (220) and Sean Scheck (285).
Jameson Garcia beat Iowa City High, IA's Cale Seaton 9-6 in the 126 title match while Nicholas Garcia lost 6-5 to Iowa City West, IA's Alex Pierce in the 106 title match.
Other individuals placing in the top 12 for Marmion were Jack Lesher (5th at 182), Michael Phillips (7th at 170), Zach Stewart (9th at 120), Brody Kelly (9th at 132), Tyler Aters (10th at 138) and Donny Pigoni (11th at 113).
Leading the way for coach Alex Tsirtsis' third-place Caravan were champions Seth Mendoza (113) and Sergio Lemley (126) while Eddie Enright (152) finished in third place.
In the 113 title match, Mendoza won 18-6 over Hortonville, WI's Wyatt Skebba. And in the 126 title match, Lemley won by fall over Bettendorf, IA's Jayce Luna.
Also finishing in the top 12 for Mount Carmel were Lukas Tsirtsis (4th at 106), Colin Kelly (4th at 170), Kavel Moore (5th at 106), Rylan Breen (5th at 195), Damian Resendez (7th at 120) and William Jacobson (12th at 182).
Three other Illinois competitors also won championships, Lockport's Logan Swaw (160) and Brayden Thompson (195) and Joliet Catholic Academy's Dillan Johnson (285) while the Hilltoppers also received a third-place finish from Mason Alessio (160).
Swaw won 6-1 over Wayzata, MN's Kyler Wong in the 160 title match, Thompson claimed a 5-3 decision over West Bend, WI's Cole Mirasola in the 195 title match and Johnson won 7-4 over Waverly Shell-Rock, IA's Jake Walker in the 285 title match.
Other top 12 finishers for Joliet Catholic Academy were Maximus Hrvatin (5th at 220), Gylon Sims (6th at 120), Connor Cumbee (6th at 152), Jason Hampton, Jr. (9th at 113) and Noah Avina (12th at 106).
Also finishing in the top 12 for Lockport were Isaac Zimmerman (6th at 106), Liam Zimmerman (8th at 120) and Jad Alwawi (10th at 126).
DeKalb had five individuals who made the top 12, Austin Martin (6th at 145), Nate Sauer (7th at 182), Eduardo Castro (8th at 106), Jacob Luce (9th at 152) and Sean Koklebeck (10th at 160).
Marian Central Catholic also had five individuals who placed in the top 12, Max Astacio (7th at 160), Kaden Harman (8th at 126), Vance Williams (8th at 132), Nicolas Davidson (8th at 138) and Charlie Fitzgerald (12th at 145).
Four individuals from Hersey finished in the top 12, Oleg Simakov (6th at 285), Maksim Mukhamedaliyev (9th at 126), Daniel Lehman (11th at 106) and Jake Hanson (11th at 138).
Others who finished 12th or better were Antioch's Caleb Nobiling (7th at 145) and Seth Gomez (8th at 195), Huntley's Markos Mihalopoulos (9th at 285) and Lincoln-Way West's Jase Salin (12th at 126)
Two champions at Dan Gable Donnybrook girls tournament
Joliet Catholic Academy's Grace Laird and Lockport's Claudia Heeney both won titles at the inaugural Dan Gable Donnybrook's girls tournament that was held in Coralville, Iowa
Laird beat Raccoon River, IA's Calista Rodish by fall in the 120 title match while Heeney defeated Linn-Mar, IA's Reese Roberts 7-0 in the 125 title match.
Huntley took eighth place with 212 points while Lockport was 10th with 190 points. Joliet Catholic Academy (24th, 51), DeKalb (25th, 49) and Marian Central Catholic (29th, 25) also competed in the first-year event.
Leading the way for Huntley were Janiah Slaughter (3rd at 100), Jessica Olson (4th at 140), Alexandra Strzelcki (4th at 155), Taylor Casey (8th at 110), Aubrey Rohrbacher (9th at 130), Payton Turczyniak (8th at 190), Addison Drews (10th at 115), Gretchen Sweeny (10th at 170).
Other top performers for Lockport were Ava Kaspar (4th at 190), Liz Ramirez (6th at 110); Averi Colella (8th at 105), Faith Hagemann (8th at 170); Monica Skibicki (10th at 100) and Maya Hernandez (11th at 115).
Also placing in the top 12 were DeKalb's Alex Gregorio Perez (4th at 110) and Reese Zimmer (12th at 115) and Marian Central Catholic's Vallorie Williams (9th at 155).