Barrington 3A Sectional recap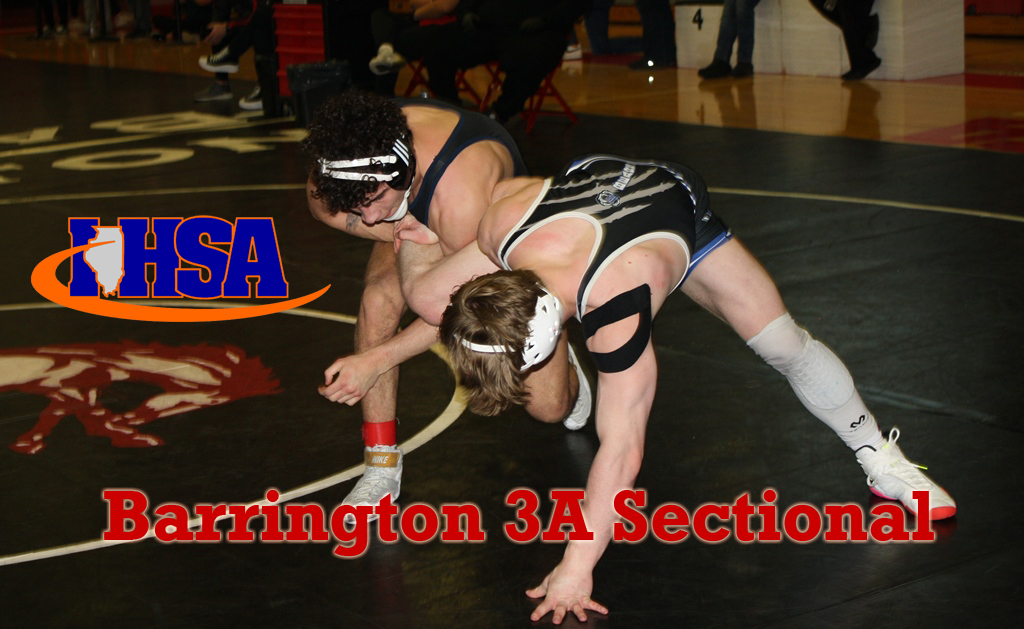 By Mike Garofola
BARRINGTON – This wrestling season has been one to marvel at, with several from the state to be found nationally-ranked, while others of tremendous talent themselves have continued to soldier on – giving fans of the sport plenty to cheer and celebrate.
Last year, Barrington's sectional produced 18 state medal winners, three of which were state-runners up. Two others, Josh Knudten (Libertyville, 182) and Jack Cummings (New Trier, 195), lifted the much-desired state championship bracket.
There were a few wrestlers in Barrington for this year's sectional that will be strong favorites to advance into the 2023 state title contest. Several others are quite capable of bringing home state medals come Saturday night at State Farm Center in Champaign.
When this tournament came to an end late Saturday afternoon inside the intimate surroundings of the Barrington field house, MSL champion Hersey and its fierce rival Prospect would each advance seven downstate, with NSC champ Libertyville, and Fremd from the MSL West next up with five each.
Where it all will end is anybody's guess, but for now here's a closer look at all 14 weight divisions:
106: Brayden Teunissen, Belvidere North
Barrington High School has been very good to Brayden Teunissen.
The Belvidere North sophomore, currently ranked No. 2 in Rob Sherrill's Illinois Matmen rankings, won here in late November at the prestigious Moore-Prettyman tournament. That was the first of what is now his seventh major of the season.
Saturday afternoon, Teunissen pinned his way to glory to book his second consecutive trip downstate.
Teunissen (45-2) needed just over seven minutes over the two days of action, including 90 seconds in his final with McHenry's Ryan Hanson (35-10) to give his club its first of two championship belts.

It was Teunissen's 27th pin of the season.
"It's kind of crazy to think that way back at Thanksgiving I won my first tournament of the season," Teunissen said. "Now it's one week before state, and I've been able to win the most important tournament of the season to get back downstate.
Teunissen was runner-up at 106 here a year ago, to Saturday's champion at 113, Jacobs' Dominic Ducato.
"Since the Moore-Prettyman, I feel like my set-ups, footwork, and offense have improved," Teunissen said. "After having the experience of being downstate last season, I feel like I have a very good chance to get into the state final."
Hanson, who lost earlier in the year to Tenuissen, will be making his first appearance in Champaign, as will No. 8 Danny Lehman (Hersey, 35-9) who dropped a tight 2-1 decision to Hanson in their semifinal.
The Hersey sophomore later defeated Prospect sophomore Elijah Garza (28-14) for third-place honors.
113: Dominic Ducato, Jacobs
It was a fine field at 113 in Barrington, but Jacobs' Dominic Ducato (31-2) was without equal.
The St. Cloud State-bound Ducato sent all three of his rivals away with ease, beginning with a pin just 33 seconds into his tourney opener. He followed that with back-to-back tech-falls, stepping out onto the mat and unleashing his attack with a fury that ended his semifinal in four minutes, and at 3: 40 in his title match against Round Lake's Alejandro Cordova (31-9).
At last year's state finals, Ducato majored his opening opponent before dropping two close matches to eventual state medal winners (Ethan Spacht, Brady Phelps), putting an abrupt end to his third visit downstate.

"Last year never worked out the way I had wanted it to," Ducato said. "The way state ended really provided a ton of motivation for my offseason training. I tweaked my knee before the Batavia Invite, which slowed me down a little, but I feel really good right now and I'm ready to go next weekend at state."

Ducato was a sectional champ at Barrington a year ago at 106.
"Dominic has been a man on a mission, and we were upset when he hurt his knee," Jacobs coach Gary Conrad said. "The Batavia Invite would have been a great measuring stick for him, but that's how it goes in this sport. I can tell you he's a hundred percent ready for this weekend coming up."
There will be eight state medal winners in Champaign's high-profile field at 113 this year, including No. 7 Ducato, who has both Spacht and Phelps just ahead of him in the most recent IWCOA state poll.
Cordova will be making his second visit downstate, while Barrington's third-place Abdullokh Khakimov (Hersey, 35-12) and fourth-placer Gavin Pardilla (Loyola Academy, 28-17) will be enjoying their first.
120: Massey Odiotti, Loyola Academy
With his technical fall defeat in his 120-pound state final at the hands of nationally-ranked Ben Davino (St. Charles East) a year ago behind him, Loyola Academy star Massey Odiotti has set out to dominate the field at 120 this year.
The top-ranked Northwestern-bound Ramblers senior proved once more he's the man to beat next weekend.
Odiotti (36-6) left all three of his opponents in his dust with a tech-fall to start things off on the first day of play, followed by a pair of impressive major decision victories, the last coming against Esteban Delgado (Hersey, 32-12) which ended at 17-4.
"Ben is a great wrestler, one of the best in the nation, but I learned a lot at state last year," Odiotti said. "After that I never stopped training and working in order to get myself back there again to win it all."
Three of Odiotti's losses this year have come to out-of-state opponents, and one came against reigning state champion Jameson Garcia (Marmion Academy) while competing at 126.
"My coaching staff here at Loyola is tremendous, plus the time I spend at Izzy Style has really helped round my game into shape. And my work in Freestyle and Greco has given me so much more during the offseason as well," added Odiotti, who in 2022 was a Greco Junior runner-up.
Odiotti had the University of Illinois and Central Michigan University in his sights, but the staff, team, and academics at Northwestern led him to Evanston, where he will red shirt next fall and likely compete at 125 pounds.
Joel Muehlenbeck (Prospect, 31-10) returns to Champaign while Libertyville junior Luke Berktold (40-12) will be there for the first time. Muehlenbeck won 9-6 over Berktold on the third-place mat.
"This weight class had so many worthy potential state qualifiers," Libertyville coach Dale Eggert said. "Luke had to win his blood-round match against Bryce (Durlacher, Mundelein, 30-2) who last year was fifth overall at state.
Berktold won 2-1 in overtime against Durlacher to reach the third-place mat.
"Going slow at Durlacher you won't get anything, but eventually Luke put a hustling pace on him, which led to him breaking through in overtime for the winning take-down," Eggert said.

126: Evan Gosz, Fremd
You can put Evan Gosz as yet another at this sectional who was unstoppable and unbeatable alongside names like Baysingar and Frezza, after the Fremd sophomore delivered a trio of knock-out punches en route to his second straight sectional title, and sixth major of this season.
"I threw (Loyola's Patrick) Zimmer in my regional final last weekend, so I figured he would come out today and go for it," Gosz said. "But I was able to launch him early on and take control of the match from the start."

Gosz improved to 39-1 with 23 pins, including a thundering throw off the whistle in his title match against Zimmer, which drew a big response from the audience. Gosz won his title by fall at the 0:32 mark.
"I feel so much better heading into the state tournament than I did a year ago," Gosz said. "My shots and positioning are sharper and cleaner, and I have that experience of being down on the floor in Champaign out of the way. So I am mentally, and physically in a better place this year."
Gosz placed third a year ago downstate. He's currently No. 3 in the polls behind a nationally-ranked duo and reigning state champions in Ben Davino (St. Charles East, 46-0) and Jameson Garcia (Marmion Academy, 37-4).

Gosz has an impressive statistic on his resume this year, conceding just five take-downs on the season.
"There isn't anybody that will beat Davino so the hope of winning here and getting a top four seed is that I'll be on the opposite side of the bracket from him, and do all that I can to get into the state final on Saturday night," Gosz said.
Zimmer, Maksim Mukhamedaliyev (Hersey, 35-14), and Adam Pena (Huntley, 32-14)
will celebrate their first appearances at state. Mukhamedaliyev posted a fall at 3:00 over Pena on the third-place mat.
132: Will Baysingar, Prospect
On Saturday afternoon in Barrington, Will Baysingar (47-1) reaffirmed his status as one of the best there is at 132 in the state.
It wasn't just the dominating and gaudy victories he registered – all of which were bonus point wins – but instead it was the relentless way he goes about taking apart his opponents in stirring fashion.
"You have to understand that wrestling is not a hobby to Will – it's 365 days, 24-7 in his training, cardio, nutrition – just everything," said Prospect head coach Dan Keller of the No. 3-rated 132-pounder, who was state runner-up a year ago to Nasir Bailey of Rich Township at 132.
"I take my training very seriously: cardio, muscular, diet – everything from the physical, and mental side of the game to keep myself in peak form – with the goal of winning a state title," Baysingar said.

Baysingar is now a dazzling 166-4 during his four-year career with the Knights, which includes an IWCOA state title wrapped around a pair of second, and third place IHSA state medals.
Jacobs' No. 4 James Wright (38-4) – now a four-time state qualifier – cruised into his final but met a brick wall in Baysingar. Baysingar went from a 2-0 lead after one period to an 8-0 lead when he put Wright onto his back, on his way to a 10-0 major.

Glenbrook South's Max Brown (35-11) won an 11-8 decision on the third-place mat over Harlem's Myles Babcock (26-13). Both are first-time state qualifiers.
138: Lorenzo Frezza, Stevenson
As Prospect's Will Baysingar goes, so goes the star 138-pounder from Stevenson, Lorenzo Frezza (38-0), as intense, focused, and dominating a wrestler as there is in the state.
Frezza is a four-time state qualifier and two-time third place medal winner. The senior wows with impeccable positioning, awareness, and the ability to strike with lethal accuracy early into his matches; Frezza has scored almost 200 points in the first periods of his matches, which sets the tone for the rest of the way.
"Lorenzo has been laser-focused from the first day he came into the room, and that focus has never changed," Stevenson coach Shane Cook said. "With each week, his focus, work rate, and dedication to improving each time out continues to rise.
"His preparation is second to none, and everyone associated with Stevenson wrestling is excited for his chances next weekend in Champaign."
Frezza, now with 20 pins on the season, has his eyes firmly on the top prize at state, and with victories over Baysingar, No. 3 Tyler Guerra (St. Charles East), and now No. 6, Maddox Khalimsky (Fremd, 22-2) in his final, it appears the expectation to do so is a reasonable expectation.
Khalimsky, now a three-time state qualifier, is thrilled to be back to compete after missing the early part of the season.
"It's exciting to be back in the room," Khalimsky said. "I cannot tell you how much I missed wrestling, and how appreciative that I am back with my teammates and coaching staff."
The Fremd senior beat eventual fourth-place medalist Rhenzo Augusto (29-15) of Barrington in their semifinal, and Augusto upset a returning state qualifier in Prospect's Lennon Steinkuehler in their state-qualifying bout.
Evan Onstad (Warren, 29-5) came all the way back in the back-draw and won 10-3 on the third-place mat over Augusto to earn his first trip to Champaign.
145: Antonio Alvarado, Belvidere North
Belvidere North's Antonio Alvarado and Lake Zurich's Scott Busse have plenty of history at this sectional venue, so no doubt camps from both programs likely circled this weekend as soon as the IHSA announced its 3A assignments.
Alvarado (48-2) and Busse (43-3) each advanced into the 2022 sectional final at different weights, and both finished second.
These two superb 145-pounders met in the Moore-Prettyman final over Thanksgiving weekend, with Alvarado winning a 6-5 decision over Busse.
With both men on the opposite sides of the sectional brackets, it was clear that if they were able to get past quality opponents, the rematch for No. 5 Busse against No. 3 Alvarado was in play.

That rematch took form when Alvarado topped Fremd's Jake Crandall (30-12) by 11-2 major in their semifinal, and Busse won a 16-6 major in his semifinal against McHenry's Pedro Jimenez (38-10).
Once in the final, Alvarado took a lead he would hold throughout, extending to a 5-0 advantage with a nicely-played angled shot 30 seconds into the second period, and a late take-down from Busse ended the final at 7-3.
"I think we were both looking forward to seeing each other again," Alvarado said. "For me, getting that first take-down was a hundred percent what I wanted to do in order to help me dictate the pace of the match in my favor."

Alvarado finished fifth in Illinois last year.
"Antonio had championship aspirations last year, so it was tough for him to work his way back through wrestle-backs in order to medal," Belvidere North coach Danny Martinez said. "But he's a young man who is the ultimate competitor and he'll never give up."
With one more pin added this weekend, Alvarado now has a team high 32 while his counterpart is at 25 pins, with over 220 take-downs.
"We were hoping for a rematch, and thinking it would be an exciting high scoring match, but things didn't go our way today," Lake Zurich coach Jake Jobst said.
Crandall is on his way to his first state tournament after securing a third-place finish over Jimenez, now a two-time qualifier.
"It was now or never for me with it being my senior year, but lately I feel like everything has come together for me at the right time, so I feel real good about getting downstate," Crandall said.
152: Aaron Stewart, Warren
Of all the marvelous freshmen in Barrington, the one that stood out was Warren's No. 2 Aaron Stewart (39-1) who continues to smash the competition at 152 pounds in such a comprehensive fashion that continues to amaze the Warren coaching staff.
Stewart pinned his way into his final with No. 8 Colin Young (Belvidere North, 44-5) where in workmanlike order he slowly built and added to his lead throughout, finishing with an 18-6 major decision victory.
"Aaron shows so much poise as a freshman," Warren coach Brad Janisek said. "He's composed and under control at all times, and the thing that impresses me so much is how hard he works to improve every single thing about his game. Now he's thinking one, two, and three moves ahead, which makes him all the more special of a wrestler.
"However, none of his success goes to his head. He remains level-headed about all of it and he's also a terrific student-athlete. His academic success is very important to him as well.
"You have to be impressed with the way Aaron goes about his business," Warren assistant coach Curt Onstad said. "He's mature beyond his years and it's his work ethic and desire that really helps set him apart."
Young, sitting just outside the top 6 in the rankings, went into the weekend with four major titles to his name, the most recent a regional crown at his home mats to give Belvidere North its first team title since 2004.
With his two pins in advance of the finals, Young stands just behind team leader Antonio Alvarado with 23, while he's first in near-falls with 80.
Prospect's Damien Puma won an 11-4 decision on the third-place mat over Highland Park's Dmitry Derbedyenyev.
160, Aaron Hernandez, Hersey
After No. 6 Aaron Hernandez finished his customary post-match sprints in the back of the Barrington fieldhouse, the Hersey senior gathered himself nicely before pouring on the praise to his coaching staff and teammates for all of the success they have achieved thus far.

Eventually, Hernandez turned his attention to the sectional title he just claimed.
"It's been a very good year for us – actually the last two years," Hernandez said. "We won the conference and regional championship, and now I've won a sectional title. My teammates, Anthony Cambria, and Oleg (Simakov) have the chance to do the same.
"Beating a very good opponent (Warren's Royce Lopez) felt real good. I really worked my tail off during the offseason to get here. But there's still some business ahead of me to finish."

Hernandez improved to 26-5 with his 3-1 sudden victory over Lopez, which came by virtue of a take-down with six seconds remaining in the first extra session.
Prospect junior Connor Munn (27-7) travels to Champaign for a second consecutive time, while Stevenson senior and No. 8 Thomas Schoolman (37-5) heads downstate once again with a third-place sectional medal in hand.
"I was 4-0 against Royce heading into my semifinal, but couldn't make it five straight, which made it that much harder to advance," Schoolman said. "But I had a lot to prove to myself after falling short here last year, and with a lot of help from my teammates and coaching staff, I made it one more time downstate."
170: Chris Moore, McHenry
The hits just keep coming for McHenry senior Chris Moore, who produced yet another championship effort – his sixth of the season – to solidify a top four seed in Champaign, giving the No. 2 man in the state a terrific opportunity to earn a second straight spot in the finals come Saturday night.
Should Moore (39-0) do so, it could set up a rematch of the 2022 160-pound state final with current No. 1, Colin Kelly (Mt. Carmel, 23-2) who, like Moore, would be looking to claim a second state championship.
Moore earned his first as a freshman at 113 pounds while at 2A Aurora Christian, before coming back to his hometown to finish off an extraordinary career.
"It's all about getting better each time out to prepare for state. That's my lone focus right now, and has been from last offseason to now," Moore said.

Moore won his sectional title Saturday with a 16-7 decision in the finals against Libertyville's Matt Kubas (38-7).
"Moore is just rolling – great pace, great technique, great feel, and defense. He really is something else," Libertyville coach Dale Eggert said.
"Matt did his best to hang in there with him, but he really could not get any offense going and it's hard to keep Moore off the scoreboard. There wasn't much Matt could have done differently, but to try to match his pace as much as he could, which should help him at state."
No. 3 Kubas produced a quality six minutes in his semifinal with Jonny Fier (Barrington, 36-7) to advance, and later, Fier recorded a 9-4 decision in his third-place match with Prospect's Michael Matuszak (29-12) to grab his first trip downstate.
"I went 0-2 here last year, so to come back and get downstate in my senior year, and at home, is exciting," said Fiers, who told his coaches after he won his 100th career victory last weekend at regionals that he would change his first name from Jon to Jonny the rest of the way.
"We all had a great laugh when Fiers told us what he was doing. He's a great kid and we're all very happy for him right now," said Barrington coach Ken Hoving.
182: Anthony Cambria, Hersey
The big smile on the face of Anthony Cambria said it all for the Hersey senior, who had just won the biggest tournament title of his career after he edged league rival Ali Adel (Fremd, 31-8) with a 3-2 decision.
Cambria (38-12) first had to grind out another hard fought contest in his semifinal bout, winning 4-3 over Quinn Herbert (Loyola, 24-10).
"This just feels so amazing right now," Cambria said. "You always set a goal to get downstate at the start of the year, but to win a sectional championship and a top four seed at state is still something that is just unbelievable to me right now."
Adel wasn't anywhere near the guest list here a year ago, but he opened up Friday with a pin to get his tournament headed forward, Adel then used an 8-2 decision over Libertyville sophomore Caleb Baczek (18-9) to advance into his final.
"It's all about the hard work, and extra time (Adel) has put in that has resulted in him getting downstate," Fremd coach Jeff Keske said.
Baczek recently took over for the injured Austin Gomez, who was third a year ago in Champaign, and his coach was impressed with his fourth-place finish.
"For a guy that only wrestled spot moments with us on the varsity this season, what an accomplishment for him to get downstate," Libertyville coach Dale Eggert said.
"He was prepared to go into the jayvee conference tournament the week before regionals, when he heard the night before that Austin was out with an injury. He is a blue chip athlete, who needs a lot of varsity seasoning, and he fixed his mistakes for his consolation semifinal match, and could not have wrestled better to get himself downstate."
No. 9 Herbert will be making his third straight appearance in Champaign following his 8-1 decision win over Baczek on the third-place mat.
195: Cole Matulenko, Libertyville
Despite his first two losses to Prospect phenom Jaxon Penovich, Libertyville's Cole Matulenko welcomed yet another contest with the No. 4 rated Penovich (41-5), who also knew the two could meet again in what would be the biggest of their three bouts thus far.
"You don't want to put too much into a rematch," No. 5 Matulenko said. "But to be honest, the way I've been feeling and competing of late, it was something I was hoping for to be sure.
"I had begun to taper my training of late – cutting back from my 4:30 a.m. workouts four days a week, and I feel like it has made me feel my absolute best. I'm peaking at the right time of the season."

Looking sharper, and quicker than ever, Matulenko (40-4) struck for the all important first take-down. He added to it to earn a 4-0 advantage after one period.
"That take-down was huge," Matulenko said. His coach liked what he saw.
"The key was actually his single leg take-down counter early on," Libertyville coach Dale Eggert said. "(Penovich) had him in the air for a while, and Cole was able to fight him off. Then he came right back to get that first take-down, and then (earn back points) make it 4-0.
"(Cole) did not have that on him in his first two matches, he sort of rolled from there on, and yes, he is definitely peaking at the right time. He was doing a lot of lifting in the early morning, which I believe was wearing him down a bit. But he's taken his foot off the gas of late, and it has really sharpened him up."
"Last year at state did not go well," Matulenko said. "So it's something that has stayed with me. To win here and get a top four seed in a super tough weight class is exactly what I wanted to have heading into the state tournament."
Dundee-Crown star and senior Porter Leith (38-2) – who had his hopes dashed in the blood at last year's Barrington sectional – made amends with a well-deserved 3-1 victory for third place over Grant's Cameron Lattimore (36-13).
"That loss here last season has never gone away," Leith said. "It has been the inspiration for me throughout the offseason and in my senior year. I've never stopped working to get back here, and get downstate."
Leith has trained diligently with Jim Brunner, the father of former Dundee-Crown and Purdue University star Christian Brunner, who was a state champion in 2016.
220: Kai Calcutt, Loyola Academy
Barrington was a coming-out party for a quartet of freshmen who all advanced into their first ever sectional championship match, with two of them coming away with the big trophy.
Warren's Aaron Stewart dominated at 152 and another rookie wrestler, Loyola's Kai Calcutt (37-8) did the same at 220. The Ramblers' freshman beat Libertyville's No. 5 Owen McGrory (43-6) of Libertyville by a score of 9-5 to win a sectional crown.
"To be honest, this is a fantastic feeling," No. 5 Calcutt said. "To be a sectional champion along with my teammate Massey (Odiotti) is something I feel very proud of.
"This has been a great tournament for freshmen wrestlers, most of whom I train with like Royce (Lopez) at Warren, Jaxon Penovich (Prospect), Aaron Stewart, and a lot of guys from Prospect, and Hersey. They've all helped in my development, along with a great coaching staff here at Loyola, especially our head coach, coach (Matt) Collum."
Collum was a three-time All-American at Oklahoma State and Old Dominion, and a Junior College National champ while at Iowa Central. Collum will lead a contingent of seven to Champaign.
Libertyville coach Dale Eggert assessed the title match between Calcutt and No. 6 McGrory:

"Owen had a great match against a very strong opponent in Calcutt," Eggert said. "He had a sharp late-second period takedown that put him up 4-2, and in a position to win. But credit (Calcutt) for creating a late third period scramble for a five-pointer, and the eventual win."

Fremd senior Casey Bending (36-12) rebounded nicely from his loss in the semifinals to McGrory, grabbing a third-place medal and earning a second trip downstate. Bending won 7-4 over Mundelein sophomore Abisai Hernandez (35-14) for third.
285: Oleg Simakov, Hersey
Hersey big man Oleg Simakov (38-8) will tell it like it is and in his opinion, his 285-pound opponent in the finals might have deserved the crown over himself.
Nonetheless, the always affable Simakov did claim top honors in a 6-5 thriller that saw the super-soph from Round Lake, William Cole (31-9) nearly pull off an upset over No. 7 Simakov, who is now on his way to a second trip to Champaign.
"(Cole) is a great young talent and to be honest, I didn't wrestle the best that I could and he should have won the match," Simakov said. "But in the end it was my mat experience that likely was the difference.

"I missed that slide-by and he took advantage in the first period, and I had to just try to stay with my game plan to get back in the match in order to give me a chance to win."
The sectional title win gave Simakov four tournament titles this year and he leads the Huskies with 27 pins on the year.
Simakov drew back level at 2-2 after an illegal locking of hands penalty point was issued by the referee, much to the angst of the Round Lake corner just before the end of the first period.
Simakov went ahead for good with 48 seconds from time (6-4) and would concede a late escape before the whistle drew this final to a close.
"When you consider William didn't get into our room for nearly the first month after the debate season was over, he has really come a long way fast," Round Lake coach Mike Hruska said. "So we're looking forward to him heading downstate for the first time where he's capable of surprising the field."
Cole won the Lake County Invite, then followed up with a regional title one week later.
Glenbrook South senior and No. 9 Drew Duffy (33-4) earned his second trip downstate, winning a 5-2 sudden victory decision over Hampshire junior Joey Ochoa (26-17) in the third-place match.