Deerfield 2A Sectional Recap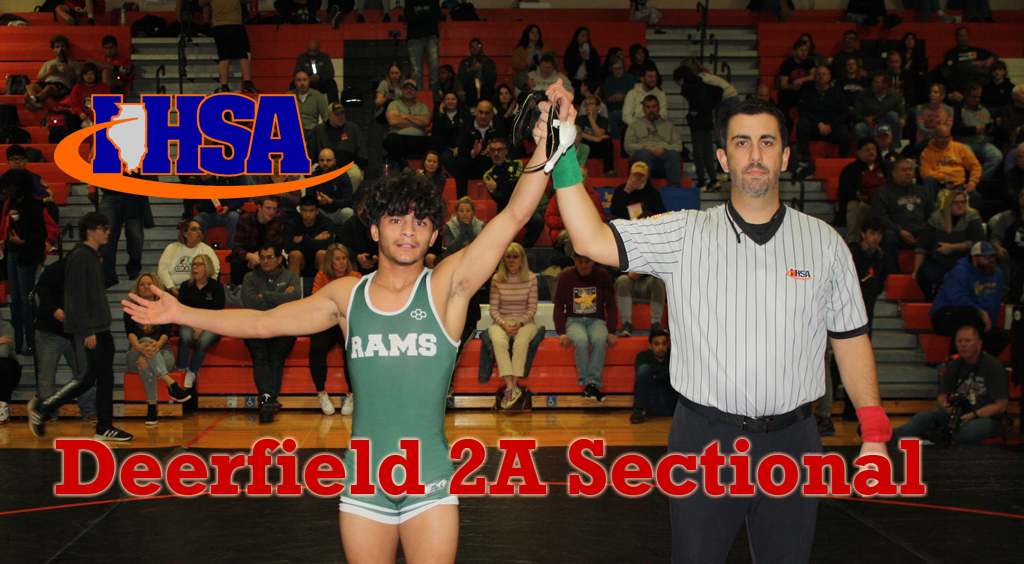 By Patrick Z. McGavin
DEERFIELD—
Grayslake Central junior Matty Jens stood on the mat with an unfurled and specialized photo, after earning his 100th career victory in his second-round sectional victory Friday night.
The milestone was great. He has larger objectives.
"I am now 102-10 in my career," he said. "To be honest, I kind of forgot about it, and it was in the moment. It's a great achievement, and it's the moment. I have bigger things."
Jens finished 47-3 last year—the final match stung, a devastating 5-3 loss against rival Shane Moran of Crystal Lake South in the 182-state final of the Class 2A state championship.
"Just thinking about it, I get goosebumps," Jens said. "The medal hangs on my door, and I watch the match almost every week.
"I never want to feel that way again."
At the Class 2A Deerfield Sectional Saturday, Jens took a crucial step—symbolically, and otherwise – towards a return trip to the University of Illinois.
Ranked No. 1 at 182 pounds by Rob Sherrill's rankings at Illinois Matmen, Jens was back at work.
Montini produced a tournament-best seven finalists, with three individual champions; Deerfield and Antioch each had three champions; Grayslake Central featured two; and Vernon Hills, Riverside-Brookfield, and Notre Dame had one apiece.
Wauconda led all teams with nine state qualifiers followed by Montini's seven, Antioch with five, and four by Deerfield.
Here is an expanded look at how each weight class played out.
106: Anthony Alanis, Grayslake Central
The sectional started off with a bang with a star-crossed confrontation of the state's top two wrestlers.
Grayslake Central's top-ranked Anthony Alanis edged Wauconda's No. 2 Gavin Rockey 6-4 in the championship.
The No. 1 versus No. 2 showdown gave it an extra jolt.
"I think it definitely added a kick to the match because we are both looking for the top spot," Alanis said. "Having him in my regional and then wrestling him in the sectionals definitely created a good rivalry."
Alanis previously defeated Rockey by an 11-4 decision.
"I think the difference between the first time we wrestled and now is just knowing how we both know what to expect," Alanis said. "That made the match more interesting because it's going to be a dogfight to see who wants it more."
Alanis (40-1) secured his standing as the one to beat at state. His quickness, power and speed proved too much.
"I think my style is aggressive, and I want to try and score as many points as possible to break my opponent," he said.
En route to the final, he posted first-period falls of Deerfield's Vincent Serwan and Jeremiah Lawrence of De La Salle in the semifinals.
Rockey (26-5) was equally dominant with a technical fall, fall and decision to capture the lower bracket.
The third-place match was also electrifying as De La Salle's Jeremiah Lawrence (43-5) pulled out the 13-11 sudden victory over Notre Dam'es Johnny Sheehy (34-15).
113: Ben Dunne, Montini
Montini junior Ben Dunne maintained his perfect season by blitzing the opposition; long and lanky, he used his agility, power and speed to overwhelming effect.
Difficult to take down and virtually impossible to score on, he made a singular impression with the 10-4 victory over Antioch's No. 7 Gavin Hanrahan in the championship match.
Coming out of the lower bracket, Dunne (18-0) posted two falls during the preliminary rounds. The sophomore Hanrahan (26-5) was equally commanding, coming out of the upper bracket with two first period falls.
After suffering a lopsided first-minute pin against Dunne, Wauconda freshman Nate Randle recovered for three consecutive victories in finishing third.
He punctuated his strong comeback with the technical fall over St. Patrick freshman Calvin Stahl in the third-place match.
120: Luke Reddy, Deerfield
Deerfield and Antioch combined to win the next five weight classes.
In another riveting showdown, Deerfield junior Luke Reddy captured the sectional title by defeating Montini's No. 10 Kameron Luif, who was forced to withdraw due to injury at the 5:07 mark.
Reddy (32-9) emerged from the top bracket with a fall and major decision over Antioch freshman Chase Nobiling in the semifinals.
Despite the injury, Luif had a superb showing with a second period fall, and a riveting 5-3 decision over No. 7 Olin Walker of St. Patrick in the semifinals.
Walker (43-6) claimed third place with a second period fall of Wauconda junior Lucas Galdine (18-11).
126: Jordan Rasof, Deerfield

Deerfield sophomore Jordan Rasof had to go up the escalator – he had to slow down and learn to love the moment.
After pulling off a stunning 14-second fall in the semifinals, No. 5 Rasof had to work more tactically and patiently in subduing No. 7 Tyler Weidman of Grayslake Central, 6-5 in the championship.
Rasof (42-5) blends speed, quickness, power and technical prowess into an imposing and virtually unbeatable package.

The junior Weidman (36-11) was equally spectacular operating out of the upper bracket, posting a first period fall and a 14-1 major during his own semifinal. The two were clearly the cream of the crop at their weight class.
Part of the beauty of the sectional format is the chance to make a second impression.
After suffering the quick fall against Rasof, St. Ignatius sophomore Nate Sanchez made a spectacular recovery of his own.
The highest-rated honorable mention wrestler at his weight, Sanchez (34-11) posted a major decision and victory by disqualification over Lake Forest's Julian Olenick to finish in third.
132: Edgar Albino, Antioch
Antioch junior Edgar Albino began a run of three consecutive championships by the Sequoits.
The No. 7 Albino put on a clinic with his trademark quickness, tenacity, technique and athleticism.
In a showdown with No. 5 Renzo Morgan of Deerfield, Albino won by injury default in the first period. Albino posted a first-period fall and technical fall in coming out of the upper bracket.
Morgan (32-4) had a :58 second fall and medical forfeit over Cooper Daun of Wauconda in the semifinals. In the third-place match, Daun recovered with a second period fall and 15-0 technical fall over Tony Hinojosa of Carmel.
138: Anthony Streib, Antioch
Senior Anthony Streib continued the Sequoits' run, staking his claim to being the most dominant wrestler of the sectional.
Top-ranked Streib required just 2:43 in posting consecutive falls for the individual championship. Combining great technique and power, Streib then completed his impressive performance with the fall of junior Logan Andrews Wauconda at 1:47.
Despite the loss, Andrews (27-15) also impressive. He had two falls during the preliminaries, and secured the lower bracket with a riveting 6-5 decision over junior Patrick Tinsley of Wheeling.
An honorable mention wrestler, Tinsley (27-11) regrouped with a third-period fall in the wrestlebacks, and claimed third place with the 8-0 major over Riverside-Brookfield's Josh Gonzalez.
145: Caleb Nobiling, Antioch
Styles make the match, as does the contrast of age and meaning.
Senior Caleb Nobiling completed the Antioch run with a fascinating and highly compelling 5-3 decision over precocious Montini freshman Santino Tenuta in the championship.
No. 3 Nobiling was virtually untouchable through the preliminary rounds with a stunning :25 second fall in the semifinals. His quarterfinal match lasted just 1:17.
Ranked No. 10, Tenuta was his near equal with his quickness, unorthodox style and ability to thwart or deny Nobiling.
Tenuta (21-6) had a first period fall and edged Wauconda's No. 4 Cole Porten 3-1 in the lower bracket semifinal. Porten (28-10) showed his mettle with a second-period fall in the blood round, and a 4-0 victory over Carmel senior Nicholas Asilani in the third-place match.
152: David Mayora, Montini
Montini junior David Mayora is in a class by himself.
Undefeated against Illinois competition, Mayora continued his torrid act by putting on a show with a 15-3 major over Wauconda's No. 6 Nick Cheshire in the championship match.
"My wrestling style is more of a free flow, and I try to loosen up so I can see it more as practice than as a match," Mayora said.
Mayora (44-2) posted a technical fall and achieved a tough 5-1 semifinal victory over Lake Forest junior Seth Digby.
"Going into the sectional, I knew I needed to dominate," Mayora said. "I felt it was all practice for the state tournament,and that was a good opportunity to be on the mat and get comfortable."
A junior, Cheshier (28-7) posted a major decision and first period fall in capturing the upper bracket. No. 7 Digby (33-10) fought back with a dominant blood-round decision and a first -period fall of Fenwick sophomore Aiden Burns in the third-place match.
160: Ilya Dvoryannikov, Vernon Hills
The state series is a platform for young and emerging talents to stake their claim.
Vernon Hills' freshman Ilya Dvoryannikov made a staggering personal statement with his second period fall of Montini's No. 4 Will Prater in the championship.
Dvoryannikov (29-9) showed he is ready to compete against anybody with his blend of power, speed and athleticism.
He foreshadowed his dominant title performance with a 10-7 decision over Antionch's No. 7 Ben Vazquez, and a fall at :48 in the semifinals.
Vazquez (34-13) responded sharply with a technical fall in the wrestlebacks, and a third period fall of Fenwick's Vincent Fiorovanti in the third-place match.
170: Aiden Cohen, Deerfield
Deerfield senior Aiden Cohen rocked the home crowd, showcasing his terrific brand with quickness, speed, and a work rate that never let up.
Cohen secured the sectional title with a hard-fought 5-2 decision over Gio Hernandez of St. Patrick.
"Wrestling on the big stage is what I live for," Cohen said. "I have been doing it my whole life."
No. 5 Cohen, who was fifth in the state last year at the same weight class, reached the championship round by registering two falls.
"I know if I am on my offense and pushing the pace that nobody can hang with me, and that is exactly what I did, " he said.
In one of the best matches of the tournament, Gio Hernandez (35-11) pulled out a 4-2 sudden victory over De La Salle's Josue Hernandez in the quarterfinals.
He captured the upper bracket with a major over Grayslake Central's Carter Vincent. Fenwick senior Finn McGee (32-4) defeated Vincent by second period fall in the third-place match.
182: Matty Jens, Grayslake Central
Grayslake Central's Matty Jens is ready to break loose.
"My gas tank is 100 percent full," he said.
The top-ranked junior was out of action for about three weeks but the silver lining—and dark horizon for his opponents—is his body is fresh and healthy.
Jens (28-0) existed at his own tier with a dominant run to the championship. His fall of Wauconda's No. 6 Sean Christensen at 1:06 underscored his separation from the rest of the pack.
"As much as it sucked missing that time off, not having my body beat up as much was definitely a plus," Jens said. "The intensity picks up at the end of the season anyways. My body is ready for that."
Jens' unorthodox and versatile style is virtually impossible to replicate.
"I don't wrestle like other people," he said. "I want to push the pace at all times. I feel very confident, there is nobody else in the state at 182 who is as good as I am on their feet."
Fenwick sophomore Jack Paris edged Notre Dame junior Jim Amatore 7-6 to finish third.
195: Evan Jocic, Montini
One of the prevailing narratives of the day was that youth was no barrier to ultimate success.
Montini sophomore Evan Jocic confirmed the point, literally and figuratively.
Jocic was unscored upon with shutout decisions in the preliminary rounds that culminated with his victory by injury default of Wauconda sophomore Michael Merevick in the championship.
"I think what worked well for me was being tough on top, and being able to ride out my opponents and turn them for points," Jocic said.
Jocic (28-13) defeated Vernon Hills' senior Kevin Halley with an 8-0 major in capturing the lower bracket.
"I think I am a smart wrestler who is always trying to be one step ahead," he said. "I shoot, sprawl, and ride when I have to."
Merevick (15-6) suffered an undisclosed injury in his 12-10 semifinal victory over De La Salle's Evan Smith. He also posted a first period fall in the quarterfinals.
In a matchup of seniors, Halley (26-10) registered a first period fall of Smith in the third-place match.
220: Joe Midona, Riverside-Brookfield
The end was somewhat anticlimactic for Riverside-Brookfield senior Joe Midona, as Montini junior Mick Ranquist was forced by injury to forfeit medically in their championship match.
But Midona (31-6) was a man on a mission, and he earned the title with his tough 8-6 quarterfinal decision over Antioch senior Donald Carson.
Midona followed with a second-period fall of Fenwick's Conor Stetz in winning the lower bracket.
The injury put a damper on an otherwise superb showing by Ranquist (26-10), who posted dominant first-period falls in the quarterfinals and semifinals. He earned the championship with a 15-6 major over De La Salle's Zion Nix.
Lake Forest freshman Yaree Sandifer posted a most improbable result with a first-period fall of St. Patrick junior Aiden Gomez in the third-place match.
285: Karl Schmalz, Notre Dame
There was no asterisk this time.
Notre Dame senior Karl Schmalz earned a 9-3 decision over rival Max Accettura of Vernon Hills for the championship.
One week prior, No. 2 Schmalz (30-2) was unable to wrestle due to illness in the regional championship, and conceded a medical forfeit against Accettura.
"I have wrestled Max three times in my career," Schmalz said. "I wouldn't say I changed my strategy too much, other than the fact that I have been working on new moves to further expand my game."
Schmalz needed just 2:02 of match time to post three convincing falls in winning the upper bracket.
No. 8 Accettura (37-4) was equally imposing with two dominant performances leading up to the showdown.
De La Salle sophomore David McCarthy, who was pinned by Accettura in the semifinals, rebounded with a first-period fall of Riverside-Brookfield's Devontae Givens for the third-place medal.
Led by undefeated defending champion Dillan Johnson of Joliet Catholic, the Class 2A heavyweight field is stacked.
The state tournament marks the crucible.
"Winning sectionals, getting the bye first round at state, and hopefully getting the opposite side of the bracket is exactly what I wanted," Schmalz said.
"Everyone who made it down has earned the right to compete there."