Batavia grabs Rus Erb title at Glenbrook South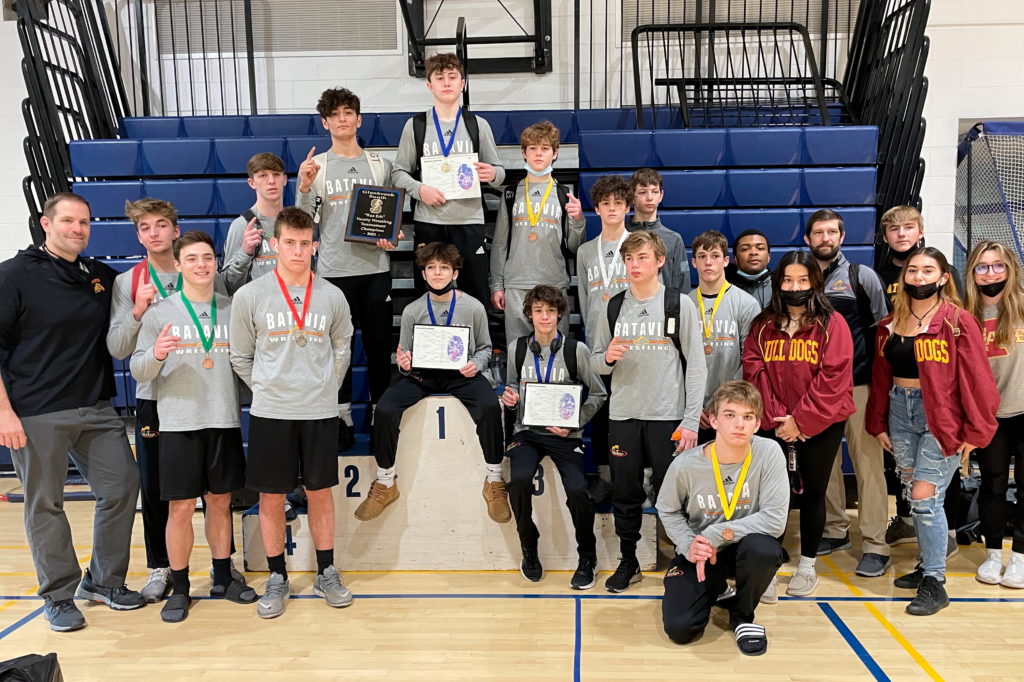 By Patrick Z. McGavin
"First impressions," the great English writer Chaucer said, "are lasting."
The wrestling equivalent are fast starts, the template for success and early confidence that creates a down-the-line influence.
At the 56th annual Rus Erb Tournament at Glenbrook South, Batavia's lead wrestlers, sophomore Ino Garcia (106) and Aidan Huck (113), created their own downhill momentum.
The two precocious young talents revealed dazzling technique, toughness and athleticism in capturing the first two championships.
Garcia utilized two three-point near falls in the second period to dominate Wauconda's Lucas Galdine 10-0.
Huck dominated Oswego's Brayden Swanson with a second period fall.
The Bulldogs rode that early success to the team championship with 195 points, gliding past Oswego, who finished runner-up with 177.50.
Ranked No. 12, Batavia thrived despite not having a full team available. The Bulldogs did not field representatives at 220 and 285 pounds.
It didn't matter.
The Bulldogs had five wrestlers reach the championship stage in their weight class. Batavia finished with three individual championships, two runner-ups and three fourth-place finishers
"We knew coming in we had a good chance to compete favorably here," Batavia coach Scott Bayer said. "I knew if we were going to do it, that would take a team effort.
"Those lightweight guys came out and really set the tone. Round by round, we had to press for major decisions and pin points. We got that."
The 16-team field offered a superb showcase for some of the state's top wrestlers in Class 2A and 3A. Eight of those champions remain undefeated. Three others have just one loss.
Seven different schools produced champions.
Batavia and Class 2A power Sycamore each produced three individual champions.
The tournament finish had a clear line of demarcation that separated the top five finishers—Batavia, Oswego, Wauconda, Lincoln-Way Central and Sycamore—from the balance of the field.
Led by its lone individual champion, Cruz Ibarra (195) pounds, the Panthers had four finalists and three runner-up placers.
Wauconda, ranked No. 19 in 2A, produced a champion with Colin Husko (145) and two second-place finishes. The Bulldogs also had two third-place finishers.
Lincoln-Way Central standout Joey Malito (120) was its top finisher, who also had two second-place performers.
What it lacked in quantity, Sycamore made up for in high quality with three elite undefeated wrestlers capturing individual titles with Brayden Peet (152), Zach Crawford (170) and Lincoln Cooley.
"A tournament like this is very beneficial," Peet said. "I don't have to see the same guys all the time where I go, and I get to see new looks, different wrestlers, and that helps prepare us for the state tournament.
"We're in 2A, so obviously going up against bigger schools and better people helps me prepare."
St. Patrick senior Sean Conway (132) earned the most outstanding wrestler award. He recorded two falls. In a riveting title against previously undefeated Conor Smetana of Lincoln-Way Central, he recovered from an early deficit to secure the 6-5 overtime victory.
The top-ranked wrestler in 2A, he improved his record to 19-1
The highest rated showdown was at 138 pounds as No. 5 Kaden Fetterolf survived No. 6 Mike DiBenedetto with an overtime takedown for the 7-5 decision.
By improving to 17-0, Fetterolf posted his second victory of the season against DiBenedetto (12-2).
Fetterolf was also a strong candidate for the most outstanding wrestler. He posted two falls in the preliminary rounds.
"We had a dual against Lake Park, and it was a very similar match that went down to the end," Fetterolf said. "One thing I learned from wrestling him before is that he is a very heavy right leg shooter, so I tried to counter that.
"He also adjusted to me, and that's what made it such a great match."
The other elite showdown involving two highly rated wrestlers played out at 182 pounds.
Lake Forest's Charlie Heydorn utilized an early five-point throw and near fall to capture the 8-3 victory over Batavia's previously unbeaten Jackson Tonkovich.
Heydorn (12-1) is ranked No. 4 in 2A; Tonkovich (16-1) is ranked No. 4 in 3A.
"We wrestled before down at the College Showcase," Heydorn said. "It was a similar match, and I got a few throws in there as well.
"I've been doing a lot of judo. I feel pretty comfortable there. I just felt like I was in a very good position."
In addition to Malito, Fetterolf, Husko and the three Sycamore individual champions, Loyola's Massimino Odiotti (19-0) sustained a perfect start
Odiotti (126) defeated No. 6 Dominik Mallinder of Lake Park with a third period fall.
Lake Park's Joey Olalde (160) extended his perfect start to 13-0 with a 5-1 victory over No. 8 Andrew Johnson of Oswego.
The other second-place finishers were Wheeling's Jatuthep Rattanahattaukul (120), Batavia's Cael Andrews (145), Oswego's Joseph Griffin (152), Wheeling's Leo Giron (170), Loyola's Michael Williams (195), Wauconda's Matthew Merevick (220) and Lincoln-Way Centrla's Braeden Barrett (285).
Batavia was the first—and last—team standing.
"Our big guns really came through for us," Bayer said.
"Every kid on our roster contributed, and that is how you win tournaments."
Here are the tournament champions and the other place-winners:
106 – Ino Garcia, Batavia
Batavia's Ino Garcia (14-3) utilized two three-point near falls in the second period to dominate Wauconda's Lucas Galdine 10-0 for the championship.
"I never wrestled him before," Garcia said. "He was pretty good. I just try to wrestle my style and get to my moves.
"I like to wrestle from a distance, or neutral. On top I try to be aggressive with turfs and stuff. On the bottom, I just try to get out, and I also like to waste time in that situation as well."
He said the two near falls in the second period developed out of rigorous practice habits.
"I just always try to get it really tight and go for it."
Garcia posted two falls to get to the championship. Ranked No. 10 in 2A, Galdine (9-2) also recorded consecutive pins to reach the final.
Batavia's Jack Duraski defeated Oswego's Jonny Theodor for third place. Lincoln-Way Central's Gracie Guarino finished fifth.
113 – Aidan Huck, Batavia
Batavia's Aidan Huck (13-4) established the dominant tone with a quick takedown en route to the second period pin of Oswego's Brayden Swanson.
"I always like to grab those first two points," he said. "I just try to work on nice turns, and keep the pace going.
"I think my takedowns have been very good. That mindset is just perfect for the match."
Just as impressively, Huck pinned top-seeded Olin Walker of St. Patrick in the first period during the semifinals. Swanson won two decisions to reach the final.
St. Patrick's Olin Walker defeated Niles North's Trent Toni for third place. Lake Forest's Bobby Birdie captured fifth.
120 – Joey Malito, Lincoln-Way Central
Lincoln-Way Central Joey Malito also engineered an early second period fall of Wheeling's Jatuthep Rattanahattaukul for the championship.
Malito started the season wrestling at 126 pounds. He felt sluggish and slow.
"I cut down to the lower weight, and now I have cleared my mind of the rougher matches," he said. "Now I am just going to work."
He just blitzed Rattanahattaukul with a succession of quick actions and rarely let up.
"I like to go as fast as I can, and get those takedowns," Malito said. "I like to misdirect my opponents, and then just attack them, especially those with slow or heavy feet."
Malito had three pins for the tournament.
Rattanahattaukul (10-4) by by fall over Buffalo Grove's Bryan Benitez and by decision over Oswego's Ryan Goddard.
Loyola's Patrick Zimmer defeated Goddard in the third-place match. Lake Forest's Julian Olenick was fifth.
126 – Massimino Odiotti, Loyola Academy
Loyola's Massimino Odiotti (19-0 ) defeated No. 6 Dominik Mallinder of Lake Park with a third period fall.
Leading just 4-3 midway through the second period, he expanded his advantage with a takedown that ballooned to a 9-3 edge. He defeated Mallinder at 5:07.
Mallinder (9-3) posted two falls to qualify for the final.
Marian Catholic's Joey Baranski defeated Batavia's Zach Szuberla for third. Wauconda's Cooper Daun was fifth.
132 – Sean Conway, St. Patrick
Sean Conway's enthralling 6-5 overtime victory over previously unbeaten Colin Smetana of Lincoln-Way Central ended on a controversial note, with St. Patrick's Conway awarded a point by referee's judgment in the overtime.
Smetana had a pin and captured a 12-8 decision over Lake Forest's Seth Digby to reach the final.
Digby recovered for the third-place victory over Batavia's Chase Osborne. Colin Brown of Oswego was fifth.
138 – Kaden Fetterolf, Batavia
The showdown between Batavia's Kaden Fetterolf and Lake Park's Mike DiBenedetto seized the headlines, with Fetterolf earning the takedown with 30 seconds into overtime for the win.
"I noticed he was tired, and kind of standing up during the overtime, so I just chose that as a good time to attack," Fetterolf said about the decisive takedown.
Fetterolf had two falls in the preliminaries. DiBenedetto won by technical fall and an 8-4 decision over Wauconda's Cole Porten.
Porten defeated Oswego's Aidan O'Meara by major decision for third. Evan Guarino was fifth.
145 – Colin Husko, Wauconda
In a superb final, Wauconda's Colin Husko (12-0) outmaneuvered Batavia's Cael Andrews 9-7 in a back-and-forth matchup.
"My whole approach is about staying offensive," said Husko who is ranked No. 6 in 2A. "That is the only way you can win. If you wrestle defensively, guys just have more chances to take you down.
"If you take that away, you are going to be more successful."
Husko had two falls in the lead up to the final. Andrews had a decision and a .22 second pin of Lane's Finn Merrill to qualify for the final.
Merrill fought back to defeat Palatine's Joey Spizzirri for third place. Lincoln-Way Central's Max Becker was fifth.
152 – Brayden Peet, Sycamore
Sycamore's Brayden Peet (18-0) used his excellent strength and riding skills for the 5-0 victory over Joseph Griffin of Oswego.
"If you watch college, I like to ride out a lot," Pet said. "I'm really good on my feet. When I am on the bottom, I am very explosive and I like to scramble."
Peet won two first period falls as part of his title run. Griffin (15-2) won by major decision and 6-3 over Lincoln-Way Central's Timmy Key.
Wauconda's Nick Cheshier defeated Gustavo Cardenas of Niles Roth for third place. Loyola's Danny Herbert finished fifth.
160 – Joey Olaide, Lake Park
In a showdown of two top-10 ranked athletes, Lake Park's No. 7 Joey Olalde defeated No. 8 Andrew Johnson of Oswego 5-1.
Olalde had an early pin and a 6-3 decision over Lane's Fernando Lopez. Johnson posted two pins as part of his backstory.
Sycamore's Gus Cambier defeated Lane's Fernando Lopez for third place. Wauconda's Zac Johnson was fifth.
170 – Zack Crawford, Sycamore
Ranked No. 1 in 2A at 160 pounds, Sycamore's Zack Crawford (13-0) jumped up a class and wiped out the competition.
He needed just two over two minutes of match time to record three pins. He took out Wheeling's Leo Giron in 0:34 seconds for the individual title.
St. Patrick's second-seeded Gio Hernandez (17-4) was forced to withdraw due to injury in an earlier round. Giron won by decision over Batavia's Asher Sheldon.
Hernandez returned to capture third place over Sheldon. Oswego's Noel Alvarez was fifth.
182 – Charlie Heydorn, Lake Forest
The Charlie Heydorn and Jackson Tonkovich match lived up to the hype. Both had two pins in the preliminary rounds, before Lake Forest's Heydorn used a 5-point move en route to an 8-3 win over Batavia's Tonkovich.
"I like to work out a lot, so I like to muscle kids," Heydorn said. "You never really see me doing very flashy moves. I like to just stick to the basics and use my strength."
Buffalo Grove's Vlad Federchenko (18-11) defeated Fable Carrick of Sycamore in the third-place match. Wauconda's Sean Christensen was fifth.
195 – Cruz Ibarra, Oswego
Oswego's Cruz Ibarra (14-3) used his superior athleticism and movement to offset the size advantage of Loyola's Michael Williams for the 5-1 victory.
Ibarra is a football quarterback who is explosive and dynamic in space. He earlier won by forfeit and a first period pin.
Williams edged Lincoln-Way Central's Paul Claussen 7-5 in the semifinals.
Palatine's Sam John beat Claussen for third. Wheeling's Erik Giron was fifth.
220 – Alex Goworowski, St. Patrick
Two highly-regarded wrestlers in 2A met confronted each other in the final. St. Patrick's Alex Goworowski (17-1) continued his torrid start with a 16-3 major decision over Wauconda's Matthew Merevick.
Ranked No. 7, Goworowski also won by forfeit and fall. Honorable mention performer Merevick defeated second-seed Jackson Funderburg of Sycamore with a late fall.
Niles North's Betim Jahovic won by fall over Palatine's Leonel Franco for third place. Funderberg was fifth.
285 – Lincoln Cooley, Sycamore
In an exhilarating end to the tournament, Sycamore's Lincoln Cooley (13-0) used a dramatic reversal for the 4-2 overtime victory over previously unbeaten Braeden Barrett of Lincoln-Way Central.
Lake Forest's Max Terlap defeated Lane's Mendi Tilch for third place. Lake Park's Armand Voloder was fifth.