Northern Illinois Roundup for 12/18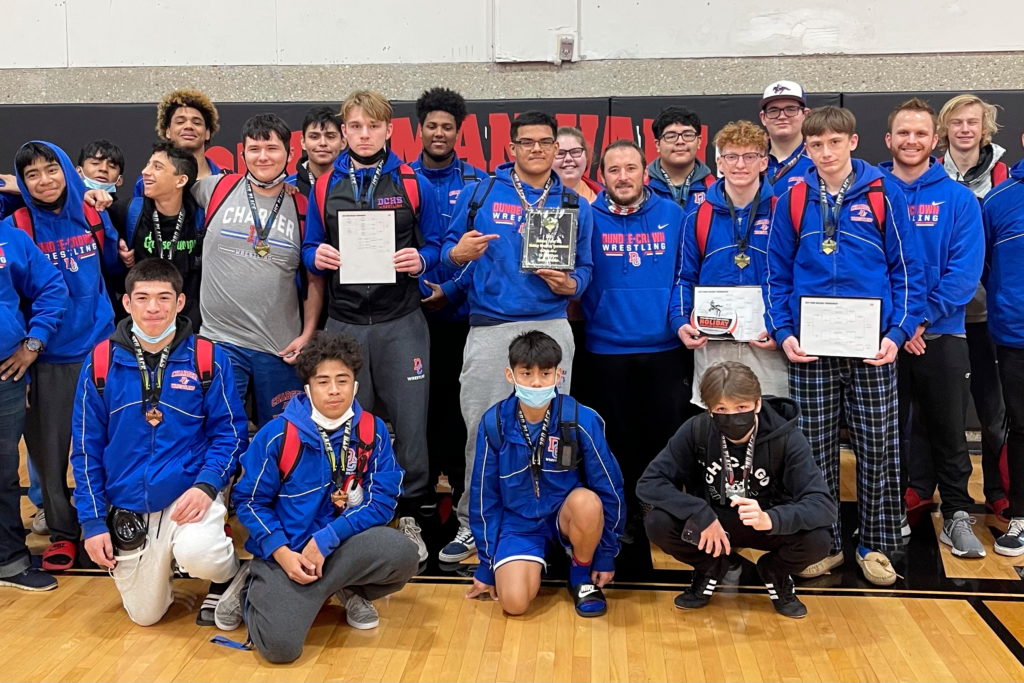 For the IWCOA
Dundee-Crown edges Princeton at Stillman Valley
Dundee-Crown won this year's 11-team Stillman Valley Holiday Tournament, edging second-place Princeton 140-135.5 in the final team score. Stillman Valley (122.5), Marengo (118), and Wheaton Academy (109) rounded out the top five team finishers.
Dundee-Crown advanced five wrestlers to the finals, and coach Tim Hayes' squad got titles from Thomas Taylor (138), Matt Impastato (145), and Porter Leith (195), and seconds from Juan Jasso (220) and Kyle Lessner (285) in the win.

The Chargers also got a third from Christian Gerardo (113), a fourth from Jose Baeza (120), and a fifth from Jose Gavina (160). Eight of the nine wrestlers D-C brought to Stillman Valley finished among the top five of their respective weight classes.

"I was very happy with the effort and growth of all of my wrestlers this week, both jayvee and varsity," Hayes said. "We changed a few areas of focus at practice and have been seeing positive changes in all of our guys."

Hayes applauded the day's work put in by Leith and Taylor after they both pinned their way to winning titles, Lessner wrestled well, and Hayes loves the hard work and leadership Jasso is showing a young team. Hayes also liked the toughness freshman Gerardo showed him in his first varsity tournament, and credited Baeza and Gavina for posting two wins apiece that helped the Chargers take home the team title.

Impastato was named outstanding wrestler for the lower weights at Stillman Valley, after topping Princeton's top-seeded and previously unbeaten Augie Christiansen by 8-3 decision in his semifinal match, before pinning Oregon's Anthony Bauer for the title.
"(Christiansen) was tough and continued wrestling through all positions, which is something we have been working on with Matt," Hayes said. "We had a few good exchanges on our feet that went out of bounds, but in the third Matt got a takedown and back points to seal the victory."

Champions for Princeton were Steven Benavidez (113) and Matthew Harris (126), while Ace Christiansen (120) placed second among Tigers who reached the title mat. Princeton also got thirds from Augie Christiansen (145) and Justin Wicaryus (285), fourths from Kaydin Gibson (113), Carlos Benavidez (132), Carson Etheridge (160), and Drew Harp (182), and fifths from Preston Arkels (138) and Jesse Wright (220).

The Tigers brought 11 wrestlers to the tournament and all 11 won place-medals. All nine of third-place Stillman Valley's entered wrestlers also medaled, led by individual champions Jack Seacrist (160) and Aiden Livingston (170), and second-place finisher Mack Jones (106).
Lisle, Oregon, Genoa-Kingston, Johnsburg, Winnebago, and Rockford Lutheran rounded out the field at Stillman Valley.

Other individual champions at Stillman Valley were Lisle's Ryan Hsu (106), Wheaton Academy's Will Hupke (120), Marengo's Ethan Struck (132), Johnsburg's Logan Kirk (152), Winnebago's Mannix Faworski (182), Wheaton Academy's Peter Johanik (220), and Marengo's Michael Macias (285).
Also placing second in their weight classes were Marengo's Gavin Prudlick (113), Matthew Rose (126) and Eddie Solis (195), Johnsburg's Landon Johnson (132), Wheaton Academy's Will Anliker (138) and Hunter Kazmierczak (182), Oregon's Anthony Bauer (145) and Gabe Eckerd (160), Genoa-Kingston's Brady Brewick (152), and Winnebago's Lucas Cowman (170).

Third-place finishers included Genoa-Kingston's Shayden McNew (106), Michael Sauber (195) and Ben Younker (220), Stillman Valley's Henry Hildreth (120), Porter Needs (152) and Andrew Forcier (182), Lisle's Brady Collins (126), Nolan Kelly (132), and Norbert Guzik (138), Winnebago's Charley Murray (160), and Oregon's Ethan George (170).

Taking fourth were Rockford Lutheran's Kyle Gnewuch (126), Oregon's Jared Glendenning (138) and Briggs Sellers (285), Stillman Valley's Cullen White (145) and Braxton Jennings (220), Wheaton Academy's Caden Smith (152), Lisle's Vinny Brummel (170), Lisle's Joe Raineri (195).
Glenbard South Invitational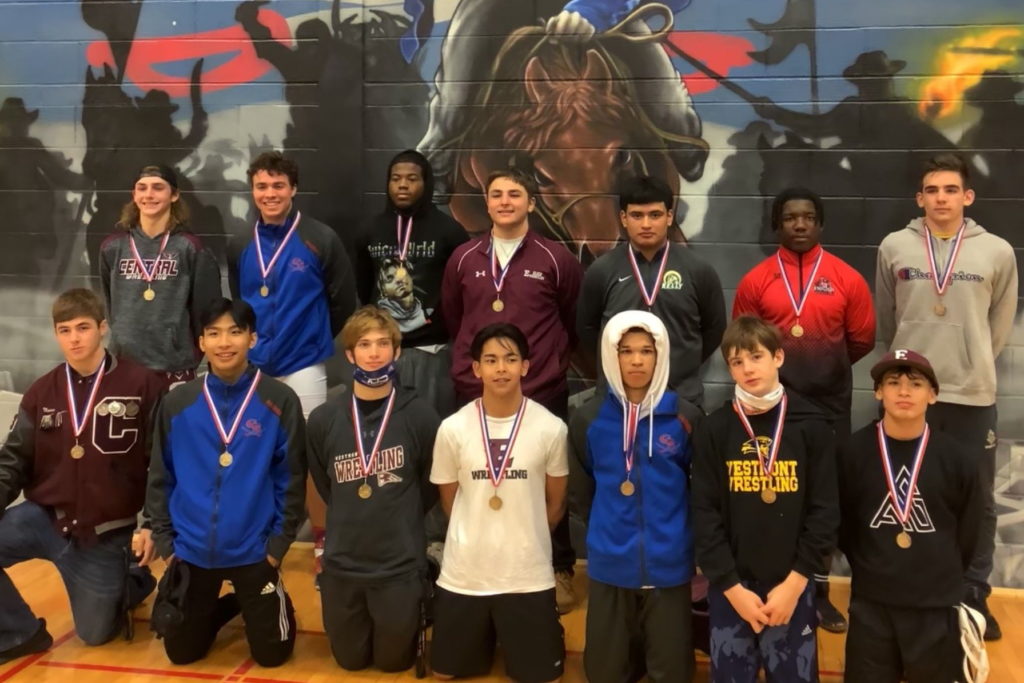 Glenbard South Invitational
Elgin and Wetosha (WI) finished tied atop the team leaderboard at this year's 8-team Glenbard South Invitational with 62 points apiece, with host Glenbard South finishing right behind with 58 points. Westmont (57), Northridge Prep (42), Goode (40), Kelly (39) and Guilford (20) rounded out the field.L
Here are the individual champions:
106: Julius Avendano, Elgin 113: Mission Hitchell, Westmont 120: Tyre Davis, Glenbard South 126: Allen Liguigon, Elgin  132: Dominic Wagner, Westmont 138: Andre Calalang, Glenbard South 145: Marcus Gillimore, Westosha  152: Evan Beth, Westosha 160: Mike Kopecky, Northridge Prep 170: Malek Howard, Goode 182: Steve Orsolini, Glenbard South 195: Jaylan lacy, Westmont  220: Leonardo Pascual, Kelly 285: Adam Lambatz, Elgin
Lincoln-Way East wins 4th Rob Porter crown at Niles West

The 4th Annual Robert E. Porter Invitational at Niles West saw 23 teams compete on Saturday, and when it was over Lincoln-Way East won the team title, posting a 489.5 to 431.5 edge over second-place Lake Zurich in the scramble format in Niles.

Coach Kevin Rockett's Griffins got individual titles from Jack Marion (152) and Gavin Jones (182), seconds from Tyson Zvonar (120) and Dominic Adamo (160), thirds from Domanic Abeja (145), Ari Zaeske (170), Connor Lindaur (195) and Alex Knaperek (285), a fourth from Brayden Mortell (113), fifths from Noah Ciolkosz (106), Kevin Byrne (132) and Jacob Hassan (220), and a sixth from Jackson Zaeske (138).

"Our coaching staff is happy with how our team has competed this year," Rockett said. "The Niles West Tournament was our first tournament of the year so it was nice to wrestle well as a team.
"Our early success is attributed to the leadership of our upperclassman and underclassman willing to do their part. Our team mantra this year has been happy not satisfied, our goal is to peak February."
All 13 of Lincoln-Way East's wrestlers entered in the tournament finished among the top six of their weight classes. Second-place Lake Zurich had nine of its 13 wrestlers present finish in the top six.
Schaumburg led all teams with three individual champions in Brady Phelps (106), Callen Kirchner (113) and Caden Kirchner (126).

Lake Zurich sent three wrestlers to the title mat and got individual titles from Scott Busse (138) and Matt Luby (195) and a second from Tomas Troutman (145). The Bears got a third-place finish from Nolan Schuetz (160), fourths from Tallon Smith (126), Nick Costis (170), Dan Hull (182), and Ethan Medina (220), and a sixth-place finish from Aiden Foley (152).
Normal West (367), Bartlett (286), Taft (283.5), Schaumburg (279.5), Waubonsie Valley (254.5), Geneva (248.5), Elk Grove (242.5), and Notre Dame (241) rounded out the top 10 team finishers in Niles.

Other individual Porter champions were Normal West's Froylan Racey (120), Taft's Colin Roque (132) and Ryan Porebski (220), Joliet West's Austin Perella (145) and Wyatt Schmitt (285), Waubonsie Valley's Antonio Torres (160), and Grayslake Central's Aaron Cramer (170).
Second-place finishers included Grayslake Central's Anthony Alanis (106), Reavis' Vladamir Vasquez (113), Taft's Patrick Diete (126), Bartlett's Jack Kaneshiro (132) and Jacob Kucharski (182), Maine West's Claudio Castellanos (138), Geneva's Nicky O'Keefe (152), Burlington Central's Nathan Kim (170), Waubonsie Valley's Ashton Phillips (195), and Notre Dame's Aodan O'Sullivan (220) and Karl Schmalz (285).

Also placing third in Niles were Geneva's Joey Sikorski (106), Elk Grove's Grant Madl (113) and Chance Guziec (220), Grayslake Central's Tyler Weidman (120), Reavis' Ahmad Suleiman (126), Normal West's Austin Johnston (132) and Brock Leenerman (182), Saint Viator's Austin Kanyuh (138), and Bartlett's Anthony Verges (152).
Additional fourth-placers were Burlington Central's Jack Aguirre (106), Waubonsie Valley's Elias Gonzalez (120) and Ethan Wojtowich (132), Normal West's Cody Sears (138) and Matthew Marsaglia (145), Notre Dame's Jack Shevlin (152), Schaumburg's Logan Meyer (160), Addison Trail's Apolonio Ramon (195), and Taft's Grzegorz Krupa (285).
Rich Township's Raptor Invite title goes to Merrilville (IN)

The 13-team field at Rich Township saw team champion Merrilville (IN) post a 256.5 to 183.5 edge over second-place Antioch, with Romeoville (176.5), Evergreen Park (121), and Morton (114) rounding out the top five team finishes.

Rich Township, Eisenhower, Crete-Monee, Tinley Park, Hillcrest, Thornton-Fractional South, Bloom Township, and Thornwood rounded out the field.

Merrilville advanced seven wrestlers to the title mat and got individual championships from David Maldonado (126), Caleb Carter (160), and Ryan Gonzalez (182), and seconds from Matthew Maldonado (113), Nasir Christion (120), Lucas Clement (132) and Adrian Pellot (145). Ruben Padilla (138), Taijon Span (152), Cameron Crisp (170), and Theodore Sparks (285) placed third for Merrilville, who also got fourths from Joy Cantu (106) and James Veal (220), and a fifth from Tyler Knight (195) as the Indiana team entered 20 wrestlers in the Raptor Invite and 14 of them were scoring wrestlers who all finished in the top five of their weight classes.
Second-place Antioch sent six wrestlers to the title mat, getting individual titles from Edgar Albino (120), Anthony Streib (120) and Ben Vazquez (160), and seconds from Caleb Nobiling (138), Evan Vazquez (160) and Seth Gomez (182). The Sequoits got a third from Gavin Hanrahan (106), fourths from Ethan Castillo (113), a fifth from Donald Carson (220), and a sixth from Brock Jurinek (145).
Other Raptor Invite champions included Romeoville's Brian Farley (106), Sergio Dondiego (145) and Johnathan Espinoza-Luna (195), Morton's Anthony Lopez (113) and Oscar Bonilla (220), Rich Township's Nasir Bailey, Evergreen Park's Mike Torres (170), and Crete-Monee's Vincent Arebalo (285).

Wrestlers placing second included Rich Township's Diondre Henry (106), Tinley Park's Alfonso Insalaco (126), Eisenhower's Nate Pacetti (152) and Esteban Valesquez (195), Romeoville's Mason Gougis (170) and Francisco Gonzalez (285), and Evergreen Park's Eduardo Antunez (220).

Also winning third-place medals were Romeoville's Alex Bahena (113), Eisenhower's Juan Carlos Jurardo (120), Evergreen Park's Axle Rubalcava (126), Aseal Rubalcava (160), James Williams (182) and Connor Rinearson (195), Merrilville's Marlone Kirksy (132), Ruben Padilla (138), Taijon Span (152), Cameron Crisp (170) and Theodore Sparks (285), and Hillcrest's Jovan Williams (145) and Rodney Sims (220).
Finishing fourth were Romeoville's Bryson McDonald (120), Morton's Rafael Lopez (126), Anthony Rivera (145) and Giovanni Rodriguez (182), Tinley Park's Andrew Koepke (132) and Sam Zyyad (138), Merrilville's Anthony Zacarias (152) and James Veal (220), Crete-Monee's Elijah Grayer (160) and Brandon Alexander (195), Eisenhower's Alberto Esparza (170), and Bloom Township's Anggelo Dawson (285).