Batavia ready to roll after winning Glenbrook South Erb Invite title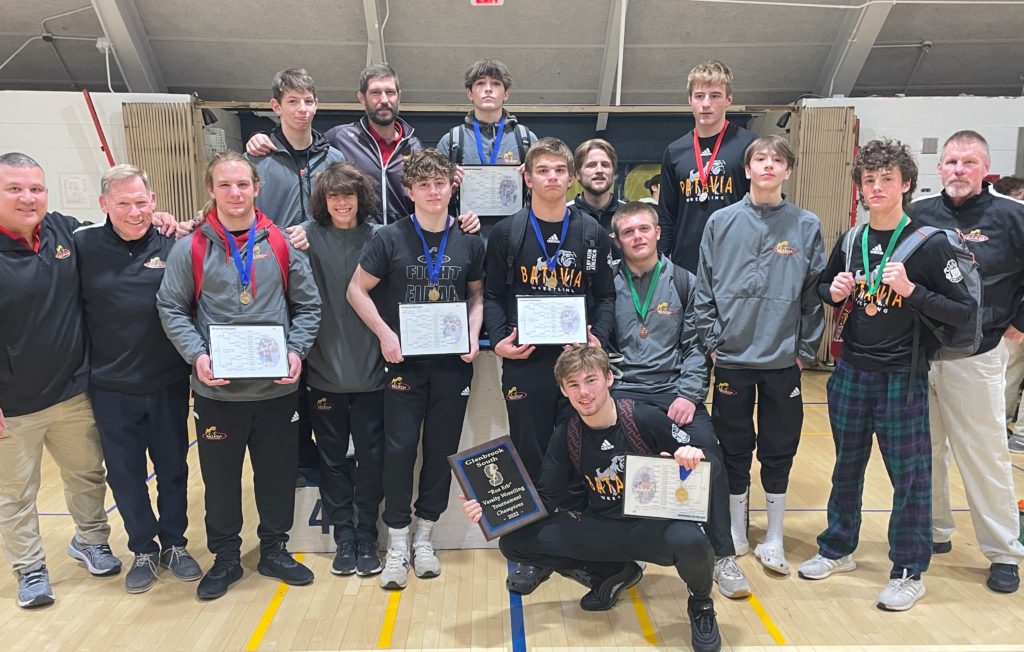 By Patrick Z. McGavin
GLENVIEW – This is the team that Ryan Farwell always envisioned.
Injuries and the football team playing in the Class 7A state championship game meant the new Batavia boys wrestling coach had to wait to see his fully loaded team.
The 57th Russ Erb Tournament became the exhilarating showcase of what the Bulldogs were fully capable of.
"These guys are showing the work that they're putting in," Farwell said. "They're coming in every day with the right attitude, and putting in a ton of effort.
"We only plan to build off of that right now."
Batavia had seven finalists and five tournament champions in capturing its second consecutive team championship on Saturday.
The Bulldogs scored 209.50 points while Grant took second with 176 points and Schaumburg scored 170 points to finish third. Wauconda (155.5), Glenbrook South (152.5), Deerfield (147.5), St. Patrick (137), Oswego (100.5) and Sycamore (94.5) were next in the 20-team tournament.
Led by the five won by the Bulldogs, eight schools had individual champions.
"It's a tough tournament, and we really like the format and coming here," Farwell said.
"We are going to celebrate going back to back."
Cael Andrews (145) and Kaden Fetterolf (152) symbolized the power of the Bulldogs' attack.
The two undefeated wrestlers put on a show, underscoring Batavia's star power.
The Class 2A state runner-up in the dual championship last season, Deerfield joined the field.
Aiden Cohen, who finished fifth in the state at 170 pounds last season, was named as the tournament's most outstanding wrestler for the Warriors.
Deerfield and Schaumburg were the only other schools with multiple champions, with two each.
Wauconda, Sycamore, St. Patrick, Oswego and the host Titans had one champion apiece.
Runner-up Grant did not have an individual champion. The team matched Batavia with eight place finishers – three seconds, two thirds, two fourths and a fifth place.
Here's a breakdown of the Russ Erb Tournament champions and their weight classes:
106 – Gavin Rockey, Wauconda
Wauconda's Gavin Rockey has the appropriate name.
He was stable, sharp and virtually untouchable in capturing the 106 individual championship.
Rockey (11-1) seized control with a first-period takedown for an 8-0 decision over Grant's Vince Jasinski in the championship match.
He built his lead with a second-period reversal and two-point nearfall.
"I like to wrestle fast-paced," he said. "I have been focusing on my neutral position and working on shooting a lot more and just being very offensive."
He earned the title match with a fall in the quarterfinals and a 5-0 decision over Lane Tech's Evan Coles in the semifinals.
Jasinski (16-3) posted two falls in capturing the lower bracket, pinning St. Patrick's Daniel Goodwin in 1:20 in the semifinals.
In the third-place match, Goodwin defeated Coles 7-3. Oswego's Jonny Theodor posted a fall of Wheeling's David Perez for fifth place.
113 – Brady Phelps, Schaumburg
The riveting 113 championship match featured contrasting styles.
Defending tournament champion Ino Garcia of Batavia is long and wiry.
Schaumburg's Brady Phelps is compact and powerful.
Fourth in the state last season at 106 pounds, Garcia returned to action this week following his recovery from a sprained MCL.
He is still finding his footing.
Phelps (18-0) earned a 2-1 victory by securing a reversal in the closing moments of the second period.
The first period ended scoreless.
"At the start of the period, I was just trying to get out," Phelps said. "I knew he was pretty good on top, and he ended up catching a half. I knew if I tried shooting underneath, I could potentially get turned.
"I started rolling, and I caught a cast over, and I did it again, and I just posted an arm over head."
Garcia (4-1) earned the escape with 50 seconds remaining. Phelps prevented the takedown to secure the victory.
Garcia showed little rust in his impressive return. He posted two first-period falls to reach the championship.
Phelps registered two technical falls to capture the lower bracket
Wauconda's Nate Randle beat Lane Tech's Alex Valentin 6-4 for third place. Sycamore's Tyler Lockhart defeated Lake Park's Nick Merola 4-3 in overtime in finishing fifth.
120 – Callen Kirchner, Schaumburg
Schaumburg sophomore Callen Kirchner breaks the mold of his weight class.
At nearly 5-foot-10, he is wiry and long with a ridiculous wing span.
"I'm a really tall 120-pounder, and I like to get on top," Kirchner said. "From there I can get to a lot of cradle actions where I can really take advantage of my length."
Kirchner (18-1) captured the championship with a 16-1 win by technical fall at 5:21 of Grant's Ethan Tarvin (14-2).
Kirchner utilized his reach to spectacular effect, deploying a quick takedown and three-point nearfall of the cradle for an 8-0 lead after the first period.
"I like to go for a lot of ankle picks when I am in neutral, and really use my long arms to my advantage," Kirchner said.
Kirchner put the exclamation point on a dominant run that featured two first-period falls and a 10-2 major decision in the semifinals.
"It feels great being one of the younger guys in the bracket and being able to beat some good guys," Kirchner said.
Tarvin posted two falls and a 13-2 major in the quarterfinals to reach the final.
St. Patrick's Olin Walker earned third place with a 9-3 decision over Deerfield's Jackson Palzet. Glenbrook South's Marcus Santos pinned Batavia' Jack Duraski to earn fifth place.
126 – Aidan Huck, Batavia
Batavia's Aidan Huck initiated the run of back-to-back tournament champions with his fall over Deerfield's Luke Reddy.
The defending champion at 113 pounds, Huck (18-2) created a hyper pace and speed that Reedy was virtually helpless to counter.
"Definitely getting that first takedown sets the tone," Huck said. "I'm pretty sure that was the difference between me and my opponent."
Huck took a 4-0 first period lead with a takedown and two-point back points.
His escape and three subsequent takedowns pushed his advantage out to 11-3 when he ended the match at 5:17.
"I wanted to take it slowly," Huck said. "I took the perspective that I wanted to take the points and help the team."
Huck had a fall and win by technical fall in his two preliminary bouts.
Reddy (8-4) posted two dominant wins by technical fall in capturing the lower bracket.
Grant's Erik Rodriguez secured a fall in 3:18 over Lake Forest's Julian Olenick in the third-place match. Oswego's Brayden Swanson secured an 11-6 decision over Schaumburg's Rocco Fontela for fifth place.
132 – Jordan Rasof, Deerfield
Deerfield's Jordan Rasof had the most improbable and dramatic run of all.
He pulled a stunning comeback in the semifinals and rode that momentum for a 9-5 upset of Wauconda's Cooper Daun, who was previously unbeaten, for the 132 championship.
"After the semifinals, I was a little nervous," Rasof admitted.
He was down 8-2 against another previously-unbeaten opponent, Evanston's Marco Terrizzi, early in the third period.
Rasof flipped Terrizzi trying to execute a cradle and turned the tables for a stunning pin at 4:21.
And then Rasof pulled the comeback victory late in the second period against Daun (14-1).
Down 3-0, Rasof outmaneuvered Daun for the reversal and three-point nearfall for a 5-3 lead at the end of the second period.
"We got into a scramble there, and I thought I got the two earlier," Rasof said. "I ended up in a chicken wing and I felt his toe right there.
"I said to myself, 'That's it.'"
He secured the victory with a three-point nearfall in the third period.
Rasof (14-3) had a win by technical fall and decision leading up to his match with Terrizzi.
Daun posted a fall, win by technical fall and major decision en route to the championship.
Glenbrook South's Max Brown posted a fall in 4:23 of Terrizzi for third place. Grant's Vinny Potempa captured fifth place with a fall in 3:51 over Schaumburg's Iverson Cortes-Apolinar.
138 – Nico Karamaniolas, St. Patrick
St. Patrick's Niko Karamaniolas defeated Marian Catholic's Joey Baranski, who was forced to withdraw after a second-period injury, in the 138 championship.
After a scoreless opening period, Baranski (17-3) established a 3-0 advantage with an escape and takedown.
Karamaniolas (9-0) caught Baranski on the reversal and Baranski suffered a chest injury and was not able to continue.
The Shamrocks junior had two falls and a decision in winning the lower bracket. Baranski had a win by technical fall, a fall and 5-0 decision over Evanston's Eren Atac in the semifinals.
Lake Park's Vince Merola secured third place with the fall in 3:45 over Grant's Clayton Honaker. Wauconda's Logan Andrews defeated Atac by 12-4 for fifth place.
145 – Cael Andrews, Batavia
Cael Andrews put on a clinic.
He has the ideal training partner in undefeated Kaden Fetterolf, a state finalist at 138 last season.
"We beat the crap out of each other," Andrews said.
Andrews (21-0) showed explosive athleticism and a relentless pace in blitzing the field.
He turned the single leg into an art form with repeated examples of his proceeds in an 11-2 major decision over Wauconda's Cole Porten in the 145 championship.
"I like to use my speed, push the tempo, and just dominant kids," Andrews said.
"I like to show my full arsenal."
Andrews posted two takedowns and a nearfall for a 6-1 first period lead.
"My style is about going out there with as much confidence as I could rack up," Andrews said.
"I go in knowing I have really worked hard to beat everybody in the room."
Andrews, who finished as a runner-up in the tournament last year, had two falls and a win by technical fall in the semifinals to capture the upper bracket.
Porten won by technical fall, injury default and an 8-3 decision over Grant's Jack Lunardi in the semifinals.
Carmel's Nicholas Asllani captured third place with a 0:22 fall over Lunardi. Evanston's Declan Glascott was awarded fifth place by forfeit over Lake's Will Steen.
152 – Kaden Fetterolf, Batavia
How dominant has Kaden Fetterolf been this season?
He has not been scored upon offensively—zero takedowns, reversals or near falls given up.
Second in the state last season at 138 pounds, Fetterolf demonstrated clinical mastery and complete command of craft.
In a showdown of perfect wrestlers, Fetterolf scored a 6-0 decision over Schaumburg's Caden Kirchner for the 152 title.
He won the tournament at 138 pounds last year.
"Guys are a lot stronger than they used to be," Fetterolf said. "My freshman year, I was down to 106 pounds, and it was a lot more speed and less strength.
"Now they're getting a lot stronger, and I have to get used to that."
Caden Kirchner (18-1) is formidable in his own right, lanky and rangy and supremely athletic.
Fetterolf posted takedowns in the first two periods and closed out the impressive performance with a late reversal. He had two falls and a 9-0 major decision in winning the upper bracket.
Caden Kirchner posted a win by technical fall, a first-period fall and a tough 5-3 decision over Lake Forest's Seth Digby in the semifinals.
Sycamore's Gus Cambier defeated Digby 7-2 in the third-place match. Wauconda's Nick Cheshire won 11-1 over Oswego's Colin O'Grady to earn fifth place.
160 – Zack Crawford, Sycamore
Just call Sycamore's Zack Crawford the magician.
He pulled victory from apparent defeat with a remarkable closing sequence in his 7-6 victory over Glenbrook South's Patrick Downing in the 160 title match.
In a dynamic and thrilling back and forth tilt, the two wrestlers threw haymakers at each other.
After exchanging reversals in the second period, Downing had a late takedown for a 6-4 late lead. But Crawford (12-0) had other ideas.
"I won this tournament last year, and I didn't feel like coming in second," Crawford said.
He secured an escape with 34 seconds remaining. Using a final burst of energy, he caught Downing for the winning takedown with just four seconds left in the match.
"I saw an opening and hit a roll," Crawford said. "I saw it and got a shot in."
Crawford won by fall and a medical forfeit to reach the championship.
Downing had two falls and a 7-0 decision in the quarterfinals to capture the lower bracket.
Schaumburg's Logan Meyer posted a fall in 3:36 over St. Patrick's Devin Nichol for third place.
Wauconda's Zac Johnson earned fifth place with a forfeit victory over Oswego's Joey Griffin, who was injured Friday and unable to compete Saturday.
170 – Aiden Cohen, Deerfield
Few wrestlers match the intensity and verve of Deerfield's Aiden Cohen.
"I definitely go out there and be dominant in every aspect," Cohen said.
He knows how to put on a show, with flair and style, drawing on his explosive blend of power, speed, quickness and balance.
"Against the better guys, I always want to control the pace and rhythm of the match," he said.
Earning the Most Outstanding Wrestler distinction, Cohen registered an impressive and commanding fall of Marian Catholic's Lloyd Mills in 4:31 in the 170 title match.
Cohen (14-1) had five takedowns in the first period. He led 18-8 when he ended the match at 4:30 with the pin. He used two falls to reach the title match.
After winning by major decision and recording a win by technical fall, Mills (13-5) captured the lower bracket with a 7-6 decision over St. Patrick's Gio Hernandez.
Glenbrook South's Ilkin Badalov won a 9-0 major decision over Sycamore's Cooper Bode for third. Hernandez earned a 9-3 decision over Lake's Austin Gonzales in the fifth-place match.
182 – Jack Bronzy, Batavia
Batavia's Jack Brozny has a bull-like center of gravity and toughness.
He is hard to bring down, and tough to overpower in ties or turns.
Brozny flashed quickness, power and strength in his 8-3 championship victory at 182 over Buffalo Grove's Vlad Fedorchenko.
With the exception of his first round fall, Brozny (13-4) worked the full six minutes with three straight hard-fought decisions.
He was methodical, precise and highly efficient.
After neither wrestler scored in the first period of the finals, Brozny briefly trailed after giving up an escape. His takedown and cradle produced a five-point swing.
Fedorchenko (14-3) posted three consecutive falls in winning the lower bracket.
Wauconda's Sean Christensen recorded a fall in 5:07 over St. Patrick's Jack Clancy for third place. For fifth, Schaumburg's Jacob Acevedo pinned Glenbrook South's Tony Prieto in 2:00.
195 – Cruz Ibarra, Oswego
Oswego's Cruz Ibarra is athletic and dynamic in space. He is also great in the tight quarters of wrestling.
A two-year starting quarterback for the Panthers, Ibarra utilizes his mobility, athleticism and toughness.
Ibarra earned his second consecutive tournament title with a 7-0 victory over Batavia's Ben Brown in the 195 title match.
"That was really important for me to come back, and do this a second time in a great tournament like this," Ibarra said.
Ibarra utilized a first period takedown and nearfall for a 4-0 advantage.
"I'm faster and quicker than most guys my size and I also have spent a lot of time working on the bottom," Ibarra said.
Ibarra (13-1) had three falls in winning the lower bracket.
One of the Bulldogs' football players getting his wrestling conditioning back, Brown used a late reversal for a 3-2 decision over Grant's Cameron Lattimore in the semifinals.
Brown also had a fall and major decision in capturing the upper bracket.
Lattimore defeated Sycamore's Gable Carrick by fall in 2:27 for third place. Buffalo Grove's Caden Watson earned fifth place over Wheeling Erik Giron, who was disqualified.
220 – Asher Sheldon, Batavia
Batavia's Asher Sheldon was probably the most surprised guy in the gym.
"I don't throw that often and it was a surprise for everybody," he said.
Sheldon posted the fastest championship victory with an 0:23 fall of St. Patrick's Aiden Gomez.
He stunned Gomez with the throw and headlock to get the quick pin.
"It was just a setup that worked itself into place," Sheldon said. "I wasn't really going for anything.
"I was just feeling him out, and trying to get into my attack, and it just kind of happened."
At 205 pounds, Sheldon (16-4) is lighter for his weight class. He uses that to his advantage.
"I wouldn't say I am an offensive or defensive wrestler," Sheldon said. "I know what I like, feeling the match out and going for doubles and singles."
Sheldon had a first-period fall and 10-1 major decision in winning the lower bracket.
Gomez (14-3) had a fall and a 7-3 semifinals decision over Buffalo Grove's John Saracco to win the upper bracket.
Glenbrook South's Alex Enkhbaatar defeated Deerfield's Jordan Meyers by fall in 1:23 in the third-place match. Saracco pinned Wauconda's Joe Scianna in 2:33 to claim fifth place.
285 – Drew Duffy, Glenbrook South
Drew Duffy brought some deep pride and satisfaction for the host program.
He outlasted Grant's Ivan Hernandez 5-0 at 285 for the Titans' only individual champion.
Duffy's takedown in the first period provided a momentum swing he never relinquished.
"When you get into the finals of these big weight matches, in my view, it's about who can score the first points," Duffy said.
"I know once I have that guy down, there's a super low chance of having a heavyweight getting up super quickly, so I use that to my advantage."
Duffy (15-1) earned the finals appearance with two first-period falls.
"Obviously we take a lot of pride in hosting this tournament, and I really wanted to win," Duffy said.
"I am a defensive lineman at heart, and I know how to use quick, explosive movements. Admittedly I'm not the most technical wrestler in the world. I like simple actions."
Hernandez (12-6) posted consecutive falls in winning the lower bracket.
Lake Forest's Ruslan Martin won by fall in 3:38 over of Schaumburg's Cesar Alvarez-Cuatepitzi in the third-place match. Batavia's Kyle Peyton captured fifth place with a pin in 0:56 over Evanston's Jaden Pagues.