St. Charles East hoists Dvorak trophy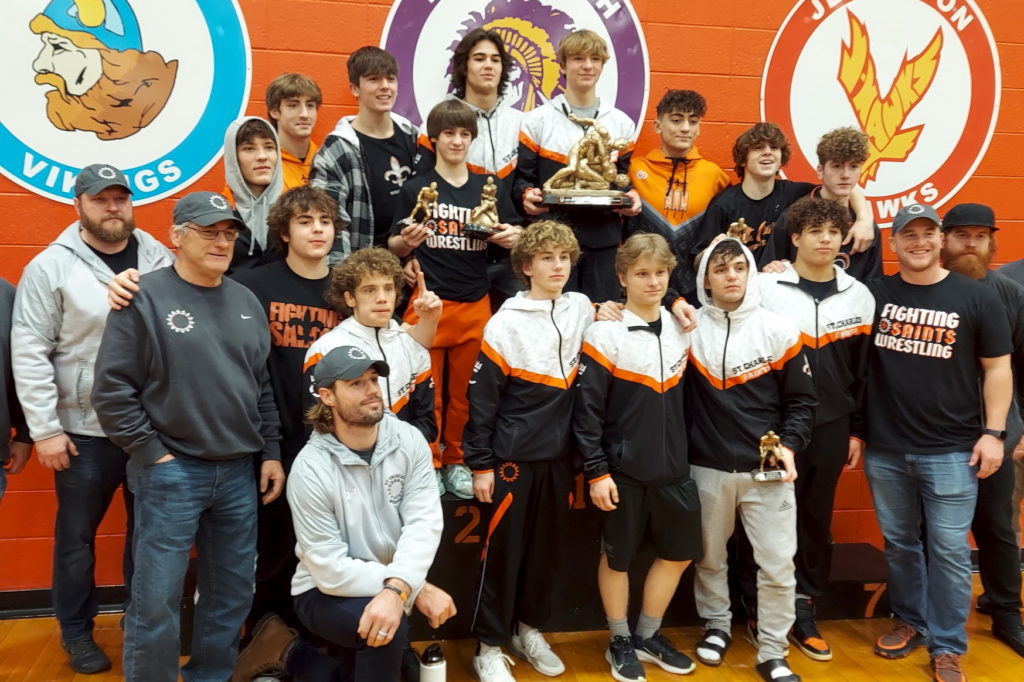 By Gary Larsen
They know they've got something special this year at St. Charles East.
"We're looking great and we'll look even better when we get everyone healthy," Saints freshman Dom Munaretto said.
This year's 34th Al Dvorak Invitational featured four of the top five ranked teams in Class 3A, plus a handful of top-10 ranked teams in 1A and 2A by Illinois Matmen's Rofkin state rankings.
When the dust settled, St. Charles East held its first Dvorak team championship trophy, outpointing second-place Marist 195-185.
"This is obviously the outcome we wanted. We were looking to win it," St. Charles East coach Jason Potter said. "With all things considered, we're taking steps in the right direction. The end goal is a state title but this is a progression.
"We know Marist is one of the top teams in the state and one of the teams we'd have to beat but in a dual setting it's different. So we're nowhere near where we need to be yet but this was a good step."
Lockport (153.5) finished third, Cleveland, TN (142.5) was fourth, and Amery, WI (137) rounded out the top five team finishes.
St, Charles East, Marist, Lockport, and Mount Carmel are all ranked in the top five in 3A. They were all also missing key starters for assorted reasons.
Still, this year's Dvorak once again featured arguably the premier field of talent competing in any of Illinois' in-season tournaments. Four of this year's individual champions won titles at Ohio's prestigious Walsh Jesuit Ironman tournament last week, in Munaretto, Saints teammate Ben Davino, Conant's Ethan Stiles, and Lockport's Brayden Thompson.
In all, 11 wrestlers across three classes ranked No. 1 in their divisions by Illinois Matmen competed at this year's Dvorak, with eight of them winning titles. The three No. 1s who didn't win titles all lost in the finals to fellow No. 1s.
St. Charles East got individual titles from a pair of No. 1-ranked wrestlers in Munaretto (106) and Davino (126) who laid down a pair of dominant two-day performances.
"You can't take anything for granted but when they step out there it's a different level of confidence," Potter said of his two Dvorak champs. "We're going to keep finding ways to push them and challenge them but the cool thing about those two is that they get better every week. They're not satisfied being good; they want to be great."
Potter also got a second-place finish from Jayden Colon (145), a third from Tyler Guerra (138), a fourth from Brody Murray (170), and a seventh from AJ Marino (120).
"We knew this tournament would be a dogfight and coming into it we talked a lot about getting falls, getting majors, and getting bonus points, and the kids did a really good job of that," Potter said.
Moline's Noah Tapia scored the most team points in the tournament with 36, while Auburn's Cole Edie and Koy Hopke of Amery, Wi were next, scoring 34 points apiece. Mount Carmel's Lukas Tsirtsis had the most pins in the least amount of time, winning five matches by fall in a combined total of 8:15.
2022 Dvorak champions and finishers:
106: Dom Munaretto, St. Charles East
A week after winning an Ironman title, top-ranked Munaretto was voted outstanding wrestler of the Dvorak, after buzz-sawing his way through the field at 106.
A fall and a tech fall set up Munaretto's semifinal against No. 2 Brayden Teunissen of Belvidere North. After winning his semifinal by tech fall, Munaretto was up 13-3 in the first period of his title match against Plainfield North's No. 8 Maddox Garbis before winning by fall at 1:28.
Munaretto also posted the fastest tech fall of anyone in the tournament, in a time of 1:48.
Asked what his approach has been in building an 18-0 record thus far, Munaretto offered an explanation offered often by champions in the sport at every level.
"Keeping the pace high, keeping the pressure on, always being on them, and getting in their heads," Munaretto said. "Constantly making them feel smothered. Never give them time to attack. Always coming at them."
Other 106 place-winners: 3rd-Teunissen (Belvidere N.) 13-2 md. Marinopoulos (Marist);
5th-Tsirtsis (Mount Carmel) fall 1:08 Dyer (Cleveland, WI); 7th-Lowitzki (Prairie Ridge) 2-0 d. Hemmila (Loyola)
113: Seth Mendoza, Mount Carmel
The Mount Carmel sophomore improved to 18-2 in winning his second Dvorak title, courtesy of a 16-6 major decision on the title mat against Jacobs' Dom Ducato (17-2).
Mendoza won a 3A state title at 106 last season and is ranked No. 1 at 113 this year, putting a target squarely on his back and the weight of high expectations on his shoulders.
A week after placing seventh at the Ironman tournament, Mendoza wanted to slightly tweak his approach to lining up in the circle.
"I was really looking forward to coming into this tournament, going out on the mat, and just having fun," Mendoza said. "A lot of times if you put too much pressure on yourself, it's no fun going out there. So going out and having fun is the biggest thing."
Mendoza posted a tech fall and a fall before winning 9-1 in his semifinal against Aurora Christian's Deven Casey (19-3), and entered his finals match vs. Ducato with one thing on his mind.
"Movement. That's the big thing I've been working on," Mendoza said. "Last week at the Ironman I didn't do so well on that; I was too tense. So this week I wanted to chase instead of being chased."
Other 113 place-winners: 3rd-Casey (Aurora Christian) 15-3 md. Walker (Cleveland, TN); 5th-Burke (Amery, WI) 7-4 d. Khiev (Glenbard North); 7th-Delpage (Plainfield N.) inj. R. Silva (Plainfield S.)
120: Massey Odiotti, Loyola Academy
Odiotti, top-ranked at 120 in 3A, scored the lone takedown of the match in the third period to win a 3-2 decision over Aurora Christian's Josh Vazquez, ranked second in 2A at 120.
Odiotti and Vazquez had a history prior to Sunday's title bout.
"I beat him last year at the Barrington tournament, and this year he beat me at Barrington in the finals," Odiotti said.
"I knew his main offense was a single-leg to the left side so I had to make sure to circle away from that," Odiotti said. "Then I just tried to get to my offense."
A scoreless first period gave way to a Vazquez escape to start the second and a 1-0 lead heading into the third. Odiotti earned his escape point to tie it at 1-1 before earning the only takedown of the match.
"I had the wrist and I shot to a low-ankle," Odiotti said. "I brought it to a high-crotch and finished high."
One year after placing second in Illinois at 120, the Loyola senior improved to 17-3 with his finals win. Odiotti opened with a pair of pins before winning a 4-1 quarterfinal decision over Prairie Ridge's Tyler Evans.
Odiotti then won his semifinal by major decision over Mount Carmel's Damian Resendez to reach the title mat.
Other 120 place-winners: 3rd-Esteban (Marist) 10-3 d. Wardlow (Lockport); 5th-Marre (Glenbard N.) inj. Resendez (Mount Carmel); 7th-Marino (SC East) 9-4 d. Anderson (Amery, WI)
126: Ben Davino, St. Charles East
On the heels of winning an Ironman title last week, last year's 3A state champion at 120 won his second Dvorak title with a second-period fall on the title mat against Dakota's TJ Silva.
After going 37-1 last season in winning his state title and improving to 18-0 in Harlem on Sunday, Davino showed again that he's the biggest roadblock on the road to anyone else seeking a state title at 126 this year.
"I'm just shoring everything up, being more dominant, and staying more composed," Davino said. "I messed up a little bit in my semifinal match but I'm staying more composed and just having fun."
Davino went into the tournament ranked No. 1 in 3A, and Silva is currently ranked No. 1 in 1A. Davino posted a fall and a tech fall before winning a 7-2 semifinal decision over Bentley Ellison of Cleveland, WI. He led 4-1 after a period against Silva, and led 9-2 before earning a takedown and a fall at 3:08 in the finals.
"I knew he was good but I knew I was the favorite," said Davino.
Other 126 place-winners: 3rd-Ellison (Cleveland, WI) 8-3 d. Chavez (Glenbard N.); 5th-Amico (Plainfield N.) 13-12 d. Mukhamedaliyev (Hersey); 7th-Zimmerman (Lockport) fall 3:43 Meade (Prairie Ridge).
132: Tyson Peach, Milton WI
Dominant performances by nationally-ranked individuals are always fun to watch, but if it's hard-fought nail-biter matches fans want, the Dvorak field at 132 had them from top to bottom.
Top-seeded Tyson Peach of Milton, WI and third-seeded Sean Larkin of St. Rita gave fans in Harlem one of the hardest-fought finals matches, with Peach (18-1) ultimately winning a 3-0 decision over Larkin (12-3) for the title.
In addition, all four of Peach's tournament wins came by straight decision in a weight class rife with parity. Peach won a 4-2 semifinal decision over Marist's Donavan Allen to reach the finals, and Larkin used a pair of straight decisions to reach the finals, including a 6-4 semifinal decision over Glenbard North's Mikey Dibenedetto.
All three place matches, third-through-eighth, were also won by straight decisions.
Other 132 place-winners: 3rd-Wright (Jacobs) 6-2 d. Allen (Marist); 5th-Dibenedetto (Glenbard N.) 7-1 d. Ferguson (Yorkville); 7th-Williams (Marian) 6-4 d. Camacho (Bolingbrook).
138: Nasir Bailey, Rich Township
For Illinois wrestlers facing Bailey the rest of the season, and find him a little ornery and even harder to deal with on the mat, they can thank Brandon Cannon of Ponderosa, CO.
One year after Bailey won an individual Ironman title, Cannon beat him at last week's Ironman title by sudden victory in their semifinal match.
"That loss helped propel me to try to take over and dominate more," Bailey said. "Early-season matches are great for that reason — they're something to learn from."
Two top-ranked wrestlers in Bailey and Dakota's Phoenix Blakely reached Sunday's finals. Both are also returning state champions; Bailey won last year's 3A state title at 132 and Blakely was the 1A state champ at 126.
With a little extra edge to his wrestling since last week's Ironman loss, Bailey (22-1) handed Blakely (20-1) his first loss of the year with a 13-2 major decision to win his first Dvorak title as the lone Rich Township wrestler entered in the tournament.
Bailey led 5-0 after a period and 11-1 after two periods, riding Blakely for nearly the entire second period. One more third-period takedown by Bailey and a Blakely escape point in the third put an end to one dominant performance by the Rich Township senior.
"I feel like every match I compete in, I can go out and dominate," Bailey said. "I always feel like the biggest competition is with myself."
Other 138 place-winners: 3rd-Guerra (SC East) fall 1:04 Redington (Freeport); 5th-Kelly (Mount Carmel) 15-0 tf. Lemp (Wheaton N.); 7th-Gilliam (Glenbard N.) inj. Frydrychowski (Plainfield N.).
145: Noah Tapia, Moline
Top-ranked in 3A and unbeaten, Tapia (22-0) won a 6-4 decision over St. Charles East's No. 2 Jayden Colon (16-3) to win his first Dvorak title.
Tapia burned a path to the title mat with four pins before locking horns with Colon on the title mat. Tapia pinned No. 4 Antonio Herrera in their semifinal to reach the finals.
Tapia and Colon wrestled before, and Tapia used it for fuel.
"I lost to him at Fargo, 6-3," Tapia said. "I was too reserved the last time I wrestled him. This time I just let it loose. Any time I saw an opportunity, I went for it. I took shots and it worked."
Tapia placed second in Illinois at 145 last year after a 3-1 decision on the title mat in Champaign against DeKalb's Tommy Curran. Tapia finished third at last year's Dvorak.
He's at a different level this year and Tapia is shrugging off any pressure connected to the target on his back as one of Illinois' No. 1-ranked wrestlers.
"If you're feeling nervous, that's when you're more reactive," Tapia said. "But when you get it in your head that you're just going to let it fly, and whatever happens, happens, that's when you can really start getting after it."
Colon won by fall and tech fall before winning an 11-3 major decision in his semifinal match against Edwardsville's Drew Landau.
Other 145 place-winners: 3rd-Alvarado (Belvidere N.) fall Landau (Edwardsville); 5th-Herrera (Marist) 18-7 md. Tenuta (Montini); 7th-Fitzgerald (Marian) 7-2 d. Kaminski (Lockport).
152: David Mayora, Montini
Ranked No. 1 at 152 in 2A, top-seeded Mayora won his first Dvorak title via 5-2 decision over Cleveland, Wisconsin's Logan Fowler.
He knew next to nothing about the Wisconsin wrestler but then, that's not necessarily a bad thing.
"I didn't know what to expect and you don't want to take anyone lightly, but I knew I was comfortable in my offense," Mayora said. "I knew I could hand-fight and score and I feel like I've really improved my riding. So overall, I felt pretty good."
Mayora (15-2) opened with a fall and a tech fall before winning a 7-3 decision quarterfinal decision over Hersey's Parker Sena. He then won a 3-1 semifinal decision against Belvidere North's Colin Young.
Mayora went up 3-2 with an escape to start the third period, then scored off a late shot taken in desperation by Fowler to end the match at 5-2.
"Last year I was really just an offense guy on my feet," Mayora said "So it came down to 'can I also be good in the two other aspects?' So over the summer I focused on what I needed to and I came into this year a lot more solid and prepared."
Other 152 place-winners: 3rd-Taythan Silva (Aurora Christian) 1-0 d. Young (Belvidere N.); 5th-Nilo (Milton, WI) 9-0 md. Butler (Crystal Lake C.); 7th-Struck (Marian) 10-6 d. Dado (Marist).
160: Ethan Stiles, Conant
Last year's 152-pound state champion saw room for improvement at season's end, and he addressed it.
"I was less aggressive last year. I'd play around and give (opponents) a chance to hang around in the match. That's how I lost here last year," Stiles said of last year's second-place Dvorak finish, 7-3 to Aurora Christian's Braden Stauffenberg. "I really changed that mindset this year. I want to make it undeniable that I can score. It's all just a mindset."
Top-seeded and top-ranked Stiles (10-0) posted a pin, a tech fall, and a major before winning by fall on the title mat Sunday, against Marian's Max Astacio.
Astacio (15-5) upset second-seeded Cy Fowler of Cleveland, WI, by a 7-1 quarterfinal decision, then upset third-seeded Aaron Hernandez of Hersey in a 3-1 semifinal decision.
Leading 2-1 in the second period, Stiles took Astacio down and earned the fall at 2:16. Stiles also won an Ironman title a week earlier is wrestling with the maturity that a senior year often brings.
"You just can't take anyone lightly — there are good people everywhere," Stiles said. "I knew if I kept working hard and took this tournament as seriously as any other tournament, I'd have a good outcome. And now I'm looking forward to winning state for a third time."
Other 160 place-winners: 3rd-Ericksen (Marist) inj. Hernandez (Hersey); 5th-Prater (Montini) 5-2 d. Fowler (Cleveland, TN); 7th-Lamonto (Lincoln-Way E.) 3-1 d. Gulino (Plainfield N.)
170: Chris Moore, McHenry
After dominating the field at Illinois' toughest in-season tournament, McHenry's Chris Moore gave voice to what might as well be the official motto of the sport, where wrestlers are sometimes content but never satisfied.
Moore admitted to feeling good after posting two tech falls, a pin, and a major decision, "but there are things that need to be worked on."
Moore (20-0), ranked second at 170 in 3A, went into this year's Dvorak as that top seed and left no doubt about who the big dog in the field was.
Moore's 17-6 major decision over Lincoln-Way East's third-seeded Ari Zaeske (20-1) gave him his second Dvorak title. Zaeske opened with a pair of pins before winning a 4-2 decision over Marist's second-seeded Jacob Liberatore to reach the title match.
Once there, a scoreless first period gave way to Moore unleashing his attack thereafter, en route to the win.
"You could say I was feeling him out (in the first period) but I was just trying to set up a good shot to take him down," Moore said. "I feel healthier than last year, my body feels not as many injuries, and overall I'm just in better shape."
Moore was a state runner-up at 160 last year, losing by sudden victory, 3-1, to Mount Carmel's Colin Kelly. The two might well have squared off in a rematch at this year's Dvorak but Kelly was out of the Caravan's lineup. Moore beat Kelly 3-1 in their Dvorak title match last season.
Other 170 place-winners: 3rd-Zook (Yorkville) 9-0 md. Murray (SC East); 5th-Kubas (Libertyville) inj. J. Liberatore (Marist); 7th-Rosch (Wheaton N.) fall 5:22 Smith (Hononegah).
182: Brayden Thompson, Lockport
Nobody's untouchable but Lockport's Brayden Thompson makes a pretty good case for it.
After winning an Ironman title on Dec. 10, Thompson (21-0) had three pins and a major decision win to garner his second Dvorak title.
"Another tournament, another event I'm able to show my skills. I'm just grateful and thankful," Thompson said. "I'm blessed to be able to wrestle."
Thompson, top-ranked after winning a state title at 170 last year, capped his Dvorak title run at 182 by fall over Lucas Szymborski of Cleveland, WI.
"He's a hard worker, a good leader in the room, and he's not afraid to put it on the line," Lockport coach Jameson Oster said. "He's pretty self-sufficient at this point."
Thompson feels like he improved in one specific area since last season.
"My mindset," Thompson said. "I've been having that bullet-proof mindset, where it doesn't really matter who steps on the mat with me. I'm very confident in my skills. After my Powerade tournament last year and then the undefeated run last year, that confidence just kept building."
Other 182 place-winners: 3rd-Ingham (Avery, WI) fall :46 Jacobson (Mount Carmel); 5th-Cook (Wheaton N.) inj. Williams (Yorkville); 7th-Herbert (Loyola) 8-0 md. Phelan (Marist).
195: Aeodon Sinclair, Milton WI
The top seed at 195, Sinclair (12-0) posted a pair of falls on his way to the title mat, where her posted a 17-6 major decision over Grant Cook (16-1) of Amery, WI.
Other 195 place-winners: 3rd-Matulenko (Libertyville) 3-0 d. Janiak (Plainfield S.); 5th-Nolting (Lockport) inj. Breen (Mount Carmel); 7th-O'Rourke (Lincoln-Way E.) inj. Janeczko (Yorkville).
220: Koy Hopke, Amery WI
Hopke (18-0) was top-seeded at 220 and he pinned his way to a Dvorak title, culminating in a fall at 1:37 on the title mat against Dakota's Noah Wenzel (17-2).
Hopke pinned Lincoln-Way East's David Wuske in a quarterfinal match, then did the same against Libertyville's Owen McGrory. None of Hopke's four opponents made it out of the first period against him.
Second-seeded Wenzel is ranked No. 1 in 1A at 195, and he opened with a fall before winning a 1-0 decision over Marist's Luke Liberatore. Wenzel then won 6-5 in his semifinal match against Yorkville's third-seeded Ben Alvarez to reach the finals. Both Alvarez and Liberatore are ranked in the top 10 at 220 in 3A.
A runner-up finish at the formidable Dvorak is still a lofty feat, and Wenzel nearly didn't get there.
"I wasn't going to come to this tournament because I'm feeling a bit sick but there's value in working through tough tournaments when you're sick," Wenzel said.
"It's one of the bigger tournaments any team can go through. There are state champions that will lose at this tournament."
Wenzel was happy for the lessons learned in Harlem against some of the top 220-pounders in 3A.
"Some of them, I just need to learn to bring my 'A' game from the beginning, and a lot of those it's just keeping my head in the game where it needs to be," Wenzel said. "It was a good experience."
Other 220 place-winners: 3rd-Alvarez (Yorkville) 7-3 d. Calcutt (Loyola); 5th-McGrory (Libertyville) 6-4 d. Tovar (Plainfield N.); 7th-L. Liberatore (Marist) fall 3:54 Stary (Conant).
285: Cole Edie, Auburn
Cole Edie walked into the most prestigious in-season tournament in Illinois knowing next to nothing about the heavyweights he'd wrestle. Wrestling for Class 1A Auburn, with an enrollment of roughly 400 students, Edie and a small handful of teammates competed for the first time at the Illinois meat-grinder.
And Edie walked away with a Dvorak heavyweight title.
"It was a breathtaking experience knowing I was going to get to go there and wrestle the competition I was able to," Edie said. "You don't get to wrestle that level of competition very often.
"I was able to go out and improve every single match, do the things I've been working on all week, and I was getting better and better throughout the tournament."
Edie finished a match away from placing in Champaign last year and has used that experience as a shovelful of coal tossed into the blast furnace of his motivation.
His coach likes the path Edie is on after Sunday's heavyweight title bout in Harlem.
"I thought he turned a corner," Auburn coach Matt Grimm said. "He started wrestling like we've been asking him to wrestle, in terms of heavyweight skills are concerned. Last year he thought he was a 106-pounder but this weekend he started wrestling like a heavyweight. He was physical and he got after it."
Other 285 place-winners: 3rd-Mihalopoulos (Huntley) 6-3 d. Saavedra (McHenry); 5th-Cole (Round Lake) fall 1:32 Rull (Edwardsville); 7th-Sam (Plainfield N.) fall 1:24 Sauer (Jacobs).