Central Illinois tournament recap for Jan. 15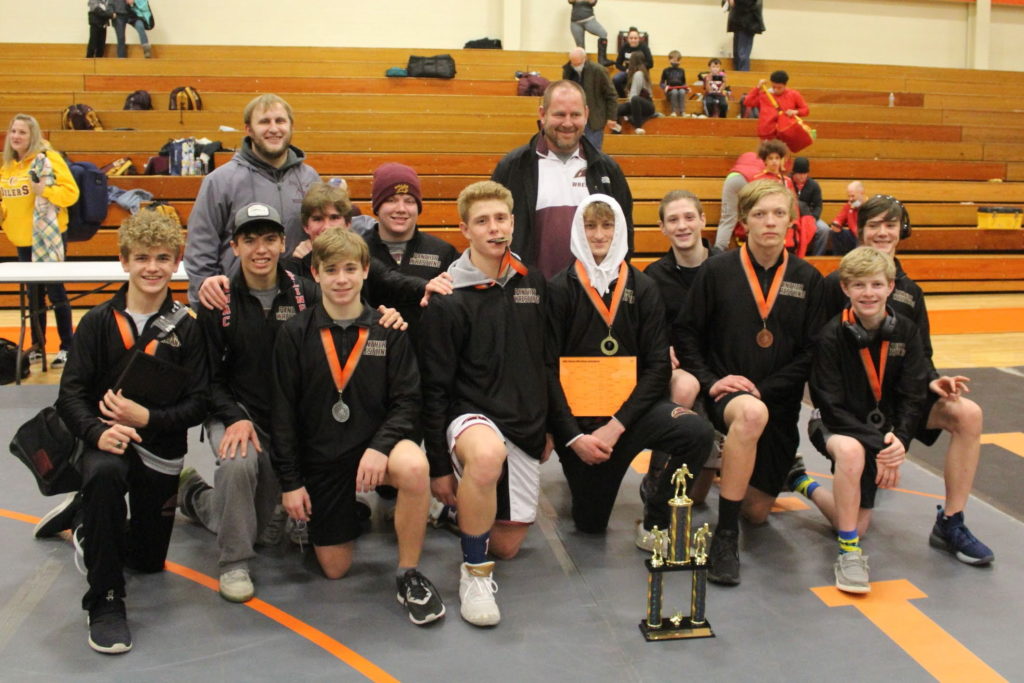 By Curt Herron and Gary Larsen
For the IWCOA
LeRoy/Tri-Valley takes 40th Annual Urbana Invitational crown
Leroy/Tri-Valley won its second team tournament title of the year Saturday, taking the crown at this year's 14-team, 40th Annual Urbana Wrestling Invitational, after earning a 143-123.5 edge over second-place Peoria Notre Dame.
Coach Brady Sant Amour's Panthers also won a team title at Metamora this season, and they won an Urbana title despite only entering 11 wrestlers in the tournament.
"Our wrestlers did a great job Saturday," Sant Amour said. "Even though we were missing four of our starters they were able to score bonus points to make up for it. We have a very solid group of freshmen and sophomores that continue to improve and exceed expectations."
Seven of Sant Amour's Panthers finished in the top six of their weight classes, who got individual titles for the Panthers were Brock Owens (120), Connor Lyons (132), and Tyson Brent (170). Brady Mouser (106) and Kobe Brent (113) placed second for the Panthers, who also got a fourth from Caden Hadfield (182) and a sixth from Bo Zeleznik (145).
Brent, ranked No. 6 in 1A in Rob Sherrill's IWCOA rankings, won his third individual tournament title of the year. Brent also won titles at Metamora and Princeton.
Second-place Peoria Notre Dame got individual titles from Ian Akers (103) and Joey Mushinsky (160) and runner-up finishes from Jac Couri (126) and Chase Daugherty (132). Among scoring wrestlers, coach Kevin Burk's Irish also got a third from Mike McLaughlin (285) and sixths from Jesus Prieto (120) and Austin Sea (138). Among non-scoring wrestlers, Sean Ryan (126) also placed third for the Irish.
Mushinsky's title-mat win in Urbana gave him his sixth individual tournament title of the season, to go with wins at Illini Bluffs, Glenwood, Metamora, Lincoln, and Morton. Mushinsky is currently ranked No. 4 at 160 in 1A.
Also winning titles at Urbana were East Alton-Wood River's Aaron Neimeyer (113) and Jason Shaw (126), Rochester's Nolan Mrozowski (138), Dunlap's Andrew Schmitt (145) and Nick Mueller (152), Danville's Phillip Shaw (182) and DeMarion Forman (195), and University's Isaiah Im (220) and Hunter Otto (285).
Second-place finishes also came from Rochester's Drake Pfeiffer (120), Crete-Monee's Trayvon Frazier (138), Elijah Grayer (160) and Vincente Arebalo (285), Richwoods' Jesse Martinez (145) and Terrel Holley (182), Effingham's Jon Perry (152), Lanphier's Gabe Orosco (170), Urbana's Deonte Hill (195), East Alton-Wood River's Drake Champlin (220),
Also finishing third were Richwoods' Colton Boyer (106) and Jeremiah LeFlore (120), St. Ignatius' Sebastian Cuadros (132), East Alton-Wood River's Noah Mason (138), Charleston's Ben Coffey (145), University's Zach Gross (152), Lanphier's Connor Janssen (160), Danville's Dalton Brown (170), Crete-Monee's Brandon Alexander (182), University's Joe Hunt (195), and Urbana's Andrew Hunt (220).
Placing fourth Effingham's Kaiden Stewart (106) and Robert Reardon (138), Danville's Marquan Shaw (120), Effingham's Hailey Pritz (126), East Alton-Wood River's Jackson Mason (132) and Nick Mason (152), Crete-Monee's Malakai Scott (145) and Kobe Anderson (195), St. Ignatius' George Akkawi (160), Richwoods' Conner McDonald (170), Charleston's Marcelix Boling (220), and Rochester's Blake Buckles (285).
Championship matches at the 40th Annual Urbana Wrestling Invitational:
103: Ian Akers (Peoria Notre Dame) over Brady Mouser (LeRoy/Tri-Valley) Dec 6-0
113: Aaron Niemeyer (East Alton-Wood River) over Kobe Brent (LeRoy/Tri-Valley) F 0:30
120: Brock Owens (LeRoy/Tri-Valley) over Drake Pfeiffer (Rochester) F 4:30
126: Jason Shaw (East Alton-Wood River) over Jac Couri (Peoria Notre Dame) F 0:25
132: Connor Lyons (LeRoy/Tri-Valley) over Chase Daugherty (Peoria Notre Dame) 6-3
138: Nolan Mrozowski (Rochester) over Trayvon Frazier (Crete-Monee) F 1:35
145: Andrew Schmitt (Dunlap) over Jesse Martinez (Richwoods) 7-1
152: Nick Mueller (Dunlap) over Jon Perry (Effingham) 7-3
160: Joey Mushinsky (Peoria Notre Dame) over Elijah Grayer (Crete-Monee) F 1:26
170: Tyson Brent (LeRoy/Tri-Valley) over Gabe Orosco (Lanphier) 5-3
182: Phillip Shaw (Danville) over Terrel Holley (Richwoods) F 0:34
195: DeMarion Forman (Danville) over Deonte Hill (Urbana) F 1:24
220: Isaiah Im (University) over Drake Champlin (East Alton-Wood River) F 1:56
285: Hunter Otto (University) over Vincente Arebalo (Crete-Monee) 8-3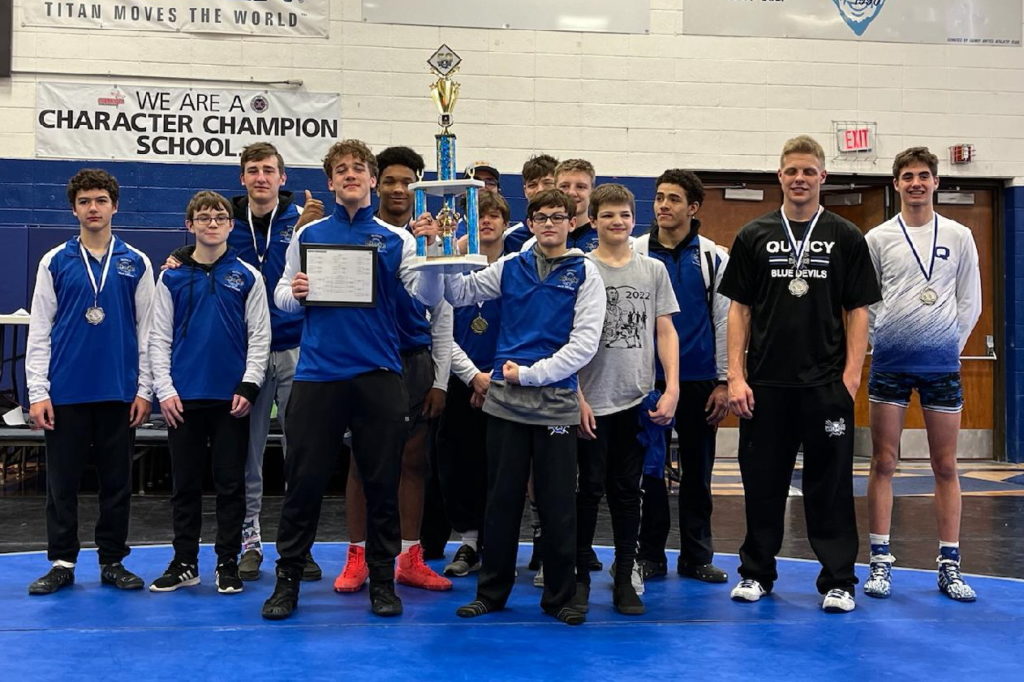 Quincy Senior wins championship at own invitational
Quincy Senior followed up on a third-place finish at Carbondale's Murdale Tournament last weekend with a championship at its own 11-team invitational on Saturday as 12 of its 14 participants placed fourth or better.
The Blue Devils finished with 226.5 points, which was five better than runner-up Jacksonville, who had 221.5 points. Camp Point Central took third with 187 points while Mascoutah (160), Macomb (151) and Triad (149) were next in line.
Leading the way for coach Phil Neally's Blue Devils were champions freshman Hugh Sharrow (106) and junior Max Miller (160) and second-place finishers senior Dylan Becker (132) and senior Kayden Garrett (170). Taking third were freshman Evan Wakefield (113), freshman Eli Roberts (126), junior Eric McClelland (138), senior Gage Bringer (195) and junior Gavin Schumacher (220) while freshman Pierce Eddy (106), freshman Gunner Derhake (138) and junior Ty Moore (152) finished fourth. Sophomore Payton Eddy (152) and senior Carson Neally (145) also contributed key points in the close title competition.
Sharrow was fourth in team points with 33.5 and Miller was tied for seventh in that category with 32 points while Garrett (30.5), Becker (26.5), Bringer (20), Schumacher (20), Wakefield (20), McClelland (18), Roberts (18), Derhake (17), Moore (16) and Eddy (15) all made significant contributions to the host's championship effort.
Herald-Whig sports editor Craig Sesker reports that this is just the third time in the 50-year history of the tournament that Quincy has won the team title, with the others being in 1998 and 1990. The event wasn't held the past few seasons due to weather and the pandemic.
Coach Dustin Secrist's runner-up Crimsons were led by champions senior Trey Elliott (145), sophomore James Cotton (152) and freshman Aiden Surrat (285) and second-place finishers junior Collin Reif (138) and sophomore Oliver Cooley (220) while junior Luca Thies (170) and senior Gage Giesler (285) were third and senior Brooklyn Murphy (113) and senior Gage Blimling (132) took fourth. Elliott was second with 36 teams points and Cotton tied for fifth with 32.5 points while Cooley (28), Reif (28), Surrat (28), Thies (24), Giesler (18), Blimling (17), DeWitt (16) and Murphy (15) were next in line.
Mascoutah junior Santino Robinson (132) improved to 28-1 after recording five first-minute falls and two wins by technical fall to be selected as the tournament's outstanding wrestler. Top-ranked at 132 in Class 2A, he also won a title at Morton and took second at Granite City, where he suffered his lone loss, 3-2, to Plainfield North's unbeaten Jacob Macatangay (No. 2 in 3A) in the title match. Robinson, who recorded his five falls in 2:48, led all of the competitors with 37 team points.
Others claiming first-place finishes were Camp Point Central sophomore Jack Thompson (113) and freshman Kanye Mitchell (120), Pekin junior Shamon Handegan (182) and senior Karson Lamb (220), Quincy Notre Dame senior Curtis Steinkamp (126), Triad senior Chase Hall (138),
Mascoutah senior Logan Will (170) and East Peoria senior Zach Eaton (195). Handegan was third in team points with 34 while Lamb tied for fifth in that category with 32.5 points. Also tying for seventh with 32 team points were Eaton, Hall, Thompson and Will while Steinkamp had 31 points and Mitchell had 28 points.
Champions with the best winning percentages include Will (10-0, 1.000), Handegan (30-1, .968), Robinson (28-1, .966), Lamb (32-2, .941), Thompson (29-3, .906), Cotton (24-3, .889), Elliott (24-3, .889), Steinkamp (23-3, .885), Mitchell (24-5, .828), Hall (28-6, .823) and Eaton (21-5, .808).
Macomb had five second-place finishers, freshman Cohen Green (113), senior Jack Mansfield (120), junior Carter Hoge (152), junior Max Ryner (182) and junior Ethan Ladd (195). Also placing second were Triad sophomore Alex Milam (106) and senior Sam Wheeler (160), East Peoria senior Stephen Preciado (126), Camp Point Central freshman Konnor Bush (145) and Mascoutah freshman Jayden Bleisch (285).
Some of the closest title matches were Sharrow winning 7-6 over Milam at 106, Mitchell beating Mansfield 8-5 at 120, Hall claiming a 4-2 victory over Reif at 138, Miller beating Wheeler 7-2 at 160 and Will edging Garrett 2-1 at 170. Winning titles with falls were Thompson (113), Robinson (132), Elliott (145), Cotton (152), Handegan (182), Eaton (195), Lamb (220) and Surrat (285) while Steinkamp (126) won by technical fall.
Three champions beside Mascoutah's Robinson are in the top-10 in the IWCOA rankings. Triad's Hall (No. 4 in 2A) advanced to his third finals and added to a title win at Morton while Jacksonville's Elliott (No. 10 in 2A) also competed in his third final and won his first title. Pekin's Lamb (No. 6 in 3A) won his first title in his initial finals trip this season.
Champions who are honorable mention who did something of note include Pekin's Handegan (HM in 3A), who captured his third title by adding to firsts at Springfield and Lincoln, Mascoutah's Will (HM in 2A), who also won a title win at Morton and East Peoria's Eaton (HM in 2A), who reached his fourth finals and added to a title win at Illini Bluffs.
Also finishing third were Pekin sophomore Ramez Watson (132) and senior DeMarcus Watson (160), Notre Dame freshman Oliver Moore (106), Mascoutah freshman Garison Kramer (120), Macomb sophomore Tyler Shannon (145), Camp Point Central sophomore Conner Griffin (152) and Triad senior Jordan Clines (182).
Others who took fourth place were Camp Point Central junior Hunter Bolton (160), senior Kyus Mitchell (170) and junior Dalton Reische (220), Notre Dame sophomore Jack Miller (145) and freshman Ryan Darnell (195), Mascoutah sophomore Corbin Woodworth (126) and Warsaw senior Zane Humphrey (182).
Second- and third-place finishers who also have high winning percentages are Ryner (24-4, .857), Ladd (22-4, .846), Reif (21-4, .840) and Griffin (26-5, .839).
Championship matches at the Quincy Invitational:
106 – Hugh Sharrow (Quincy Senior) over Alex Milam (Triad), 7-6
113 – Jack Thompson (Camp Point Central) over Cohen Green (Macomb), F 5:59
120 – Kanye Mitchell (Camp Point Central) over Jack Mansfield (Macomb), 8-5
126 – Curtis Steinkamp (Quincy Notre Dame) over Stephen Preciado (East Peoria), TF 4:19
132 – Santino Robinson (Mascoutah) over Dylan Becker (Quincy Senior), F 0:45
138 – Chase Hall (Triad) over Collin Reif (Jacksonville), 4-2
145 – Trey Elliott (Jacksonville) over Konnor Bush (Camp Point Central), F 1:20
152 – James Cotton (Jacksonville) over Carter Hoge (Macomb), F 4:00
160 – Max Miller (Quincy Senior) over Sam Wheeler (Triad), 7-2
170 – Logan Will (Mascoutah) over Kayden Garrett (Quincy Senior), 2-1
182 – Shamon Handegan (Pekin) over Max Ryner (Macomb), F 3:27
195 – Zach Eaton (East Peoria) over Ethan Ladd (Macomb), F 4:35
220 – Karson Lamb (Pekin) over Oliver Cooley (Jacksonville), F 5:58
Mahomet Seymour's Marty Williams Invitational
Talk about close finishes.
Naperville Central scored 451.5 team points at this year's 24-team Marty Williams Invitational, finishing a single point ahead of host Mahomet-Seymour's 450.5 team total.
Yorkville Christian (407.5) finished third, Normal Community West (318.5) was fourth, and Rock Island (317) rounded out the top five team finishes.
The tournament is named for 1992 IWCOA hall of fame inductee Marty Williams, who won an Illinois state title at 145 for Yorkville in 1974 before wrestling for the University of Illinois for four years under another IWCOA hall of famer in coach Tom Porter. Williams then coached Mahomet-Seymour to five team state titles in the 1980s before retiring from coaching in 1990.
Naperville Central — currently ranked No. 6 in 3A in Rob Sherrill's IWCOA rankings — got an individual title from David Pirozhnick (182), a second from Tommy Porter (138), and had 11 total wrestlers finish in the top six of their weight classes for coach Noah Fitzenreider.
"Noah
The Redhawks got thirds from Ty Martin (113) and Christopher Ramirez (145), fourths from Mitchell Kaszuba (132), Gavin Bohan (152), Haaris Khan (195) and Nick Antonietti (285), fifths from Tristen Hall (170) and Nicolas Besteiro (220) and a sixth from Ethan Olson (120).
Also scoring team points for Naperville Central were Gavin McDonald (106), August Kukis (126) and Charlie Morgan (160).
Second-place Mahomet-Seymour got a trio of individual titles from Caden Hatton (106), Brennan Houser (170) and Mateo Casillas (195). The Bulldogs are currently ranked No. 7 in 2A and coach Rob Ledin also got a third from Camden Harms (285), and fourths from Camden Heinold (120), Jacob Dobbins (160), Stevie Pogue (182) and Colton Crowley (220).
Also finishing fifth for Mahomet-Seymour were Tallen Pawlak (138) and Braeden Heinold (152).
Yorkville Christian, Mattoon and Normal West each sent a pair of individual champs to the awards stand; Mattoon's Brady Foster (113) and Kiefer Duncan (145); Normal West's Froylan Racey (120) and Austin Johnston (126); and Yorkville Christian's Noah Dial (132) and Tyler Martinez (160).
Rock Island's Aoci Bernard (138), Carbondale's Brenden Banz (152), Champaign Centennial's Jack Barnhart (220) and Glenwood's Alex Hamrick (285) rounded out Saturday's list of individual champions.
Glenwood heavyweight Alex Hamrick led all wrestlers with five pins in the tournament, which also gave him the tournament lead for most team points earned with 52.
Also placing second in their weight classes were Yorkville Christian's Aiden Larsen (106), Isaac Bourge (120) and Jackson Gillen (170), Rochelle's Xavier Villalobos (113) and Kaiden Morris (220), Mattoon's Korbin Bateman (126), Glenwood's John Ben Maduena (132) and Aden Bryal (145), St. Laurence's Henry Coughlin (152), Belleville West's Zach Lusk (160), Normal West's Brock Leenerman (182), and Rock Island's Andrew Marquez (195) and Eli Gustafson (285).
Also taking home third-place medals were Ft. Zumwalt South's Ashton Atkins (106) and Joseph Kenny (126), Belleville West's Andrew Schmitting (120), Lincoln's Jake Lawrence (132), Peotone's Marco Spinazzola (138), Yorkville Christian's Drew Torza (152), Centennial's Kodiac Pruitt (160), St. Laurence's Mike Gentile (170), Rock Island's Steven Marquez (182), Carbondale's Aiden Taylor (195), and Mattoon's Leo Meyer (220).
Fourth-place finishers also included Rock Island's Truth Vessey (106), Normal West's Dylan McGrew (113), Naperville Central's Larry Stubitsch (126), Centennial's Nick Pianfetti (138), Lincoln's Isaac Decker (145), and Normal West's Kepi Guither (170).
Championship matches at the Marty Williams Invitational:
106: Caden Hatton (Mahomet – Seymour) over Aiden Larsen (Yorkville Christian), 5-2
113: Brady Foster (Mattoon) over Xavier Villalobos (Rochelle), 9-1
120: Froylan Racey (Normal West) over Isaac Bourge (Yorkville Christian),4-3
126: Austin Johnston (Normal West) over Korbin Bateman (Mattoon) F 1:20
132: Noah Dial (Yorkville Christian) over John Ben Maduena (Glenwood),12-2
138: Aoci Bernard (Rock Island) over Tommy Porter (Naperville Central), TF 3:47
145: Kiefer Duncan (Mattoon) over Aden Byal (Glenwood), 3-1
152: Brenden Banz (Carbondale) over Henry Coughlin ( St. Laurence), F 4:33
160: Tyler Martinez (Yorkville Christian) over Zach Lusk (Belleville West), D 3-1
170: Brennan Houser (Mahomet-Seymour) over Jackson Gillen (Yorkville Christian), D 3-2
182: David Pirozhnik (Naperville Central) over Brock Leenerman (Normal West), D 12-6
195: Mateo Casillas (Mahomet-Seymour) over Andrew Marquez (Rock Island), D 6-0
220: Jack Barnhart (Champaign Centennial) over Kaiden Morris (Rochelle), D 7-3
285: Alex Hamrick (Glenwood) over Eli Gustafson (Rock Island) F 0:56