Northern Illinois tournament recap for Jan. 15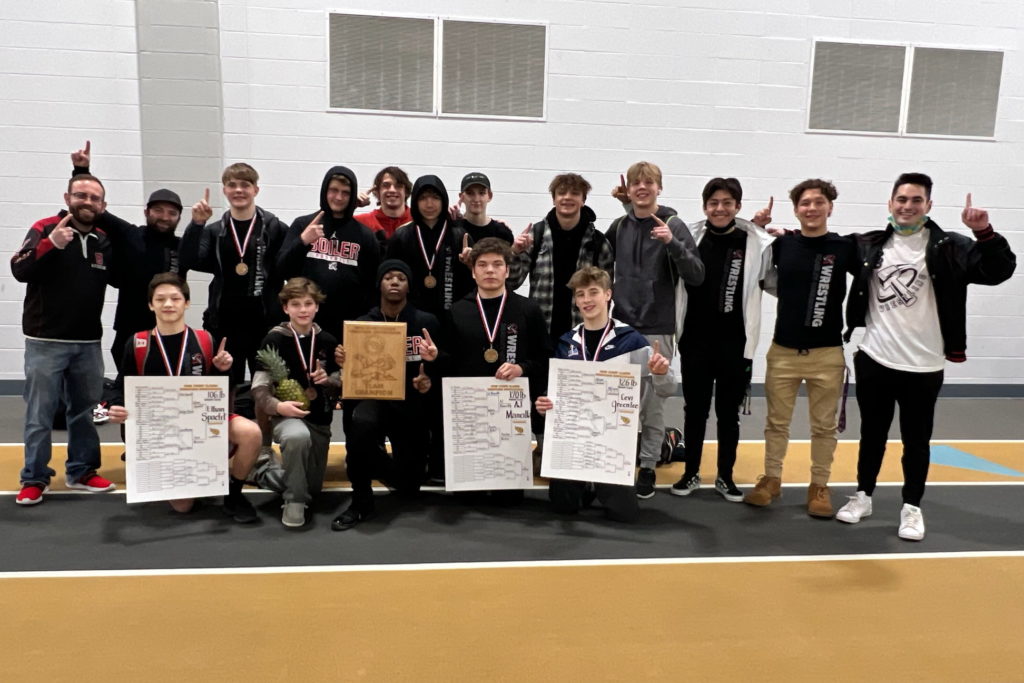 By Curt Herron and Gary Larsen
For the IWCOA
Bradley-Bourbonnais edges hosts in Reed-Custer Comet Classic
When a team wins an invitational title by 1.5 points, there usually are a lot of individuals who played key roles in helping to achieve that championship.
That certainly proved to be the case for Bradley-Bourbonnais on Saturday when it edged host Reed-Custer by a 191.5-190 margin to claim top honors in the 21-team Comet Classic that took place in Braidwood.
Seneca outscored Sandwich 178-150 to claim third place. Both squads won tournament titles a week ago with the Fighting Irish winning their own tournament while Sandwich took first place at Prairie Central. Joliet Central edged Clifton Central 121.5-117 to finish fifth.
Coach Micky Spiwak's Boilermakers came into the event with two tough tournaments on their resume, Barrington's Moore-Prettyman and the Mid-States Classic in Wisconsin and they took 13th place in both. Meanwhile, coach Yale Davis' Comets entered the tournament on a high note after edging rival Coal City for third place last weekend at another challenging event, the Lyle King Princeton Invitational Tournament.
And in an ideal buildup to this weekend's Tom Lahey Tournament at Stagg and then the competitive Class 3A Joliet West Regional to kick off its postseason, Bradley-Bourbonnais won three titles, had a second-place finish and three fourth-place efforts from its 12 participants to help it to edge the Comets, who are ranked 11th in Class 1A and are now setting their sights on what figures to be a very-competitive Seneca Regional.
Winning titles for the Boilermakers, who utilized six juniors, four sophomores and two freshmen, were No. 6 Ethan Spacht (106), Levi Greenlee (126) and No. 7 AJ Mancilla (170) while Tyler Starr (145) took second and Cameron Borneman (113), Zach Anderson (152) and Logan M. Smith (182) all placed fourth.
Greenlee, a junior, won his first varsity tournament title and led all competitors with 31.5 team points with three pins and a win by technical fall while junior Spacht had three falls to score 30 points, which was tied for third-best, and added to his title at the Mid-States and sophomore Mancilla had a fall and two narrow decisions to score 26 points and claim his first title of the season.
The Boilermakers' coach also pointed to several other efforts that were critical, including from junior Starr, who scored 24 points thanks to a big semifinals win over Seneca's Owen Feiner, who was the top-seed. Logan M. Smith rescheduled make-up tests so that he could compete for an injured teammate and scored 22 points, as did fellow sophomore Anderson, while freshman Borneman moved up a weight to score 16 points. Juniors Avaion Strickland (138), Aiden Plumley (160) and Nick Slager (195) and sophomore Logan C. Smith (132) also added key points and even though he didn't score, freshman Max Fischer (120) kept the Comets from getting a pin.
Leading the way for Reed-Custer was champion No. 3 Kody Marschner (220), a junior who was a PIT champion and is 23-0 after recording three-straight falls. The Comets also received seconds from senior Ryan Tribble (138) and junior Gunnar Berg (285), thirds from junior Landon Markle (145), senior Brenden Tribe (160) and junior Brandon Moorman (182) while sophomore Samuel Begler (126) finished fourth and sophomore Seth Billingsley (120) was sixth.
Markle led all competitors with five falls while Berg recorded a fall in just 0:04 in his first match. Marschner tied for third with 30 team points while Berg and Markle both had 26 points, Moorman added 23.5 points, Tribble had 22.5 points, Tribe scored 22 points and Begler added 20 points.
Rich Township's No. 1 in 3A Nasir Bailey (132) was the most-prominent champion at the event. A champion at Fargo in the summer and an IHSA champion at TF North in 2020 and in Texas in 2021, the nationally-ranked junior improved to 30-0 after winning his fifth invitational of the season, adding to titles at Rich Township, the Ironman, Joliet Central and Antioch. He won by fall in the title match and in the quarterfinals and claimed a forfeit win in the semifinals to finish tied for third in team points with 30.
Other title winners were Sandwich's No. 1 in 1A senior Alex Alfaro (182) and No. 4 senior Aidan Linden (152), Vernon Hills' No. 7 in 2A senior Jake Psaras (195) and No. 10 junior Max Acettura (285), Dwight's No. 5 in 1A senior Dillon Sarff (138) and freshman Dylan Crouch (113), El Paso-Gridley's No 8 in 1A junior Dax Gentes (145), Wheaton Academy sophomore Will Hupke (120) and Joliet Central senior Kameron Mitchell (160). Alfaro, Acettura and Gentes all captured their third titles of the season while Spacht, Hupke, Linden, Psaras and Marschner all won their second titles.
Psaras was second in team points scored with 31 while Acettura, Bailey, Crouch, Gentes, Linden and Marschner all tied with Specht for third place with 30 points. In a display of dominance, Linden won by technical fall in all four of his matches, which was one-third of the wins by technical fall during the two-day event.
Champions with the highest winning percentages are Bailey (30-0, 1.000), Marschner (23-0, 1.000), Alfaro (35-1, .972), Acettura (24-1, .960), Spacht (18-1, .947), Gentes (29-2, .935), Linden (37-3, .925), Mancilla (27-3, .900), Hupke (22-3, .880), Sarff (16-3, .842), Greenlee (21-5, .808) and Psaras (21-5, .808).
Also claiming second-place finishes were Seneca senior Jaden Casey (120), freshman Robby Nelson (132) and sophomore Chris Peura (195), Wheaton Academy senior Hunter Kazmierczak (182) and senior Peter Johanik (220), Ottawa sophomore Ivan Munoz (106), Joliet Central senior Tony Toledo (113), Tinley Park senior Alfonso Insalaco (126), Manteno sophomore Carter Watkins (152), Winnebago junior Charley Murray (160) and Clifton Central senior Auston Miller (170).
Top winning percentages for runner-ups are Tribble (16-2, .889), Insalaco (20-3, .870), Berg (17-3, .850), Watkins (21-4, .840), Johanik (21-4, .840) and Peura (29-6, .829).
The tightest title matches were at 138, 160 and 170. At 138, Sarff edged Tribble 2-1, at 160, Mitchell prevailed 15-14 over Murray and at 170, Mancilla won 3-1 in sudden victory over Miller. In other close finals, Gentes won 9-6 over Starr at 145, Hupke beat Casey 5-0 at 120 and Alfaro claimed a 9-4 victory over Kazmierczak at 182.
Bigger victories for champions included an 11-2 major decision by Psaras at 195 and a win by technical fall by Linden at 152. Other title winners recording falls were Spacht (106), Greenlee (126), Bailey (132), Marschner (220) and Acettura (285) while Crouch (113) won his title by injury default.
Also claiming third place finishes were Joliet Central freshman Isiah Kan (106) and senior Phil Johnston (195), Bremen senior Charles Portis (120) and junior Eric Perez-Nava (285), Sandwich sophomore Miles Corder (126) and senior Evan Reilly (138), Seneca freshman Tommy Milton (113), Tinley Park junior Andrew Koepke (132), Seneca sophomore Asher Hamby (152), Burlington Central senior Nathan Kim (170) and Ottawa sophomore Ryan Wilson (220).
Others finishing fourth were Sandwich sophomore Sy Smith (132) and junior Bryce Decker (160), Rich Township sophomore Diondre Henry (106), Burlington Central freshman Austin Lee (120), El Paso-Gridley sophomore Waylon Melick (138), Clifton Central senior Kodey Krumweide (145), Winnebago junior Lucas Cowman (170), PORTA junior Trace Shaub (195), Vernon Hills junior Kevin Halley (220) and Manteno junior Damian Alsup (285).
Placing fifth were Clifton Central junior Brayden Morris (138), sophomore Chris Andrade (152) and sophomore Noah Gomez (285), Seneca junior Kyler Hahn (106) and senior Owen Feiner (145), El Paso-Gridley junior Tyler Roth (126) and junior Ethan Whitman (160), PORTA sophomore Levi Bradley (182) and sophomore Logan Peterson (220),
Vernon Hills freshman Billy Kaprosy (113), Wilmington sophomore Landon Dooley (120), Joliet Central sophomore Jorge Robles (132), Dwight junior Austin Burkhardt (170) and Winnebago senior Gabe Ginger (195).
Top winning percentages for individuals who placed between third and fifth are Reilly (27-3, .900), Perez-Nava (17-2, .895), Feiner (30-4, .882), Shaub (24-5, .828), Burkhardt (17-4, .810) and Begler (20-5, .800).
Championship matches from Reed-Custer's Comet Classic:
106 – Ethan Spacht (Bradley-Bourbonnais) over Ivan Munoz (Ottawa), F 1:34
113 – Dylan Crouch (Dwight) over Tony Toledo (Joliet Central), Inj. 1:21
120 – Will Hupke (Wheaton Academy) over Jaden Casey (Seneca), 5-0
126 – Levi Greenlee (Bradley-Bourbonnais) over Alfonso Insalaco (Tinley Park), F 2:59
132 – Nasir Bailey (Rich Township) over Robby Nelson (Seneca), F 1:18
138 – Dillon Sarff (Dwight) over Ryan Tribble (Reed-Custer), 2-1
145 – Dax Gentes (El Paso-Gridley) over Tyler Starr (Bradley-Bourbonnais), 9-6
152 – Aidan Linden (Sandwich) over Carter Watkins (Manteno), TF 2:43
160 – Kameron Mitchell (Joliet Central) over Charley Murray (Winnebago), 15-14
170 – AJ Mancilla (Bradley-Bourbonnais) over Auston Miller (Clifton Central), SV 3-1
182 – Alex Alfaro (Sandwich) over Hunter Kazmierczak (wheaton Academy), 9-4
195 – Jake Psaras (Vernon Hills) over Chris Peura (Seneca), 11-2
220 – Kody Marschner (Reed-Custer) over Peter Johanik (Wheaton Academy), F 2:53
Phoenix Military Academy wins Lisle Melichar Invite
Phoenix Military Academy won four titles, had two seconds, a third and a fourth to help it claim top honors at Lisle's Melichar Invite by a 149.5-141 margin over Evergreen Park. Westmont beat out the host Lions 111-100 for third-place and Streamwood edged Nazareth Academy 89-88.5 for fifth in the 11-team competition.
Winning championships for coach Daniel Curin's Firebirds were junior Vin Moreno (126), senior Omar Ramirez (132), senior Rafael Soto (145) and junior Jimmy Lua (152) while freshman Adan Bucio (113) and senior Diego Mendez (138) placed second. Taking third was sophomore Jules Rodriguez (160) while junior Corey Chalmers (170) was fourth.
Coach Ron Zimmerman's runner-up Mustangs had three champions, junior Aseal Rubalcava (160), senior Mike Torres (170) and senior James Williams (182) while junior Axel Rubalcava (126) and sophomore Eduardo Antunez (220) claimed seconds, junior Elliana Balderrama (152) and senior Connor Rinearson (195) were third and senior Adam Viravec (138) and sophomore Ryan Serna (145) took fourth.
Nazareth Academy also had three title winners, senior Javaughn Jossell (120), senior Zach Milos (138) and freshman Gabe Kaminski (220). Other champions were Westmont freshman Mission Hatchell (113) and senior Jaylan Lacy (195), Lisle junior Ryan Hsu (106) and Argo senior Krystian Krol (285).
There was a five-way tie for the most teams points with 24 which included Hatchell, Lua, Milos, Moreno and Torres while Kaminski, Lacy and Soto were next-best with 23.
Champions with the best win percentages are Lacy (24-1, .960), Kaminski (23-1, .958), Torres (22-1, .957), Moreno (17-2, .895), Williams (20-3, .870), Aseal Rubalcava (19-3, .864), Hatchell (18-3, .857), Soto (16-3, .842), Ramirez (15-3, .833), Lua (15-3, .833) and Hsu (16-4, .800).
A number of individuals who are in the IWCOA top-10 or honorable mention Class 1A or 2A rankings captured their second invitational titles of the season. Nazareth's Kaminski (No. 6 in 1A) and Westmont's Lacy (No. 8 in 1A) also won titles at Fenton. Others include Phoenix Military Academy's 1A honorable mention picks Moreno, Ramirez and Soto, who all won titles at Berwyn/Cicero Morton and Evergreen Park's HM in 2A, Torres, who also won a title at Rich Township.
Also finishing in second place were Lisle senior Abe Payne (152), senior Vinny Brummel (170) and junior Joe Raineri (195), Streamwood senior Erwin Morales (145), junior Max Dominguez (182) and senior Eric Gomez (285), Walther Christian freshman Caleb Peterson (106), Westmont junior Alan Torres (120), Hubbard senior Joel Carranza (132) and Argo senior Luke Wesolowski (160).
The closest title matches were Hsu's 6-1 decision over Peterson at 106, Aseal Rubalcava's 8-2 win over Wesolowski at 160 and Willams' 6-0 victory over Dominguez at 182. Hatchell (113), Moreno (126), Milos (138), Lua (152), Torres (170), Kaminski (220) and Krol (285) all won titles with falls, Jossell (120) and Ramirez (132) were winners by technical fall and Soto (145) and Lacy (195) both won major decisions.
Others who placed third were Argo junior Juan Villa (106) and senior Ethan Medel (182), Hubbard freshman Daniel Cervantes (113) and junior Tyler Washington (285), Westmont senior Dominic Wagner (126) and senior Severin Vorotnjak (220), Chicago Hope Academy freshman Dyllen Holmes (120), Lisle junior Nolan Kelly (132), Streamwood senior Magno Torres (138), Aurora Central Catholic junior Ethan Waters (145) and Nazareth Academy sophomore Scott Creviston (170). Three of the third-place finishers also led the tournament with falls, with Magno Torres, Villa and Wagner each getting three and Torres recorded one of those falls in just three seconds.
Also finishing in fourth place were Lisle senior Brady Collins (126) and junior Bradley Kohnen (182), Chicago Hope sophomore Miguel Rodriguez (152) and sophomore Brayden Walker (285), Streamwood junior Brandon Garduno (160) and freshman Jace Wolf (195), Westmont freshman Dylan Belmonte (106), Aurora Central Catholic freshman Matt Gaylor (113), Nazareth Academy sophomore Andrew Fowler (132) and Argo senior Francisco Luna (220).
Championship matches at Lisle's Melichar Invite:
106 – Ryan Hsu (Lisle) over Caleb Peterson (Walther Christian), 6-1
113 – Mission Hatchell (Westmont) over Adan Bucio (Phoenix Military Academy), F 0:40
120 – Javaughn Jossell (Nazareth Academy) over Alan Torres (Westmont), TF 3:27
126 – Vin Moreno (Phoenix Military Academy) over Axel Rubalcava (Evergreen Park), F 1:47
132 – Omar Ramirez (Phoenix Military Academy) over Joel Carranza (Hubbard), TF 3:57
138 – Zach Milos (Nazareth Academy) over Diego Mendez (Phoenix Military Academy), F 3:36
145 – Rafael Soto (Phoenix Military Academy) over Erwin Morales (Streamwood), 19-6
152 – Jimmy Lua (Phoenix Military Academy) over Abe Payne (Lisle), F 5:45
160 – Aseal Rubalcava (Evergreen Park) over Luke Wesolowski (Argo), 8-2
170 – Mike Torres (Evergreen Park) over Vinny Brummel (Lisle), F 0:58
182 – James Williams (Evergreen Park) over Max Dominguez (Streamwood), 6-0
195 – Jaylan Lacy (Westmont) over Joe Raineri (Lisle), 14-6
220 – Gabe Kaminski (Nazareth Academy) over Eduardo Antunez (Evergreen Park), F 0:56
285 – Krystian Krol (Argo) over Eric Gomez (Streamwood), F 4:45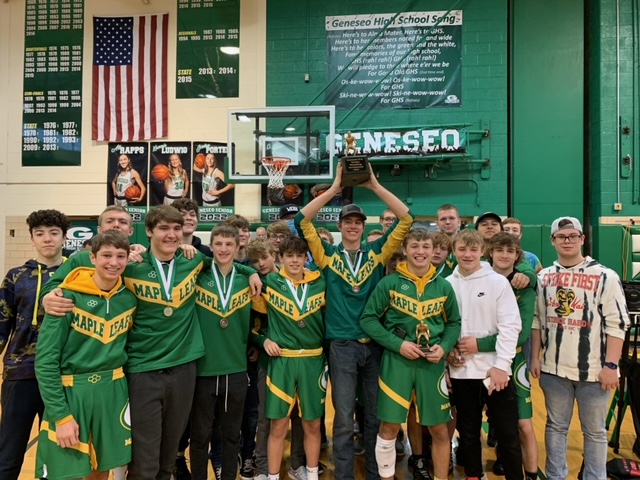 Host Maple Leafs win Geneseo Wrestling Invitational
Geneseo has traveled well this season, having won tournament team titles at Rockford East and Morton, placed fifth at Hinsdale Central and finished seventh at Antioch.
But there's no place like home.
The Maple Leafs won this year's 15-team Geneseo Wrestling Invitational 208-193 over second-place Moline. Civic Memorial (189) was third, Prairie IA (181) placed fourth, and Downers Grove South (150) rounded out the top five team finishes.
Geneseo is currently ranked No. 5 in 2A in Rob Sherrill's IWCOA rankings, and the Maple Leafs have wrestled well for coach Jon Murray.
"This team is really gelling together at the right time," Murray said. "They are doing a great job of giving themselves and their team their best effort in every practice and every match. 
"That's leading to finding ways to win even at times where they probably weren't favored. I'm proud of them for that."
Geneseo sent five wrestlers to the title mat and got individual championships from Anthony Montez (160) and Tim Stohl (220), and seconds from Devan Hornback (106), Zachary Montez (113) and Carson Raya (126).
Josh Hock (145) placed third for the Maple Leafs, who also got fourths from Harrison Neumann (170) and Levi Neumann (285), a fifth from Landon Shoemaker and a sixth from Jack Snyder (132).
Anthony Montez, ranked second in 2A at 160, won the Outstanding Wrestler Award for the upper weights after he won a 5-0 decision over Riverdale's Alex Watson. Montez also won tournament titles at Rockford East, Hinsdale Central, and Morton this season.
Stohl won his second title of the year, having also won at Morton this year. Stohl is currently ranked No. 6 in Illinois at 220.
Moline's second-place finish featured individual titles from Alex Schmacht (126), Kole Brower (138) and Noah Tapia (145). Brower, top-ranked in 3A, won the OWA for the lower weights after posting three pins and then a 15-5 major decision for the title over Civic Memorial's Bryce Griffin, the top-ranked wrestler in Illinois at 138 in 2A.
Moline also got thirds for coach Jacob Ruettiger from Carmelo Cruz (120), James Soliz (182), and Trystan Duyvejonck (220), fifths from Kayden Serrano (120) and Pablo Perez (170), and a sixth from Aiden Vercautren (160).
Other individual champions at Geneseo included Civic Memorial's Bradley Ruckman (106), Abe Wojcikiewicz (170), and Colton Carlisle (195), Prairie IA's Blake Gioimo (113) and Carter Dawley (285), Morton's Connor Kidd (120), Riverdale's Brock Smith (132) and Collin Altensey (152), and Belleville East's Dominic Thebeau (182).
Top-ranked Brock Smith (132) of 1A Riverdale won his third individual tournament title of the season, as did No. 1 Kole Brower (138) of Moline, Morton's Connor Kidd (120), and Belleville East's Dominic Thebeau (182).
Winning their second tournament titles this year were Civic Memorial's Bradley Ruckman (106), Moline's Noah Tapia (145), Riverdale's Collin Altensey (152), top-ranked Abe Wojcikiewicz (170) of 2A Civic Memorial, and Colton Carlisle (195) of Civic Memorial.
Also placing third at Geneseo were Normal Community's Caden Correl (106), Morton's Zane Ely (113), Oswego's Logan Guerrero (126), Granite City's Dylan Boyd (132), Downers Grove South's Jimmy Nugent (138), Will Schuessler (170), and Sam Price (285),and Oswego's Joseph Griffin (152) and Andrew Johnson (160), and Cruz Ibarra (195).
Fourth-place finishers included Mortons' Caleb Lenning (106) and Steven Marvin (132), Normal Community's Cole Gentsch (113) and Mitchell Mosbach (160), Oswego's Ryan Goddard (120), Prairie's Tyler Lee (126), Belleville East's Warren Zeisset (138), DG South's Connor Kelly (145), Mack Piehl (182), and Noah Rapinchuk (195), Loyola Academy's Danny Herbert (152), and Geneseo's Brayden Franzen (220).
Championship matches at the Geneseo Wrestling Invitational:
106: Bradley Ruckman (Civic Memorial) over Devan Hornback (Geneseo) 14-2
113: Blake Gioimo (Prairie IA) over Zachary Montez (Geneseo) 5-1
120: Connor Kidd (Morton) over Alex Bumba (Prairie IA) F 2:52
126: Alex Schmacht (Moline) over Carson Raya (Geneseo) 6-0
132: Brock Smith (Riverdale) over Joey Bichocci (Civic Memorial) 11-2
138: Kole Brower (Moline) over Bryce Griffin (Civic Memorial) 15-5
145: Noah Tapia (Moline) over Ben Skaggs (Civic Memorial) F 1:36
152: Collin Altensey (Riverdale) over Nick Deloach (Cahokia) 11-2
160: Anthony Montez (Geneseo) over Alex Watson (Riverdale) 5-0
170: Abe Wojcikiewicz (Civic Memorial) over Cooper Wettig (Loyola Academy) 1-0
182: Dominic Thebeau (Belleville East) over Quinn Herbert (Loyola Academy) F 5:32
195: Colton Carlisle (Civic Memorial) over Cooper Caraway (Normal Community) 4-2
220: Tim Stohl (Geneseo) over Michael Bridgeman (Civic Memorial) F 4:43
285: Carter Dawley (Prairie IA) over Jason Dowell (Cahokia) F 3:48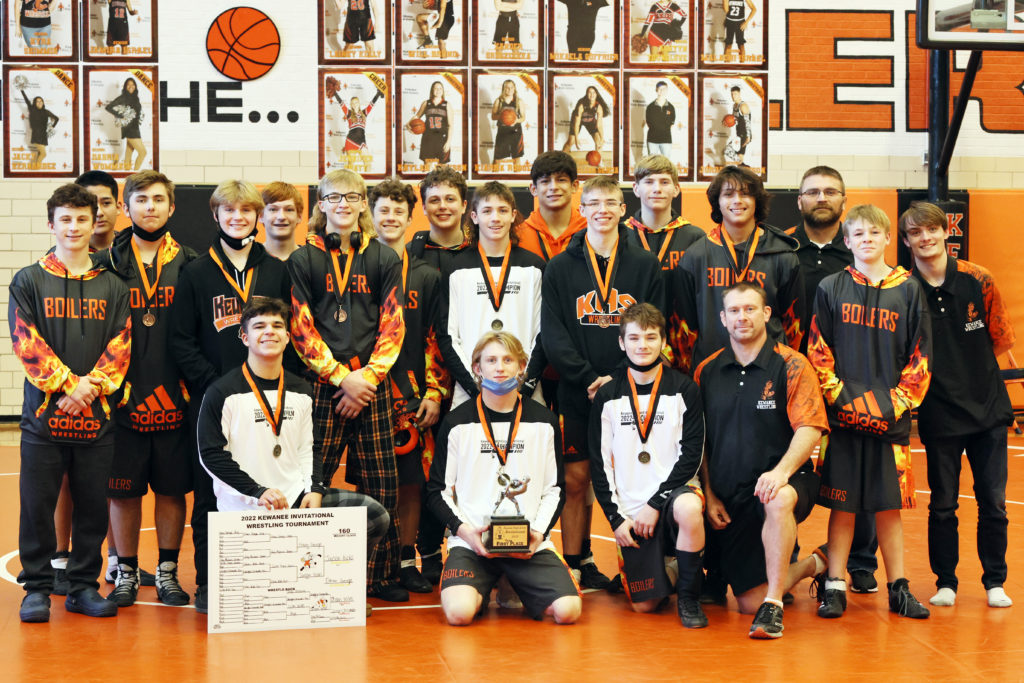 Kewanee claims championship at own Invitational
Kewanee had four champions to go along with five others who finished in the top four to help it to capture the title at its 14-team invitational by a 203-173 margin over Erie/Prophetstown. Oregon (155), Polo (136.5), Fulton (120) and Farmington (119) were next in line.
Leading the way for coach Charley Eads' Boilermakers were champions Nathaniel Hampton (120), Hayden Davis (126), Kadin Rednour (152) and Jaxson Hicks (160) while Nate Lockett (195) was second. Finishing third were Benjamin Taylor (126) and Max Kelly (138) while Xander Gruszeczka (132) and Alejandro Duarte (170) took fourth place.
A week ago, Kewanee turned in its previous-best tournament showing of the season, which was second place at Seneca to the host Fighting Irish. Hampton and Rednour also won titles last weekend while Davis followed up on a runner-up showing a week ago to capture a championship on Saturday.
Coach Tod McCullough's runner-up Panthers were led by champions Andrew Bomleny (195), Nick Ballard (220) and Elijah Friedrichsen (285) while Jaelin Hawkins (106), Wyatt Goosens (113) and Jacob Gibson (120) all took second and Aiden Jepsen (132) placed third.
Others who won titles were Oregon's Seth Stevens (138) and Anthony Bauer (145), Knoxville's Hunter Johnson (106), Farmington's Keygan Jennings (113), Polo's Wyatt Doty (132), Fulton's Zane Pannell (170) and Morrison's Kayden White (182).
Also taking second place were Fulton's Ben Fosdick (138), Conner Sheridan (145) and Xander Walling (220), Oregon's Ethan George (160), Gabe Eckerd (170) and Evan Flaharty (285), Polo's Brayden Altherr (152) and Wyatt Queckboerner (182), Somoauk's Aiden Rowman (126) and Farmington's Connor Huber (132).
In the closest title matches, Friedrichsen edged Flaharty 8-7 at 285 and Rednour won 11-8 over Atherr at 152. Jennings won 6-1 over Goosens at 113, Stevens was a 9-2 winner over Fosdick at 138 and White claimed a 12-6 win over Queckboerner at 182.
Johnson (106), Hampton (120), Davis (126), Doty (132), Bauer (145), Hicks (160), Pannell (170), Bomleny (195) and Ballard (220) all recorded falls to wrap up their titles.
Champions with the best winning percentage in 10 or more matches include Jennings (31-1, .969), Friedrichsen (29-1, .967), Rednour (25-2, .926), Bomleny (28-3, .903), Ballard (25-3, .893), Pannell (23-3, .885), Stevens (21-4, .840) and Doty (12-3, .800).
Jennings (No. 5 at 113) competed in his fourth finals and won his third title and Friedrichsen (No. 8 at 285) also won his third title, while Hampton (120), Rednour (152) and Pannell (170) all won their second titles of the season.
Somonauk senior Shea Reisel (113) hoped to win her third title in boys competition but lost by fall to Jennings in the semifinals and wound up taking third. And in an upset in the 182 semifinals, Farmington's Reese Shymansky (No. 5, 26-2) got pinned by Queckboerner and settled for third.
Other third-place finishers were Eureka's Garrett Kean (120), Derrick Wiles (152) and Dillon Wiles (160), Farmington's Logan Utt (145) and Austin Utt (170), Knoxville's Dilan VanBeveran (195), Peoria Heights' Issac Coleman (220) and Polo's Daniel Engel (285).
Oregon had five fourth-place finishers, Preston Labay (113), Ethan Mowry (120), Dalton McCammon (152), Andrew Young (195) and Brigg Sellers (285). Also taking fourth were Polo's Deangelo Fernandez (160) and Wade Reimer (182), St. Bede's Jack Maschmann (145) and Gavin Hahn (220), Fulton's Broden Venhuizen (126) and Knoxville's Mitchell Parrish (138).
Additional second- and third-place finishers who have high win percentages are Shymansky (26-2, .929) and Goosens (17-2, .895). George (16-4, .800)
Championship matches at the Kewanee Invitational:
106- Hunter Johnson (Knoxville) over Jaelin Hawkins (Erie/Prophetstown), F
113 – Keygan Jennings (Farmington) over Wyatt Goosens (Erie/Prophetstown), 6-1
120 – Nathaniel Hampton (Kewanee) over Jacob Gibson (Erie/Prophetstown), F
126 – Hayden Davis (Kewanee) over Aiden Rowman (Somonauk), F
132 – Wyatt Doty (Polo) over Connor Huber (Farmington), F
138 – Seth Stevens (Oregon) over Ben Fosdick (Fulton), 9-2
145 – Anthony Bauer (Oregon) over Conner Sheridan (Fulton), F
152 – Kadin Rednour (Kewanee) over Brayden Altherr (Polo), 11-8
160 – Jaxson Hicks (Kewanee) over Ethan George (Oregon), F
170 – Zane Pannell (Fulton) over Gabe Eckerd (Oregon), F
182 – Kayden White (Morrison) over Wyatt Queckboerner (Polo), 12-6
195 – Andrew Bomleny (Erie/Prophetstown) over Nate Lockett (Kewanee), F
220 – Nick Ballard (Erie/Prophetstown) over Xander Walling (Fulton), F
285 – Elijah Friedrichsen (Erie/Prophetstown) over Evan Flaharty (Oregon), 8-7