Chicago-area tournament roundup from Dec. 17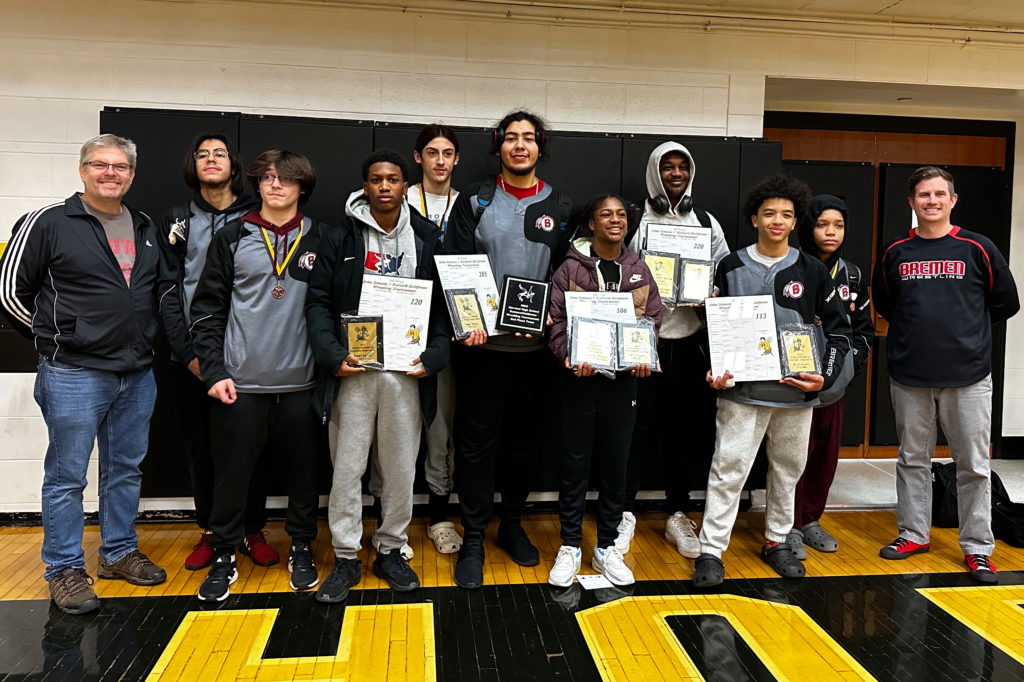 by Gary Larsen
Harvard's Sciacca/Holtfreter Tournament
Don't look back. Bremen might be gaining on you.
No, the Braves didn't quite manage to come all the way back from fourth place to overtake the eventual team champion from Portage, WI. But Bremen's run to a second-place team finish at Harvard's 13-team Sciacca/Holtfreter Tournament had coach Mike Collins smiling.
"I'm so very proud of all our wrestlers," Collins said. "We were in fourth place prior to the final round."
With nine wrestlers in place matches, a coach can't expect to go a perfect nine-for-nine but that's what Bremen did. Portage won the team title with 200 points but the Braves pitched a perfect game in place matches to place second with 175 points.
Richmond-Burton (167.5) finished third, followed by Riverside-Brookfield (163) and Woodstock (132) to round out the top five team finishes. Harvard (124), Woodstock North (69), Auburn (63), North Boone (48), Walther Christian (37), Elmwood Park (20), Boylan (16), and Milton WI (0) rounded out the field.
Bremen led all teams with five individual champions in Morgan Turner (106), Elijah Wofford (113), Nore' Turner (120), Alex Jackson (220), and Eric Perez-Nava (285).
The winning got contagious, as Bremen also got wins on the third-place mat from Gavin Jeronimo (126) and Malakai Scott (138), and wins on the fifth-place mat from Walter Hoevker (132) and Leonardo Martinez (145).
The kicker? "We earned bonus points in six of the nine bouts," Collins said. "The icing on the cake for the day was Morgan (Turner) winning the OWA for the lower weights, and Alex (Jackson) winning the OWA for the upper weights.
"Valuable confidence was gained by all our wrestlers, as we continue to build toward February."
Portage led all teams with 14 place-winners, including a pair of champions in Luke Paulsen (152) and David Williams (160).
Other Harvard champions included Richmond-Burton's Emmett Nelson (126), Brody Rudkin (145), and Alex Reyna (182), Harvard's Marques Merida (132), Woodstock North's Doug Zimmerman (138) and Kaden Combs (170), and Woodstock's Steven Colvin (195).
Harvard championship matches:
106: Morgan Turner (Bremen) 7-5 d. Kyan Gunderson (Richmond-Burton)
113: Elijah Wofford (Bremen) fall 1:29 Jack Dombeck (Elmwood Park)
120: Nore' Turner (Bremen) 5-0 d. Quintavius Murrell (R-Brookfield)
126: Emmett Nelson (Richmond-Burton) fall 2:17 Jason Krier (Portage)
132: Marques Merida (Harvard) fall 1:22 Dane Sorensen (Richmond-Burton)
138: Doug Zimmerman (Woodstock N.) 7-1 d. Josh Gonzalez (R-Brookfield)
145: Brody Rudkin (Richmond-Burton) 5-3 d. Garrett Crawford (Portage)
152: Luke Paulsen (Portage) fall 1:52 Salvador Esquivel (Harvard)
160: David Williams (Portage) fall 3:48 Max Strong (R-Brookfield)
170: Kaden Combs (Woodstock N.) 14-4 md. Zachary Canaday (Woodstock N.)
182: Alex Reyna (Richmond-Burton) fall 4:18 Emerson Pease (Portage)
195: Steven Colvin (Woodstock) 9-6 d. Josh Nabors (Auburn)
220: Alex Jackson (Bremen) tf. 4:36 Pierce Kristof (Portage)
285: Eric Perez-Nava (Bremen) fall 1:08 Riley Vest (Harvard)
Harvard third-place matches:
106: Cole Beckett (Portage) fall 3:42 Chase Murrell (R-Brookfield)
113: Reymundo Romo (Harvard) 8-6 d. Edgar Masquera (R-Brookfield)
120: Daniel Bychowski (Woodstock) 5-1 d. Gavin Eckberg (North Boone)
126: Gavin Jeronimo (Bremen) 8-2 d. Cody Zabelski (Woodstock)
132: Netavia Wickson (Boylan) fall 1:35 Phillipe Ndkimunna (Auburn)
138: Malakai Scott (Bremen) fall 1:33 Andrew Rieger (Walther Christian)
145: Maysen Smith (North Boone) fall :59 Jacob Noe (Riverside-Brookfield)
152: Cade Tomkins (R-Brookfield) 20-10 md. Isaac Jones (Richmond-Burton)
160: Michael Kowalski (Portage) fall :30 Dominick Dickens Richmond-Burton)
170: Landon Heitmeier (Portage) fall 5:15 Bill Martin (Riverside-Brookfield)
182: Gabe Sanchez (Harvard) 8-6 d. Jovanni Gonzalez (Woodstock)
195: Eli Kimball (Portage) 3-0 d. Edgar Hernandez (Harvard)
220: Joe Midona (Riverside-Brookfield) 3-1 d. Andrew Ryan (Woodstock)
285: Javier Moyotl-Hernandez (Portage) 6-2 d. Devontae Givens (R-Brookfield)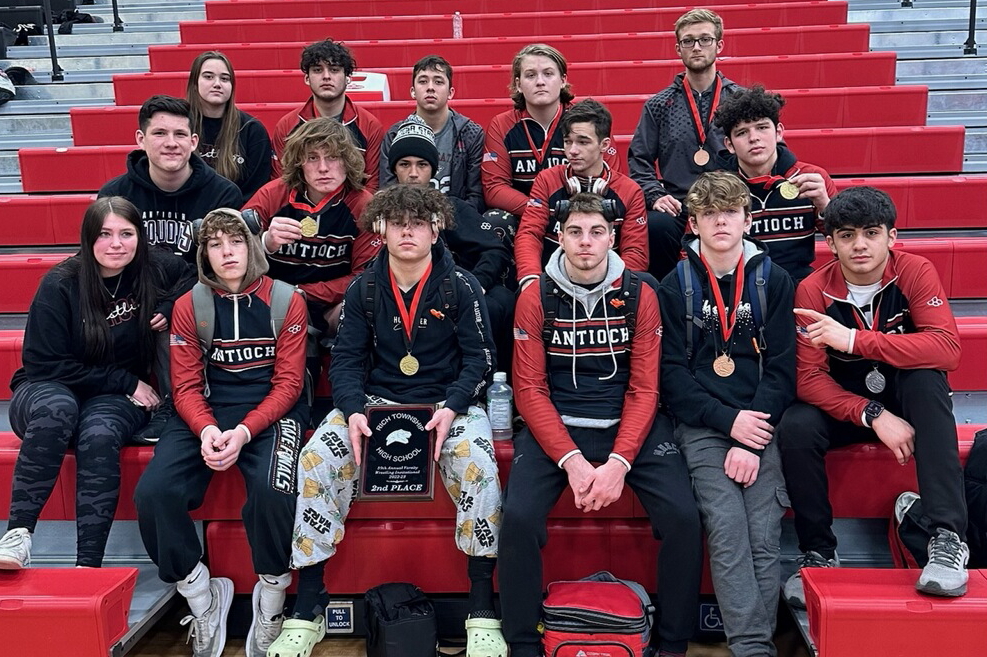 Rich Township's Raptor Invite
The boys from Merrillville, Indiana won the team title at this year's Raptor Invite, after finishing all 14 wrestlers in the top three, including eight individual champions, three runners-up, and three third-place winners.
Merrillville scored 319 team points as the only team that entered a complete slate of 14 wrestlers in the tournament.
Antioch (237), Romeoville (122.5), Morton (121), and Evergreen Park (106.5) rounded out the top five team finishes in the 14-team field.
Antioch advanced eight wrestlers to the finals, getting individual titles from Caleb Nobiling (145), Ben Vazquez (160), and Seth Gomez (195), and second-place finishes from Gavin Hanrahan (113), Edgar Albino (132), Anthony Streib (138), Josh Sanchez (182), and James Kasprzak (285).
Antioch coach Wilbur Borrero also got a third-place finish from Chase Nobiling (120), a fourth from Elias Bentley (170), a fifth from Logan Perez (106), and a sixth from Dominic Cabuyadao (120) to round out the Sequoits' roster of 12 place-winners in Richton Park.
"We had a good tournament," Borrero said. "Unfortunately Merrillville had a better one. 
"We're still not at full strength yet but slowly working towards that end.  We look forward to getting healthy and wrestling our second-half schedule.  The goal is to be ready when it counts."
Other teams competing included Crete-Monee (96), Rich Township (70), Eisenhower (43), Hillcrest (38), Thornton Fractional South (36), Thornwood (32), Tinley Park (27), Intrinsic Charter (17), and Bloom (4).
Rich Township championship matches:
106: Diondre Henry (Rich Township) fall :39 Savion Essiet (Romeoville)
113: Brian Farley (Romeoville) 7-3 d. Gavin Hanrahan (Antioch)
120: Anthony Lopez (J Sterling Morton) 7-2 d. Matthew Maldonado (Merrillville)
126: Nasir Christion (Merrillville) fall 2:34 Aaron Rojas (J Sterling Morton)
132: David Maldonado (Merrillville) 3-1 d. Edgar Albino (Antioch)
138: Lucas Clement (Merrillville) fall 3:49 Anthony Streib (Antioch)
145: Caleb Nobiling (Antioch) 14-3 md. Marlone Kirksy (Merrillville)
152: Adrian Pellot (Merrillville) fall 3:15 Latrelle Hall (Hillcrest)
160: Ben Vazquez (Antioch) fall 3:03 Elijah Grayer (Crete-Monee)
170: Cameron Crisp (Merrillville) 8-6 d. Mason Gougis (Romeoville)
182: Josiah Edmonds (Merrillville) fall 2:34 Josh Sanchez (Antioch)
195: Seth Gomez (Antioch) fall 5:17 Terrell Elmore (Merrillville)
220: James Veal (Merrillville) fall 2: 56 Esteban Velazquez (Eisenhower)
285: Raymond James (Merrillville) fall 1:25 James Kasprzak (Antioch)
Rich Township third-place matches:
106: Joy Cantu (Merrillville) fall 4:00 Johan Bonilla (Evergreen Park)
113: Marion McClain (Merrillville) fall :36 Zavion Bush (Intrinsic Charter)
120: Chase Nobiling (Antioch) fall 3:33 Bryson McDonald (Romeoville)
126: Ben Sanchez (Evergreen Park) tf. 4:40 Jeremiah Jones (Thornwood)
132: Jovan Williams (Hillcrest) fall 3:31 Andrew Koepke (Tinley Park)
138: Kaden McShaw (Romeoville) 6-3 d. Rafael Lopez (J Sterling Morton)
145: Ryan Serna (Evergreen Park) fall 3:28 Deandre Haymon (Merrillville)
152: David Johnson (Evergreen Park) 12-10 SV Issac Dunbar (Rich Township)
160: Tyler Knight (Merrillville) tf. 4:53 Edwin Rangel (J Sterling Morton)
170: Esparza Alberto (Eisenhower) fall 3:55 Elias Bentley (Antioch)
182: Brandon Alexander (Crete-Monee) fall 1:05 Hiawatha Owens (TF South)
195: Carlos Arriaza (J Sterling Morton) 10-7 d. Justin Lawton (Crete-Monee)
220: Eduardo Antunez (Evergreen Park) 5-4 d. Johnathan Espinoza-Luna (Romeoville)
285: Gerald Ohare (Evergreen Park) 13-0 md. Miguel Rojas (J Sterling Morton)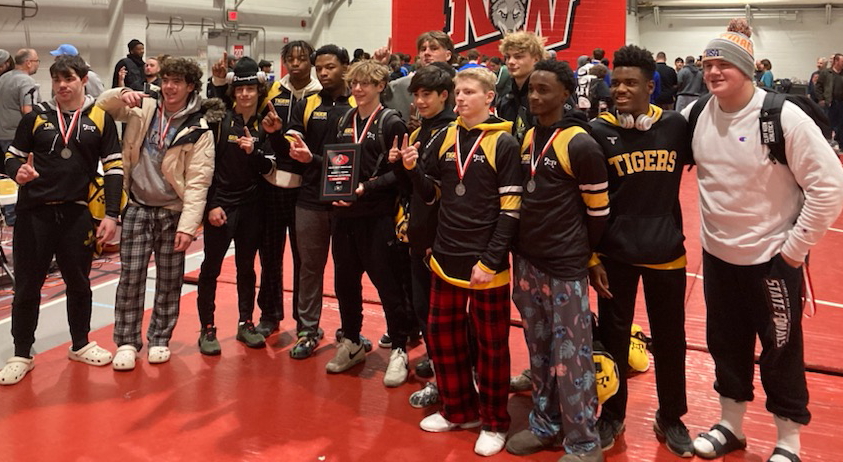 Niles West 5th Robert E. Porter Invitational
The 21-team tournament followed round-robin competition in each weight class and at tourney's end it was Joliet West hoisting the team trophy at Niles West.
Tigers coach Chuck Rumpf got an individual title from Carson Weber (126) and second-place finishes from Marcus Godfrey (138), Austin Perella (145), Gavin Garcia (160), Reid Hogan (170), Jovon Johnson (195), Tyler Koulis (220), and Wyatt Schmitt (285). The Tigers also got a third-place finish from Colin Flynn (132).
"This follows up a strong showing for us at the Barrington/Moore-Prettyman tournament, where we placed fifth overall," Rumpf said. "We have a solid program with a lot of talent and depth. A good number of jayvee kids have also stepped up and filled in on varsity due to some injuries and sickness."
Joliet West is also 7-3 in duals this season, with wins over Stevenson, Lemont, and Andrew, and the Tigers are back-to-back SPC East Division champions. They hope to make it a three-peat next month.
Joliet West posted 459.5 team points, to second-place Geneva's 435.5. Normal West (383.5), Lake Zurich (376), and Oswego East (280.5) rounded out the top five team finishes.
Weber won his individual title with an 8-6 decision over Normal West's Austin Johnson. Godfrey and Schmitt lost heartbreakers on the title mat, with Godfrey losing a wild 12-11 decision at 138 to Highland Park's Mark Martinez, and Schmitt losing 4-1 in overtime in the heavyweight finals to Taft's Grzegorz Krupa.
"(Weber) is following up an impressive freshman season in which he qualified for state," Rumpf said. "He's splitting time between 126 and 132 and he was second at the Moore-Prettyman.
"Schmitt is currently 17-1 and he's hoping to make it back to state and compete for a state title."
Schmitt was a 16U runner-up at Fargo during the off-season, and was second at Barrington's Moore/Prettyman in November.
Lake Zurich's Scott Busse scored the most team points in the tournament with 58, followed by Oswego East's Dylan Crawford (57.5) and Grayslake Central's Tyler Weidman (56).
Busse (145), Crawford (170), and Weidman (120) were all individual Porter champions, along with Geneva's Joey Sikorski (106), Grayslake Central's Anthony Alanis (113), Normal West's Evan Willock (132), Highland Park's Mark Martinez (138), Geneva's Maguire Hoeksema (152), Oswego East's Dylan Konkey (160), Elk Grove's Benny Schlosser (182), Geneva's Jon Schmidt (195), Lake Zurich's Jack Turner (220), and Taft's Grzegorz Krupa (285).
Schmidt finished the tournament with the most pins in the least amount of time, winning by fall in five matches in a combined time of 13:33.
Porter championship matches:
106: Joey Sikorsky (Geneva) F 1:34 Abram Rader (Normal West)
113: Anthony Alanis (Grayslake Central) F 3:23 Dylan McGrew (Normal West)
120: Tyler Weidman (Grayslake Central) D 5-4 Austin Lee (Burlington Central)
126: Carson Weber (Joliet West) D 8-6 Austin Johnston (Normal West)
132: Evan Willock (Normal West) F 3:25 Nate Ferrari (Highland Park)
138: Mark Martinez (Highland Park) D 12-11 Marcus Godfrey Jr. (Joliet West)
145: Scott Busse (Lake Zurich) INJ 5:03 Austin Perella (Joliet West)
152: Maguire Hoeksema (Geneva) D 5-1 Dmitry Derbedyenyev (Highland Park)
160: Dylan Konkey (Geneva) MD 13-4 Gavin Garcia (Joliet West)
170: Dylan Crawford (Oswego East) F 1:35 Reid Hogan (Joliet West)
182: Benny Schlosser (Elk Grove) MD 11-1 Gus Schreiber (Normal West)
195: Jon Schmidt (Geneva) F 5:28 Jovon Johnson (Joliet West)
220: Jack Turner (Lake Zurich) D 3-1 Tyler Koulis (Joliet West)
285: Grzegorz Krupa (Chicago Taft) TB-1 4-1 Wyatt Schmitt (Joliet West)
Porter 3rd-place matches:
106: Johnny Sheehy (Notre Dame) F 3:31 Nico Harris (Oswego East)
113: Anthony Alanis (Grayslake Central) F 3:23 Dylan McGrew (Normal West)
120: Alex Khaler (Lake Zurich) F 3:39 Nicasio Acino (Elk Grove)
126: Doug Phillips (Burlington Central) FFT Vladamir Vasquez (Reavis)
132: Colin Flynn (Joliet West) MD 112 Damian Valdez (Addison Trail)
138: Warren Nash (Grayslake Central) F 4:40 Nick Gomez (Reavis)
145: Ethan Wojtowich (Waubonsie Valley) F 3:54 Landon Puente (Notre Dame)
152: Noah Demarco (Oswego East) D 7-1 Xavier Edwards (Normal West)
160: Jacob Elsner (Elk Grove) MD 10-2 Luke Bebar (Waubonsie Valley)
170: Payton Marzen (Geneva) F 5:21 Christian Walikonis (Burlington Central)
182: Matt Luby (Lake Zurich) D 4-3 Jim Amatore (Notre Dame)
195: Jacque Munkhjargal (Highland Park) D 7-2 Aiden Rice (Notre Dame)
220: Joe Pettit (Geneva) TF 4:44 Braedon Manogura (Niles West)
285: Matt Hanold (Normal West) F :41 Mikey Barretto (Chicago Taft)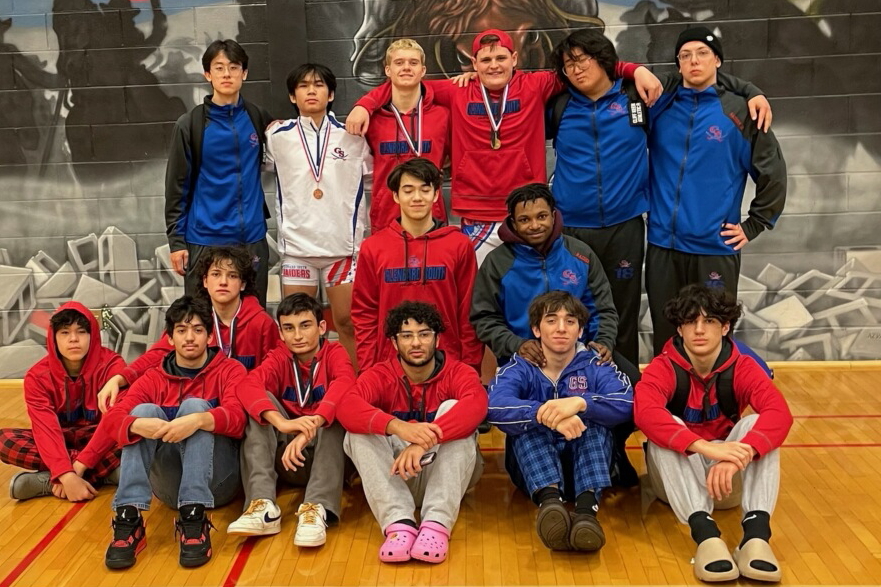 Glenbard South's Raider Invite
The host Raiders finished atop the 9-team field with 143 points to second-place Leyden (127), followed by Guilford (117), Northridge Prep (116), and Wetosha, WI (116) to round out the top five team finishes.
Goode Stem Academy (70), Kelly (66.5), Westmont (45), and St. Francis (44) rounded out the field.
Glenbard South got individual titles from Reid Sebahar (145) and Danny Langner (220), plus second-place finishes from Diego Myers (126), Jomaine Owen (132) and Neil Jaber (160).  The Raiders also got thirds from Kurt Lewandowski (113) and Evan Mangune (138).
Leyden's second-place finish came thanks to individual titles from Rusty Klug (132) and Moses Garza (152), and seconds from Diego Mendoza (170) and Ivan Ramos (195), and thirds from Brian Gonzalez (160) and Sebastian Worwa (220).